Eventer Lauren Billys recently had the opportunity to act as an ambassador for equestrian sport in a way that few other riders have: by giving TV star Mike Rowe an introduction to dressage for an upcoming episode of the television show "Somebody's Gotta Do It."
Of course, three years ago during the Rafalca craze when late night TV show host Stephen Colbert chose dressage as the "sport of summer," Michael Barisone made headlines by giving a dressage lesson to Colbert. It was all for the laughs, but Rowe's visit was more about getting the story out about what life as a professional rider is like.
"They showed up and wanted to learn about horses and particularly about dressage," said Billys. "There wasn't a whole lot of preparation other than getting the facility ready and things like that, but Mike was extremely easy to get along with; he really put you at ease even though there were cameras right in front of you the entire time. The entire crew and Mike himself were very personable, very interesting—it was really an amazing time!"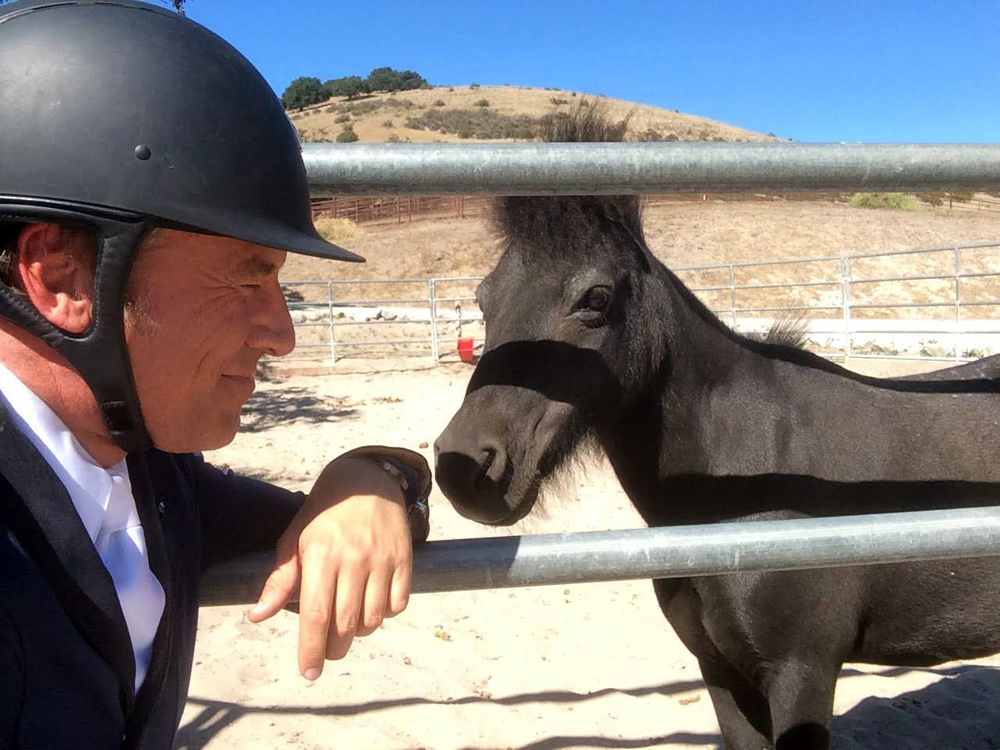 Mike Rowe meeting one of the smaller horses at Lauren Billys' farm.
"Somebody's Gotta Do It" is a documentary-style CNN series that profiles people with a passion for what they do. Rowe, who is most known for his work on the "Dirty Jobs" television series, and his crew came to Carmel Valley directly from their last filming location, a Naval aircraft carrier called the USS Stennis, to get a taste of what it's like to be an professional equestrian.
Billys got the call asking if she'd be interested from the California Dressage Society's office manager, Paula Langan, on Aug. 5. Less than a week later, on Aug. 11, she met Rowe and his crew at the Holman Ranch in Carmel Valley, Calif. Billys, a four-star eventer and member of the Puerto Rican Equestrian Team, is based at the nearby Stonepine Estate Equestrian Center.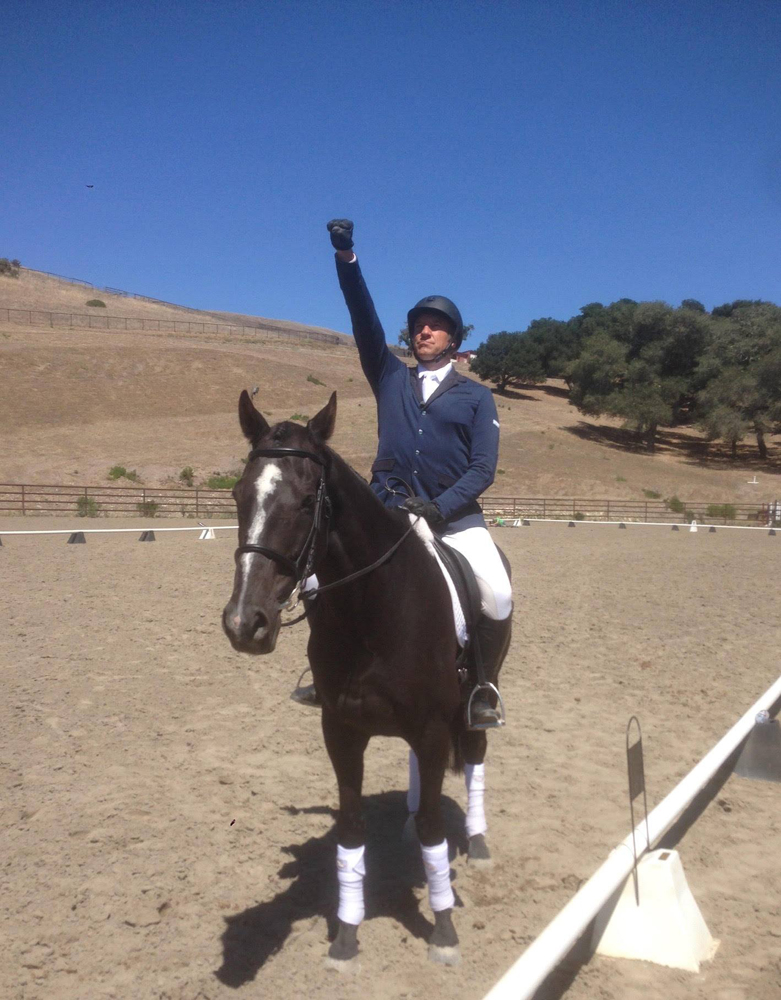 Mike Rowe enjoying his time on the ever-patient
Comanche.
She started the day with a dressage demonstration. Her friends and working students were on hand to talk Rowe through the movements as Billys showed them. Then they headed back to the barn to talk about tack, equipment, breeding, and history of the sport before Rowe got his riding lesson.
"We did a lunge-line lesson. First, we started on the use and importance of the seat: learning how to go forward in the walk, come back in the walk and how to stop, using your seat. I took away his reins and his stirrups and then taught him how to post the trot, and then he got to ask for the canter and canter the horse as well," explained Billys, 27.
"He told me that he grew up riding with his mom and his mom had had horses growing up, so he was definitely comfortable around the horses and he had to have because he really picked up the posting trot within like 30 seconds—it was so quick!"
Once the lesson was over, Rowe was given a head-to-toe makeover; dressed to show, he headed back to the ring to perform a walk-trot dressage test with the skills he'd learned.
His mount for the day was a 25-year-old Thoroughbred gelding named Comanche whose history of eventing and trail riding has made him a trustworthy lesson horse of Billys' for the last few years. Comanche's owner, Diane Hawkin, was able to visit and watch Rowe ride.
"He's a really super lesson horse," said Billys. "He's older, but very well-experienced and he knows all of his cues, and he knows how to kind of let somebody just ride him around."
Though she'd done photoshoots, public speaking and the occasional news segment, Billys had never spent seven hours in front of a camera filming a television show before. "At first I was really nervous, and then once I got to talk to them, we were talking like I would with anybody else that I just met that was coming to spend a day to see what it was like at the horse barn," she said. "So that was cool; it was just very honest and very much like the way that I run my business and the way that we ride horses.
"Nothing was scripted; there wasn't really a plan," continued Billys. "The crew let me kind of throw at them what I thought he should learn and then helped me organize that in a way that made sense and flowed."
The episode is estimated to air in eight months as part of season 4. "It's a unique opportunity for us as equestrians to get our work put on a big stage," said Billys. "I think that when everybody sees it they'll be excited because I think it's a good representation of the sport."