In nine days the first horse will gallop out of the start box for the Mars Incorporated World Eventing Championships at the FEI World Equestrian Games in Mill Spring, North Carolina.
With less than two years to build, Eric Bull and his crew have crafted a beautiful course designed by Captain Mark Phillips, and the Chronicle got an exclusive sneak peek at some of the fences. Many of the fences are inspired by North Carolina wildlife and culture—from butterflies and turtles to apples, moonshine and NASCAR.
"To do a Games in the twilight of my career has been a lot of fun," Phillips said to Chris Stafford on the U.S. Eventing Association's podcast. "The difference for the Games compared to a normal three-day event is that in the Games you have more alternatives because you have a greater variety in terms of the good horses or the good riders, and the not-so-talented horses and riders, and so you want to give everybody the chance to present a good picture and get 'round, so we present more alternatives.
"If you want to go the quick way, you need to be on a good horse and be a good rider," he continued. "Pretty much all the distances are a bit open, therefore there's more of a chance of a glance off, but if you want to be more conservative, you've got more efforts. No circles for black flag because it's been proven that if you start circling for a black flag it's really tiring for the horse if you get hot and humid weather. That's been my philosophy through the course."
Here's what we know:
The course is 5700 meters and 10 minutes long with 42 jumping efforts—about 135 meters per effort.
There are three water fences, all shared with the driving marathon course. The track runs over an old golf course for around 8 minutes 45 seconds, and then onto about 150 meters of all-weather footing, then back to grass for the end of the ninth minute. It ends in the main arena on all-weather footing.
Phillips revealed that the eighth minute will have riders climbing a hill of about 600 meters with two jumping efforts. Some fences are built with  frangible technology like MIM clips and reverse pins.
Phillips believes the time will be hard to make.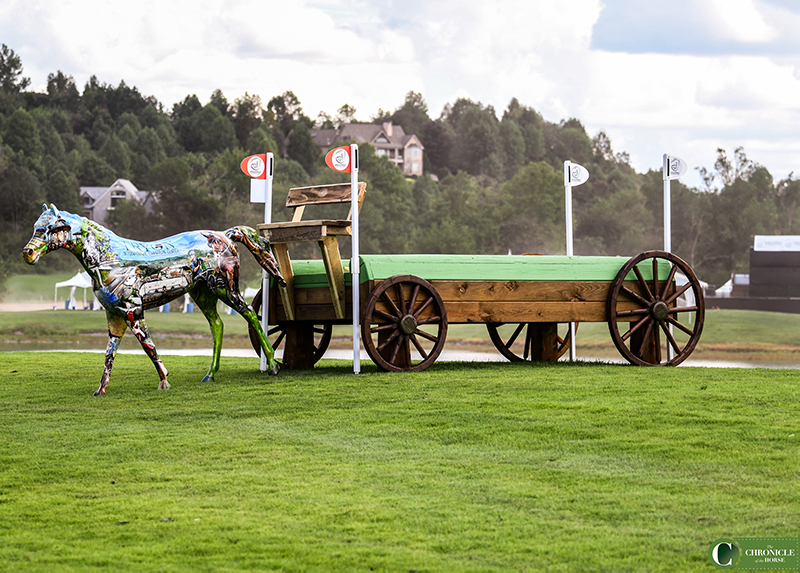 "You've got to have a fit horse because since we've been doing this shorter version of the three-day event we know very well that the horses can hit the wall at 8 or 9 minutes if you go too quick too early," he said. "The hill comes in 8 minutes, and if you get to the ninth minute you [may] find you have no horse left. In a way, that scenario's been laid.
"The first minute's only got two efforts. The second minute's got five efforts, the third minute is more normal, but the fourth minute's got eight efforts, so you're bound to be down on the clock at the end of the fourth minute. Then you've got five, six, seven to catch that time back up again, then you've got to deal with the hill and see what petrol you've got left and how quickly you can get to the end," he continued. "You'll see once you've got to the top of the hill, there are no big fences, and there's no acute questions or turns. I built it, so the riders, if they are on a tired horse have still got a got chance of getting the horse home."