Tom Brennan's not one to let anyone get him down, and this week at Gulfport he had an opportunity to spread that positive attitude.
It started, as so many things do these days, with a Facebook post.
Mid-day Friday, my co-worker at The Chronicle of the Horse posted a photo I'd taken of Brennan jumping Rio Bandit on the Chronicle's Facebook page, along with a link to other open hunter photos from Gulf Coast Sunshine Classic V.
Before long, viewers started commenting and critiquing the photo. Facebook being Facebook, the responses weren't always charitable, and some of the criticism wasn't exactly constructive.
•"Horse is wonderful. Rider doesn't have the seat or form to be riding over fences at all. HIDEOUS."
•"My rising (sic) instructors from when I first started til I stopped taking jumper classes would have BEAT me for this position over a fence. Gotta wonder if he dropped a rail on that one."
•"Terrible rider."
Brennan's customers, supporters and friends chimed in as well in the comments section, defending his riding and pointing out it was a hunter class—not equitation—in which the horse performed beautifully to score an 88. But Brennan took a different approach.
The next morning, he headed to Walmart at 6 a.m. to buy posterboard and markers. Before his first rides he got to work, attaching a printout of the Facebook photo and another three pages of comments and writing a note to his students underneath. He hung up the poster in the Winter Hill Farm tackroom alongside the circuit champion coolers, so it was there when his junior customers arrived. It reads: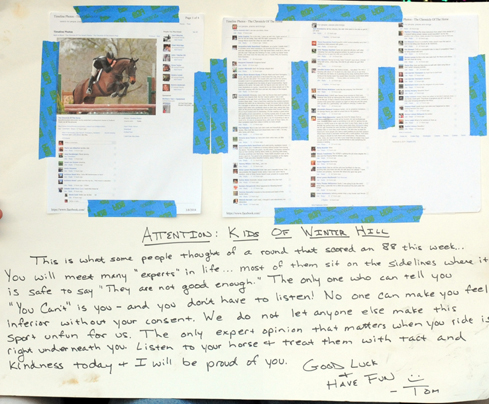 "Attention Kids of Winter Hill. This is what some people thought of a round that scored an 88 this week…You will meet many 'experts' in life…most of them sit on the sidelines where it is safe to say, 'They are not good enough.' The only one who can tell you 'You Can't' is you—and you don't have to listen! No one can make you feel inferior without your consent. We do not let anyone else make this sport unfun for us. The only expert opinion that matters when you ride is right underneath you. Listen to your horses and treat them with tact and kindness today, and I will be proud of you. Good luck and have fun."
Brennan and Tony Workman have a full slate of junior and amateur clients at their Winter Hill Farm in Hillsboro, Va. Talking to their customers, it's easy to see that their appeal extends beyond their success in the ring. One parent told me how Brennan turned a tough day for her daughter into a great one with his positive attitude, and his teenage clients explained how he regularly inspires confidence in riding lessons and beyond.
"It seemed like a good opportunity to show the kids how you persevere through other people's bad behavior," he told me. "I think in school right now a lot of kids have to deal with online bullying. I wanted to turn lemons into lemonade, to show the kids that we can smile about it and laugh about it and have a lot of fun and be good at what we do."
We've written in the Chronicle about the disconnect between textbook equitation and what's often seen in the hunter ring, and we will again. It's a conversation worth having in a meaningful way. Tomorrow the Chronicle's Facebook fans will have forgetten about Brennan's position in that single photo, and they'll have moved on to a new topic. But hopefully everyone who walks by the Winter Hill Farm tack room this week will stop for a minute and look at the poster, read the Facebook post and his response, and remember what's really important.
Want to know more about Tom Brennan? Click here.

Catch up on yesterday's hunter action from Gulfport, and check out the gallery of open hunter photos as well.

Want to hear about more great sportsmanship? Read about Conor Swail's good deed during Spruce Meadows.

We'll have a full report from Gulf Coast Sunshine Classic V in the March 31 issue of The Chronicle of the Horse magazine.