Sept. 29—Devon, Pa.
Just a week ago Canadian rider Belinda Trussell was leading the victory gallop at the Saugerties CDI-W (N.Y.) on Barbara Holden Sinclair's Carlucci, and she got to do it again this afternoon at Dressage At Devon.
Trussell topped the Prix St. Georges CDI on a score of 72.98%. The next five placings were also filled with Canadian riders, including Tom Dvorak and David Ziegler, who each rode two horses, and Lori Bell, also coming off a win at Saugerties.
"He's had a bit of success in the CDIs this season, but I didn't expect him to win," said Trussell. "I just wanted to go and do my best with him and enjoy it, and just be grateful for the outcome. He really was great. He's been a wonderful horse to work with. He's a very kind horse. He can be a little nervous in big atmospheres. This is the biggest atmosphere he's ever been to. He just clocked it. I didn't know if he'd be afraid of the crane [across the street] or [the other ring], but he was wonderful."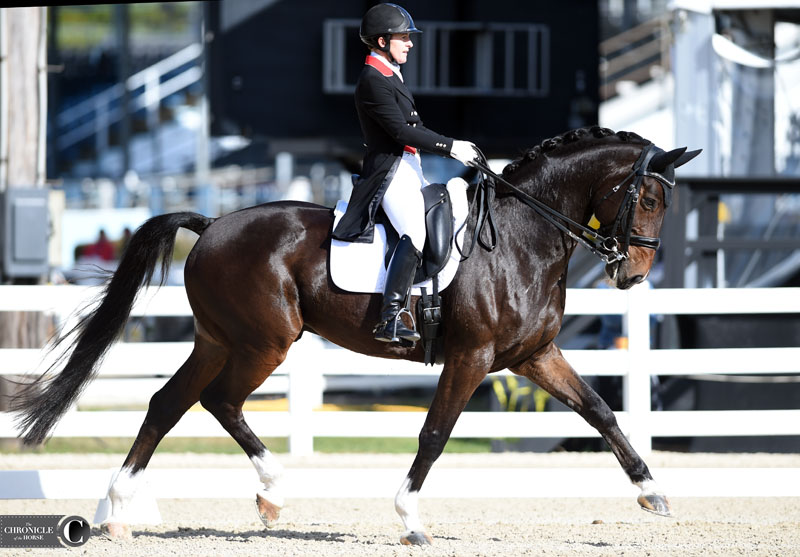 Trussell's been riding the 12-year-old Hanoverian gelding (Contendro I—Christin, Compliment) for 2 ½ years.
Sinclair bought him from Germany but soon realized he was a bit big and strong for her small frame.
"I fell in love with him, and then he grew and I didn't, so I needed some help. His movements were bigger than what I can handle, so that's where Belinda came in," she said. "He's really sweet. He's huge, but he's a teddy bear."
Trussell said Carlucci was a spunky young horse, but has been coming into maturity as he's progressed up the levels. He's been learning the pieces of the Grand Prix, but probably won't try it out in competition until next year.
"He knows how to do each movement separately. He just learned 15 one [tempis] about four weeks before we came here, and I'm praying that I can turn the button off at the Prix St. Georges!" she said with a laugh. "We'd like to bump him up to the medium tour when he's ready, but he's not quite ready to put it all together. But come Florida, do some national shows when he's confident with that."
Trussell credited much of Carlucci's success to Sinclair. "He would not have success without her. I know it. The amount that she puts into him, and her committement—" she said.
"I could say the same thing about her! It does take a team," Sinclair added.
For full results click here.
For more from Dressage At Devon, click here.
The USEF Network live stream can be found here.
Be sure to check out the Oct. 9 issue of the Chronicle for more about the winners at Dressage At Devon.
Dressage At Devon - Prix St. Georges
Lindsay Berreth / Oct 1, 2017 9:17 pm