When eventer Erika Adams went out to her trailer to fetch hay for her horse early Wednesday morning, she realized her trailer wasn't where she'd left it. If fact, her trailer wasn't in the parking lot of the Tryon International Equestrian Center, located in Mill Spring, N.C., at all anymore.
"We wandered around looking for it for probably 30 minutes," she said. "The trailer parking is well away from the barns; it's on the other side of the interstate. It just didn't hit us for a while that, OK, the trailer is gone, and that we needed to do something about—we needed to go to show office and report it. We were in shock."
Adams, who runs her Road Less Traveled Eventing Team in Lenoir City, Tenn., reported the theft to the local police and TIEC security. The stolen trailer is a white 1999 Sundowner four-horse slant load with black and grey stripes on the side. It has a large dent on the left fender, and the Tennessee license plate was T382699.
"It was shock all the way around," Adams said. "Everyone was like, 'What happened?' But the trailer parking is in a kind of hastily-placed gravel area, and you can see it from the interstate, and there's not even a fence around it. There are no security cameras or anything that would deter someone from doing something like that.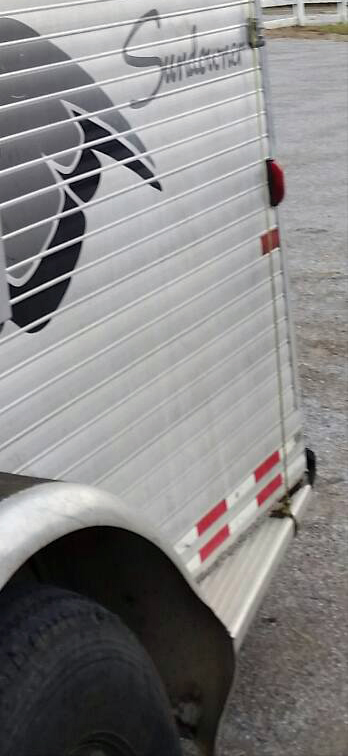 "It's kind of a tiered lot, and I had a little bit of a bad feeling about it," she continued. "I parked at the top, and I thought, 'Maybe you should go below.' Then I was like, 'Seriously, my trailer is held together with bailing twine, and there are a lot of nicer trailers here than mine.' But I will hand it to security. I went back into the lot several times, just checking to see—maybe someone drove away and realized, 'Oh, this isn't the Sundowner I was supposed to pick up!'—and there's been a security guard sitting there every single time I've been back."
Adams, who's at the TIEC competing her young event horse, If, in some jumper classes with trainer Harrison Ford, had all of her show clothes and most of her tack and other equipment in the trailer. She went to the Farm House Tack Shop in Landrum, S.C., to see if she could at least purchase enough equipment to compete in Wednesday's classes.
"They were phenomenal," she said. "I went in with tears in my eyes, and they did whatever they could. The owner was like, 'OK, you give me a list of everything that was in your trailer, and I'll itemize it for you, and I'll put a price to it so you can give it to your insurance company.' They gave me huge discounts, so I could get through the day and the next few days. They were fabulous. They really went above and beyond.
"I still did both my classes, and the ladies in the show office were so helpful, and Harrison was fabulous, too," she added. "Yes, it sucks that my trailer is gone, but it's been one of those times when the equine community really rallies around you."
The door to her trailer tack room was locked, but Adams said she'd recommend a lock on the trailer hitch mechanism itself.
"It's not like a padlock would be that difficult to break, but it might at least make them look for something easier to steal," she said.
Friends and students also launched a GoFundMe account to help Adams replace some of her equipment and to cover some of the cost of a new trailer.