Washington D.C.—Oct. 22
Todd Minikus is used to getting nice ribbons at the Washington International Horse Show. After all, the veteran grand prix rider been coming here for years, and he's won the show's biggest class, the President's Cup CSI-W twice, most recently in 2009 on Alaska. But this year he's found his schedule busier much earlier in the week.
Minikus rode LPF Woodford to the high performance reserve championship behind Kelley Farmer and Mindful for Susan Wagner of LPF LLC.
"Usually you don't think of Todd Minikus as the first phone call you're going to make when you're looking for someone to ride your show hunters," Minikus quipped.
But he was Wagner's.
Washington International only lets riders compete three horses in a division, and though LPF Woodford has been training out of Lane Change Farm with Larry Glefke and Farmer, Farmer was booked in that division with her longterm rides Mindful, Point Being and So To Speak. So with urging from her husband Scott, Susan picked up the phone and called her old friend to see if he'd be available.
The two knew each other from when they both lived in Texas and had a slew of mutual friends. Back then Minikus was showing mainly hunters, and that picked up even more when he moved to the Chicago area in the early 1980s and rode hunters for the likes of Glefke and Steve Haight. Minikus started focusing seriously on jumpers about a decade later. These days he sells hunters from time to time and shows them on occasion—including Lynn Reed's two homebreds Cupid and What About Me, who also earned nice ribbons in the conformation division here and at the Pennsylvania National.
"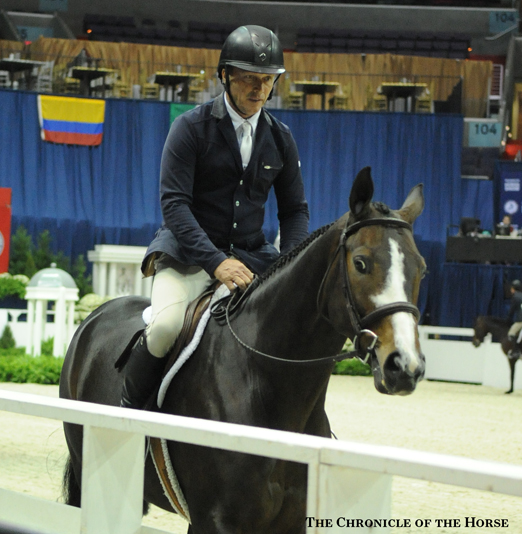 Last year at the Hampton Classic Kelley Farmer fell off in the schooling area and got hurt, and Larry [Glefke] instantly started yelling, 'Todd get your coat!' " recalled Minikus, Loxahatchee, Fla. "I finished riding some of the horses in the hunter derby there."
Minikus hadn't even sat on "Moonie," a 7-year-old Dutch Warmblood (Lupicor—Paulien) before he came to Washington. ("I didn't even know what color he was," he joked.) He got a leg up for the first time in the Verizon Center's notoriously tiny schooling area.
"We talked to him on Friday, and I said, 'Do you want to come try the horse first?' " recalled Scott. "He said, 'Nah, I've had plenty of practice.' "
Minikus can't remember the last time he won a hunter tricolor at a major competition, but he's hoping it means he's in for a lucky week. With the open hunter divisions at Washington over for the year, Minikus is focusing on this Saturday's Presidents Cup CSI-W, where he'll ride Quality Girl.
"I got into this business because I like riding nice horses," said Minikus, 52. "After all these years I still love getting up every day and riding horses. It really doesn't make a difference if they're hunters or jumpers or whatever. I'm very lucky to get to do that every day."
Follow along with the Chronicle as we bring you all the news from Washington here. Full results from the competition are available here and you can watch a livestream of the entire competition for free here.
For a full report from the Washington International Horse Show, check out the Nov. 10 issue of The Chronicle of the Horse magazine.