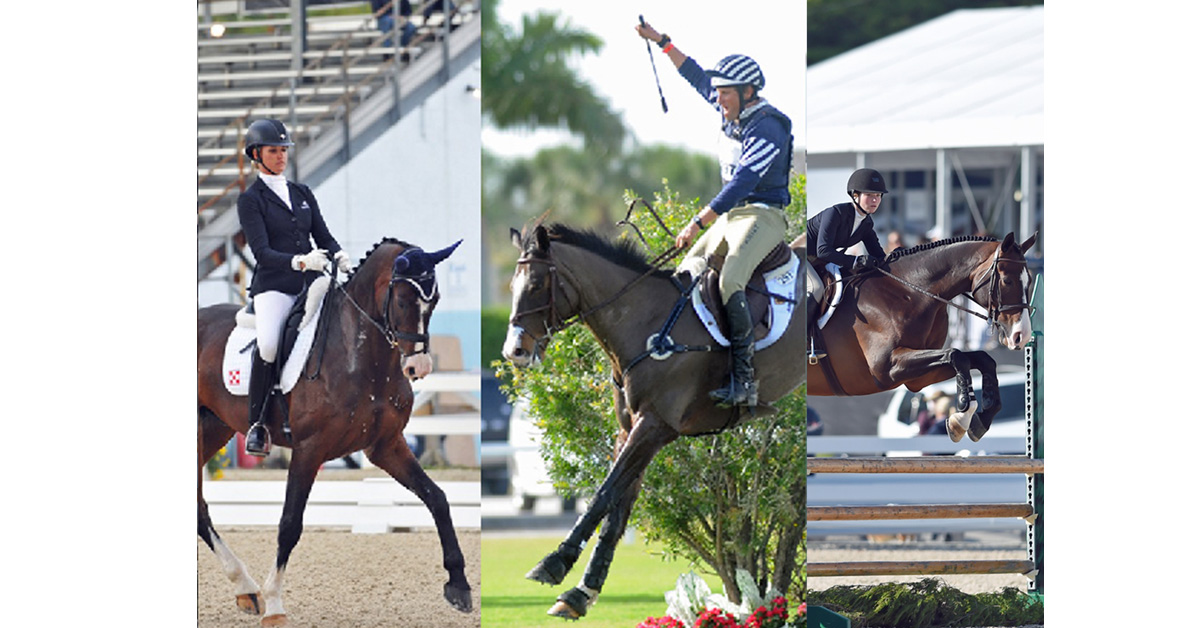 Trading Aces looks at home no matter what kind of saddle he's wearing.
May 22—Devon, Pa.
Trading Aces probably has the most varied career of any equitation horse at Devon.
He's jumped around the Rolex Kentucky Three-Day Event CCI****—placing eighth, and gone on to represent the United States at the Alltech FEI World Equestrian Games (France). He's competed through Fourth Level dressage, scoring in the 70s. And now, he's competed at Devon, partnering with Alexandra Pielet, looking every bit the perfect equitation horse.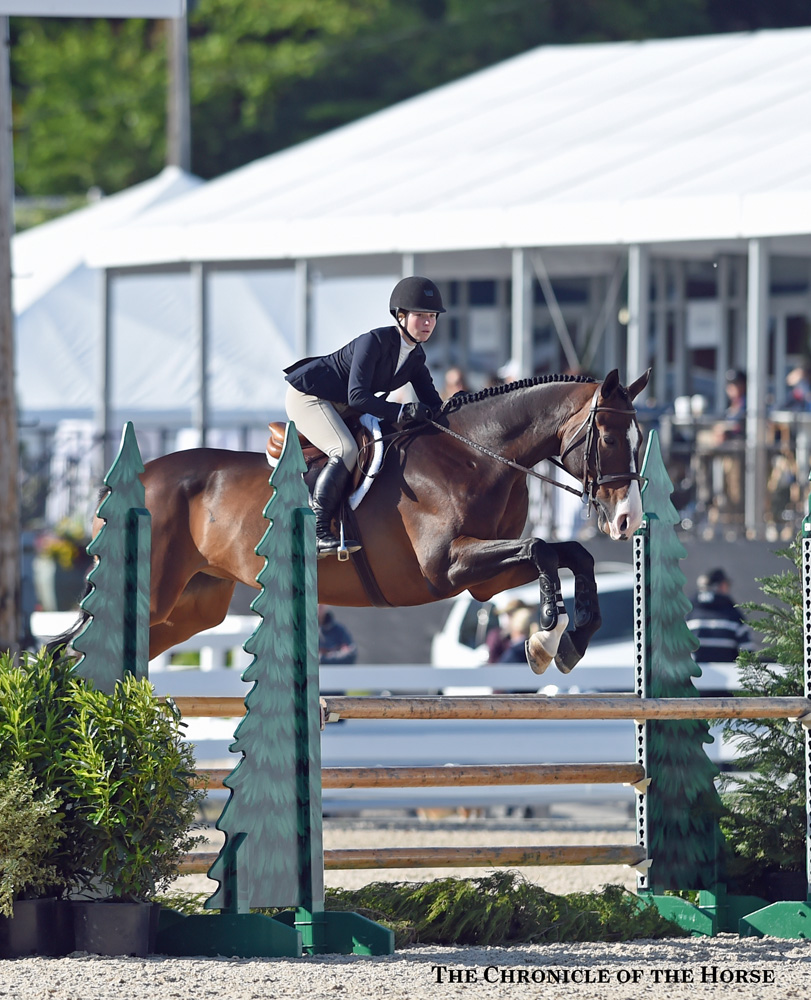 Alexandra Pielet and Trading Aces competed in the equitation classes at Devon. Photo by Kimberly Loushin.
The 11-year-old Irish Sport Horse (Coevers Diamond Boy—Ballyvannon Beauty VI, Leaburg) has had an incredibly diverse career. He got his start eventing with Kylie Dermody in the United States, winning the Fair Hill CCI** (Md.) in 2011. Chronicle of the Horse Eventing Horseman of the year Boyd Martin took over the ride the next year, developing "Oscar" through the four-star level.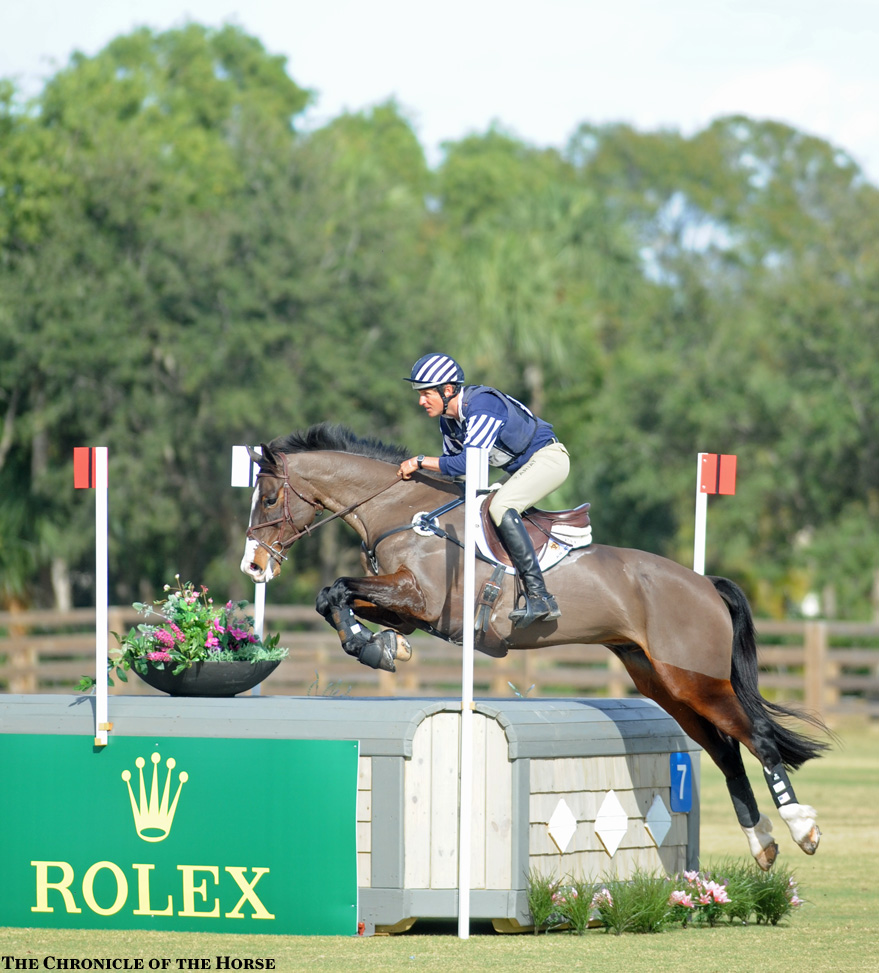 Boyd Martin competed Trading Aces through the four-star level. Photo by Lisa Slade.
When he broke his ankle, his wife, upper level dressage rider Silva Martin, took a bit of time to hone his skills in that phase, competing him through fourth level, and competed him at Dressage At Devon in 2013.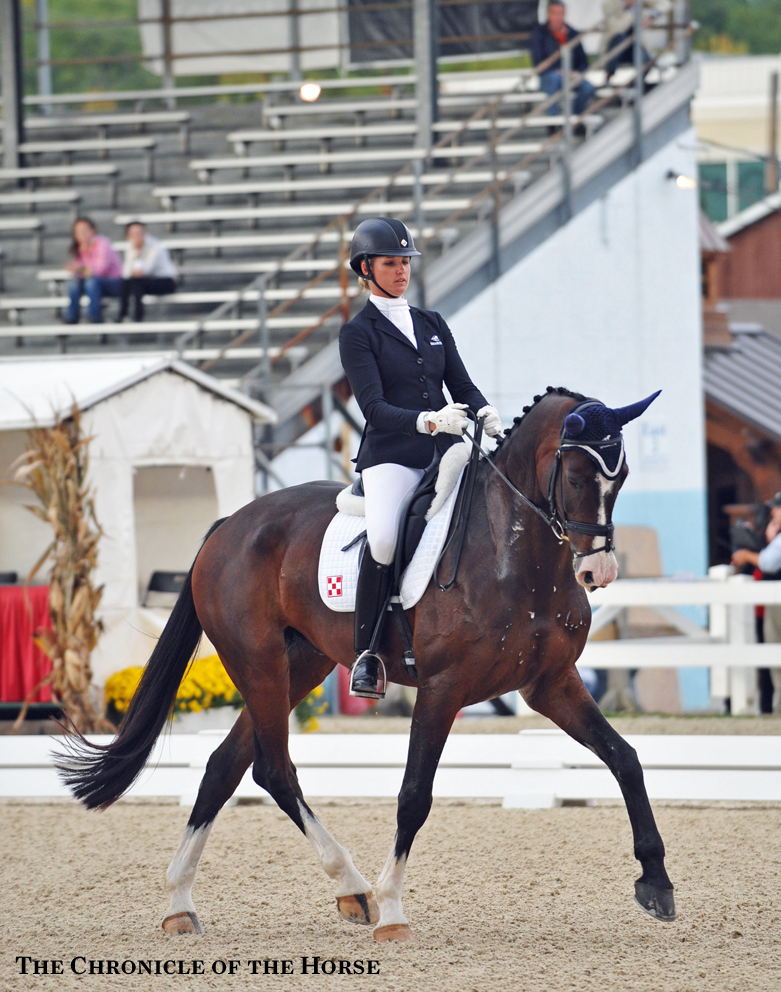 Trading Aces looked every bit the dressage horse last time he was in the Dixon Oval. Photo by Lisa Slade.
When Martin broke his leg at the Carolina International (N.C.) in March of 2014, he recruited his former mentor Phillip Dutton to take over the ride on "Oscar" at Rolex a month later to keep that horse prepped for a possible WEG bid. After finishing eighth there, Dutton handed the reins back to Martin. But later that year Dutton found himself short on horseflesh in the leadup to the WEG, and Martin had an extra in the barn. So in a highly unusual move, Martin and Oscar's then-owners, the Trading Aces syndicate, collaborated to let the selection committee consider a partnership between Dutton and Trading Aces for the World Games in an effort to give the United States the best possible shot at a great team effort.
After the Games Martin took over the reins again, riding Trading Aces to first in the $50,000 Wellington Eventing Showcase (Fla.).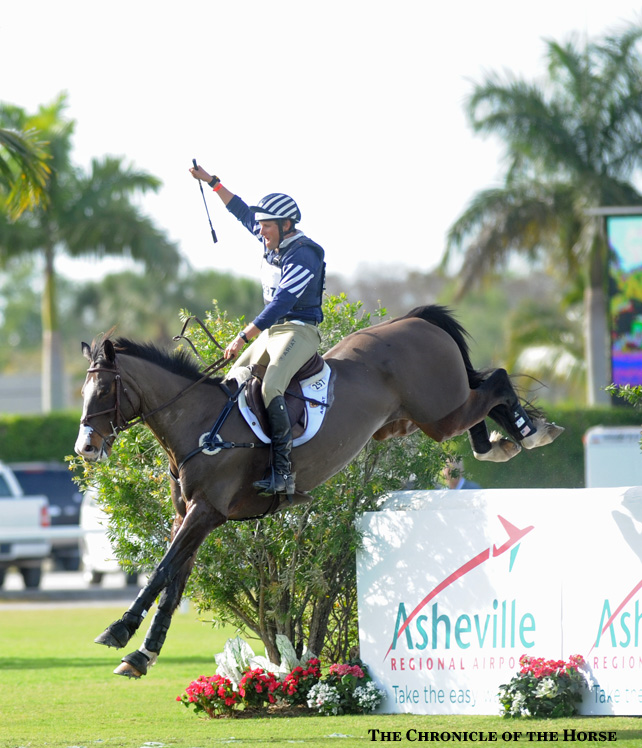 Trading Aces and Boyd Martin won the $50,000 Wellington Eventing Showcase. Photo by Lisa Slade.
Despite his success Martin decided to reroute him to the hunter/jumper world as he saw Oscar struggling with endurance necessary to excel as an international eventer.
"The decision kept me up at night as it's one of the hardest horses I've had to let go, but I'm proud to get the syndicate a good bit of money back, and I think Oscar will really enjoy the life as an equitation horse under a palm tree at WEF," said Martin.
Luckily for Martin, and all Oscar's fans, he seems to be adjusting to life just fine.
Follow along with the Chronicle for lots more news, features and photos from Devon. Find out the secrets to R.W. "Ronnie" Mutch winner Hunter Holloway's success, and check out photos from Day 1 of junior competition, and follow us on Twitter and Instagram for lots more fun. Check out the June 8 issue of The Chronicle of the Horse for news and analysis from Devon Junior.