Traci Viers described her Great American/USDF Region 6 Dressage Championship win as, "Crazy good, crazy fun and crazy exciting." The 52-year-old from Vancouver, Wash., overcame debilitating nerves and piloted her own North Forks Cardi to top the adult amateur third level division (70.00%) and place second in the adult amateur fourth level championship (67.33%).
"Cardi" (Canterbrook Llwynog du—Hastening Mirage), is a 16-year-old Welsh Cob stallion. He and Viers traveled to Nampa, Idaho on Sept. 21-24 for Hill's first regional championship.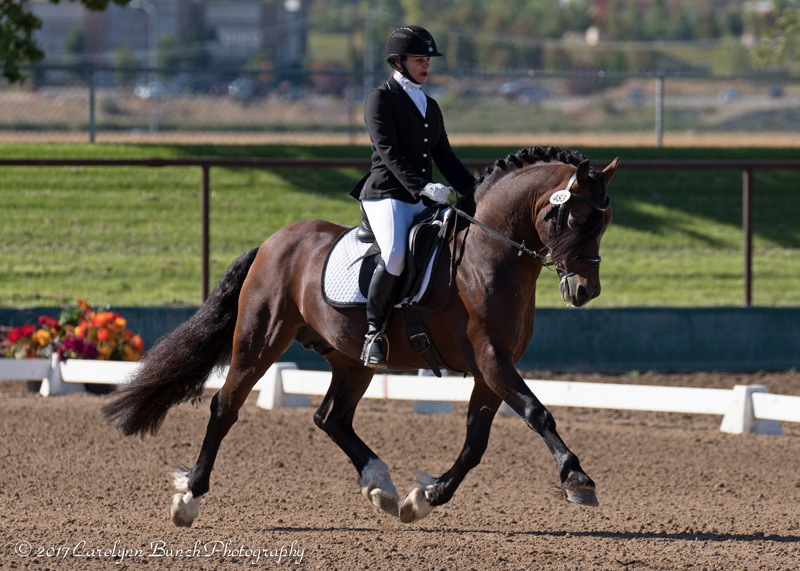 COTH: How did Cardi come into your life?
Viers: My dear friend and coach Jessica Wisdom, with a partner, acquired him as a 3-year-old and went on to win the Grand Prix freestyle with him in 2014 at the USDF National Championships. A year and a half later we started chatting and pretty soon he was mine. He needed a retirement situation with an adult amateur and I was just lucky to be the perfect fit.
Read more about North Forks Cardi's time competing with Wisdom in this 2013 Chronicle article about them.
He's perfect, he's just the most perfect creature on the planet. He thinks he's all that. He knows he's special and he lets everyone know it too, but he's a gentleman at his core. He's silly too, he likes to grab his water buckets in the field and toss them around and run full speed around the field with a bucket in his mouth.
COTH: What is he like to ride?
Viers: He's a blast to ride. He's 14.3 and you feel like you're on a 17-hand horse. You get on him and you're like, "He's huge!" He's just so muscular and has so much suspension that you're kind of taken by surprise when he starts to move.
COTH: What do you do professionally?
Viers: I've got a boarding facility now. I sold an automotive facility a few years ago to do the horses full-time. I'm starting a breeding program around Cardi, he has several foals out there who are doing very well in the ring. Hopefully we'll get colors. My dream is to have a spotted Cardi with his same quality. We have a paint mare in foal right now, so I'm really excited about that.
COTH: How did you start riding?
Viers: I was born with horses in my DNA. I grew up in Idaho and my mom and dad let me take lessons after I begged them relentlessly. I got my first horse when I was 10, it was a spotted Welsh pony. I started taking formal dressage lessons in 2000 with Harriet Hauser. Now I ride with Jessica Wisdom and she's amazing. She started coming to Washington for clinics and I just fell in love with her teaching.
COTH: Have you had any significant horses before Cardi?
Viers: I had an Andalusian stallion who went on to become a movie star. His name is Novelisto and I bought him totally on a whim. I was going to sell my Quarter Horse but he popped up on the website I was using for that and I fell in love. I didn't even try him, I bought him sight unseen off a video and a reference and he was amazing.
I did training and first level with him but he had some injuries and I knew he couldn't do much beyond first level. Jessica helped me sell him to the top Hollywood horse trainers in the country, Cari Swanson and Rick Peterson. Litso was the white stallion in Winter's Tale, he's going to be in Helen of Troy and he was part of a Ralph Lauren campaign.
COTH: What drew you to dressage?
Viers: I just think it's so much fun, I love the complexity of it and the partnership you have to develop with your horse. I really really want to be able to ride Grand Prix at some point, I'm praying I can do that on Cardi but I've got a long way to go.
COTH: Can you tell us about a significant challenge you faced on the road to regionals?
Viers: I had to get over a lot of show nerves. Show nerves have been the thing that knocked me to the ground. Last year they almost paralyzed me. This year I was actually able to get over that so I could go in and not feel like I was going to have a panic attack.
I'm a big fan of Isagenix and they have a product, Ionix Supreme, that has a lot of B vitamins and helps combat anxiety. I would drink that and sit by myself and mentally just ride my test in my head, take some deep breaths, and go, "Okay, it's just a ride, it's just a fun ride with my beautiful horse." I realized I just had to do it for myself and my horses and focus on my journey.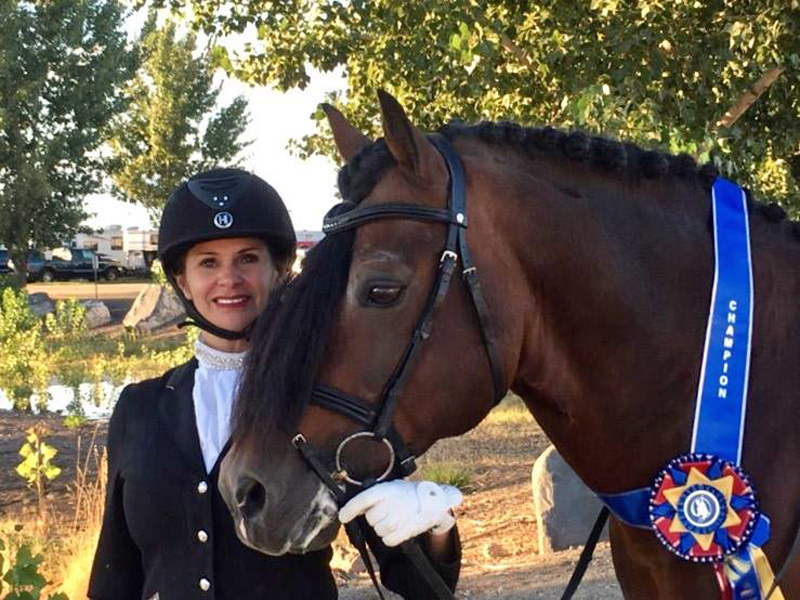 COTH: Why was this championship meaningful to you?
Viers: This is the first year I've ever ridden fourth level and solidly ridden third, so most of my experience has been in the last year and it's been with Cardi. Showing has been a goal that I've chased for a long long time and I just have to get through the anxiety. I always told myself I was going to make this work, I'm not a quitter, so to finally accomplish that this year was really amazing.
It was also meaningful because I did it on Cardi. He's one of a kind and I feel so blessed that Jessica trusted me with him. People think it's easy because he's so great, but that's not true. I had to develop a partnership with him. He's a stallion, he's a Cob, and he had the same rider for 13 years who owned and trained him, so those are big shoes to fill.
We developed a good partnership though. I talked to him all the time, he lives at my house, I handle all his care, we go on trail rides, I just hang out with him and I love him so much it's ridiculous. My husband's like, "Oh, you're gonna be sadder when something happens to him than to me." That isn't true, but…maybe it's a little true.
COTH: What else do you like about showing?
Viers: I have the most wonderful, supportive friends. We all show together and we're all so supportive of each other. It's the best barn family, we're all different ages and levels and journeys but we help each other out at shows, we travel together, one of us makes a big dinner and we have lots of people from our region that come join us. We all just have a great time and support each other 100 percent.
Like this story? We're featuring lots of GAIG/USEF Regional winners on www.coth.com—including a neurosurgeon amateur's bittersweet win, a hard working teenager with a special spotted horse, and more. Read about them all!