Stamford, Lincolnshire, England—Aug. 30
Despite being first into the arena this morning at the Land Rover Burghley Horse Trials, no one managed to top defending champion and current world no. 1 Oliver Townend's leading dressage score of 27.2 with MHS King Joules. There were, however, some new faces from the morning line up, and a British top five by the end of the afternoon session.
"If MHS King Joules can stay on his dressage score of 27.2 I'll be happy," said Townend. Looking ahead to Saturday's cross-country phase, he admitted that Mark Phillips' track will be very influential. "Burghley is always very big, but it's as big as it's been, in terms of dimensions, as I've seen it," he said. "I think it will be stamina sapping for the horses as there are three big hills and no real breathers. It will be tough."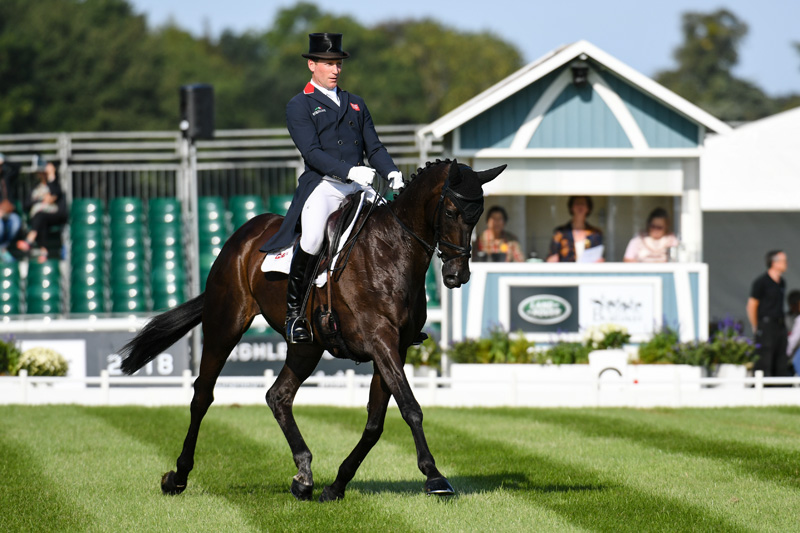 Townend will have two more chances tomorrow with 2017 Burghley winner Ballaghmor Class and Cooley SRS to come.
Sarah Bullimore came within .1 of Townend's score with her Pau CCI**** (France) runner-up Reve Du Rouet. "I'm really chuffed," said Bullimore. "He's genuinely scared of the crowds so he was fabulous."
She also admitted that the 14-year-gelding is very set in his ways, which she and her team have had to learn to accommodate. "I actually think he's a bit autistic," she said. "He has to do things certain ways and has his own routines; it's just a case of us trying to keep him happy really."
Despite some equine acrobatics at the first horse inspection, Harry Meade's Away Cruising posted probably his smartest dressage test to date to move into third place on 29.5.  "I'm delighted with him," said Meade immediately after his test. "I've felt all season that he was on the path to putting in a good test, and today was a good day to execute our plan."
Last year's runners-up Piggy French and Vanir Kamira lie fourth on 29.9 after French just about managed to keep a lid on the 13-year-old mare's sensitive personality. "I'm pretty pleased on the whole although it definitely wasn't a personal best," she admitted. "She didn't bubble or boil over, and there were no major mistakes but she does tend to struggle in this phase."
Georgie Spence and Wii Limbo complete the top five on 30.4.
Just one U.S. pair went today, Andrea Baxter and Indy 500, who scored 36.6 for equal 25th place.
Lillian Heard and LCC Barnaby and Buck Davidson and Park Trader will do their dressage tomorrow.
For full results and tomorrow's start times, click here.
Dressage kicks off again tomorrow morning at 9:30 BST/4:30 EST, with Ireland's Ciaran Glynn and November Night first in front of the ground jury.