South Gloucestershire, England—May 4

With a Rolex Grand Slam on the line, British rider Oliver Townend couldn't have wished for a better start to his Mitsubishi Motors Badminton CCI**** than winning the dressage on Ballaghmor Class.
"From the moment I got on him down at the stables this afternoon he felt fantastic," said Townend.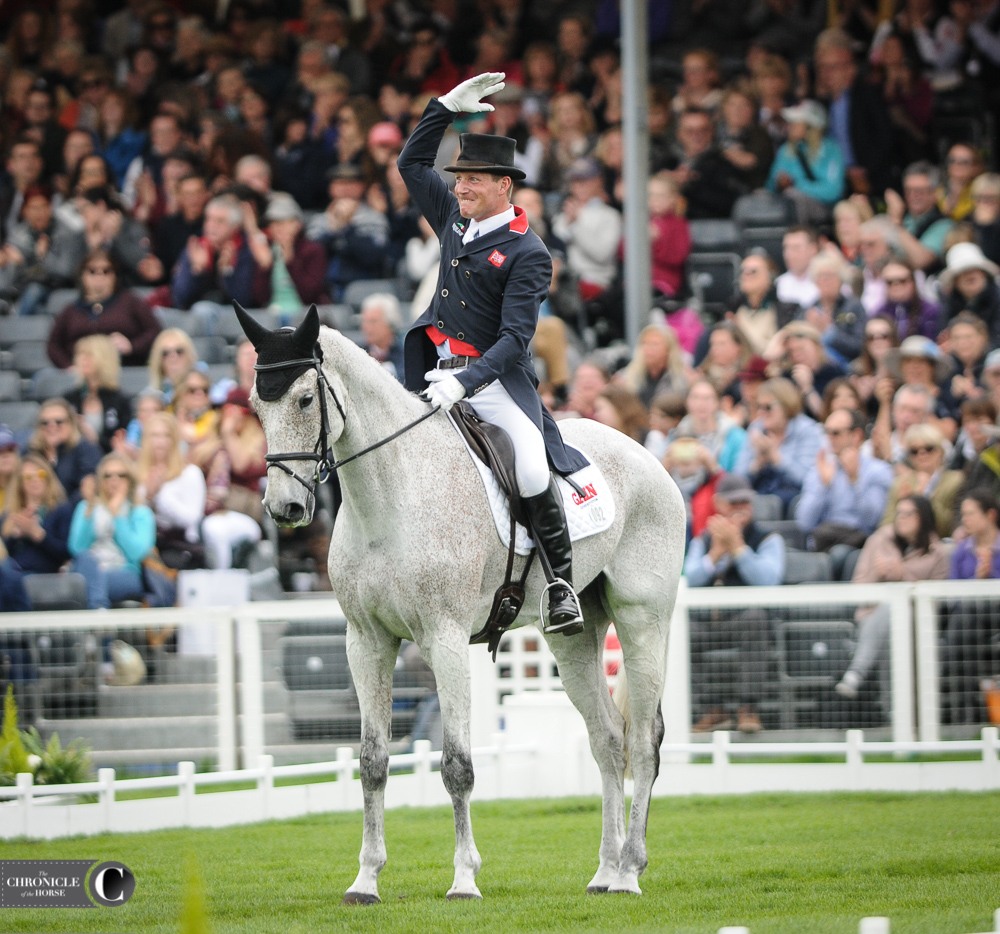 He fist-pumped the air as he exited the arena at the end of two nail-biting days of dressage. When his score of 20.8 flashed up on the board a minute later it became clear why.
"Thomas," an 11-year-old Irish Sport Horse (Courage–Kilderry Place) bred by Noel Hickey and owned by Karyn Shuter, Angela Hislop and Val Ryan, produced a punchy, expressive test with no major mistakes. It was a step up from his performance at last year's Land Rover Burghley CCI**** (England), which he went on to win.
"I honestly wasn't sure what he'd do in the arena," said Townend. "He's been working very well at home, and he worked nicely here yesterday, but this morning it was a different story.
"Second time at four-star, quite honestly that's often when they go the wrong way because they now know what's coming, and they know now there's an atmosphere and a crowd," added Townend. "He just came to me 100 percent."
Watch Townend's tremendous test.

Although riders are adamant this will not be a dressage competition given the likely soft ground on tomorrow's cross-country course, this start gives Townend every chance of becoming only the third rider in history to win the Rolex Grand Slam. (The others are Pippa Funnell and Michael Jung.)
"At the moment my job is to focus on getting the best out of both my horses that I can," Townend said. He's also lying 15th on Cooley SRS (25.9). "Of course it's fantastic for our sport that [the Grand Slam] is available. But you still have to win the biggest competition in the world. If a top-class rider wins one of these in their careers, then that's a huge achievement and something they're happy with for the rest of their lives. To win two in two weeks is asking an awful lot, but we're in a good position."
Kiwi legend Mark Todd, who first competed at Badminton more than 30 years ago, placed second on another flashy gray, Kiltubrid Rhapsody, on a score of 23.4.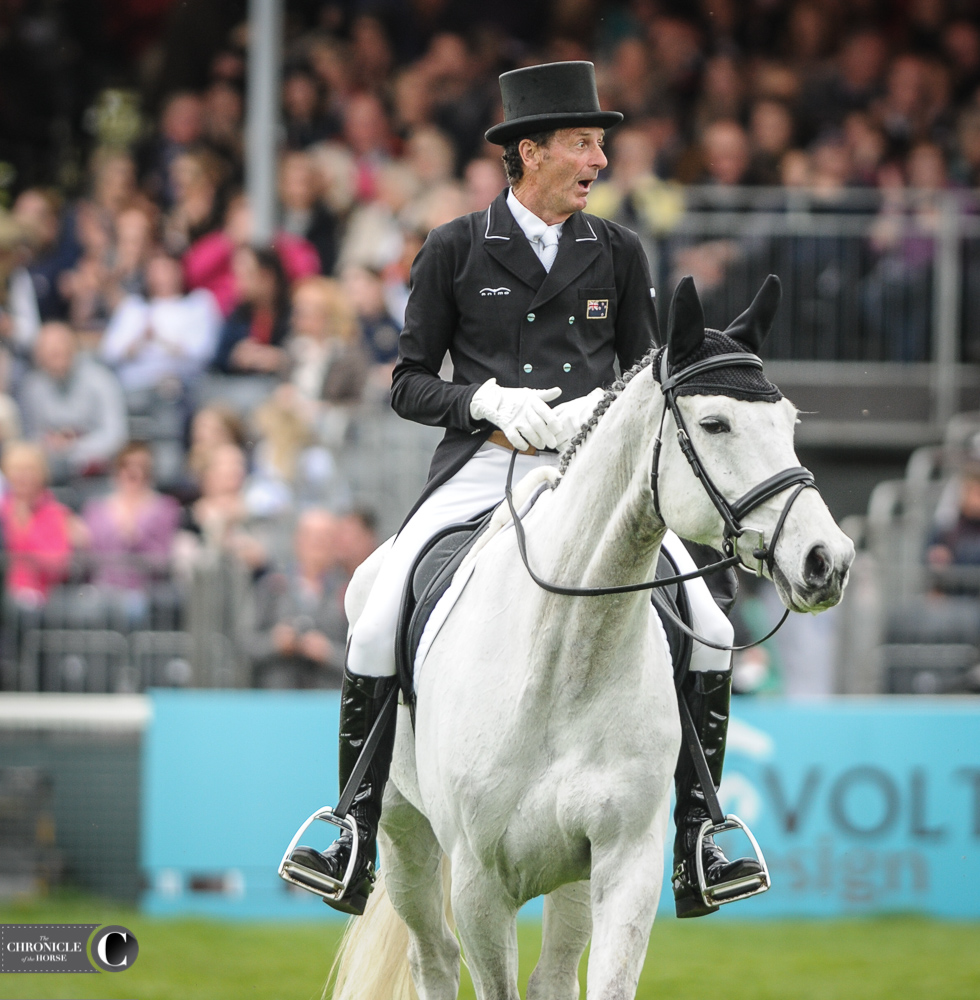 Check out many more of Lindsay Berreth's beautiful photos from dressage.
"I'd been watching the dressage on and off and noticed the judges seemed to be giving better and better marks, so I was quietly optimistic," said Todd with a smile. "He's a lovely horse with great movement and a great temperament. He's come on in leaps and bounds this year."
Two U.S. riders performed their dressage tests today, and Badminton rookie Will Coleman is the best-placed in seventh with OBOS O'Reilly (24.6). Madeline Backus and P.S. Arianna slotted into 63rd with a 39.0. Lauren Kieffer's score from Thursday of 25.0 left her tied for 10th with Veronica.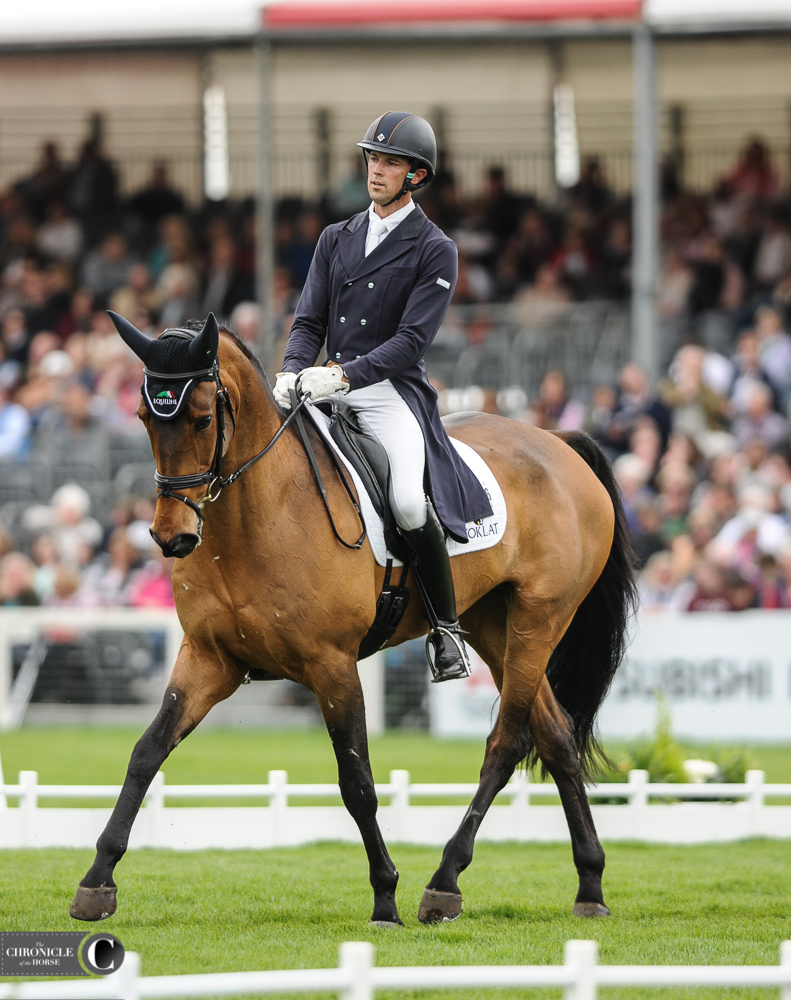 "OBOS O'Reilly was very good," said Coleman. "He was coughing a little bit down the centerline, which was a bit unnerving, but he recovered, and then I thought he did a really solid test. He's not the flashiest horse, but we just try to execute everything cleanly, and that was kind of our goal, and I think by and large we did that. He's quite a character, especially as a young horse. He's become a little bit more normal as he's matured. He's one of the sweetest horses I've probably ever had. He's a lion on the cross-country, and I hope he brings that with him tomorrow. He'll need to."
Thursday's leaders, Ros Canter and Allstar B, moved down to third. "My plan is to go out tomorrow and mean it," said Canter. "I'm not renowned for being the fastest rider, but I'm sitting on a quick horse, and he's very fit."
Eric Winter's 32-fence cross-country course looks set to be a significant challenge.
"It's going to be a slog," said Townend in reference to the drying conditions that will likely produce ground that is good to soft at best, and may be heavy and holding in places.
"I won't have time to watch any I don't think [before my first ride]," said Townend. "So my first ride will be a fact-finding mission a little bit. Obviously trying to be competitive with him as well. You don't come to this place to practice. But what will be will be, and we'll be doing our best."
Preview the course with Mary King and course designer Eric Winter.
Riders highlighted fence 6ABC, Huntsman's Close, and the Lake (fences 9ABC) as problem areas. The former comprises three tree stumps with a very tight line between B and C that leaves no room for error, while the Lake requires a bold jump in over a sizeable log drop followed by an angled brush in the water and an even more acutely angled brush on the exit.
"The Lake is the sort of fence that you could get absolutely right, but if luck's not on your side one little trip up the bank will result in 20 penalties," said Todd.
Andrew Nicholson, who sits 33rd on Nereo (30.3), summed up the whole course when he said: "You will leave the start box with one plan but will need to adapt that according to what you are feeling underneath you."
New Zealand's Caroline Powell and Up Up And Away will be the pathfinders on cross-country at 11:30 a.m. British Summer Time.
Here's a link to the cross-country start list.
You can find full dressage results on Badminton's website.
2018 Badminton Horse Trials - Dressage
Lindsay Berreth / May 4, 2018 5:36 pm