Toronto, Ontario—Nov. 11  
The $87,000 Big Ben Challenge at the Royal Agricultural Winter Fair horse show had all sorts of show-jumping luminaries among the list of 23 entries: the world's top two riders (Kent Farrington, McLain Ward), 10-time Olympian Ian Millar, four top riders from Ireland and throw in Belgian twin Nicola Philippaerts, too.
But nobody could have predicted that a young up and comer would finish at the top of the leaderboard and cart away leading rider honors.
Rising young star Hardin Towell, astride his quick-footed, high-spirited, well named Lucifer V, defeated them all, leading the way in an eight-horse jump-off and winning in 38.37 seconds.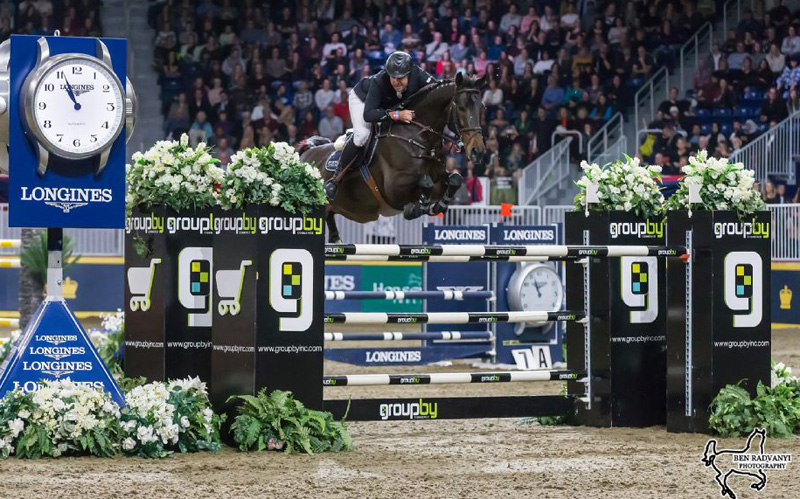 Only two riders were faster: World No. 1, Kent Farrington, astride his fiery chestnut Creedance, blitzed the jump-off course in 36.92 seconds while World No. 2, McLain Ward, on HH Azur, finished a few blinks behind him in 37.58 seconds. The trouble is, each of the top-ranked riders knocked down a rail along the way to shift themselves into fourth and fifth place, respectively. Farrington won the event last year.
With this stunning victory, Towell also tied four-time Olympian Beezie Madden as leading international rider for the show (Madden having won back-to-back events on Friday).
And unheralded Canadian rider Francois Lamontagne—whose name wasn't even on the points list two days ago—finished second in the Big Ben jump-off with a 9-year-old mare, Chanel Du Calvaire, and ended up as leading Canadian rider.
Just as he did in the World Cup qualifier on Wednesday, Sharn Wordley avoided a hell-bent-for-leather run with Barnetta and slid into third place, and finishing the jump-off in 43.61 seconds, well behind Lamontagne in 40.92 seconds.
"It's a very special place to win," Towell said. Towell had never ridden at the Royal before. He had come with the intent on doing well in the World Cup qualifier, but he finished eighth, not quite what he wanted. And because that World Cup class happened on only the second day of international competition—and not the final day—Towell had to wrap his head around what to do with his motivation for the rest of the week.
"I still had three more days of showing," he said. "That was a bit difficult."
But on Saturday night, he got back into the swing of things. He and Lucifer (Towell's girlfriend Sayre Happy calls him Lucy), delivered a clear first round. The first handful of riders incurred some time faults, and course designer Guilherme Jorge had the option of increasing the time allowed. But he didn't.
Towell was glad. His clear round came in 6 ½ seconds quicker than the time allowed.
Kelly Cruciotti, only 20, riding Hadja Van Orshof, was the first to go clear and avoid time faults (Conor Swail was clear but incurred 1 time fault when he exceeded the time allowed by 1.65 seconds). And she was followed by Lamontagne, Daniel Coyle on Cita, Adrienne Sternlicht on Cristalline, Wordley, Farrington and Ward.
The first-round course was imposing but rideable. However, Jorge had inserted some delicious little traps: jump 3, just an ordinary vertical but jammed into a corner—most took it at an angle—or Fence 9, with a run-out directly toward the end boards.
Asked about the course, Lamontagne joked that he was so cold before he had to walk the course that he took out his toque, quite an apt idea from a guy from Saint-Eustache, Quebec. But as he walked the course, he said he started to sweat. "I could tell the verticals were tall and the oxers were wide," he said. "I was not expecting so many clear rounds."
So when Lamontagne cleared that course with his little chestnut mare Chanel Du Calvaire, he pumped his fist and the roar that came from the crowd was thunderous. Who knew he had such support?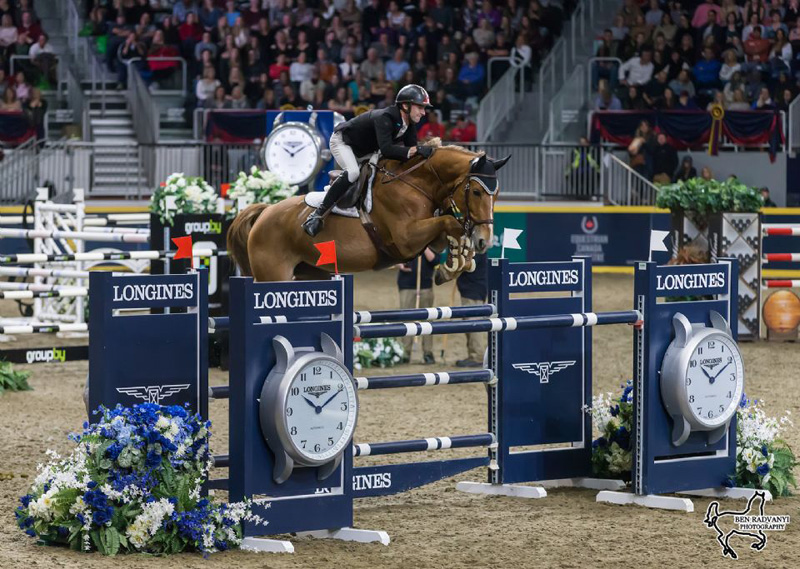 "I was expecting that because it was a little bit like that already earlier this week and already last weekend at the Canadian championships," he said. "They were really noisy with me. I knew that tonight was sold out."
Towell accomplished his win with an absolutely wicked jump-off effort, pushing his rather unpredictable Lucifer to the max.  The 11-year-old gelding turned on a dime, took an impossible tight turn to the vertical that was Fence 12 in Round 1.
"The horse is great," Towell said. "The jump-off, I didn't ride so well. The past two weeks, I've been a little bit unlucky." His bridle broke during a World Cup qualifier at the CP National Horse Show (Ky.) last week. And in his first event this week, he took down the first jump. In spite of his quirks, Lucifer is quite reliable. Towell was bummed.
Towell has ridden Lucifer, owned his student Jennifer Gates' Evergate Stables, for four years. The horse came with his devilish name. And he came with an attitude problem. "I learned right away as a young horse, he misbehaved a lot," Towell said. "But I believed in him and we really came together. I jumped my first five-star grand prix with him, so he's really helped me get to the next level. And I think as he's gotten older, he's stepped up to the next level. He's starting to do it easier. Tonight was a big class and he jumped it quite easy. I think the first round, he rubbed one jump, the liverpool and the jump-off, he didn't rub anything."
Misbehaving? Lucifer was "very naughty," when Towell got him. "He would spook at a lot of stuff and go, but I think his biggest strengths come from that little playfulness," he said.  At first Lucifer wasn't impressed with the multiple classes of heavy horses at the Royal, all thundering through the tiny hitching ring. "I mean, they're loud," Towell said. "There were a couple of close calls with Lucifer, where I almost fell off."
Lamontagne has had his mare for four years. He admits she's a little disorganized. She cross-canters. She trots. She switches her lead. But she jumps a lot of clear rounds.
As for Lamontagne, at 33, this was only the second time he has ever contested the Royal. In 2012, he missed the Royal because he was competing at a Nations Cup in Buenos Aires with a horse called Underground Des Hauts Droits. After the event in Argentina, he sold the horse to Lucy Davis who changed his name to Barron, and rode him to a U.S. team bronze at the 2014 FEI World Equestrian Games (France) and U.S. team silver at the 2016 Rio Olympic Games (Brazil).
"Maybe I'll find another one," Lamontagne said.
His 9-year-old mare looks as if she has been dipped in maple sugar, with her flaxen mane and tail. She headed pell-mell at the Canada planks with the tricky "Canada" cutout. As Lamontagne cleared one jump-off obstacle, he lost his balance in the saddle, righted himself and went on.
"Oh that happened to me often," he said. "In the first round and the jump-off.  I lost one stirrup two times this week. The other day, I finished the 1.50-[meter] course with one stirrup. And I had five jumps left to do."
Things hadn't gone well for Lamontagne earlier in the week. On Thursday, he wasn't on the scoreboard. "Because I was at zero, they even forgot to put my name [on the start list for the Big Ben Challenge]," he said. "So Friday, I got third place. So this morning, I went to the show office and I said: "Hey! I got points and my name is not even there. Put me there. There's still one class and the show is not over.' "
See full results from the $87,000 Big Ben Challenge and full results from the entire Royal Winter Fair.