Aachen, Germany—July 20
Olympic champions Charlotte Dujardin and Valegro finally got to lead an honor round at the Aachen CHIO today, but their victory was a rather hollow one for British dressage fans. The dragon the pair had been trying to slay all weekend—comeback kid Totilas, with German rider Matthias Rath, withdrew from the Grand Prix freestyle and thus denied their British rivals a third chance to finally beat them.
In a surprise move, the German dressage committee announced after Rath's win in the Grand Prix Special yesterday that they'd approved his stallion's withdrawal from the freestyle. Eurodressage reported that the committee stated: "The performances of this pair have improved impressively, show after show, with eight victories at four shows. Because the horse is still in the build-up phase, the committee believes an extra start is not ideal."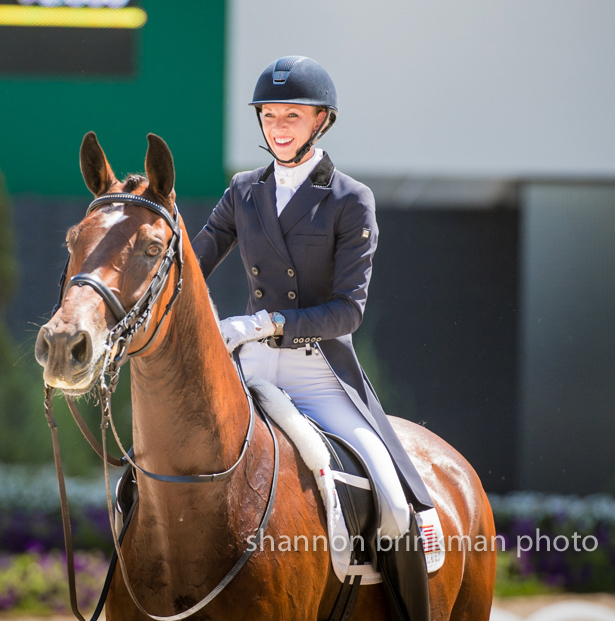 Aachen newcomer and best-placed U.S. rider Laura Graves
attracted lots of positive attention with her mount Verdades,
who was featured as the show's "Horse of the Day" on July
19. Photo by Shannon Brinkman.
Therefore Dujardin and Valegro won the freestyle with their "How To Train Your Dragon" routine on a score of 87.90 percent, more than a full percentage point ahead of second-placed Helen Langehanenberg and Damon Hill NRW (86.02%), but their winning mark was far below their world record score: 93.97 percent. And the pair struggled all week at Aachen, placing a shocking sixth in the Grand Prix test on Thursday and coming second (83.15%) to Totilas (84.52%) in yesterday's Grand Prix Special.
"I started not so good," Dujardin said, acknowledging the obvious. "In the Grand Prix I have never had so many errors with Valegro; I embarrassed myself."
After a major mistake at the beginning of the one-tempi changes in their first test of the week, the audience began audibly groaning with every successive faux pas.
"That had me confused even more," she said. "But that's life. We all make mistakes, and I am not perfect, and neither is Valegro."
The pair's Grand Prix Special performance was a marked improvement over their showing on Thursday, but mistakes in the one-tempis and piaffe to passage transitions still marred their test.
Today, in the freestyle, the one-tempis proved Valegro's nemesis yet again, but the pair performed their other movements well and with harmony. Only one of the five judges—the German judge Dietrich Plewa—placed Valegro lower than first, in third.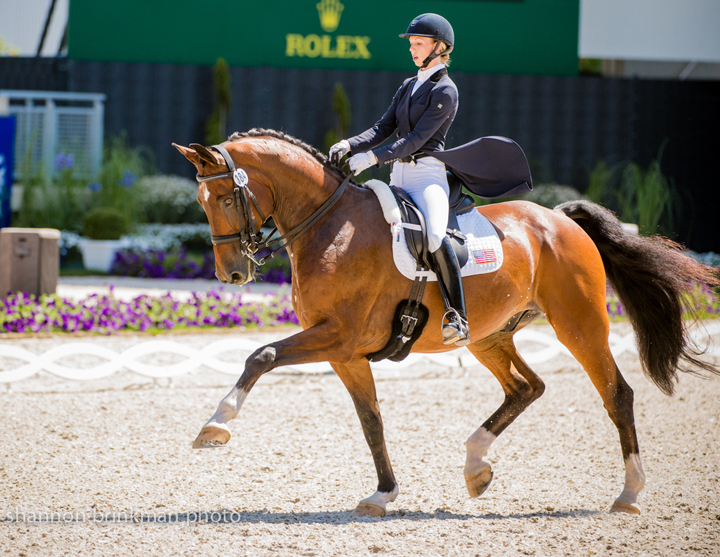 Laura Graves and Verdades finished eighth in the
Grand Prix Special and tied for 10th with fellow U.S.
pair Adrienne Lyle and Wizard in the freestyle.
Photo by Shannon Brinkman.
The New American Star In The Spotlight

The U.S. contingent turned plenty of heads this weekend, even without performances by anchor rider and former Aachen champion Steffen Peters, whose hospitalization with pneumonia required his withdrawal from the competition on July 14.
If anyone was in doubt about Laura Graves' staying power following her surprise reserve championship in the Dutta Corp/USEF Grand Prix Dressage National Championship just a month ago, her performances in Europe since then have confirmed that she and Verdades aren't just a flash in the pan. Graves' poise in the ring and scores on the board have drawn particular attention at Aachen, where her mount Verdades was chosen by the show's press office and St. Georg magazine to be featured as the show's "Horse of the Day" for July 19.
Graves, Geneva, Fla., was the top U.S. rider in the Grand Prix Special, finishing eighth on 74.78 percent, while Adrienne Lyle and Wizard placed 13th (72.90%).
Caroline Roffman and Her Highness O were scheduled to go in the four-star CDI at Aachen, but they were bumped up to the five-star classes as a late substitution for Peters and Legolas 92. They broke into the 70s in their Grand Prix test on Thursday, but a disappointing performance in the Special landed them at the bottom of the scoreboard on 61.31 percent.
Graves and Lyle both advanced to the freestyle test this morning, where they tied for 10th place on 76.90 percent.
Looking for full results from the Aachen CHIO? You can find them here.
Adrienne Lyle was thrilled with Wizard's
performance in the Grand Prix Special, which
ranked 13th. Photo by Shannon Brinkman.
Wizard trotted into a tie for 10th place in the
freestyle test with Adrienne Lyle in the irons.
Photo by Shannon Brinkman.