Lexington, Ky.—Aug. 20
When Hunt Tosh woke up Saturday, he probably didn't have a specific metric in mind to quantify the depths of his friendship with Daniel Geitner beyond number of calls exchanged daily. But when he entered the schooling ring for the Platinum Performance USHJA International Hunter Derby Championship, he gained two: 463.50 miles and 7.5 hours of travel.
Both in 2010 and 2021, prior to Tosh winning derby finals, Geitner stood in the center of the schooling ring to set jumps for his longtime friend. Tosh understood that this year would be different, because Geitner had just returned to his home base in Aiken, South Carolina, after competing in the Platinum Performance USHJA Green Hunter Incentive Championships.
"We talk a couple times a day normally," Tosh said. "I called him today, and he didn't answer. I was kind of offended."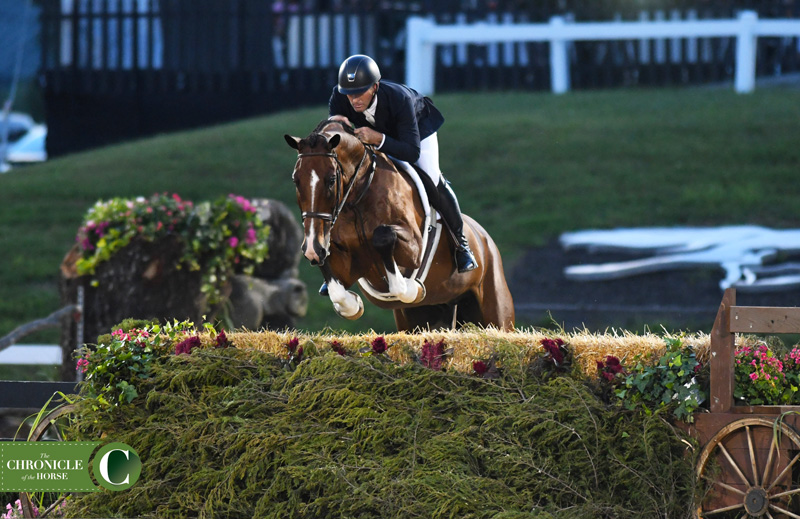 But there was a reason Geitner didn't pick up. When it came time for Tosh to start his night with Ceil Wheeler's Autograph for the handy round, there Geitner stood in the schooling ring to surprise him.
"When I was winning yesterday, he surprised me," said Tosh. "He was in Aiken; he drove back up tonight to be here and set jumps for me.
"He was here when I showed Lone Star, he was in the schooling area with me," he added. "He was here last year in the schooling area with me. And he said he wasn't going to miss it again. So, I have to give him some thanks for showing up and keeping all my weird superstitions alive."
With Geitner showing up best friends everywhere, Tosh properly dominated. With Autograph, he leap-frogged up from eighth to third overall, choosing options on Alan Lohman and Danny Moore's course that would be handy yet pace-driven.
"You kind of had to pick out what suited your horse best but also what the judges were looking for. I was a little lower on Autograph, went in, I tried to carry a little pace," he said. "Try to take a couple risks to see if it would help out and improve the score. And they liked kind of the bolder ride, more galloping and stuff like that. And I tried to follow that path with Cannon Creek."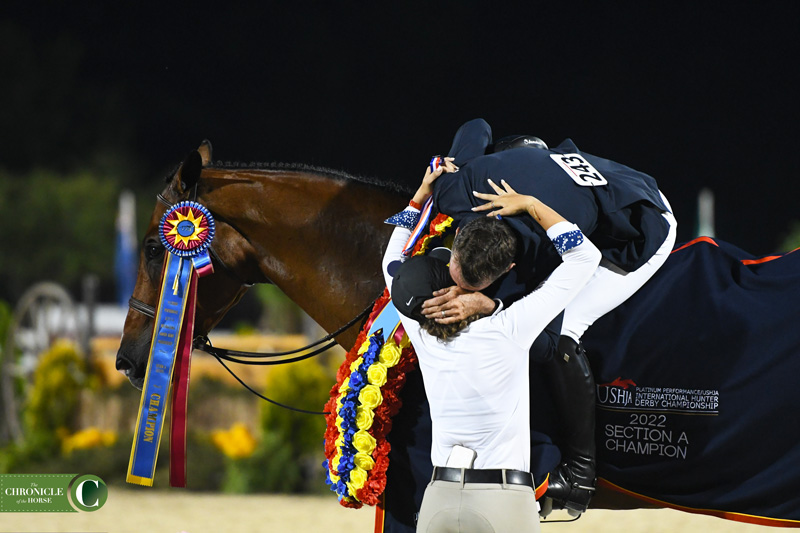 With Cannon Creek, he echoed how he won the year before by earning base scores of 92, 93 and 95. His second consecutive victory on the 11- year-old Holsteiner gelding (Cancara—Tiffany S) owned by the Wheeler family came coupled with a winning margin of 19.5 points.
"It's fabulous," said Tosh. "First of all, that horse deserves it. He's such a wonderful horse, and he's been so good all year. He's come here, to be able to win both rounds is really special. He did it last year and he truly deserves it, because he tries so hard every time.
"After winning last year, obviously you want to win again," Tosh added. "But you try to keep your wits about you and do your best. Cannon Creek gives me such confidence. Yes, I was nervous, but probably less nervous than last year, I guess. Because last year I didn't know what to expect under the lights. This year I knew he'd go in there and he was comfortable with it."
Hannah Isop and her veteran partner Red Ryder slid into the second position after earning third in the classic round. With the 18-year-old Selle Francais gelding owned by Tracy Freels, she aimed to put in a clean round with her horse of a lifetime.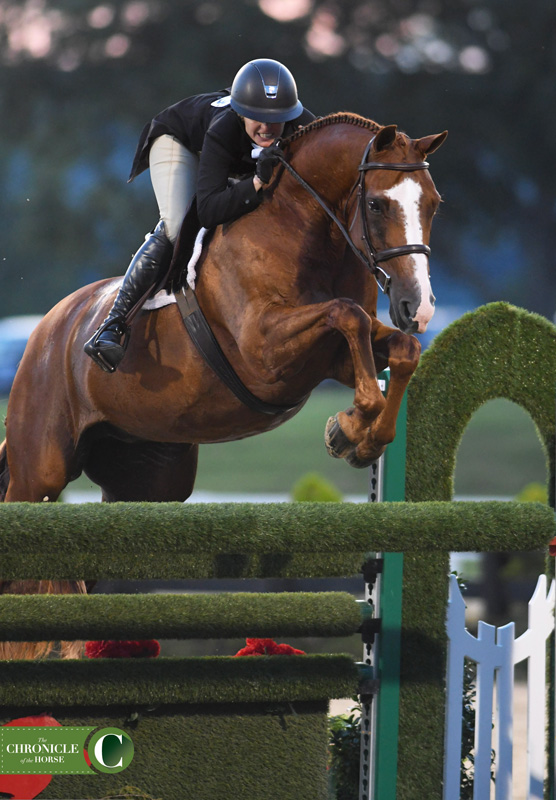 "He made me a hunter rider," Isop said. "It's been a long partnership, which is rare in this world, so I've been incredibly lucky to have such a partnership with him and such a relationship with him. I always can go in that class and know he's going to jump his heart out–he might be a little happy doing it and a little playful—and that's an incredibly feeling knowing that he's going to give it his all."
And likewise leaning on longtime partnership, Colin Syquia earned the fourth spot in Section A and the Section B championship (which is for Tier II riders who fall outside the top 40 money earners over the last three years) aboard Front Page, a horse he spotted as a 3-year-old.
"I think just being here is an honor with these top riders and their great horses," said Syquia. "This is my first derby final. My horse's first derby final. So, it's just an incredible experience—watching them on the livestream before, being here just as a spectator, and then actually have a chance to go up against them."
Though the pair just started stepping into the international derby classes this year, Syquia knew Cynthia Sulberger's 8-year-old Belgian Warmblood gelding (Vigo D'Arsouilles—Cartagena Indias Ecaussinnes) would rise to the occasion after seeing his progression over the years from the baby green division to the 3'6" greens.
"He's made for it," Syquia said. "The horse, he wants to do it. The bigger the stakes, the better he goes. I don't know how, but I knew it when he was 3.5 he was going to do it. He' a winner."
With a cheering squad so big it was bursting out of the camera frame, Tosh joins the elite three-peat club with Liza Boyd and Victoria Colvin.
"Liza was a three-peater on the same horse though," he said. "I've got something to work on now."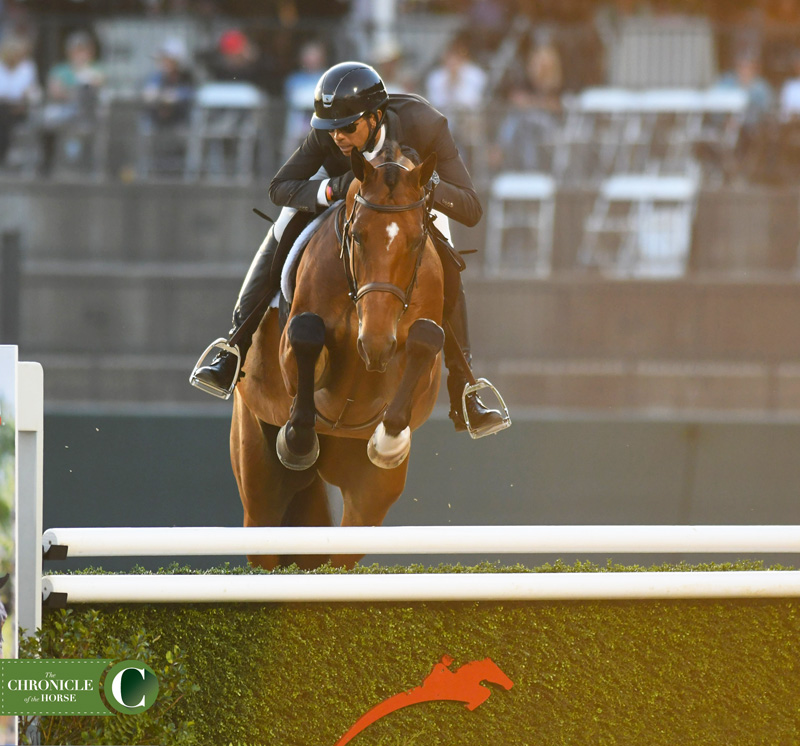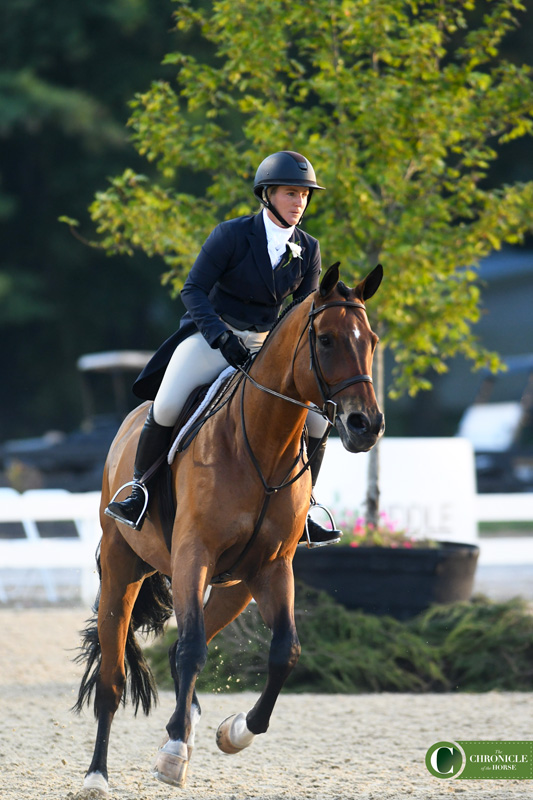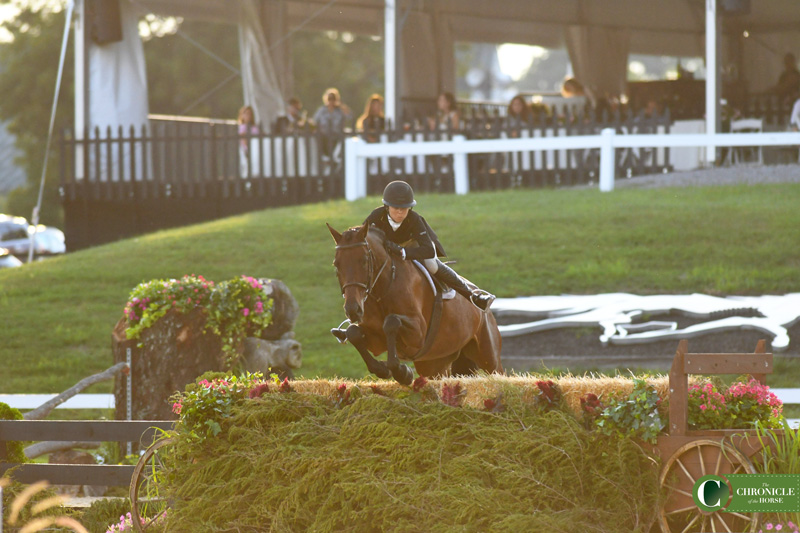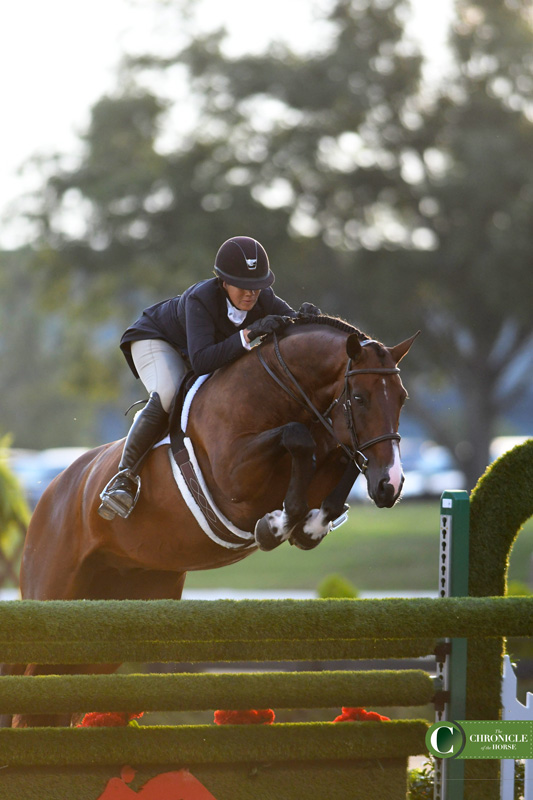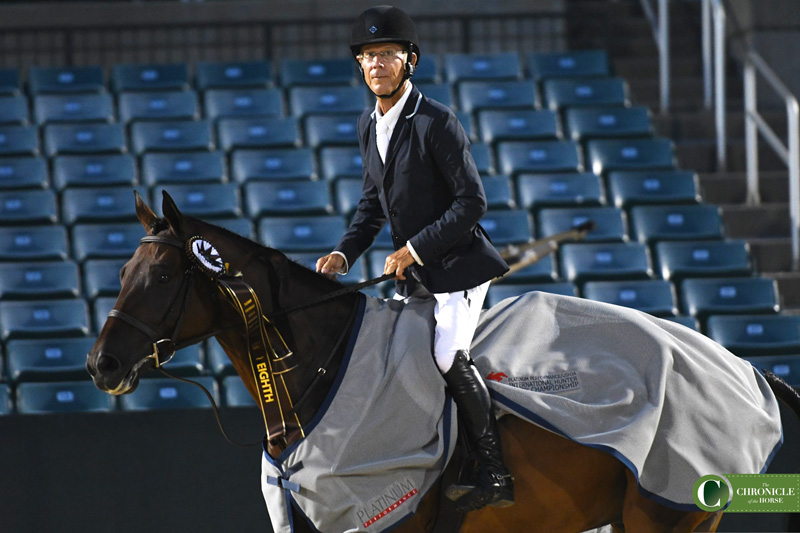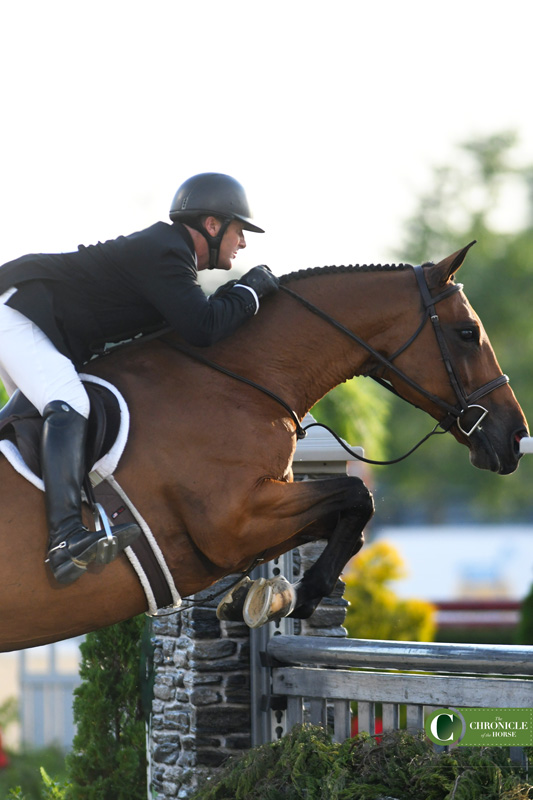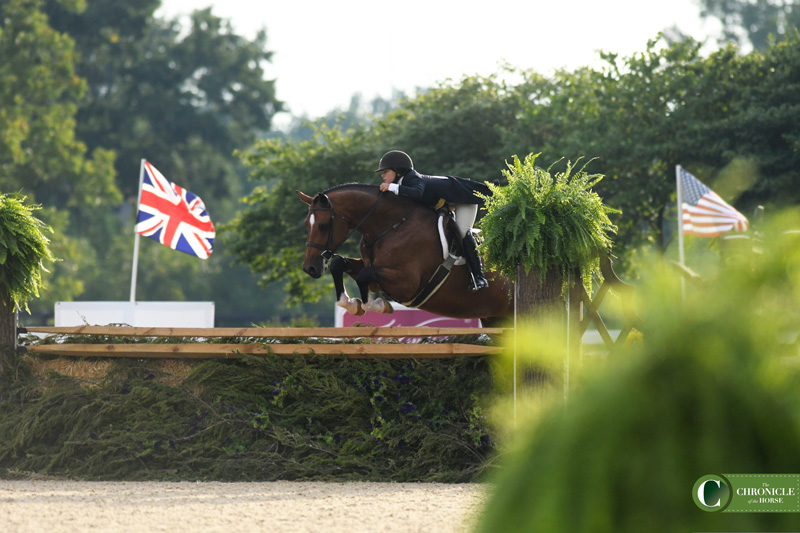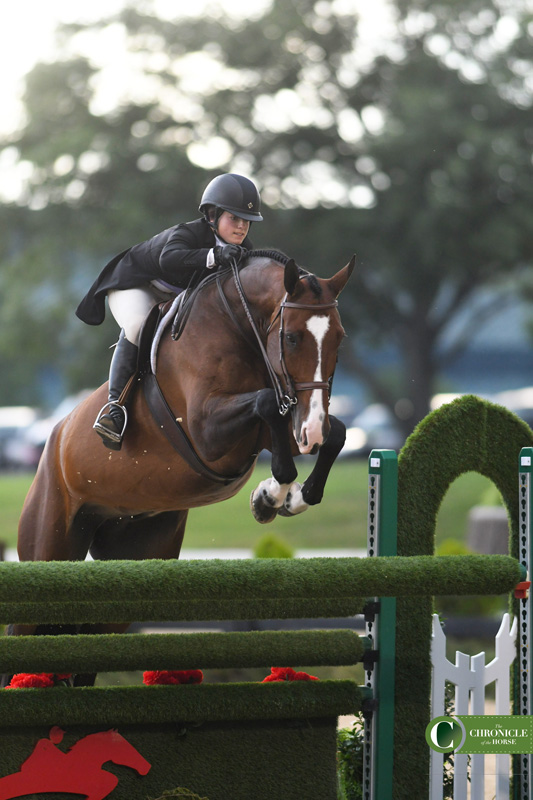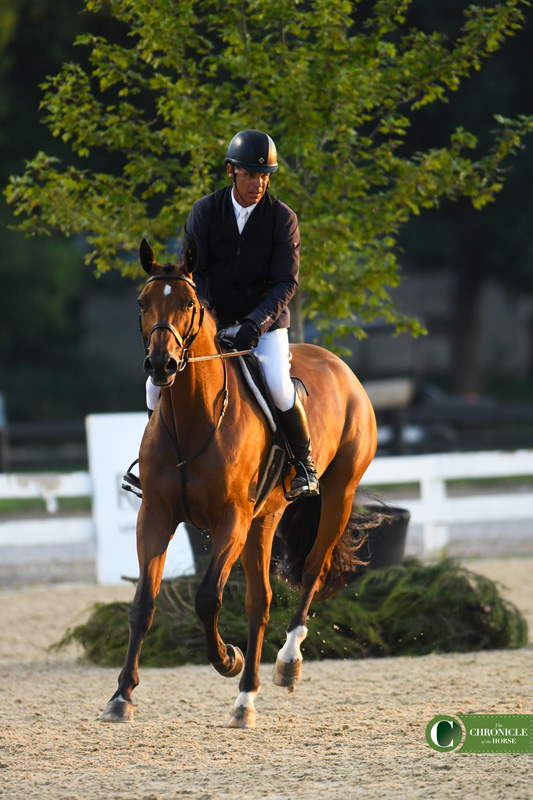 The Chronicle is on-site bringing you gorgeous photos, great interviews and behind-the-scenes stories. Make sure to follow along at www.coth.com, as well as on Facebook, Twitter and Instagram. You can read all of our coverage of the Platinum Performance USHJA Green Hunter Incentive Championships and International Hunter Derby Championship here.
We will have a full analysis of the competition in the Sept. 5 issue of The Chronicle of the Horse magazine.