East Dorset, Vt.—July 22  
Jimmy Torano had quite a week at the Vermont Summer Festival, winning both the $10,000 NYDJ Welcome Stake and the $30,000 Otter Creek Grand Prix during the Manchester Classic.
With his victory in the grand prix, Torano maintained a perfect record by winning all four classes he entered with Armageddon during Week 3 of the Vermont Summer Festival.
"He has had an incredible week and, to be honest, I am quite high on this horse right now," said Torano, who has only competed at three shows with Armageddon since adding the gelding to his string as a sales horse. "I wanted to do a small class with him just to get him in the ring, so we did the 1.30-meter and he won that. So, I thought, 'OK, I'll come back in the 1.40-meter' and he won that. After he won the welcome, all he did on Friday was walk on a 30-minute trail ride out in the field. [Then], he came right up for the class and won the grand prix."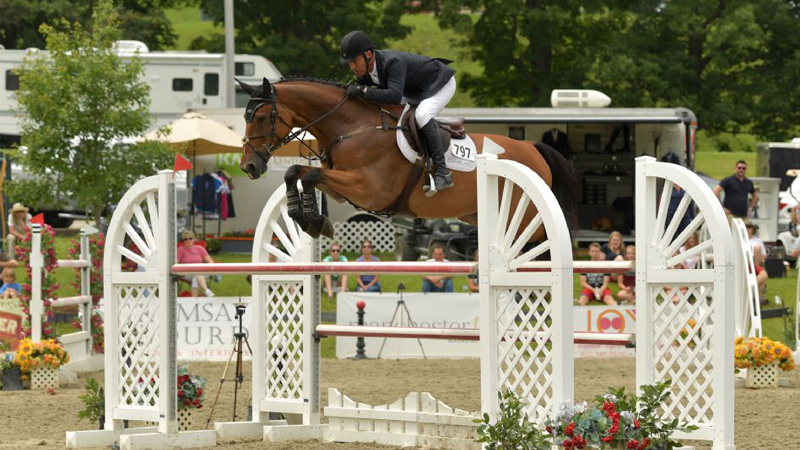 In the $30,000 Otter Creek Grand Prix, seven horses jumped clear over a track set by course designer Kenny Krome to advance to the jump-off. Torano and Armageddon, a 12-year-old Dutch Warmblood gelding sired by Solitair, were first to return for the tie-breaker. The pair again left all the jumps intact and crossed the finish line in 40.63 seconds, a time which would prove to be unbeatable.
Colin Syquia, who had won the $5,000 3'3" NEHJA Hunter Derby on Thursday, transitioned to the grand prix ring to place second in the $30,000 Otter Creek Grand Prix with a time of 40.88 seconds riding Adventure E. Riding a total of three mounts in the grand prix, Torano also placed third with a jump-off time of 40.88 riding Dutch Lady.
Ireland's Jordan Coyle, who is based out of Old Salem Farm in North Salem, N.Y., placed fourth with the fastest four-fault effort in the jump-off riding Escalette. Having won the Otter Creek Grand Prix for the past three years in a row, Danielle Torano of Wellington, Fla., had to watch her husband lead the victory gallop this time around, as she had a rail down in the jump-off to finish fifth riding Carewicz.
Speaking to Armageddon's strengths, Jimmy said, "The horse is very competitive, but the biggest thing is that he is very, very careful; he never wants to touch the jumps. Also, he doesn't really look like a fast horse, but he has obviously proved that he is fast enough to be a winner.
"Today, I honestly didn't think I was that fast, but as it turns out, I was even faster than the people who had rails down," continued Jmmy. "I caught a good gallop to Fence 1 and was tight to Fence 2, but the last two jumps are where I was very fast. Those two jumps won it for me."
Armageddon was previously campaigned by Venezuelan rider Alvaro Lozada and Israel's Daniel Bluman. The gelding was sent to Torano's JET Show Stable to be sold, but may not have to go far to find a permanent home.
"After a week like this, I have some interest in the horse myself," said Torano. "I am probably going to rest him next week and bring him back for Week 5 or the $50,000 grand prix the last week here."
See full results from the Manchester Classic.