After a weekend full of intense testing and educational seminars, Toni Anderson rose to the top of 24 finalists to win the USHJA Horsemanship Quiz Challenge Nationals, hosted by the University of Findlay, Nov. 9-11, in Findlay, Ohio.
"After last year when I got second, I knew what I needed to do, and I went home and studied really hard, and I came here feeling really prepared, and I guess it paid off!" said Anderson.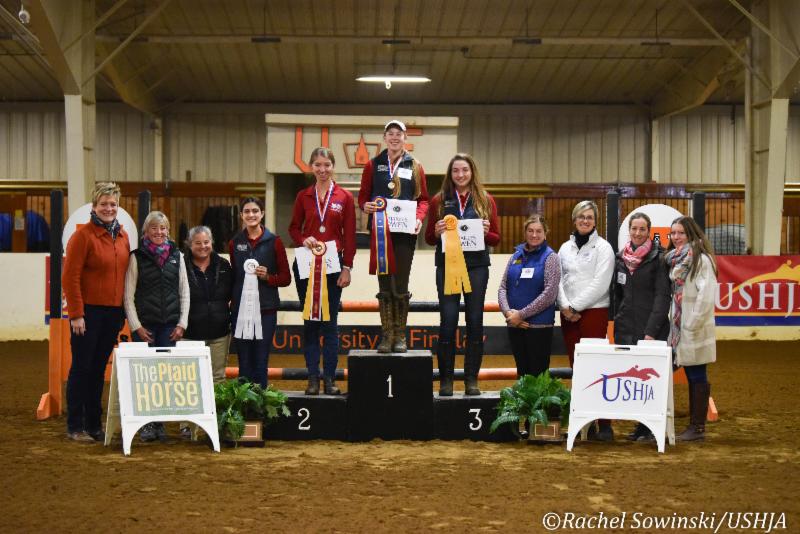 Anderson, 17, of Alameda, California, earned the silver medal in 2017 and returned to capture the gold in 2018. In addition to earning the overall title, Anderson also had the highest score on the horsemanship/ID exam, the second highest score on the written exam and the third highest score on the hands-on practicum exam.
"I wanted to come back and do better," she said. "Last year I kind of just read the study guide and did things like that. This year, I went into full beast mode. There's this online flashcard program called Quizlet, and I made a Quizlet for each section of the study guide, for each section of current events and for each rule book. So that ended up being 23 Quizlets with 1,177 terms altogether. It's a lot, but it was very helpful."
But Anderson didn't just study the books to prepare herself for the 2018 HQC Nationals.
"I have to say a very special thank you to my vet, Dr. Renee Wanner, because she let me just follow her around, pepper her with questions, hold the horses, help her with therapies," she continued. "That was also really helpful for this year. And you learn so much from that and seeing that horsemanship in action helps you put that together in your head and form your idea of what horsemanship is."
Joining Anderson on the podium this year was first-time HQC Nationals Finalist Hannah Simmons, 17, of Quechee, Vermont, who earned the overall silver medal, and repeat HQC Nationals finalist Chloe Bellerive, 19, of Keedysville, Maryland, who earned the bronze.
Simmons also earned the high score award for the written exam, had the second highest score in the practicum exam and had the third highest score for the horsemanship/ID exam. Bellerive also frequented the podium, earning the highest practicum exam scores, and the third highest written exam scores.
"I think every year the quality of the participants goes up," said Terri Young, chair of the Horsemanship Quiz Challenge Committee. "Everybody gets more and more experienced, and the scores get higher every year. I think kids know more what to expect."
As part of the HQC Nationals, finalists participate in a variety of educational seminars in addition to three phases of testing. This year's seminars included a sport psychology session with sport psychologist Kip Rosenthal, an equine therapies seminar with therapist and University of Findlay alumna Pamela Pivaronas, an equine appraisal seminar with appraiser and University of Findlay alumna Sara Ballinger, and an interactive classroom lecture on equine nutrition and gut health with University of Findlay professor and equine nutrition specialist Robin Koehler.
This year a total of 24 individuals, ranging in age from 13 to 21 who were among the highest scoring HQC participants throughout the qualifying period, went head-to-head for individual medals at HQC Nationals. Nationals participants completed three phases including a written exam, a horsemanship/identification exam and a hands-on practicum exam, which was split into two sections, A and B, based on cumulative scores from the first two phases. Overall medals were based on cumulative scores from the written exam, the horsemanship/identification exam and practicum A.
As for Anderson's method of studying and absorbing knowledge for this year's Nationals, it seems that she has it figured out.
"I think that they are getting more practical knowledge," continued Young. "I think they are getting more experience than just the book knowledge. We've always encouraged them to be in the barn more, work with their trainer more, ask more questions of vets and farriers, so that they are getting more of the hands-on experience, which is really how you find the best horsemen. It's more than just knowing the knowledge out of the book or study guide."