Maryland horseman Thomas H. Voss was posthumously inducted into the National Racing Museum's Hall of Fame in Saratoga Springs, N.Y., on Aug. 4.
Voss died at the age of 63 in 2014. The son and grandson of horsemen, Voss got his start as a jockey and came to know the sport from all angles during his illustrious career.
Voss received his trainer's license in 1973, and it was here he cemented his reputation with 706 total wins, 394 of those over jumps, for purse earnings of more than $17 million.
His most prestigious wins on the flat came in 2000 with John's Call (Lord At War — Calling Guest, Be My Guest) who was victorious in the Grade 1 Sword Dancer Handicap at Saratoga and Grade 1 Turf Classic Invitational Stakes (N.Y.).
Over jumps, Voss was the National Steeplechase Association's champion trainer by wins for five years (1997, 2000-2002 and 2011). He led the sport in earnings nearly as many times (1997, 2002 and 2009) and held a variety of positions within the NSA. In 2010, Voss won the Eclipse Award for training Slip Away (Skip Away — Aurora Slew, Slew's Royalty), winner of the Grade 3 Temple Gwathmey (Va.) and Grade 1 Colonial Cup (S.C.). In addition, he made his mark on the timber track, training the winning horses of the Maryland Hunt Cup in 1998 (Florida Law) and 1999 (Welter Weight).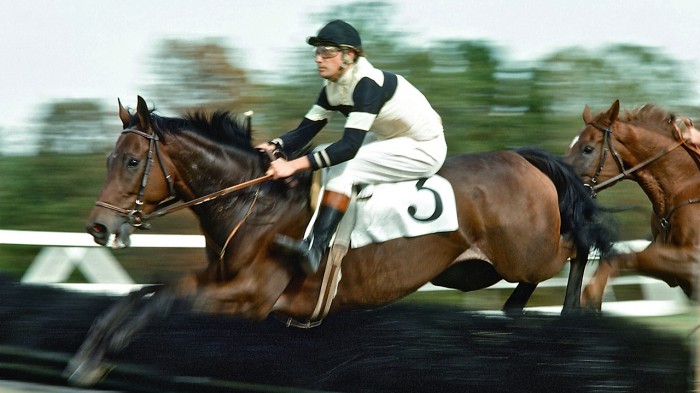 Wife Mimi Voss was emotional when she reflected on the honor.
"When I first heard about this [his induction] I was sobbing," she confessed.
"He would have been hugely honored, as are we," she continued. "It is a great honor for Tom, but it's bittersweet. He was a big personality, but he should have had 20 more years at least. We are hugely proud of him, but we wished he was there to accept it."
Two-time Eclipse winner Good Night Shirt (Concern — Hot Story, Two Punch) also gained entry into the Hall of Fame.
The chestnut gelding, bred in Maryland by Dr. and Mrs. Thomas Bowman, is owned by Harold A. "Sonny" Via Jr.
After a career on the flat with trainer Elizabeth Hendricks, Good Night Shirt went to steeplechase trainer Jack Fisher's barn in 2005 and flourished, winning eight Grade 1 stakes in two years. He claimed back-to-back Eclipse awards in 2007 and 2008 and set a track record in '08 in the Lonesome Glory at Belmont Park (N.Y.). At the time of his early retirement in 2009 due to an ankle injury, Good Night Shirt was one of three steeplechase horses with career earnings over $1 million.
"It's cool having a horse in the Racing Hall of Fame, although it made me look back and really wish he hadn't gotten hurt," said Fisher.
Good Night Shirt was the first horse trained by Fisher to receive the honor, and the Monkton, Md.-based trainer said the event in Saratoga felt like a hometown party.
"It was cool — all the support that was up there at the ceremony for Tom and Good Night Shirt. I think half of Monkton was up there," he joked.