Although the man behind HITS Inc. has built an empire, he didn't start out with that goal as a driving force.
Times were tough in the early 1980s. The decade started with double-digit inflation, and hostile takeovers and leveraged buyouts were the norm. At the time, a young entrepreneur named Tom Struzzieri was embarking on a new adventure as a horse show manager.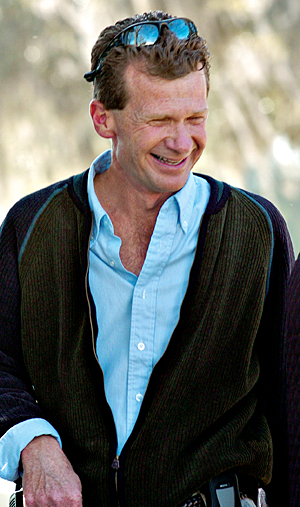 Struzzieri, then a 20-something upstart, had established himself as a local hunter/jumper trainer, running his small Rose View Stables in Poughkeepsie, N.Y. He'd managed a few successful local one-day and smaller rated horse shows when he had the opportunity to try his hand on the winter circuit in Gainesville, Fla., in 1982.
Despite some hurdles, it was a chance he was willing to take. So he packed his bag and set out down the highway—hitchhiking.
"Yes, he hitchhiked to Florida to do his first shows," said New York-based trainer and longtime friend Susie Schoellkopf. "He was determined. He got down there and was everything, from in-gate to
jump crew to driving the tractor. He did everything at the horse shows—and still does."
Now, 26 years later, Struzzieri isn't an advocate of hitchhiking, and fortunately he doesn't have to do so to oversee his HITS competitions in New York, Florida, Virginia, California and Arizona. He's accrued more than 1 million airline miles as he's developed his horse shows from coast-to-coast, with 60 full-time employees and 400 seasonal workers to oversee. His horse shows annually host more than 10,000 horses, from short stirrup to World Cup contenders.
And in January 2006, Struzzieri took the next big step when HITS entered into a private equity arrangement with Leonard Green & Partners, L.P., in Los Angeles, Calif. This partnership now allows Struzzieri, the CEO, to further expand and improve the HITS impact on the horse show world.
"It's been an evolution," said Struzzieri smiling. "I'm actually traveling less and less. That's one of the things that changed with having partners. I have great people and competent help to keep the shows running their best."
Even though Struzzieri, 49, has big plans for the future for HITS, he's not necessarily driven by the same forces that kept him on the road for years, living out of suitcases and sleeping on airplanes.
"My No. 1 goal now is to be the best father and husband," he said. "It's a tough goal. It's actually the hardest job. My second goal is to be the best CEO and to take care of the people who work for me."
For Struzzieri, family is first. He met his wife Jane, a former teacher, in Poughkeepsie, and they've been married for 15 years. They have three children, Pia, 12, Samantha, 9, and Tommy, 7. None of the children show, but they all ride and enjoy attending the shows. They spend the summer in Saugerties, N.Y., the home of HITS On-The-Hudson, and winter in Ocala, Fla., where Tom established a school on the show grounds so children can keep up with their studies.
It's not all play for the kids, however, as Tom insists that they understand the work ethic necessary to allow for their unusual upbringing, even at this tender age. "All three work in the food stand on the weekend," he noted. "They need to understand the business, and they might as well start young."
Seeing The World
Struzzieri didn't grow up in a horsey family in Huntington, N.Y., on Long Island, but the entrepreneurial spirit he acquired was most certainly established early on. His first parlay into the horse business came when his parents established a pony rides concession at the 1964-65 New York World's Fair at Flushing Meadow in Queens.
Personal Profile—Tom Struzzieri
Hobbies: Skiing in the winter and water sports in the summer. "I also coach all of my children's soccer and football teams," he said.
Other Business Ventures Have Included: Tents, shavings, footing and ribbons. "Many of my old students from the 1980s remember stapling rosettes in exchange for free riding lessons," he said laughing.
His Most Famous Student: Kristen Vale, now a HITS employee and daughter of Donna Vale. "I think he did a great job with Kristen," said Susie Schoellkopf. "He gave her excellent basics and found good horses for her to ride."

One Of His Biggest Breaks: The decrease in the U.S. Equestrian Federation mileage rule in the Northeast from 250 miles to 125 miles. "When the mileage rule changed in the mid-1980s, I got a few dates in New York and ran those shows at Rose View, then to Ellenville then to Saugerties," he said.
Serving The Sport: Struzzieri has served on the U.S. Equestrian Federation Board of Directors, the Competition Management Committee, the Planning Committee and the Executive Committee. He is also the former chairman of USEF Zone 2. He's a member of the U.S. Hunter Jumper Association Show Management Committee.
More Opportunities: He founded the Marshall & Sterling League in 1991 and reintroduced the U.S. Grand Prix League in 1998.
If He Didn't Manage Shows: "I'd work in event planning," he said. "I like the excitement of an event. I can rev up and go several days without a rest. I couldn't do the same thing every day."

In His Community: He's a member of the Ulster County (N.Y.) Community College Board of Trustees and has served on the Ulster County Development Corporation and the United Way of Ulster County Board of Directors. In addition, he's also a member of the Chamber of Commerce of Ulster County and the Business and Community Leaders Advisory Committee of the Institute of Ecosystem Studies.
"Like most horse businesses, it wasn't a successful venture," said Struzzieri laughing.
Nevertheless, Struzzieri was hooked on horses thereafter. He took riding lessons from established hunter/jumper trainer Ralph Caristo. Then, after his father purchased the Walton P. Davis Horse Transportation Company, he was introduced to the horse show world.
Although he was an avid rider, Struzzieri wasn't totally fixated on horses and played many sports as a boy. "I think I was the only one at my stable who left for boxing lessons after my riding lesson," he quipped.
He later attended Vassar College (N.Y.) but found academics didn't inspire him. So, at age 18 he hung out his shingle and began teaching, training and showing out of Rose View Stables.
"I like to teach," he said. "Those who can teach all day, I take my hat off to them. They are the foundation of my existing business. For me, though, it wasn't everything. You can do it for only so long before you say, 'There must be something else.' "
The Road To HITS
This year 2,700 horses are stabled on the HITS Ocala show grounds, with hundreds more housed on nearby private farms. And as Tom walks around the former racetrack near Williston, he still feels the same sandy soil under his feet that he did 26 years ago, but the atmosphere is decidedly different.
Instead of a few hundred competitors to please, he now has thousands of people relying on him for their sport and, often, their livelihoods, and critiquing his every decision.
For Struzzieri, however, managing horse shows is a good fit. He sees the growth of his horse shows as an ongoing challenge.
"This is where I belong. This combines my love of horses and the horse business with my feel for business. I'm more of a hard worker than a smart guy," he said modestly.
When asked to describe Struzzieri in one word, Schoellkopf said "workethic."
"His work ethic is like nothing I've ever seen," she said. "Every time you look up he's doing something, driving a tractor or involved with the food stand or the shavings delivery. He has the pulse of the horse show."
Schoellkopf, Buffalo, N.Y., met Struzzieri just after he'd turned professional. "He started from the bottom and worked his way up," she said. "He was very proactive. He saw a need and met it, and along the way he met the needs of a lot of people."
In the early years, most horse show managers managed competitions held at public venues such as county- or state-owned fairgrounds where there was little opportunity for them to change the structure of the facility. Struzzieri found this limitation frustrating and was one of the first show managers to purchase his own property and develop the grounds to his own design.
"As a promoter, if I can't control the venue I can't control the product," he said.
This evolution wasn't overnight, however, and early on Struzzieri took on local-member and B-rated competitions that were struggling and turned them into viable horse shows again through improving the services and classes offered.
He tackled his first multi-day show in 1980 in Rhinebeck, N.Y., and the success he achieved there helped him gain the confidence to move on to Florida.
Back then, though, the Florida circuits were much different. The first year, Struzzieri managed six weeks of shows in three different towns—Gainesville, Miami and Fort Lauderdale—with the same crew.
"The lessons I learned came from the mistakes I'd make," he said smiling. "Tearing down, setting up and moving in one day was crazy. For sure what came out of those early years was an understanding that if a person's prepared to stay with it then there's nothing he can't do. I persevered. That helped me be more successful, and as I got into it, it started to grow. I also surrounded myself with good people."
One of those individuals is Donna Vale. She began working for Struzzieri about 1986; no one seems to remember the exact date. But what they all agree upon is that Vale and Struzzieri couldn't do what they do without each other.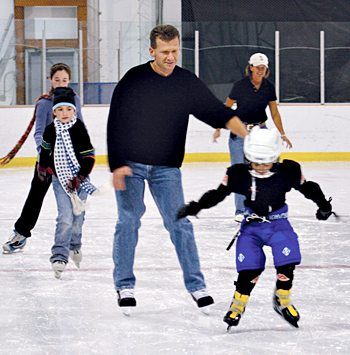 "I guess you could call me his personal assistant," said Vale laughing. "But, really, my title is just Donna."
Vale was working for Charlie Ziff of Texas when Struzzieri "borrowed" her during her winter downtime. She was the show secretary for his Santa Barbara, Calif., shows, the precursor to the HITS Indio and Thermal venues. Eventually, she began working full time for Struzzieri.
"Donna Vale is the best hire I ever made," he stated. "She enabled me to move forward."
Vale, Texas born and bred, and mother of grand prix rider Aaron Vale, wasn't keen on moving to New York, and she resisted at first. "Texans don't move to New York," she justified. "New Yorkers might move to Texas, but it doesn't happen the other way around."
She finally relented, though, and in 1990 she pulled up stakes and took her southern drawl to the Northeast. "It's been the best part of my life," she said.
"It was a huge transition but absolutely worth it."
Growing Pains
Although some people have criticized Struzzieri for choices he's made over the years, from increased entry fees to facility upkeep to footing issues, many others have lauded his foresight.
"This is a business now. It's that simple," said Schoellkopf. "Your first instinct is to say, 'He's making so much money.' But I think Tom has always said he's a business man first. He's in this to make a living.
"But, on the other hand, he's done a lot for the horse shows," she added. "He was the first one to pay the judges the most money, and he's the first one to give us a raise when we ask. And if competitors follow the rules [enter their horses by the deadline, for instance], the charges are comparable to other horse shows."
Struzzieri was also one of the first managers to add an extensive menu of unrated divisions to A-rated shows. And while this change drew mixed reactions from some in the industry, it filled a need as the sport has evolved from owners buying horses for professionals to show to amateurs participating themselves.
Trainer Patty Foster of Rolling Acres Show Stables has attended the HITS Ocala circuit annually since 1995. This year she and her sister Mary Lisa Nicholson Leffler shipped 45 horses from their family's home base in Brookeville, Md., for the winter.
"I love [the schedule at HITS]. I bring my novice adult lady who is jumping 2'6″. She's spending as much money as my small pony mothers," said Foster. "She's going in four jumper classes each week, and she's right there with us. It's good for the industry."
Schoellkopf, a trainer and USEF R-rated judge, has followed Struzzieri's lead for many years, annually attending his shows in Florida as well as Saugerties.
"He's grown in a lot of ways," she said. "I've had go-arounds, and we've butted heads in the past. But in the long run he's trying to make things better. We've never left our disagreements—we've always come back to resolve it. He might not agree with you, but he always listens and considers your point of view."
Struzzieri can appear unapproachable at the horse shows. He's always zooming from place to place, tackling problems and juggling a myriad of duties. But once you do get his attention, he's riveted. He's more than interested in finding out your opinion and gathering constructive criticism.
Over the years Foster has seen an improvement in the shows and the amenities—including the relocation from Golden Hills to Post Time Farm—which allowed Struzzieri to design much of the footprint of the venue himself.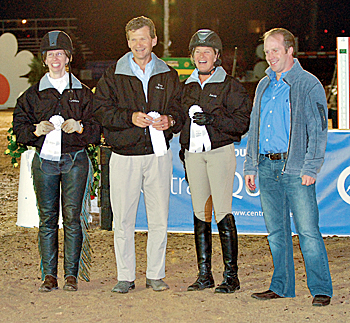 "This year Tom took me on a tour of the grand prix ring and the footing," she said. "He took the time to make me feel like I was important. He's been here every day since the horse show started. That makes a big difference."
She recalled the early years when she'd hear a lot of complaints at the in-gate and around the barns. "They didn't have the customer service in the beginning," said Foster of the early HITS. "Now they work with you, and if you have a disagreement they meet in the middle. They've worked hard to overcome the stereotype they've given themselves."
Struzzieri sends many of his employees to customer service seminars and has improved that aspect of his business through education and training.
"The most difficult part of the job is satisfying all of the customers," he said. "There are 5,000 to 8,000 people here [in Ocala], and they all have needs. They spend a lot of money and expect service."
Vale, who spends the winter at HITS Thermal, believes that one of Struzzieri's strong points is his fairness. "Whether a person has great wealth and lots of horses or little Mary who comes to the horse show with her pony, all are important," she said. "It's always been an important part of Tom Struzzieri and HITS philosophy that we believe in.
"He started out that way. It's a core philosophy in his everyday life," she added. "Whether business, pleasure or family, what's right is right. You can't go wrong if you believe in it."
Struzzieri draws on his many years as a professional horseman to help him better understand his customers. He recalls the many aggravations he had as a competitor and then puts himself in his customers' shoes.
"The sport has changed, though, so I've got to remember that," he said. "These days they're smarter and spending money on themselves. They're searching for the product that meets their needs. We need to make sure they're getting what they want. We're trying as hard as we can. It's a challenge but not impossible."
Tricia Booker