Ocala, Fla.—March 12  
If you didn't know any better, you would think the first-place finisher in the $100,000 Longines FEI Ocala World Cup Qualifier Todd Minikus and runner-up Andre Thieme had planned their comedic exchanges in the press conference.
"Andre was pretty quick [in the jump-off], and then he was trash talking in the schooling area," Minikus said with a grin. He had the envied position of going last in the massive 18 horse jump-off.
"I used a bad word, I have to say. I said, 'Sometimes I think you really are a mmm, mmm,' " Thieme said with a laugh. "Before he went in I was trying to tell him, 'You know, people aren't really turning short into that combination…' "
" 'Be careful, it's slick,' he told me," Minikus added, laughing and shaking his head. There was one turn in particular back to a vertical before the run down to the final fence that some riders—including Thieme—had done quite tight, but it also caused rails and stops when riders found it wrong.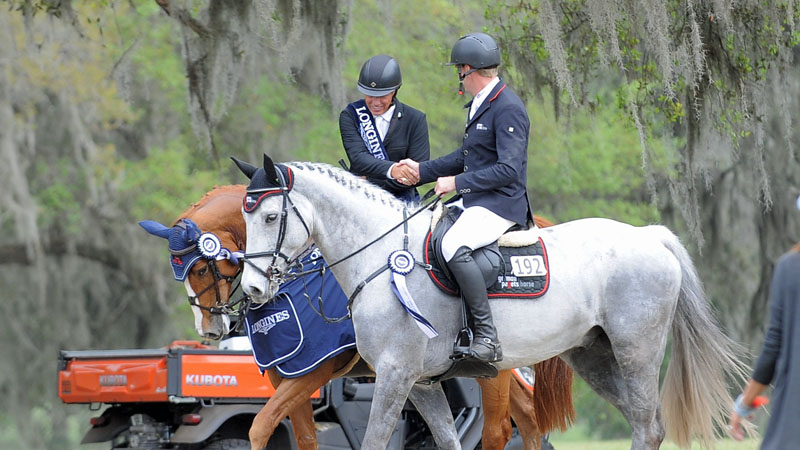 "He was training that turn out there again and again, and I knew he wasn't going to listen to me so," Thieme said with a shrug. "Second! Though I have to say after winning the $10,000 Leading Rider award, I feel like the winner!"
Minikus rode Bablou to a time almost 2 seconds faster than Thieme's time aboard Conthendrix.
Sunday's grand prix was the final chance for riders to earn points to qualify for the Longines FEI World Cup Final in Omaha, Neb. Minikus in particular had a lot of pressure riding on Sunday's class—he had to either finish first or second to get enough points to qualify, and earlier in the week he wasn't so sure he would even get to jump in the class after Friday's welcome didn't go his way.
"Actually the pressure was in that qualifying [welcome] class, because I had two jumps down, 8 faults, and then I was driving back to Wellington [Fla.] very worried that I wasn't going to get qualified," Minikus said. "So it actually was kind of a bumpy road the whole way until the last jump there."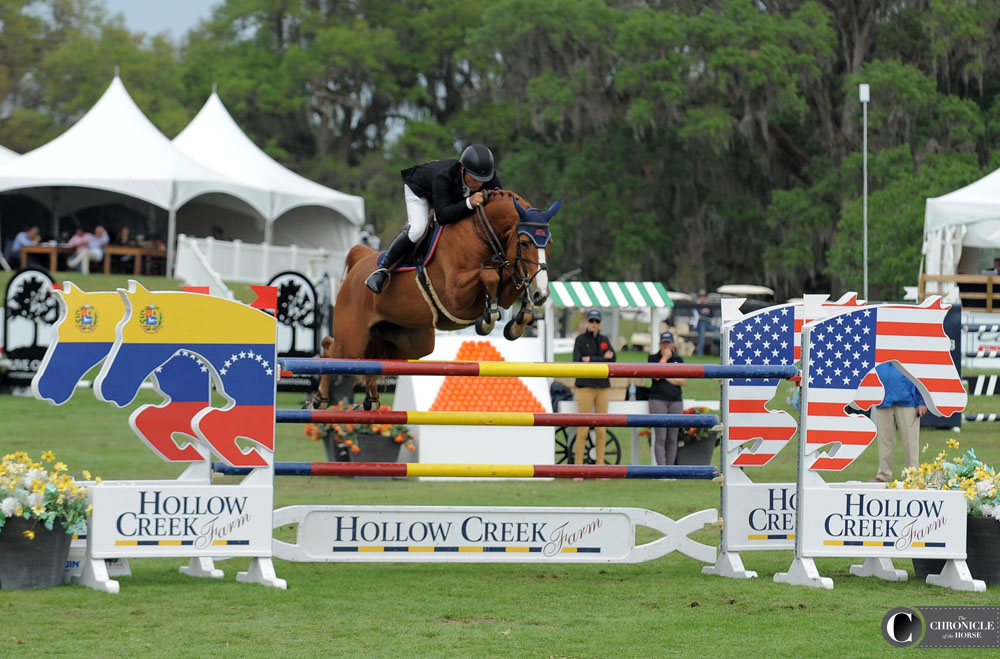 Minikus wanted to qualify and have the option to compete at the World Cup Final, but he hasn't decided yet whether he'll go.
"We have to discuss with owners and see what the rest of the team wants to do and hopefully we go," Minikus said. "It's a great event, so why not participate."
The Bob Ellis-designed track in Sunday's grand prix saw 18 riders go clear from the start field of 38, which was not the designer's intention.
"We had done a little bit of damage to the ground over the past couple days, so it was mainly looking for some grass for doing it," Ellis said. "I thought the footing today was excellent. We had a few more clear rounds than I expected, I have to say, but a great jump-off—these guys made it very exciting."
Minikus had the winning jump-off time by nearly 2 seconds, and the best part was he thought he was going slow.
"I could have the reputation of maybe going a little too fast once in a while," Minikus admitted with a smile. "So I was basically just trying to not turn too tight or make a silly mistake by going too fast.
"I'm very excited to be back [at Live Oak], I've been here two times, and I've ended up winning both times," Minikus continued. "So I'm all about Live Oak!"
Click here for full results from the class, and check the March 27 issue of The Chronicle of the Horse magazine for more in-depth coverage from the Live Oak International Horse Show!