Brittni Raflowitz won't be trading her hunt cap for a cowboy hat any time soon, but the young professional has taken a page from the western world's playbook to help school her grand prix jumpers.
The afternoon before a Saturday night grand prix at the Tryon International Equestrian Center, you could find Raflowitz hacking around one-handed aboard one of her mounts for the night's class, the mare Baloumina Du Ry.
"I take pieces of what I learn from everybody, and when I was younger Alejandro Valdivia, who works for Skara Glen, would always do that with the horses," Raflowitz, 22, said. "I use it to get the horses more on my leg instead of just trying to use my hand."
Raflowitz sits the trot and canter around the arena with her reins in one hand centered over the horse's neck, and when she wants to turn or change direction she'll sit back and have the horse really collect and turn back tightly on their haunches, a variation of the way reiners train their horses to come out of a sliding stop and change direction.
"I basically take all my hand away and use only my leg and my weight," Raflowitz said. "It's something that I do at the beginning and the end of a ride and it just kind of loosens them up and gets them listening to the aids. At the end, it's just the same thing after they've worked. It's a bit more like a cool down."
Raflowitz advises before riders try the exercise the way she demonstrates in the video then introduce the idea to their horses with a more traditional contact.
"The first few times you use both your hands, but with your inside hand you kind of open up and your outside hand you bring a little higher," Raflowitz said. "Then inside leg in front, outside leg behind, and you first get them to know to listen to the leg. Then you kind of take one hand away and you try to do it all off the leg, and you can use a little bit of neck rein."
Raflowitz said she does the exercise with all of our horses, but her mare "Queen B" is best at it.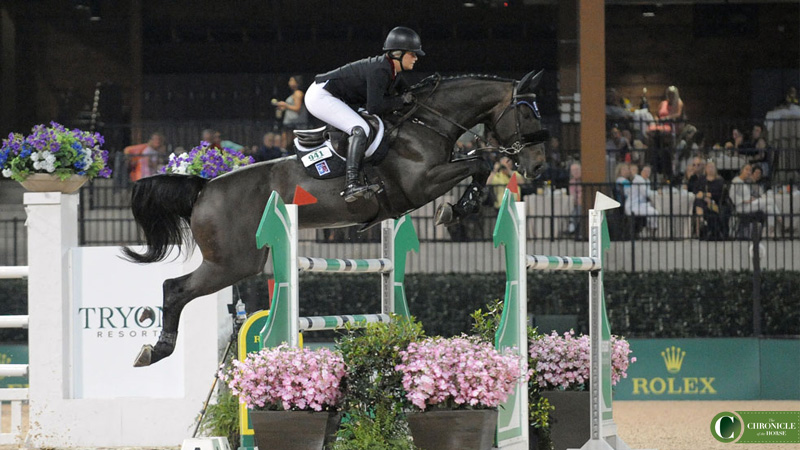 "I have to say when I first got her you couldn't even turn her, and now she could basically be a western horse," Raflowitz said with a laugh. In 2014, Raflowitz and Queen B captured the individual silver medal at the North American Junior and Young Rider Championships (Ky.). Now Raflowitz contests the mare in open grand prix classes up to the five-star level.
"The exercise makes it nice because when you're in the show ring because you don't think about where to put your leg and hand as much. That's where your weight kind of comes in, you use your leg and they kind of gravitate toward it. When you're showing, you're not thinking about it as much as you do in the exercise, but it's still effective."