Lexington, Ky.—April 30
When he canters into the Rolex Stadium on fischerRocana FST for tomorrow's show jumping, Michael Jung will have three rails in hand over Phillip Dutton on Fernhill Fugitive.
Part of that lead was based on Jung's dressage score, but then he massively extended it by jumping the only near-clear (0.8 time penalties) over Derek di Grazia's cross-country track today.
"It was hard work today. On cross-country you need a fighting horse, because not everything on the cross-country is perfect, and she's really a fighting horse," said Germany's Jung. "You have to know your horse like I do with her because we've been together for many years. She was not really tired, but she's not a really fast horse. So I had to push her early to make the time."
Time was the deciding factor for nearly everyone today as horse after horse failed to make it around the track—which only grew muddier and more tiring as rain fell throughout the day—inside the 11:15 optimum. Dutton collected 4.4 time on Fernhill Fugitive and 4.8 on Mighty Nice, in third, but only 17 of the 56 starters earned time faults in the single digits.
"Congratulations Speedy Gonzalez," Dutton joked to Jung at the beginning of the press conference. "The weather made the time harder to get, but this course was always going to be hard to make the time. Derek had made sharper turns, so it was a case of if you ever got down on time, it was going to be hard to catch up. If it was dry, maybe you'd see three or four within the time, but I didn't think it'd be too many."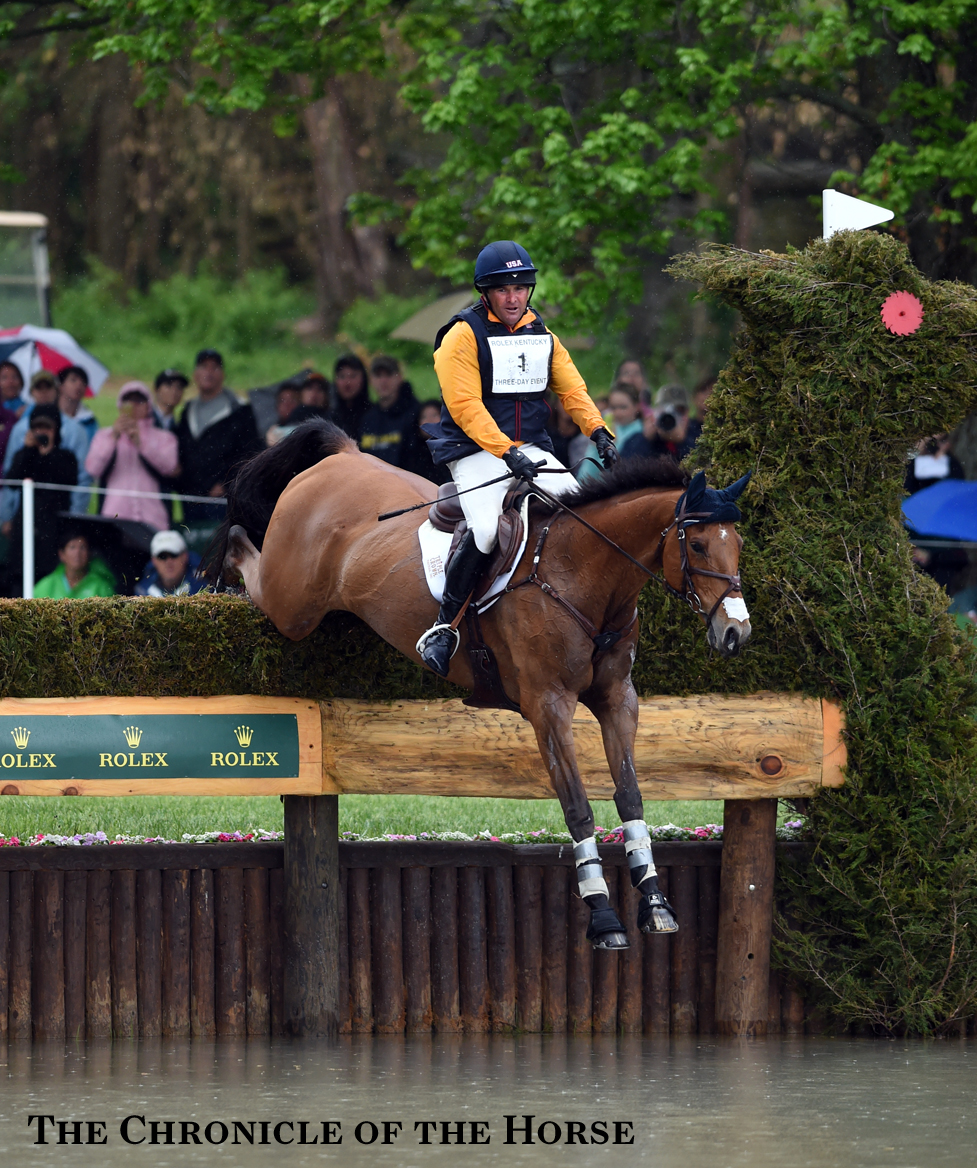 Phillip Dutton and Fernhill Fugitive. Photo by Lindsay Berreth.
Maya Black moved all the way up to fourth after being 12th in dressage on the strength of her round (4.4 time penalties) with Doesn't Play Fair. Black joked that she didn't even know the media room existed before this weekend.
"But I'm thrilled to be here!" she said. "I'm not as experienced as these other people up here, but this is my second time at Rolex, and I did it last year with the same horse. I just felt like I wasn't really concerned about the fences per se, I was concerned about getting through safely with my horse. Last year he got more tired, and I was pleased this year with how he galloped and felt. I was trying to be smart."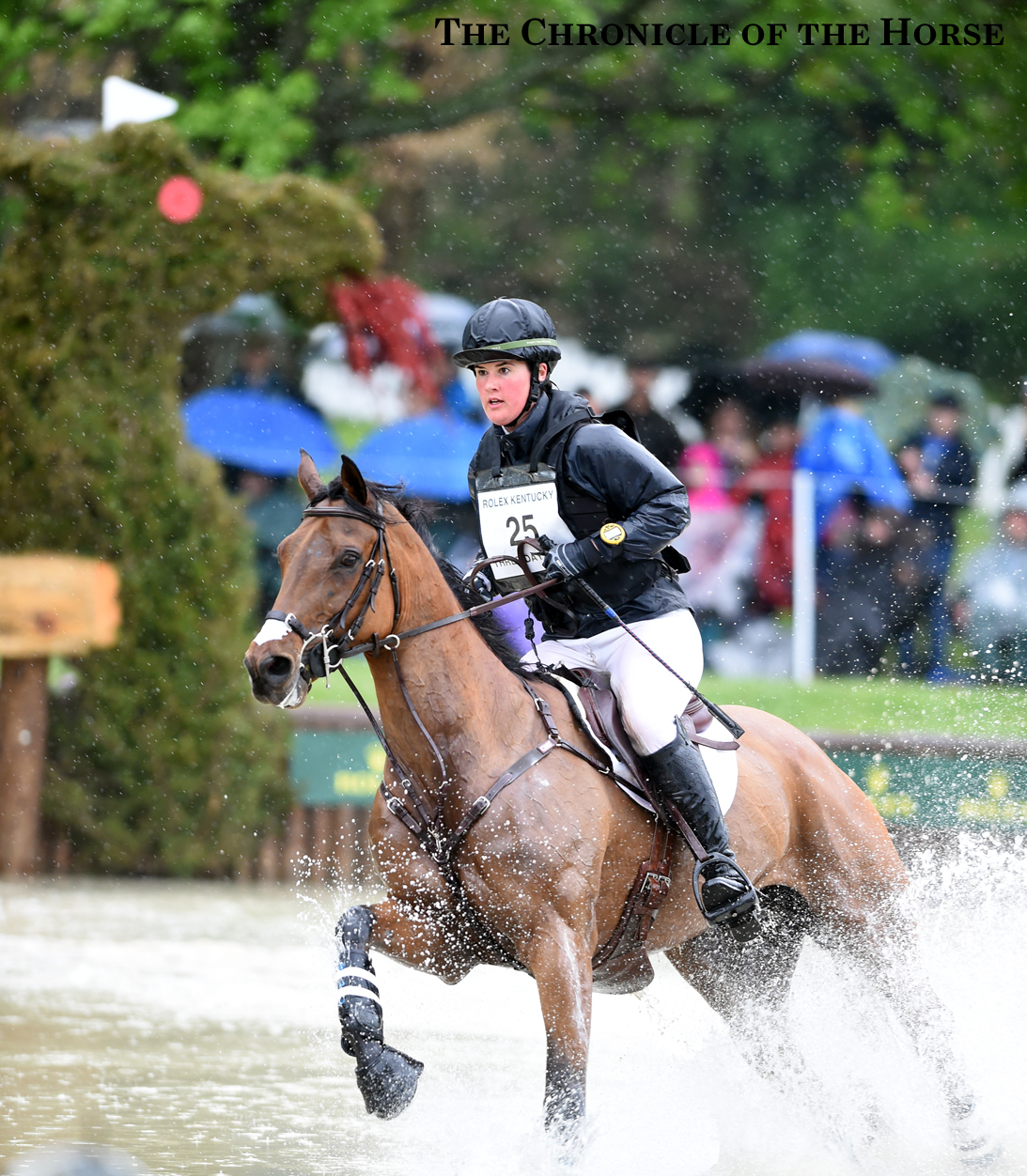 Maya Black and Doesn't Play Fair. Photo by Lindsay Berreth.
Allison Springer, who'd been second after dressage, had a glance-off at the final element of fence 24abc, the coffin, after he peeked in the ditch and then thought twice about the jump out. They got it on the second attempt, but the 20 penalties plus 32.4 time bumped them down to 44th.
Despite the tight time, there was little drama for the day. Marilyn Little and RF Demeter fell at fence 22, a table, when the mare tired and didn't jump across the full width of it. They were both fine.
New Zealand's Tim Price popped off Bango just a few from home when the horse hung a leg (fence 28b), and then Colleen Rutledge came off Escot 6 at fence at fence 22, and Brazil's Nilson Moreira da Silva came off Muggle at fence 7 after a hairy first few fences. Ryan Wood popped off his first ride of the day, Frankie, at fence 7a as well.
Three riders retired on course after one stop—Tiana Coudray with Ringwood Magister, Kim Severson on Fernhill Fearless and Mikki Kuchta on Rubens d'Ysieux.
"Well I think you're always a little nervous about it when the conditions are like," said di Grazia. "But I know last year we ran in the rain, and the footing held up pretty well. I know the ground here is quite good, and we didn't have that much rain during the week. It was only a matter of what would happen during the day. I'll take my hats off to these riders. They really produced some great rounds."
Dutton had some of the worst going of the day heading out second-to-last on Mighty Nice, after having some of the best going with his Fernhill Fugitive, who was first on course. He said he had to choose his footing carefully, especially in the galloping lanes.
"It's pretty rewarding when you have a horse like that who just doesn't give up, and it's pretty tough out there," he said. "Every time they pull out of the ground it's work, and all credit to the horse because he's a seriously gutsy horse."
Other tidbits from the day:
Boyd Martin jumped two clear rounds with his three horses—Shamwari 4 and Blackfoot Mystery—and Steady Eddie picked up one stop. Shamwari is his highest placed of the day, sitting fifth for tomorrow's show jumping, and Blackfoot Mystery is 10th.
"Shamwari I was pleased with," he said. "Blackfoot Mystery, what a horse. He's very, very green at this level, but I got him because he's the old American Thoroughbred who was bred a couple miles down the road here in Kentucky, and I tell you, the ground was very, very trying and holding. It's the first time I've felt Blackfoot Mystery tired in his whole life, but he's a great horse. He just dug in and kept jumping, and you could feel his greenness, but he didn't question any jumps so I was very, very pleased with him."
Lauren Kieffer had two mounts here—her experienced Veronica and then the four-star first timer Landmark's Monte Carlo—and both jumped clear with some time.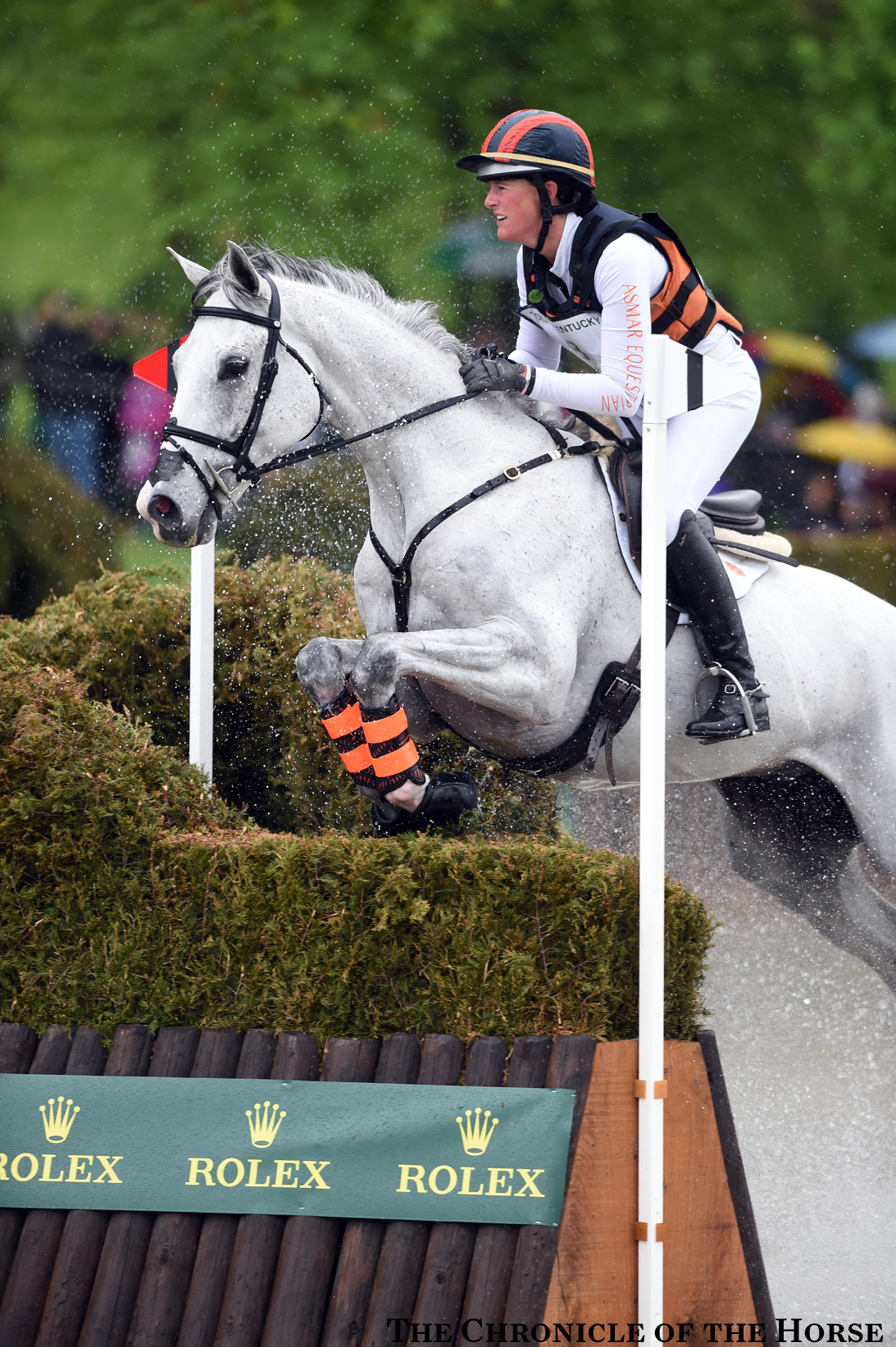 Lauren Kieffer and Landmark's Monte Carlo. Photo Lindsay Berreth.
"She could have been a lot quicker, but the time we lost was trying to find good ground," said Kieffer of her trip with Veronica, who's sixth now. "She was amazing the whole way round—dead straight to everything, and I couldn't be happier. Both my horses went Plan A the whole round, and that's pretty rare to happen. I was kind of halfway around saying, 'Something's got to go wrong,' and waiting for it to go wrong, but I was thrilled with her. She just she cruised around, and she was full of run at the end. I couldn't be happier with how she came through it."
Kieffer also earned the Land Rover Best Ride of the Day for being the U.S. rider closest to the optimum time with 2.8 time penalties. (Holly Payne Caravella and Never Outfoxed and Lynn Symansky on Donner also had 2.8, but Kieffer's dressage score was the best, and that's the deciding factor.)
"It [wasn't] easy out there, that's for sure," said Kieffer of her ride on Landmark's Monte Carlo. "But he's was amazing in his first four-star. He grew up as he went and got better and better. He was so honest at everything, and we went the straight routes everywhere."
Buck Davidson's highest-placed horse out of his three here is Petite Flower, who's eighth with her 7.2 time penalties.
"I thought the ground was too hard to run her at The Fork [N.C.]," said Davidson. "I wanted to get her here 100 percent sound, and she was awesome. Her class took her through at the end.
"It's fun because dad bred her, and I bought the mare out of an auction in Ireland, dad had the stallion."
Sinead Halpin is sitting just outside of the top 10, in 11th, with Manoir de Carneville.
"We got it done," she said. "He got really tired. He's always a bit slow to get going, like he stalls in the air a bit. Then I felt like my middle part of the course he was just awesome, but then after the Head Of The Lake he couldn't seem to get out of the mud. Like everywhere I was galloping was mud, and I was kind of zigzagging around the track, and finally I was just like, 'Well this is more exhausting than running in the mud.'
"He was so honest and so genuine," she continued. "You know they have so much heart when they're just exhausted, and because they're exhausted you're not exactly where you want to be all the time. He just jumps through the flags."
See full scores as well as where the riders faulted, look at more photos from the day or check out all of the Chronicle's Rolex coverage.