Saugerties, N.Y.—July 23
Tillie Jones overcame more than just a test of riding today. Her winning ride reflected her perseverance and ability to move past tragedy.
In the Junior Rider Dressage Freestyle Championship at the Adequan/FEI North American Junior and Young Rider Championships, Jones leapt from two bronze medals earlier in the week and struck gold today—to the beat of a modern acoustic melody.
Jones couldn't stop smiling after scoring 73.95 percent in her test on Apachi—which noted the first score of the day over 70 percent from all five judges. The music fit the gelding's gaits well and the tempo of the music showcased his strong downbeats.
The song selection is exactly the same as she chose for her horse who passed away last year, which happened just before she was able qualify for the 2016 NAJYRC.
"It is definitely one of the most emotional tests I've had to ride," said Jones, tearing up. "Today I was just thinking that [my horse] was riding with me from above.
"It's very, very emotional, I've cried many times—but it's a good cry," she continued. "It's been a really hard couple years and it's just so nice that I can get in the arena and think about all the things that have happened—but also how much I've improved through the year."
In her healing process, everyone told her that everything happens for a reason.
"I really couldn't believe that at first, and now after a couple years I'm starting to know that the saying is totally true," she said.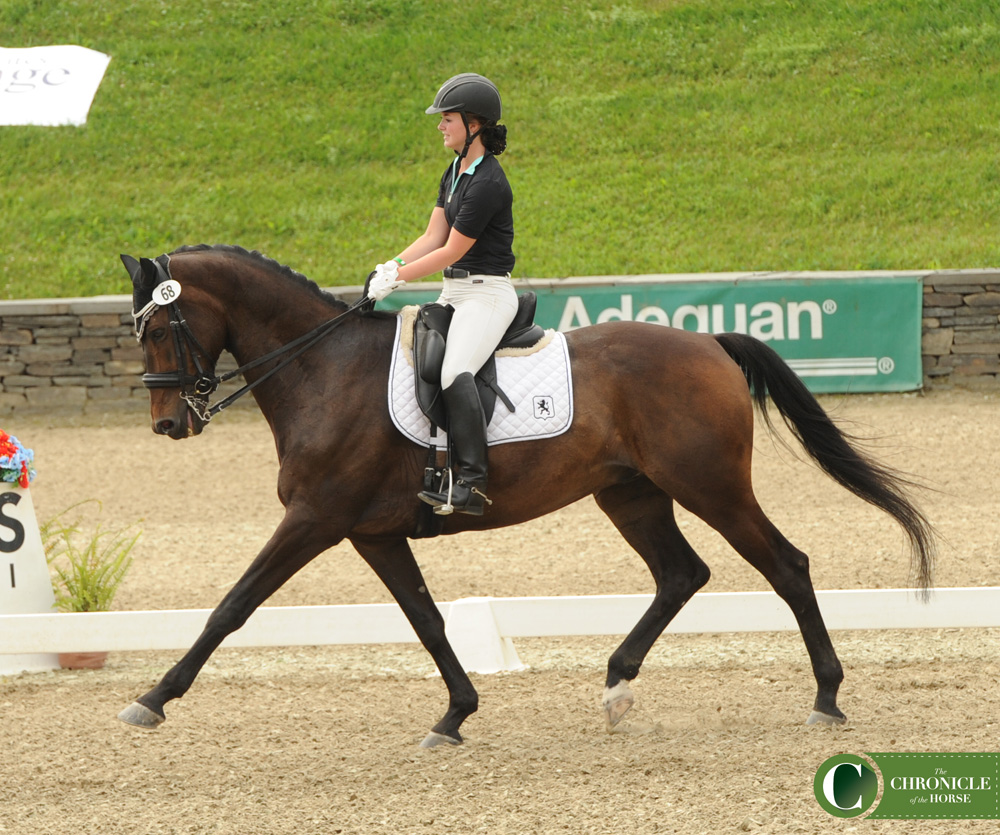 It's been a long journey for Jones. She entered the competition simply hoping that Apachi would come and leave the show healthily, but didn't ever expect to stand atop the winner's podium,
Jones beamed the entire day, seemingly hugging everyone in sight, and even picked up the support from other Junior riders along the way, like Aleyna Dunn.
Dunn—who swept the gold medals in the Team and Individual Championship earlier in the week—swiped the freestyle silver today with a score of 73.45 percent on Bivera.
"I wasn't expecting to be on the podium three days in a row," said Dunn, who came into the NAJYRC with low expectations and looking solid rides, since it's her first year competing.
Her Dutch Warmblood mare (Florett AS—River Dance, Tower Of Magic) danced to the classic and elegant melody with a modern twist.
"There was a little bit of everything in there—the beat was perfect," said Dunn. "It was light yet powerful and changed when it needed too."
One of the songs in the mash-up was "Fight Song" by Rachel Platten—and the pair certainly fought in the dressage the entire week.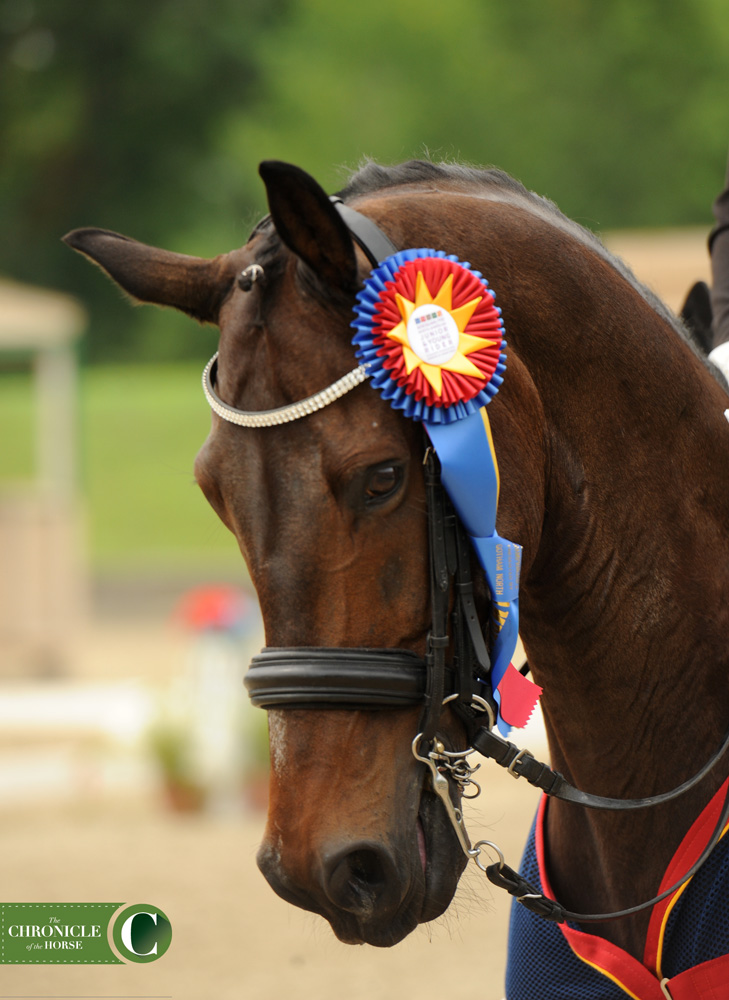 When asked about her competitive edge, Dunn described her lateral work and her canter changes.
Just behind Dunn, Isabel Linder took the bronze with a score of 72.50 percent on her Hai Wei gelding (Ehrenwort—Danina). She noted that Elvis, loved the music selected for him.
"We wanted a song for Elvis that had some classical and some modern music in it," said Linder. "We listened to song after song and picked this one—that kinda clicked. He just wanted something that really highlighted how powerful he is and I think it accomplished that."
Linder scored a 67.02 percent in the Team and a 69.78 percent in the Individual NAJYRC earlier in the week, but today's ride finally secured her a spot on the winner's podium.
"He felt really good today. I was super proud of him, especially with it being the end of the week," she said.
Linder attributed her competitive edge to the test's extended canters.
"He likes to go for it!" said Linder.
Linder represented Region 2, but grew up in China—which is where she learned how to ride and also where she found Elvis. The gelding was transported to the United States two years ago and now the Junior rider has her future sights set on taking him to Grand Prix level.
In the Junior Rider Dressage Freestyle Championship, three riders from different regions rode to three different styles of music and took the top three spots on the FEI podium—each executing tests exceeding 72 percent.
For Linder, it was a day to rise to the top with scores that improved throughout the week. For Dunn, it was the day for her to take home her third medal from the NAJYRC and celebrate her week of high scores. And for Jones, it was an emotional day to commemorate a long journey of trials and tribulations—and to confirm that on golden days like this, everything happens for a reason.
See full results of the NAJYRC Junior Freestyle competition.