Devon, Pa.—Oct. 2
It's been 10 years since Patrick Tigchelaar won at ShowPlus Dressage At Devon and eight years since he last showed in the Dixon Oval, but today he led the victory lap with Susan Ralston's O'Captain in the CDI1* Intermediaire I (70.19%). The pair finished second in yesterday's CDI1* Prix St. Georges (69.11%).
Tigchelaar started riding the 9-year-old Trakehner gelding (Freudenfest—Ondra VI, Prince Thatch xx) in February when Ralston got busy with her other horse and new job.
"He schools everything at home for the Grand Prix, so that's very fun," said Tigchelaar, White Post, Virginia. "This was our first CDI, and I'm very happy with it. When I first started clinicing here in the United States 20 years ago, I remember one of my first clients had a nicer barn that had a Dressage At Devon poster, and I'm like, 'Oh what is that? That sounds special.' She told me about it, and I'm like, 'I want to ride there when I move here.' It was the first show that I knew in America that was something special, so it's always been special to me. Just the history here. There's always such a good atmosphere, and I like the general vibe with the food and the vendors."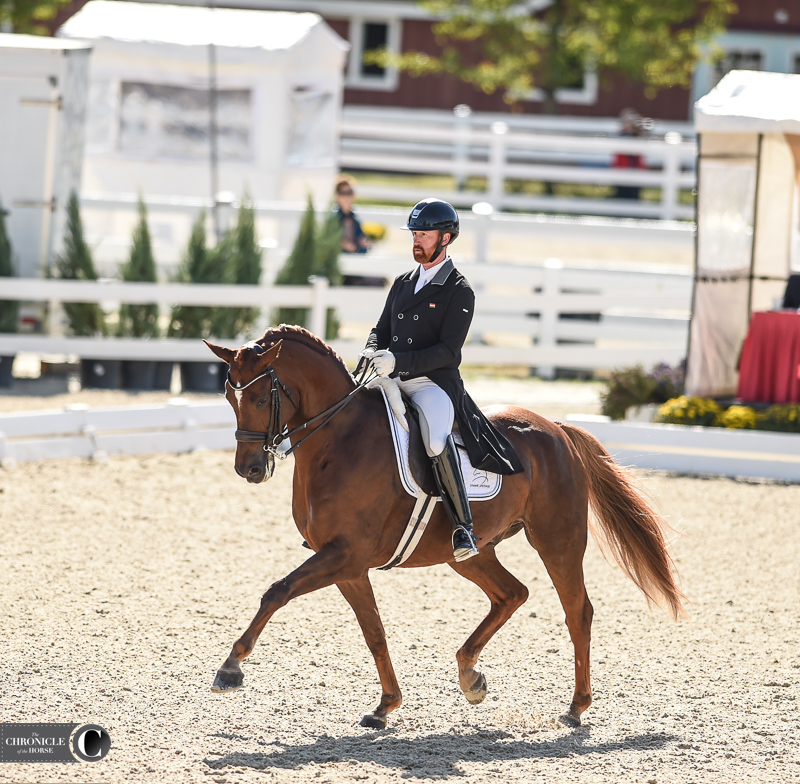 "Cappy" is very sweet and likes to be dirty, according to Tigchelaar.
"He's very much a boy and likes to be naked and dirty and play in the sand, but under saddle he's fantastic," he said. "He's probably the most sensitive horse I've ever ridden. He connects with his rider like no other horse. If I think something, it's like, 'Oh, we do that.' It's really quite amazing. He's very tuned in to me. It took him a couple of months to get there. Now I'm 'his' rider."
Tigchelaar is originally from the Netherlands and came to the U.S. 14 years ago. He worked for Catherine Haddad Staller and has had his own business for several years since. Last year he and his girlfriend, Jessica Idol, combined their businesses to create Dynamic Dressage.
Idol rode her own Fantom in the same class today and in the CDI1* Prix St. Georges yesterday, her first ever CDI.
The couple enjoys bringing along young horses, and they each have their own set of clients.
"Slowly but surely we're building our empire!" said Tigchelaar. "We have worked it out so well between the two of us. It's no secret that working with your partner is very hard, but I think we've figured out the right balance between home and work and the right balance between helping each other enough and leaving each other alone enough. We're very competitive, but in a supportive way."
"It can be hard to want the same thing as your partner and not be competitive but we're not. I see us as 'us.' If you win, I win. It's that team dynamic of winning," said Idol.
Cappy will work towards the developing Grand Prix next year. Tigchelaar's recently reconnected with Staller and credits their increased scores this season to her training.
"He's not a very confident horse by himself, but the cool thing about him is he trusts me 100 percent," said Tigchelaar.
"When we first got the horse it was a little bit like he was just riding—just sitting up there and trying to figure him out," said Idol. "At the beginning of the show season they were sitting around 68 or 69 percent and then they took some time at home, and I don't really know what happened, but it just worked, and all of a sudden they just came together. Then he was getting 75s. He got a 79 at the last show. The horse just said, 'We're friends now.' He's a little bit of a stoic horse. He's expressive, but he keeps his emotions to himself, but now when Patrick walks into the barn he looks for him. It's very, very cute."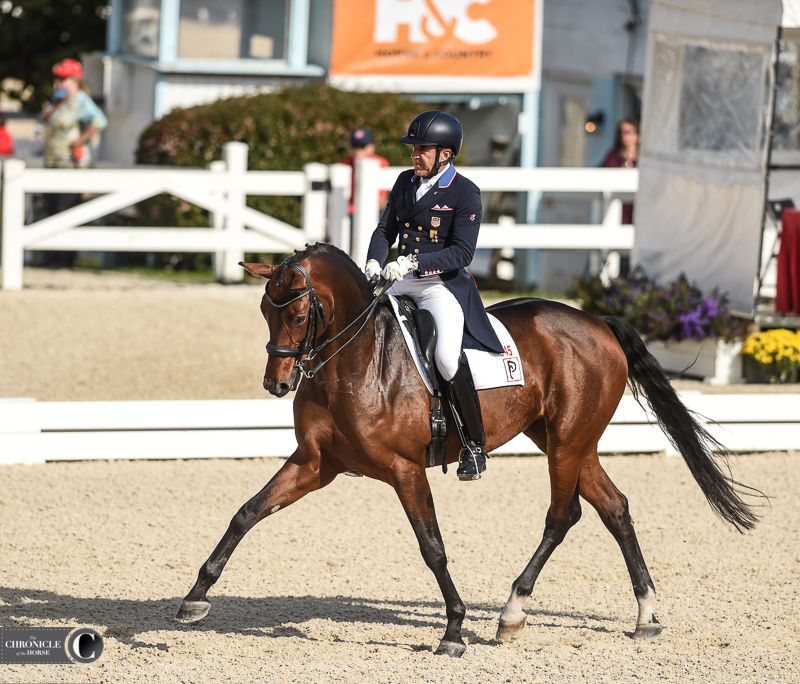 Cesar Parra hasn't missed a Dressage At Devon since 2000, and he's won at every level from young horse classes to the CDI Grand Prix.
"I think it's very special—the atmosphere, the people, the location, now we have amazing footing. It feels very much like Europe. I can't think of anything better," he said.
He topped the CDI3* Intermediaire I test today on Brooke Centrella's Belle Ami (70.98%).
Parra had competed the mare when she was 5 and 6, and Centrella's competed her in the amateur small tour CDI at Devon twice.
"[Centrella] had a baby then had trouble with her shoulder, so she sent her to me to tune her up," he said of the 12-year-old Westfalian (Belissimo M—Reebok, Ribbick). "I showed her two weeks ago at the Horse Park of New Jersey to get the scores to come here. Yesterday was my third time showing her. Yesterday was a little bit of fine-tuning, and today it felt great. I'm excited to show her tomorrow! She's a special horse. Really fun to ride. She's willing, she's very comfortable, very easy, very levelheaded and has amazing gaits. You feel like over the clouds."
Click here for full results.
Click here for COTH's coverage.
2021 Dressage At Devon - Saturday
Lindsay Berreth / Oct 2, 2021 5:39 pm