In honor of this week's 20th birthday of dressage superstar Valegro, whose dominance of his sport was such that his retirement six years ago has not dimmed the power of his name—nor interest in his post-competition life, judging by the reactions rider Charlotte Dujardin gets when she posts occasional clips of him working to social media—we look back on this interview with Carl Hester, published Dec. 16, 2016, after "Blueberry's" retirement ceremony at the 2016 London International Horse Show at Olympia:
---
Carl Hester is a legend in his own right on the world dressage stage. He has won a team gold in the 2012 London Olympic Games and team silver in Rio. With a host of other championship medals, Hester is a mainstay of the British dressage team.
Beyond this, his involvement in the Valegro story is almost as pivotal as that of Valegro's rider, Charlotte Dujardin. Hester found the horse, kept the horse and trained Dujardin and Valegro throughout their career. Ellie Kelly reflects on the story and what Valegro's retirement at this year's London International Horse Show at Olympia meant to Hester.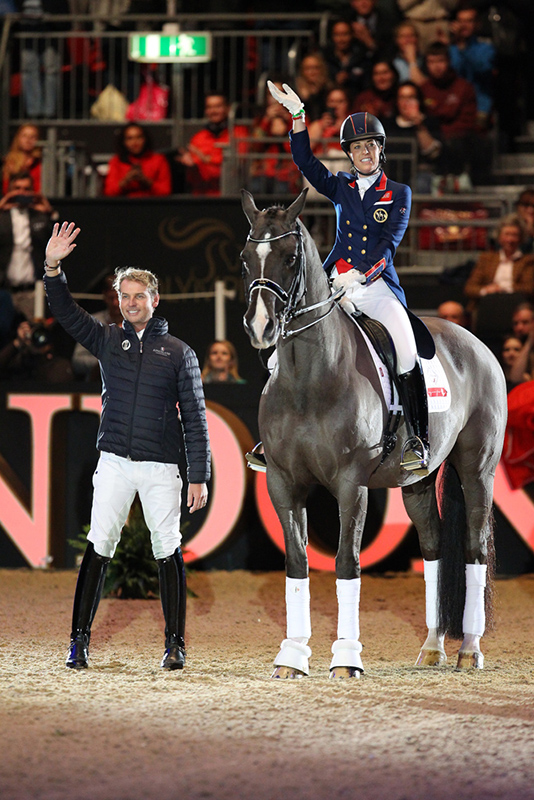 Hester spotted Valegro as a 2-year-old at a stallion grading in Ermelo, Holland. It is unusual for the Dutch to let a potential superstar slip out of their grasp, but Valegro's early potential was overlooked. In fact, it was because he failed this stallion grading, that Hester—who noticed raw talent—was able to purchase him.
In a similar way, Hester talent-spotted Dujardin—a young, green but enthusiastic rider, new to dressage but a gifted and with big ambitions. It was Hester who nurtured the pair's talent and gave Dujardin the training and opportunities she needed to become the rider she is today.
Hester has remained part owner of Valegro with Roly Luard and Anne Barrott. He has trained Dujardin and Valegro since they started their dressage careers together in 2007.
Watch a fascinating video of Hester narrating as Dujardin works a 5-year-old Valegro:
Not only did he sacrifice his own sporting success to give Dujardin the chance to compete Valegro, but after the 2012 London Games, Hester turned down considerable offers for him—life-changing amounts of money, in fact. All this in aid of Dujardin's career and the continued success of British dressage.
"Valegro is my family as well as Charlotte's," Hester said. "He has been like a child to me, as has Charlotte. I've loved watching them grow and coming from the very bottom to the very top of the world. It's been hugely exciting for them, but not once have I ever wished it was me. I've been lucky enough to have great horses at the same time that I've been able to enjoy riding alongside him."
In fact, around Valegro's retirement ceremonies at Olympia, Hester rode Nip Tuck to the top of the Grand Prix and the FEI World Cup Grand Prix freestyle.
Hester explained that "retirement" for Valegro may mean an end to his competitive career and presence in the public eye, but he will still be ridden and will remain at Hester's yard until his dying days.
"For us, he's not retiring; he's still going to be here. It may even give me the opportunity to ride him. If Charlotte will let me!" he joked. "I know how people are going to feel about him retiring, and I think that is where the emotion is going to come. It's that overwhelming feeling for people that they are not going to see him again and how much he has been adored and how much he has done for dressage all over the world, let alone British dressage.
"It's so difficult to watch him looking fit and like he's still the gold medalist he always was," continued Hester. "But he's been judged enough in his life and very successfully. Charlotte and I feel that even second place would make us feel like he's started to lose his grip when he hasn't, and he couldn't have gone any better in Rio."
Hester thinks what has given Valegro the edge is not only his charisma but his soundness, natural ease and attitude to work.
"He's got a presence and in everything he does, and he looks happy, with these beautiful eyes. He's always got his ears pricked like he's loving every minute," Hester said.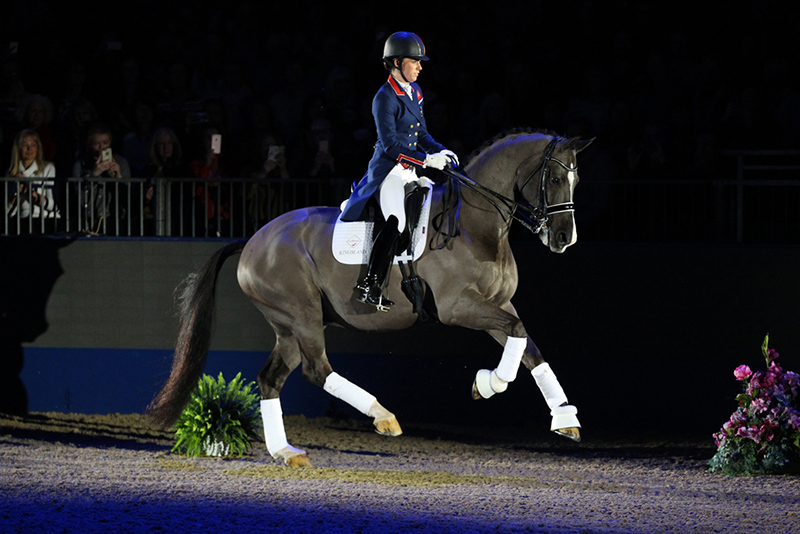 His untarnished record speaks for itself. Valegro has skipped through every stage of dressage and been a champion at every level. "You hear so many riders describing top horses as being difficult when they were young or they came through something difficult to become top horses but Valegro has been a top horse every day of his life, since he was 4 years old," said Hester.
"He has this ability to do everything so easily and with so much expression," he continued. "Because he does it naturally he's been a very sound, strong horse as well. His conformation is perfect for dressage; he's uphill, he has a massive engine behind from this wonderful activity. So many judges talk about a horse that is evenly matched behind and in front and Valegro has those qualities. His hind legs move with expression and so do his forelegs. He's a perfect model."
Valegro's day-to-day life will remain much the same according to Hester. "Basically he will have less schooling, which he won't worry about."
Former British Olympic dressage rider Trish Gardiner, who is now 81, will continue to hack him out in the week as she has done for years, and Valegro's groom Alan Davies will also ride him. "He will continue to have a normal life and occasionally we will take him to do some demonstrations for the British public," said Hester. "As with any horse, the most important thing is food and the field. That is his dream."
Hester describes "Blueberry's" character as that of a "fat pony." "You put him in the field and he just can't wait to get his head down and eat. That is more important to him than anything else. He may be a gold medal superstar, but he is also a very normal horse," said Hester.
In many respects the retirement of Valegro may help Hester's own career, not to mention all the other Grand Prix riders who have been knocking on the door.
"I've had great horses alongside but they've not had their chance to come and shine because every day Valegro is taking the rosettes. It's going to be really nice for other horses in the yard to step up and have their moment now. I will miss Charlotte and Valegro but it's going to be nice for the owners of other horses who put just as much time and effort in," he said
But how does Hester think Dujardin will take to life without Valegro?
"Charlotte and Valegro came in at the top, and they haven't actually left the top yet," he pointed out. "It's going to be very strange life for Charlotte because she hasn't experienced what other competitors have been through, which is the highs and lows of the sport. However, Charlotte is a huge talent, and I'm seeing her on lots of horses every day, and there's certainly a bit of a group that is going to give everybody a bit of a shock," he said.
---
About the author: Ellie Kelly (www.elliekelly.co.uk) is a British journalist, producer, consultant and upper-level eventer who has worked with the BBC, Countryside magazine, Horse & Country TV and many others.