It was 20 years ago this week that Leslie Howard topped one of the biggest grand prix classes in the world aboard an inexperienced 8-year-old and made George H. Morris bow to her as she walked out of the ring.
"When Leslie Burr-Howard paused under the clock tower of the Spruce Meadows international ring and scanned the first-round course for the $523,465 du Maurier Grand Prix, she didn't know what to expect from her relatively inexperienced mount, S'Blieft," wrote Tricia Booker for the Chronicle's coverage in 1997.
"But after she and the 8-year-old chestnut finished the day with three clear rounds and a victory in the world's richest show jumping event—held during the Spruce Meadows Masters, Sept. 9-14 in Calgary, Alberta—the two-time Olympic veteran and 1986 FEI Volvo World Cup Finals victor had made yet another mark in show jumping history.
"After her thrilling finish in a three-way jump-off, an elated Burr-Howard stood at the in-gate awaiting the awards ceremony. It was then that the U.S. Equestrian Team's chef d'equipe, George Morris, bowed in reverence to her as she walked past."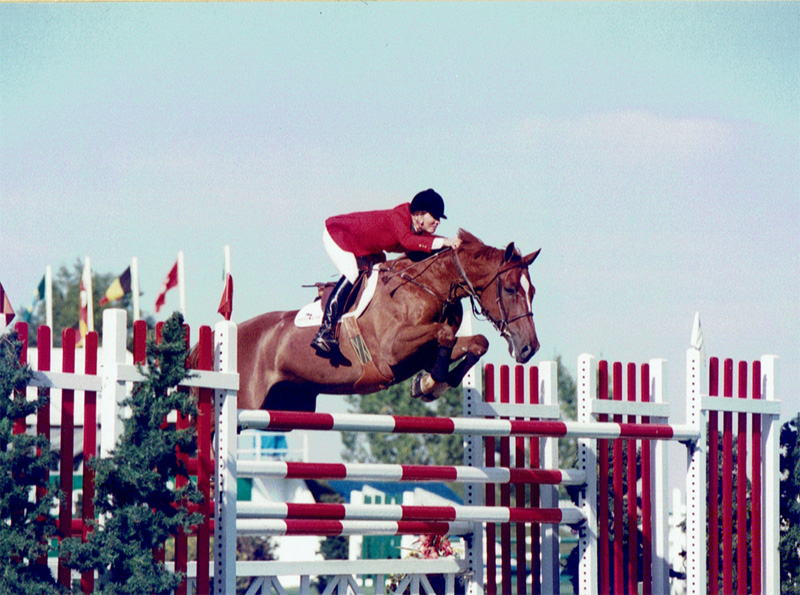 Morris had been the last U.S. rider to claim the du Maurier class, as he won in 1988 with Rio. But in 1997 he not only got to watch Howard win, but he also shepherded the U.S. Nations Cup team to the win in the prestigious Bank of Montreal Nations Cup, the finale of what was then the Samsung Nations Cup series.
That team was comprised of Alison Firestone on Gustl P, McLain Ward on Twist Du Valon, Nona Garson on Rhythmical, and Anne Kursinski on Eros.
But Booker noted that Howard's du Maurier win wasn't exactly smooth sailing.
"I didn't know what to expect," said Burr-Howard. "In the Friday class we had a nasty crash. We ended up literally landing in the middle of an oxer. I lost my reins, and we almost fell down. Today, I did actually say to myself, 'Well, I'm going to win or not make it around.' I had no idea. Would he be too scared to jump, or would he be, as we say in the business, sharp enough to make it through?"
S'Blieft didn't let her down.
"The Dutch Warmblood gelding, who she found as a 5-year-old in Holland, jumped two impressive clear rounds to qualify for the jump-off," wrote Booker. "He contested the win against Geoff Billington of Great Britain on Virtual Village It's Otto and Germany's Lars Nieberg with the talented stallion For Pleasure."
Howard had the advantage of going last in the jump-off and neither Billington nor Nieberg had had a clean round. That didn't stop Howard from going for broke though.
"By the time I went back for the jump-off, I was the most relaxed I'd been all day," Howard admitted. "Because third ain't bad [$54,151]. At that point, you just go out, kick butt and see how the luck of the day falls."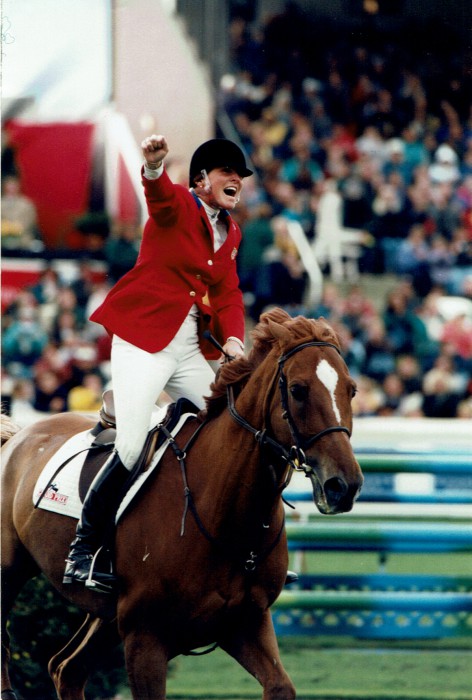 Booker's coverage included a glimpse into Howard's close relationship with S'Blieft. "He has so much personality. He even bows," Howard said then.
"He's got the most personality of any horse in the world, and Leslie encourages it," said groom Lisa Merriman. "He's so spoiled. She gets in my way all the time playing with him. It's a good thing he won, because I was going mad in the barn. She's always playing with him and wanting to be with him. But it's only because she loves him so much."
Who will win the CP International Grand Prix this year? It's all up in the air, but some of the world's best are in Calgary to do battle for the title. McLain Ward is here with HH Azur, Kent Farrington has brought Voyeur, and there are a slew of top European riders on the list. Gregory Wathelet of Belgium—the winner of the Rolex Grand Prix of Aachen—is looking to add a second notch to his quest for the Rolex Grand Slam and is at Spruce Meadows with Eldorado van het Vijver Hof.
Hometown hero Eric Lamaze is also attending with Fine Lady 5, and names like Steve Guerdat, Ian Millar, Maikel van der Vleuten, Nicola Philippaerts, Kevin Staut, Marco Kutscher, Philipp Weishaupt, Lorenzo de Luca, Luciana Diniz and more are entered.
The U.S. team for the BMO Nations Cup is Beezie Madden, Lillie Keenan, Charlie Jacobs and Lauren Hough.
The Chronicle's Molly Sorge is in Spruce Meadows to bring you all the action—the BMO Nations Cup starts at 2 p.m. on Saturday, Sept. 9 (12 p.m. ET), and the CP National starts at 12 p.m. (10 a.m. ET) on Sunday, Sept. 10.
Important links: All the COTH Spruce Meadows coverage | orders of go and results  | live results  | live streaming