This article was updated Jan. 5, 2022, to reflect Kraut's participation in the 2018 FEI World Equestrian Games (North Carolina) and 2021 Tokyo Olympics.
The horse that took Laura Kraut to the next level in grand prix classes and her first international championships wasn't a fancy import. It was a quirky off-the-track Thoroughbred named Simba Run.
"Geoff [Sutton, who owned him] named him Simba Run after a ski run in Vail [Colorado] that starts out green, and the bottom is double black diamond. And that's exactly how he was to ride!" said Kraut with a laugh.
Kraut picked up the ride on "Simba" in 1990 when she was 25 and competed him at the grand prix level for 11 years. It was aboard him that she competed in her first FEI World Cup Show Jumping Final—they placed 10th in 1992 in Del Mar, California. And they were named as the alternates for the 1992 Barcelona Olympic Games. Along the way, they won multiple grand prix classes each year.
"He made my career," Kraut said simply.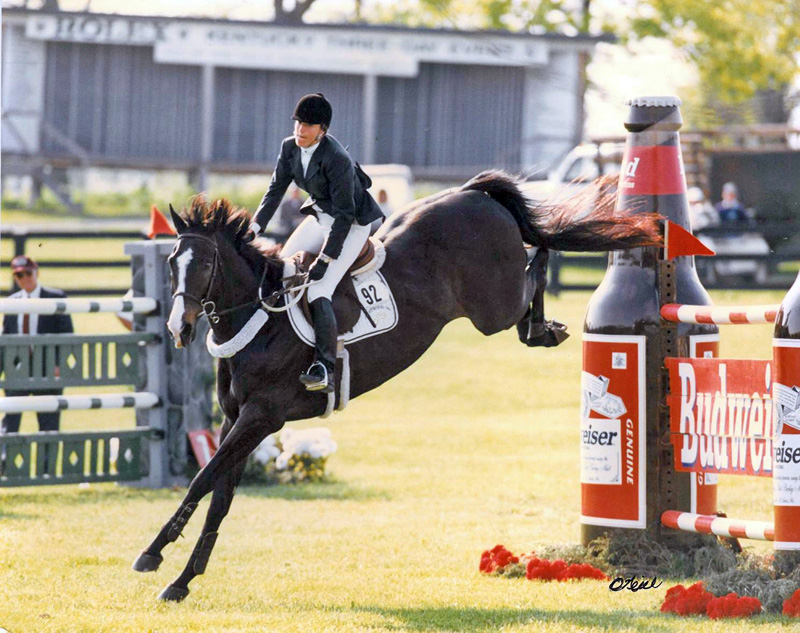 "He's the reason that I have the horses that I have now and the reason that I've been able to compete at the level that I have," said Kraut in Simba's 2005 obituary in the Chronicle. "He taught me all about how to do this."
It all started on a blisteringly hot day in Tennessee. "Geoff asked me to ride him at a show in Germantown when it was like 110 degrees, and Geoff said he just couldn't handle the heat," Kraut recalled. "My first ride on him was in that Germantown grand prix. After that, he just asked me if I'd be interested in taking him and seeing what he could be. He had complete faith in the horse. He was already jumping grand prix [classes] with Geoff, so I was able to step right in and go right into the grand prix ring."
Sutton had bought Simba in 1987 as a 7-year-old after seeing him show in smaller jumper classes at a Germantown show. Simba had a brief career on the track, racing eight times and earning just $800. His Jockey Club name was Great Star (Rube The Great—Dangerous Star, Dark Star) before Sutton changed it.
"He had the most unbelievable amount of scope," said Kraut. "There was nothing that horse couldn't jump. You could point him at the biggest double of oxers, and you didn't need spurs.
"He was tricky to ride," she continued. "He was hot, and he liked to root the reins out of my hands. He had his own very unique style. But I think what I learned from him was the feeling of a horse that had genuine, true scope. It's helped me throughout my career, when I try horses or ride them, being able to tell whether they have it or don't. I had some really nice horses before him, but he had Olympic scope. He could do anything. It's easy to talk about that kind of scope and see it in a horse, but I think when you can actually feel it, it gives you a whole new perspective of it. And then you can recognize it again in other horses."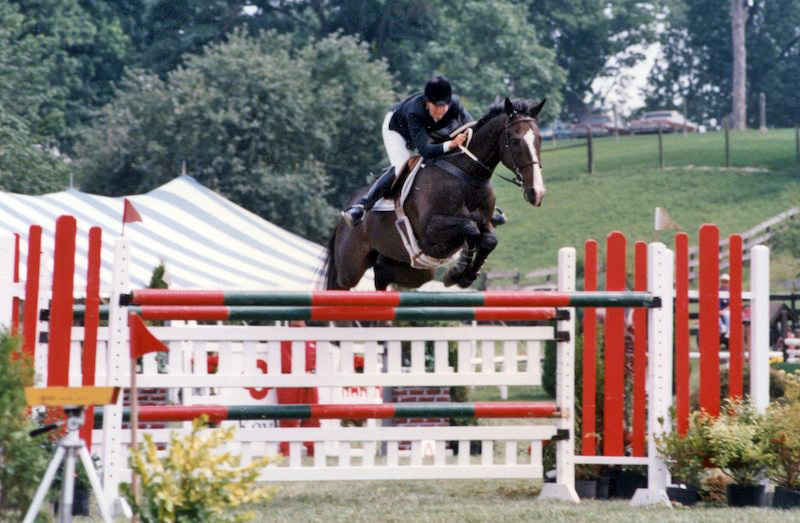 Kraut and Simba won more than $300,000 in prize money in their decade of competing together, which was an accomplishment in a time when a $100,000 grand prix was rare, and the $50,000 classes were considered big money.
They also qualified for and competed at the 1994 FEI World Cup Final in 's-Hertogenbosch, the Netherlands, but Simba tied up after the first horse inspection.
"To this day we don't know why. It was the most random thing," Kraut said. "I think the atmosphere made him nervous, and he tied up. We couldn't give him any medication, so we massaged him and did what we could. I jumped the first round, but he wasn't himself, so we retired."
Simba won the $50,000 Mary Rena Murphy Grand Prix (Kentucky) in 2000, his last year of showing.
"I wish I had him again now because I feel like I would do a much better job with him now," said Kraut. "I've learned a lot since then.
"He got me when I was a newcomer to the whole international scene," continued Kraut, who now has three Olympic Games teams and three World Equestrian Games teams to her credit, with team gold and silver medals earned at both.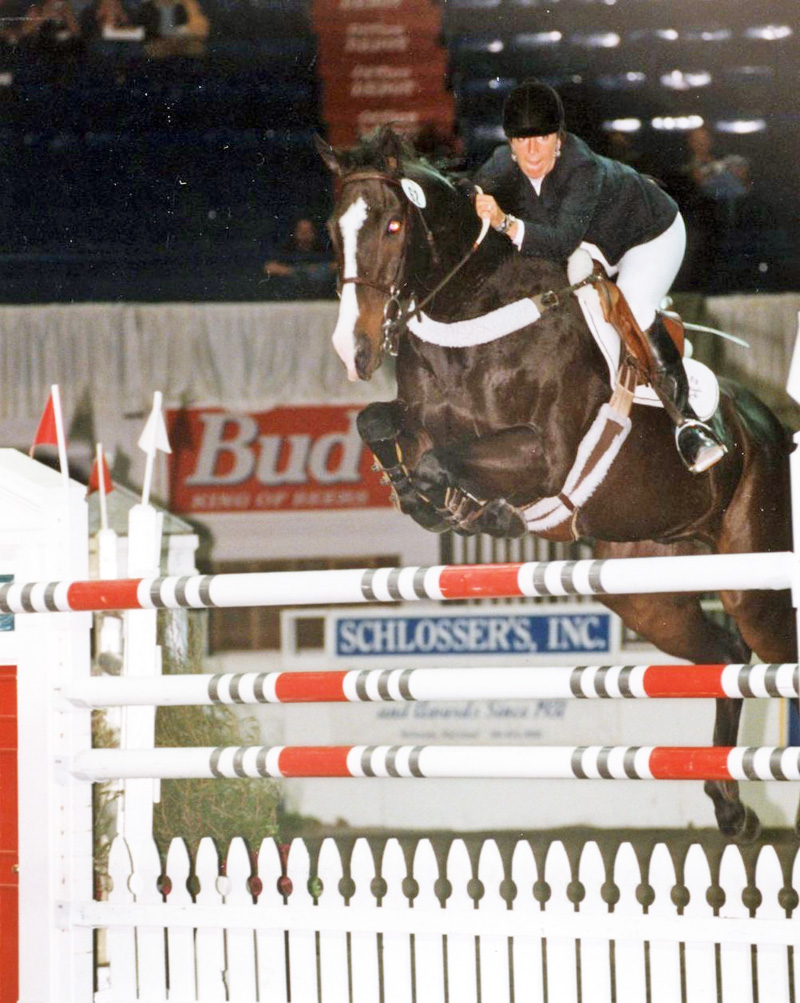 "Geoff loved following him around and was hands-on the whole time," Kraut said. "And in the end, he gave him to me, which was extraordinary."
Kraut described Simba as a relatively uncomplicated horse, but one that got wound up in the schooling area. "For his warm-up, I would trot once around, canter once around, and jump four fences, then get off. I'd get off him when I was like two out, and then I'd get back on right before we went in the ring," she said.
"He was so brave," she added. "I don't think the whole time I rode him he ever stopped. You could come sideways to a fence, and he would hop over it. The only worry I ever had was the control. There were often times when I didn't have a lot of control. But it didn't matter—as long as I could get him in front of the jump, he was going to do his best to get over it."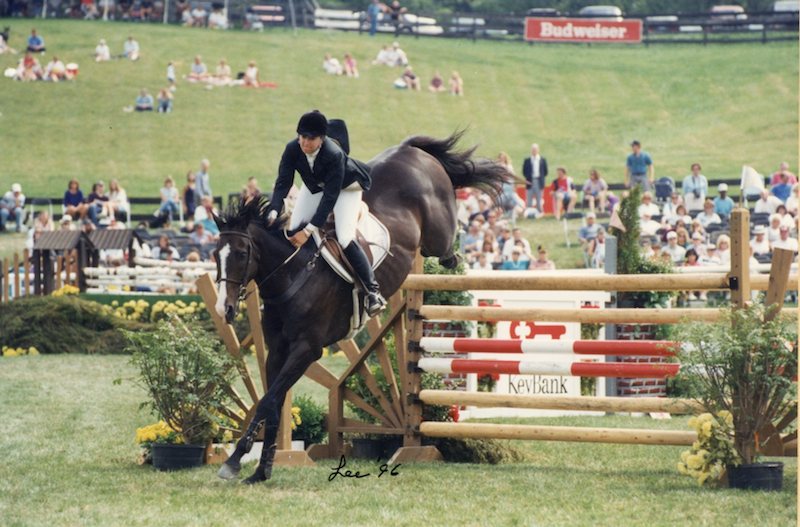 After his jumping career was over, Simba retired to Kraut's Oconomowoc, Wisconsin, farm. "He had a great retirement. He loved living out with three other buddies," she said.
But in the spring of 2005, Simba developed cancer and was euthanized at the age of 25.
"He was definitely my pet, and I spoiled him to death. People thought that he was difficult, but I've never trusted a horse more than him," said Kraut in Simba's obituary. "He was unorthodox, but he had the biggest heart. He was for sure a horse of a lifetime."
While she spent most of her early career riding off-the-track Thoroughbreds, Kraut transitioned to warmbloods after Simba retired.
"I only ever rode Thoroughbreds until like 1998," she said. "For me, the Thoroughbreds I rode typically weren't spooky animals. They had their idiosyncrasies, but they weren't spooky like warmbloods. And they generally weren't strong and bullish like warmbloods. Simba would root the reins, but he was as light as a feather any other time. I loved riding Thoroughbreds. It's a pity that there's just no chance to develop them anymore. It's just too expensive these days to bring along horses from off the track. I also think people at the track keep the horses racing longer than they used to."