After more than 60 years of running, the longtime organizer of the Groton House Farm Horse Trials, Ann Getchell, announced in January that the Hamilton, Massachusetts, farm will no longer hold horse trials. After having to cancel the past two years due to the COVID-19 pandemic, Getchell decided it was time to retire the competition. In recognition of the horse trials' long history, the Chronicle is looking back at our coverage of the June 14-16, 1996, Groton House Farm Horse Trials, which was used as a U.S. Eventing Team selection trials for the 1996 Atlanta Olympic Games.
---
Karen and David O'Connor can't rest on their laurels just yet. But their one-two finish in the Olympic selection division at the Groton House Farm Horse Trials II (June 14-16, Hamilton, Massachusetts) certainly didn't hurt their chances for becoming the first husband-and-wife combination on a U.S. Olympic team.
David O'Connor won this first of two mandatory outings for the three-day short list aboard Lightfoot, the 10-year-old, Irish-bred gelding owned by Joseph Zada. Karen finished 2.25 points behind on Biko, Mr. and Mrs. Richard Thompson's 12-year-old, Irish-bred gelding. But both O'Connors know that they'll need an equally strong showing at the North Georgia Invitational (June 29-30) to make Olympic berths a certainty.
U.S. Chef d'Equipe Capt. Mark Phillips and the Selection Committee made it clear to all 20 short-listed riders that Groton House was meant to be a preparatory, but not necessarily a competitive, outing. As Chairman Karen Stives explained, "This is not a horse race. We're here to make sure everyone's training program is on track and that the horses are in good form after their spring three-days. We want the riders to choose the cross-country speed they feel will best prepare their horses to be competitive at North Georgia."
Atlanta-bound riders from Australia (Phillip Dutton), New Zealand (Sally Clark), Canada (Claire Smith), and Hungary (Anita Nemtin) also competed in the division.
Having completed training sessions with Capt. Phillips shortly before the event, the competitors delighted a packed crowd with strong dressage rides. As the only rider with three short-listed horses, David O'Connor finished first with Custom Made (36.3), second with Lightfoot (39.0), and eighth with Giltedge (43.8). Jennifer Johnson and Tiger One placed third with 39.9. The remaining riders earned closely packed scores in the 40s,  with only four riders scoring in the 50s.
Confusion
With such tightly-packed dressage scores, cross-country time would determine the ultimate winners.
But once the scores were posted, confusion set in. A mechanical problem with the finish-line clocks made time keeping impossible for both the Atlanta division and the regular advanced section. Such a mishap seemed particularly ironic at Groton House, where the same volunteers return year after year and take pride in their expertise. But in this selection trial year, new clocks have been purchased, and havoc resulted.
Organizer Ann Getchell called a meeting with all advanced riders before the start of show jumping on Sunday. Apologizing profusely, Getchell and Technical Delegate Brian Ross offered competitors the choice of finishing without cross-country times or signing vouchers declaring their times on the honor system.
Speaking on behalf of the riders, Denny Emerson (who competed in the advanced division) said, "I don't think there's anyone in this country that's done more for the sport than Ann Getchell and the Winthrop family [the landowners]. You have our complete support. What matters most is the wonderful run your course provided for our horses yesterday, not whether or not we win prizes."
Wash Bishop backed Emerson and urged his competitors to "be good horsemen and good sports" about the timing error. Within moments, the riders voted unanimously to finish without cross-country time faults.
Quipped Ross, "But stadium will be timed, and I wheeled the course especially tight!"
Without time as a factor, David O'Connor remained in first and second on Custom Made and Lightfoot, while Mark Weissbecker on Birch Hill Farm's Best Seller moved up from fourth after dressage to third. Biko stood fourth. Less than 10 points separated the first 13 places.
Local show jumping rider Susie Banta's course tested eventers with a series of rollback turns to related lines. Although 10 riders jumped clear, only two—Karen O'Connor on Biko and Sally Clark with Squirrel Hill—finished within the time allowed.
Jump and time faults proved especially costly since the scores were so close. Lauren Hart and Wexford slipped from fifth to 10th by dropping only one rail and incurring 3.75 time faults; Best Seller fell to ninth with one rail down and 3.50 time faults.
Stephen Bradley and Dr. Dolittle provided the most dramatic moment when, in the midst of a beautiful round, Bradley made a wrong turn and went off course. The 1996 Rolex Kentucky CCI winner showed that in the precarious sport of eventing, even champions must endure bad luck.
David O'Connor jumped first with Giltedge, who pulled two rails and dropped from sixth to 14th. Lightfoot jumped midway through the division, and O'Connor guided the powerful gray gelding to a clear round, adding 1.25 time faults to their dressage score.
"It was a tough show jumping course with lots of twists and turns," said David. "Lightfoot tried his heart out as always."
Custom Made, the leader, jumped fast and fared less well than his stablemates. He pulled the first two elements of the triple and dropped a third rail in the triple bar at fence 6, amassing 2.75 time faults in the process. "I felt him freeze going by the people to the triple," said O'Connor. O'Connor suggested that crowds sometimes distracted Joseph Zada's 10-year-old, Irish-bred gelding in show jumping, and capacity seating lined one side of the arena, only yards from the triple combination.
Capt. Phillips had visited Groton House in March to go over the course with Groton House organizer (and USET selector) Ann Getchell, who incorporated his ideas and updated the event's open intermediate course to advanced standard. "Mark wanted to ask the necessary questions without overly taxing the horses," said Getchell.
The resulting short track (3,300 meters) tested accuracy more than scope. Narrow-faced obstacles were abundant, among them the corner option at fence 5, the arrowhead coffin at 9, the flying wedge at 11, and the terrace steps at 13.
"I thought it was an ideal course to get the horses back on their feet after their break," said David O'Connor, referring to the fact that most short-listed horses had time off in May after completing Badminton (England) or Kentucky. "The course was meant not so much to test the horses as to prepare them for what comes next."
Most of the short-listed riders took the selectors at their word and ran their horses conservatively around the course. Only four horses had jumping problems. Torrance Watkins and Lou Llewellyn missed the final vertical at the terrace steps, while Lisa Lewis and an exuberant Good Force ran by the wedge at 11. Tiger One stopped twice at the coffin (9ABCD), unloading Johnson. But the pair reconnected and jumped perfectly on the third try.
Bradley and Dr. Dolittle missed the coffin's second element when the horse hung a leg on the first arrowhead, twisting badly in the process. "It was an honest mistake," said Bradley, " and he ran like a working hunter the rest of the way around the course."
Any questions regarding Bruce Davidson's fitness after suffering a broken shoulder blade at Kentucky were put to rest as he piloted Heyday smoothly around the course. "Heyday was spot on for this time of the season," said Davidson, who began riding again only two weeks ago.
Davidson later took first and second in the regular advanced section on The Traveling Man, an 11-year-old, Irish-bred gelding he began riding this spring, and Regent Lion, the 12-year-old half-brother to Eagle Lion who has just returned to competition after a year off. Both horses are owned by Elkins Wetherill of Plymouth Meeting, Pennsylvania.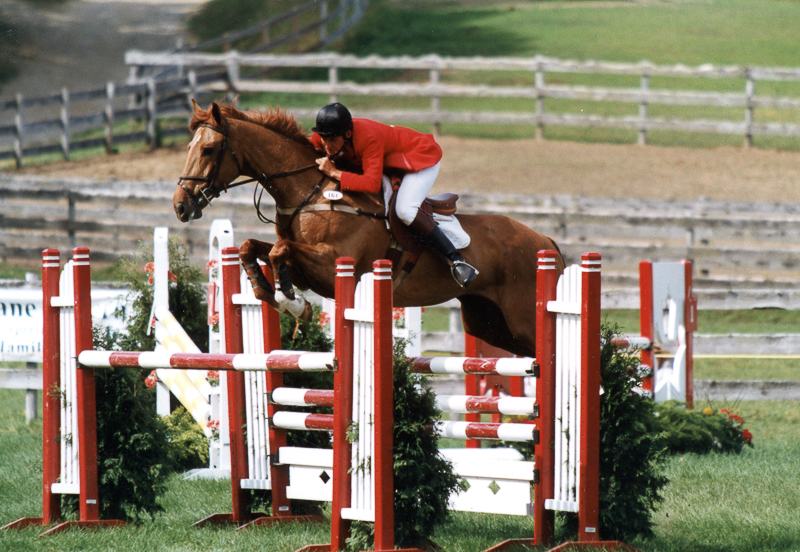 Legitimate
O'Connor felt that Lightfoot won legitimately, despite the timing snafu. "He was quite fast on cross-country, and I'm quite sure he made the time," O'Connor said. "But although the timing incident was unfortunate, it really doesn't affect the selection process. The selectors weren't looking at placings here; they really just wanted to see how all the horses were running."
Stives concurred: "There were enough of us [selectors] evenly spaced around the course so that we know who jumped well and confidently, and that's what matters most."
But the timing apparently did affect some placings.
Louise Meryman and Mashantum finished seventh after a clear show jumping round. But he had blazed around cross-country and probably would have been higher if time faults had counted. Mara DePuy and Hopper, who finished tied for fifth, also might have been higher with their fast round.
The altered placings probably affected Phillip Dutton of Australia the most. He needed to impress his country's selectors with a good ribbon, and he worried that his 13th place [aboard True Blue Girdwood] wouldn't be quite good enough.
"Certainly we all understand that mistakes can happen, but I came here to go fast and to do well, and my finish [will be] compared to other short-listed [Australian] riders competing elsewhere this weekend," he said.
Davidson, who finished 19th after Heyday dropped two rails, said, "I know I speak for all the riders when I say that the wonderful competition provided way overshadows the unlucky timing error, which is quickly and easily forgiven. The Winthrop family have been great supporters of the sport and the efforts made at this event on our behalf have been truly staggering."
Davidson was acrimonious, however, about the U.S. Olympic Committee's Olympic qualifying criteria, which renders him unable to compete Eagle Lion in Atlanta. Davidson rode Eagle Lion to win the Badminton CCI**** (England) in May 1995.
"Heyday is a wonderful horse, and anybody that has him in their stable is a lucky person. But he is not of the same experience as Eagle Lion. You will have to explain to me why the USET has chosen different qualifying criteria [qualifying within 12 months of the Olympics] than the FEI [which specifies 18]. I had all my ducks in a row, I just fell off the wrong duck. It's sad that we can't do what is right," he said.
Nevertheless, most of the short-listed riders voiced confidence in the selection process used for the Atlanta games. "I've learned a lot since Barcelona," said Bradley, who competed on the 1992 squad with Sassy Reason. "Working with Mark [Phillips] and Karen [Stives] has been very positive. The selectors are both good horsemen and good with people—they work with each individual horse and rider to develop the best training program for everyone."
David O'Connor added, "I have complete confidence in the Selection Committee. You may not agree with their eventual choices, but at the end of the day, you know that they've done their homework and put tremendous thought into what they feel is the best decision for all of us."
Would the Groton House results make any selection decision possible now? Stives wouldn't lend a clue. "Our job is to take all the information available to us and then make a decision after North Georgia. As we all know, anything can happen in two weeks," she said.
---
In case you are curious: David O'Connor and Giltedge, Karen O'Connor and Biko, Bruce Davidson Sr. and Heyday, and Jill Henneberg and Nirvana II ultimately were named to the U.S. Eventing Team for the 1996 Olympics, where they won silver, while Phillip Dutton, then riding for Australia, helped the country to team gold aboard True Blue Girdwood.
In the individual competition, the U.S. was represented by Kerry Millikin and Out and About, who won individual bronze; David O'Connor and Custom Made, who finished fifth; and Mara DePuy and Hopper, who took sixth. New Zealand's Sally Clark and Squirrel Hill, mentioned in this story, took individual silver.