Noel Solomon will never forget the feeling of standing at the in-gate and watching Touch Of Class and Joe Fargis win the individual gold medal at the 1984 Los Angeles Olympic Games, hearing thousands of fans cheering them on.
"The whole experience was just amazing; it's still hard to believe it happened," said Solomon. "People keep putting pictures and videos up on the internet, and I love seeing them."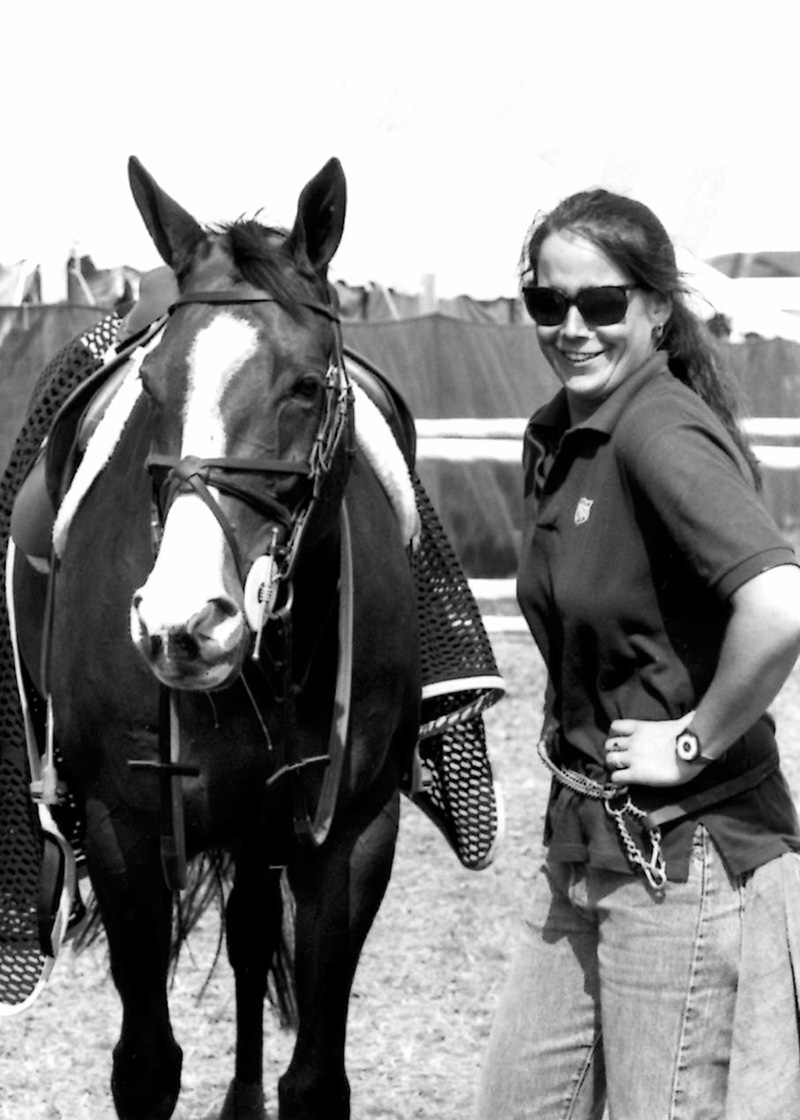 Touch Of Class won team and individual gold medals at those Games with Fargis riding, and Solomon, her groom, was the one who helped "Kitty" be her best that week. It wasn't as easy as you'd think. Kitty was an off-the-track Thoroughbred, and the Los Angeles Games were held on the racetrack at Santa Anita.
"We got there, and she was absolutely crazy because it was on a racetrack, and she thought she was back to racing," Solomon said, noting that Kitty was usually quite calm and composed at shows. "It was stressful because she was not herself at all. She was hot and wired. Joe doesn't ride his horses down at all—he believes in a lot of walking. So Joe and I walked her on a longe line for days on end. We would just walk her all over the property, letting her relax—hours and hours and hours of hand-walking her."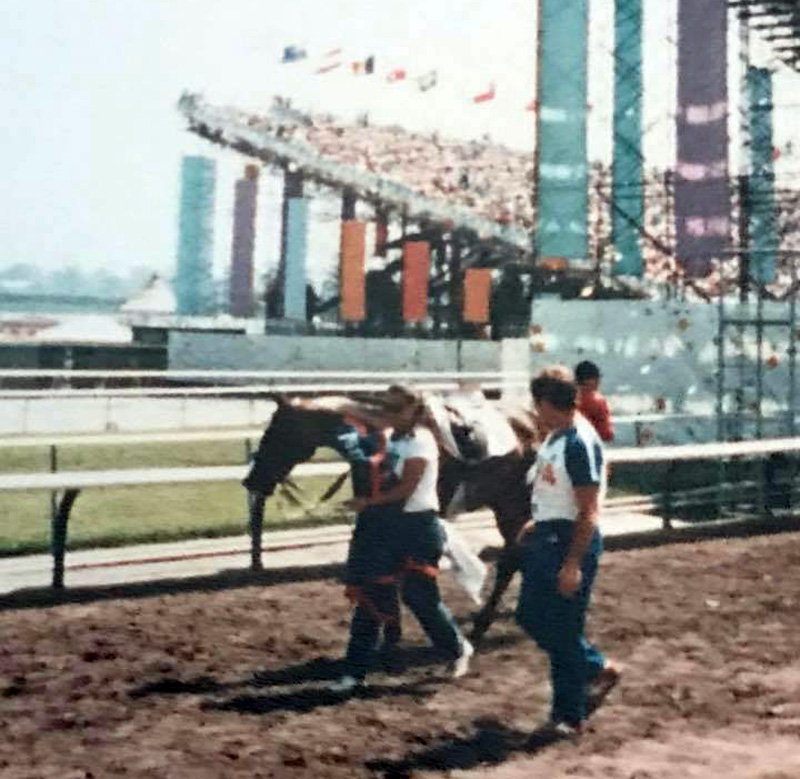 But once in the ring at Santa Anita, Kitty was her usual confident, talented self. "She just kept jumping, and she kept jumping higher and better," Solomon said. "She had one fence down the whole week."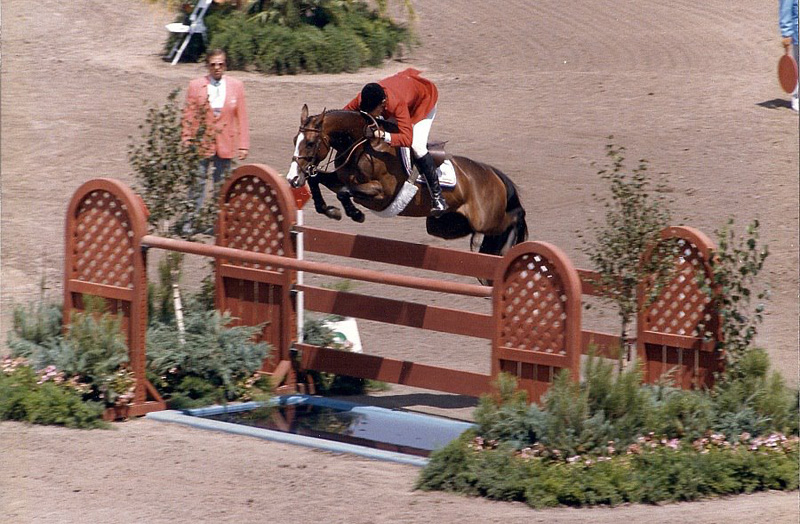 Kitty was a small mare, just barely 16 hands, and very petite. "She was very stoic, but she had feet the size of a goat and these tiny little Thoroughbred legs," Solomon said. "She was perfect. She was the easiest horse. She was a hot tamale to ride, but she was so easy on the ground.
"Back in those days, we didn't do all these therapies. She got ridden a couple of times a day, a lot of it just walking. She stood in a whirlpool tub—or, when she didn't feel like it, she didn't stand in it. And she got poulticed and bandaged when she jumped hard," Solomon said.
Kitty had one major quirk though, and it was one of the reasons she bounced around a bit before arriving at Sandron in Petersburg, Virginia, where Fargis ran his business with Conrad Homfeld.
"You couldn't turn her out," Solomon recalled. "She had to have a walk-out stall with a little paddock because she jumped out of any paddock. That's why  a lot of people wouldn't buy her, because you couldn't keep her in a paddock. But we gave her a stall with an open door to a little paddock, and she liked that."
Solomon started taking care of Kitty when the little bay mare arrived at Sandron in 1981. The mare (Yankee Lad—Kluwall) had been bred in Maryland and spent her first few years at famed steeplechase trainer Mikey Smithwick's farm, where she learned how to jump. She raced six times under her Jockey Club name Stillaspill, with no promising results. Then Kitty went from trainer to trainer in the show horse world, eventually ending up with Debi Connor from Virginia Beach, Virginia.
Connor developed Kitty from the preliminary jumpers to the intermediate division and rode with Fargis. When a fall took Connor out of the saddle for a while, Fargis took over Kitty's reins, and in 1981, their first year together, they won the open jumper championship at the National Horse Show (New York). Efforts to sell Kitty failed when she didn't pass a pre-purchase exam, so Fargis put together a syndicate to keep her in the barn. Along with Fargis and Homfeld, Earle Mack, Pam Hall, Mr. and Mrs. Brownlee Currey and Mr. and Mrs. Patrick Butler owned shares.
"They knew she was a good mare, but nobody really knew then just how good she was," Solomon said.
In 1982, Kitty went to Europe for the first time as Fargis was selected for the World Championship team on another horse. But he fell in the first round and broke his leg, so they came home right away again. With Fargis recovering, Homfeld started to show Kitty. And they won a lot, topping five grand prix classes and qualifying for the FEI World Cup Final. In early 1983, Homfeld rode Kitty at the World Cup Final in Austria and placed fourth before turning the ride back over to Fargis.
"She won quite a bit with Joe in early 1984," Solomon recalled. "She was terrible in the American Invitational, which was one of the Olympic observation trials, but she hated that place. And she got better that spring. They selected that group of horses to go train at Gladstone, and then we got picked to go to the Olympics. As we were going through the trials, it was starting to sink in, like, 'We're going to the Olympics!' Bert De Némethy and Frank Chapot believed in Kitty."
Solomon was a bit in awe of the journey on which her time with Kitty took her. "It was amazing. I was 20—I was young! I didn't realize that whole big world in show jumping existed," she said. "Karen Golding was [at the Olympics], and she was always a great mentor for me. There was so much I didn't know—I'd been to the World Championships that one year, but we'd gone home after the first day because Joe had gotten hurt. For me, it was like, 'Oh my God, it's the Olympics!' "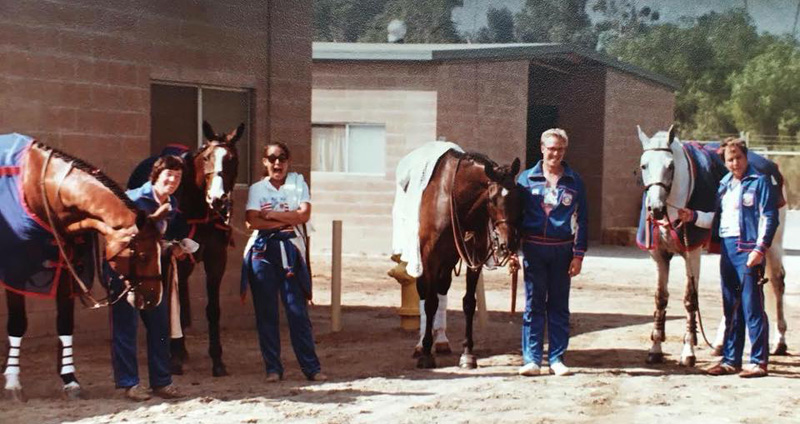 Solomon had grown up riding and showing in Virginia and found her way to a grooming job with Fargis and Homfeld because she admired them as riders and horsemen. She stayed for six years, leaving in 1986. Kitty kept jumping for Fargis until 1988 despite some soundness issues, and then retired in the spring of 1989. She lived out her years at the Currey family's River Circle Farm in Tennessee until she was euthanized at the age of 28 in 2001. Kitty had three foals, but none of them matched her ability.
Solomon has stayed in the horse industry, also grooming for Anne Kursinski and Japanese rider Hiro Tomizawa and working for a veterinarian. But she has very fond memories of her time with Touch Of Class 30 years ago. "It's something that I'll never forget. I mean, how do you compare that to anything else?" she said.