After winning team gold and individual silver at the 1984 Olympic Games in Los Angeles, Abdullah and Conrad Homfeld secured the 1985 FEI Volvo World Cup Final in Berlin. So by the time they qualified for the final four at the 1986 World Show Jumping Championships, their adoring fans fully expected them to come out on top.
"There was unbelievable and overwhelming adulation for Abdullah," journalist Cooky McClung wrote in the Aug. 1, 1986, issue of The Chronicle of the Horse. "Every time he merely walked into the arena the crowd went wild, cheering, and clapping for long moments, even before he jumped his faultless rounds. Spectators brought flowers to place outside of his stall and gave him chocolate-covered cookies and candy."
If Abdullah and Homfeld fell short of snagging gold for the United States, Great Britain's Nick Skelton and the mighty Raffles Apollo were also a good bet to win the world title. And then there was France's Pierre Durand and Jappeloup De Luze, who'd finished third to Homfeld and Skelton at that 1985 World Cup Final and would jump their way into history books in 1988 by winning individual gold at the Seoul Olympics in South Korea. But no one was counting on Gail Greenough, the 26-year-old amateur from Canada aboard the Hanoverian gelding Mr. T.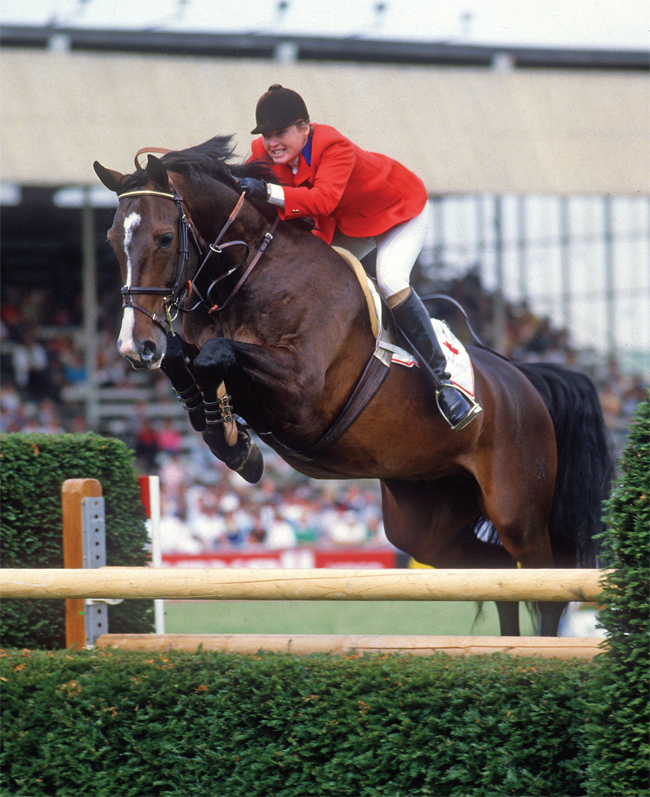 "She was a very natural, instinctive rider, and I think that really helped her in the final four because she rode very difficult horses," said Beth Underhill, who met Greenough when they both worked with Mark Laskin in the early '80s. "All the other guys were saying, 'Oh, the weak one is Gail.' They said that to the press; they said it before she rode. They discounted her before she even sat on a horse."
To the world's utter shock, Greenough was the only rider to produce faultless rounds in that final four in Aachen, Germany, on all three of her competitors' horses and on Mr. T, then 10. She was the first woman to compete in a final four and the first female gold medalist at a World Show Jumping Championships.
"The day after I won, I was sitting in a TV studio with four German men in the panel firing questions at me, trying to figure out how I did it with an interpreter in my ear," said Greenough, 58, Calgary, Alberta. "So, it was a bit shocking, and what I find even more shocking is that it hasn't been repeated for so many years."
Growing Up Greenough
Greenough was raised in Edmonton, Alberta, home of the North Saskatchewan River Valley, North America's largest stretch of urban parkland. There, a young Greenough took piano lessons, made brownies, and rode her first horse at a relative's farm.
"I was on the back of the western saddle with somebody in front of me," said Greenough. "That was the first time I ever sat on a horse. From there I went to a summer camp that provided riding, and the first jump I ever jumped was in a western saddle."
While the Greenoughs weren't horse people, they were a sports-minded family. Patriarch and businessman Greg Greenough was an avid hockey player, and he became president of the Canadian equestrian federation and vice chairman of the Fédération Equestre Internationale's Finance Committee. Gail's older brothers, Jim and John Greenough, were also avid hockey players. Matriarch Audrey Greenough was the family philanthropist.
When, at the age of 11 Gail begged her parents for a horse, they enrolled her in the Pony Club at Donsdale Stables in Edmonton.
"There were always cavaletti sets in the dressage ring, and I thought that looked quite exciting. I kind of liked the freedom of it," said Gail. "[I'm] forever grateful for my dressage beginnings with Bonny Bonnello [at Donsdale] and realizing from Day 1 the importance of the flatwork. As I teach it in my clinics and in my coaching, I always explain that the jump is just the reward for great flatwork in between."
In 1976, Gail attended the first tournament at Spruce Meadows (Alberta) as a spectator, and she later gained mileage there during her junior career.
"Although I didn't live in Calgary I would compete at every event," said Gail. "There would be a week devoted to junior jumpers in the international ring, which nowadays you'd think, 'Oh my goodness, that's amazing.' So, I had the opportunity to grow up in the international ring, which was integral to my success as a rider. Being able to get your feet wet in that type of venue at a young age is huge."
As a junior jumper, Gail trained with Carol Gorsline and Gail Ross. After graduating from high school in 1978 she moved to Woodside, California, for two years.
She attended Foothill College in Los Altos Hills, California, and trained with Butch and Lu Thomas, whom she credits with teaching her the art of speed. When Gail moved back to Edmonton for her last two years at the University of Alberta, she rode with Laskin, the current chef d'equipe to the Canadian team. After two years she moved to Toronto and worked with John Weir and Mac Cone at Weir's Joker's Hill stables.
"[Cone] and I both would help her," said Weir. "She had a young horse and an older mare [Astragal] that was very careful—jumped great but a little short on power."
Searching for a horse with more scope, Gail bought a ride from Richard Bloch at Piñon Farm in Santa Fe, New Mexico. When the horse didn't work out, the team at Piñon Farm, which included Robert Ridland and Pierre Jolicoeur, offered Gail a trade.
A 7-year-old Hanoverian gelding had just been imported to the States. He was only 16.1 hands, but he was as broad as he was strong. Gail named him Mr. T (after the character in the 1980s TV show "The A-Team") in honor of his tough exterior that didn't reflect his loving personality. He would earn the nickname "Porkchop," because the horse tried to eat whatever came closest to his mouth.
"I always thought to myself [that] it never mattered if he would've jumped anything," said Sally Sainsbury, Mr. T's groom. "He was just a wonderful horse to be around, one of my very favorites over the years.
"He was so much fun, really playful," she continued. "He'd follow you around like a dog, and I played a lot in the paddock with him. When we flew the horses, he was really calm, and he was a good guy. Internally he would worry a little bit, but externally he was really settled."
In 1983, during her last year in university, Gail debuted on the Canadian national team. She leased a horse in Alberta to keep fit while at school, and she commuted to Toronto, where her horses were based, on the weekend.
"I was basically living on airplanes," Gail said. "I would ride in a Nations Cup, get on an airplane and fly back to Edmonton and write a final exam kind of thing, so it was a lot of time management."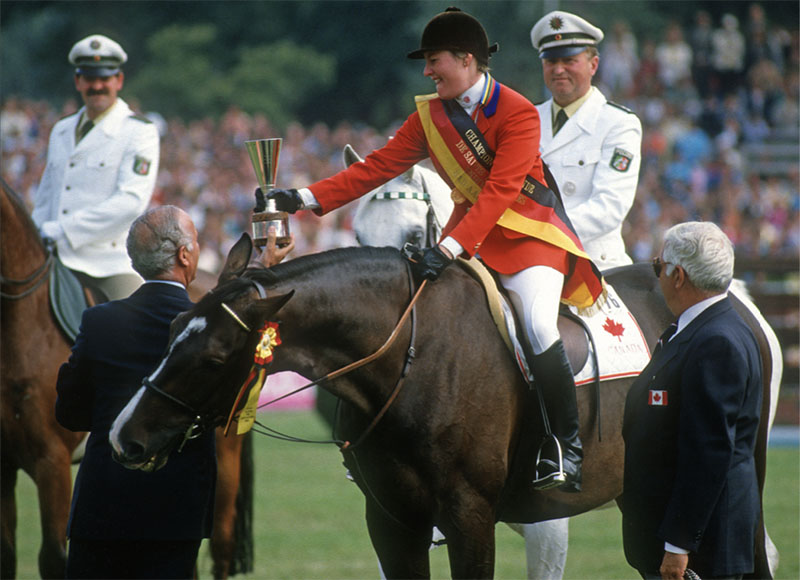 Flying The Flag
Gail couldn't tell you when she first set her sights on representing Canada at the 1986 World Championship.
"Riding for the Canadian team when I was competing was always my No. 1 goal," she said. "That was the thing to do for sure before the modern-day time [with the Longines] Global Champions Tour; there are so many different things to do.
I think that was my goal the day I was born. If you have the horses that are capable of it then for sure [it's] your No. 1 goal." Gail put miles on the young Mr. T from 1983 to 1985. In early 1986, they toured the Florida circuit before competing at the FEI Volvo World Cup Final in Gothenburg, Sweden, where they finished 21st.
At the Canadian selection trials for the World Championships, May 24-June 7, they won the first two qualifiers in Edmonton and Aspen Ridge, and they were second at the final leg in Spruce Meadows.
"They had great chemistry; they just got each other," Sainsbury said of Gail and Mr. T. "He would jump anything for her, and she had so much confidence in him. They got on really well personality [wise]. He was really sensitive, and I think as a girl, she didn't overpower him, and they just clicked amazingly well. I think her sensitivity matched his."
After a successful summer, Gail wasn't intimidated by the thought of entering her first World Championships. It didn't hurt that she was going in as the underdog, without any pressure.
"Nobody really goes in thinking they're going to win something of that magnitude," said Gail. "You live and hope, but you understand that the jumps are huge, and the competition is tough, and it's the best in the world. But I was confident enough that I would hopefully be able to contribute to the team."
Gail, who'd been only a class shy of graduating with a bachelor's degree in 1983, was feeling pressure from her parents to complete college.
"I think both of my parents were hoping it was a phase that would end," said Gail. "The deal was they were going to have a little conversation with me after the Worlds and say, 'OK, you know this has been really fun, but perhaps your next degree would be …'
"That conversation never happened," she continued, "because I ended up winning and making history. It was sort of a different fork in the road."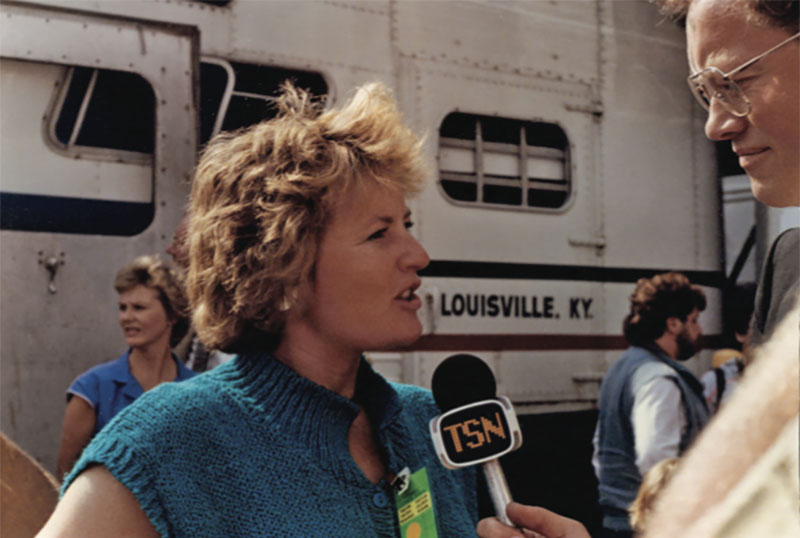 World Champion
Three qualifying classes for the team and individual competitions kicked off the 1986 World Championships. Round 1 was a speed class against the clock. In Round 2's Nations Cup-formatted class, Gail and Mr. T were the only combination to finish without faults. The final qualifier involved two rounds: The first rode like a grand prix course with 12 obstacles, and the latter featured eight "puissance-type" obstacles. Gail picked up a time fault in the first half and rode clear in the second.
"When we put Mr. T on the plane to go over [to Aachen] with Gail I knew she was in great form," said Cone. "She was in great form nationally, but I had no idea she'd be in that kind of form internationally."
Team Canada (Ian Millar, Laura Tidball-Balisky, John Anderson and Gail) finished fourth, with three of the Canadians making it to the top 10, and Gail, of course, advancing to the final four.
Weir's strategy was for Gail to compare Abdullah, Raffles Apollo and Jappeloup De Luze to horses she'd ridden in the past.
"[Astragal] was a fire eater," Weir said. "She ran at the jumps. Apollo was the same kind of horse. [Gail] had a horse called Fast Eddie that was kind of a speed horse, but he was a lot like Abdullah. And she had another horse that she rode, Lickedy Split, who was just like the French horse Jappeloup. He was a tiny little horse but just a dynamite jumper."
Sainsbury remembers Weir telling Gail to ride the horses as if she were at home. "Don't try to ride them the way Nick and Conrad and those guys ride [them]," Sainsbury said, recalling Weir's advice.
Gail rode all three of her competitors' horses to 0 faults, becoming the only woman to win the event in a final four format, which saw its last edition in 2014.
"I have mixed emotions on it," said Gail of the format's demise. "For sure it's a great spectator event. It's amazing to watch, let alone partake in, so in that way it's great for the sport. It's a great seller. Is it harder on the horses? Yes, it is for sure; it's four more rounds. The warm-up is just two jumps, so that's not too tragic, but it's a bit stressful.
"On the other hand, the four top riders are normally—you don't get to the top four if you're not fairly capable," she continued. "I thought maybe a nice, happy medium would be to go to a final three. Therefore, it's three rounds not four, nine, not 16. For sure the value on these animals is just enormous, and it is a risk, so I understand why it's out. But it did differentiate the World Equestrian Games from the Olympics or the Europeans or the Pan Ams. It did make it quite a unique event."
"It's About Time"
Gail normally attends the FEI World Equestrian Games in person, but in 2018 she was in Ireland.
"I was flying back from Ireland to Calgary on the Sunday, the day of the final, so I was thinking, 'I don't really want to know who wins. I'll just watch it on Monday,' " she said. "I turned my phone on when I landed in Calgary, and my phone was blowing up. Everyone was giving me funny looks, and there was no chance. I knew immediately who won."
Germany's Simone Blum celebrated the shattered expectations with a clenched fist to the sky as she cleared the final fence to win gold at the Bank of America Merrill Lynch World Show Jumping Championship at the WEG.
Since the first WEG in 1990, the individual jumping final saw seven male winners. At the eighth, held Sept. 19-23 at the Tryon International Equestrian Center in Mill Spring, North Carolina, Blum, 29, became the first female WEG gold medalist and the second woman to win at a show jumping world championship.
"It's about time," said Gail. "[I was] thrilled, beyond thrilled. I think when I won it caught me by surprise that there was such a focus on being the first female to win. I was taken aback by that because I grew up riding against men equally all the time, so for me it was an everyday occurrence when you were competing against them. Sometimes you won; sometimes you didn't. Naively, I thought it was not such a big deal until the rest of the world thought it was a big deal."
Although equestrian is one of the few Olympic sports in which men and women compete as equals, there is disparity between the number of male and female show jumpers at the highest tier of international sport. The 2017 FEI Annual Report for show jumping listed 22,136 registered athletes, 12,900 of which were female. Per the 214th update of the Longines FEI Rankings for show jumping, there are only 18 women in the top 100.
"I think it's a matter of numbers," said Gail. "More men continue on to the upper end of the sport than women, and that's just the nature of the difference in the sexes. Women are the ones having the children.
"Certainly, some of the women like Meredith [Michaels- Beerbaum], you have children, and you still continue to the top end of the sport, but that's just the way the sexes are," she continued. "The men can continue on, and the women make different choices. That's not a good thing or a bad thing; it's just the way it is. One of my biggest regrets is not having children, so there you go."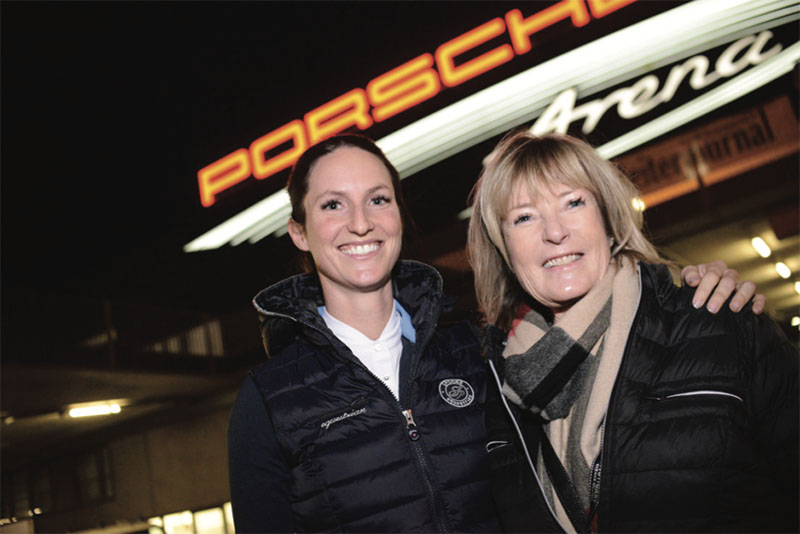 Nature of the Beast
Ask Ian Millar about the evolution of show jumping, and he'll mention the impossible Olympic tests.
Before Bert de Némethy reinvented the feel of course design at the 1984 Olympic Games, it could easily take a horse three to six months to recover post competition. For many horses, the Olympics were their last taste of sport.
"You would take lovely horses who could be successful all over the world to the Olympics, and they were in trouble," said Millar. "It would be as if you went to the Olympics, and the 100-meter was 125 meters. It would change the sport, and that's what the Olympics used to do."
The sport has evolved, but the bravery needed of a rider? Still the same.
"At the top level it's going to get messy from time to time," said Millar. "It takes a certain mentality to do it. Gail, she was never troubled by physical or mental fears. She was very brave mentally and physically, and that's very important. I never, ever saw her ride afraid or be intimidated.
"She had her fear of falls and spills, and she got banged up a little bit, but she never stepped back," Millar continued. "Top riders, they cannot be burdened by physical or mental fears, and she was certainly not burdened by either one."
After the World Championship, Gail and Mr. T returned to Europe and won the Stuttgart Grand Prix at the Stuttgart German Masters.
But after Mr. T came home, he suffered a series of hoof separations and was out of competition for the next year. During that time, Gail qualified for the 1987 Pan American Games (Indianapolis), but she had to bow out when her horse got injured. Mr. T struggled with injuries, and then in 1990 he died of cancer.
By 1992, Gail was ready to take a break from competition, and she began teaching and commentating. She served on the Canadian Show Jumping Team Selection Committee, a position she still holds in addition to her work on the Equestrian Canada board.
In the late '90s, Gail sold her remaining three horses to Millar and moved to Ontario to work at Millar Brooke Farm.
Millar praised her teaching ability: "Whatever student, whatever horse, you just give her a little time, and there would be incredible improvements. I remember we had one young lady who could not remember courses. We put Gail in charge of this young lady, and the next thing the girl is going around the course winning. And I said, 'Gail, how on earth did you do this?' And she said, 'Actually, I used colors.' "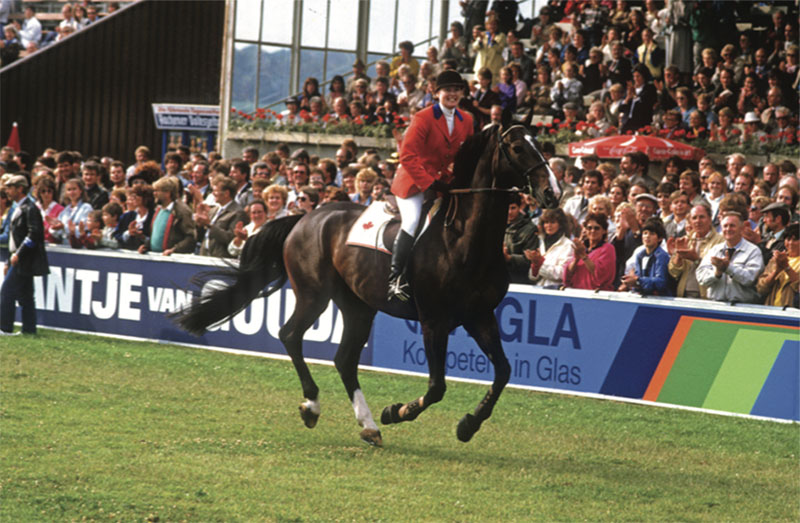 Generational Shifts
In 2001, Gail returned to competition and found the sport wasn't quite the same.
"Risk taking became different with the back cups, and the technique changed with the [tighter] time allowed and the lighter equipment," she said. "I think it's evolved in the right way, and it's evolved with safety in mind. It's made better riders."
From 2000-2004 she worked at Kilkenny Crest in Oregon.
"I still love to ride," she said. "I've gotten back to where I just love riding for the sake of riding and being on a horse; that's just the best thing ever. I don't really feel the need to get back to the ring, for sure not back to the top level. But my business and my life is still this sport."
Today, many shows have aimed to revamp the sport with a more mainstream feel. The Longines Global Champions Tour, now a yearlong circuit, created the Global Champions League in 2016 and the inaugural Super Grand Prix in 2018. In 2017, the Longines Masters introduced the team-formatted Riders Masters Cup.
But with more shows than ever on the international sporting calendar, Gail has recognized a shift in climate.
"I think it's creating a little bit of a division in the sport, and you have to pick where you want to be within the sport," she said. "I don't know if that's right or wrong. Different riders will have different views on it. I'm a bit old school in that I grew up in Spruce Meadows, and I won at Aachen, so obviously I'm going to steer more towards those competitions."
Gail looks forward to seeing how the next shifts play out.
"It will be interesting to see where that is through the next four-year cycle," she said. "I hope [the WEG] doesn't disappear. Growing up as a rider all I wanted to do was ride for the Canadian team. That, for me, was the pinnacle of the sport, be it the Pan American Games, Olympics or World Championships. That was the pinnacle.
"Do I see being part of the winning team at the GCT as being the pinnacle? Not in my books," Gail continued. "I would rather be Simone Blum right now."
---
This article ran in The Chronicle of the Horse in our January 14 & 21, 2019, Legends And Traditions issue.

Subscribers may choose online access to a digital version or a print subscription or both, and they will also receive our lifestyle publication, Untacked. Or you can purchase a single issue or subscribe on a mobile device through our app The Chronicle of the Horse LLC.
If you're just following COTH online, you're missing so much great unique content. Each print issue of the Chronicle is full of in-depth competition news, fascinating features, probing looks at issues within the sports of hunter/jumper, eventing and dressage, and stunning photography.