For this week's Throwback Thursday, Joan Goswell remembers a Rolex Kentucky Three-Day Event of 20 years ago…
When I first bought Trusty, he was known by his Jockey Club registered name, Throttle Up. I thought he would be a good horse for me to event, so I changed his name to Worth The Trust and began to event him at the lower levels. Little did I know that some day Karen O'Connor would be his rider and that he would win the 1997 Rolex Kentucky CCI!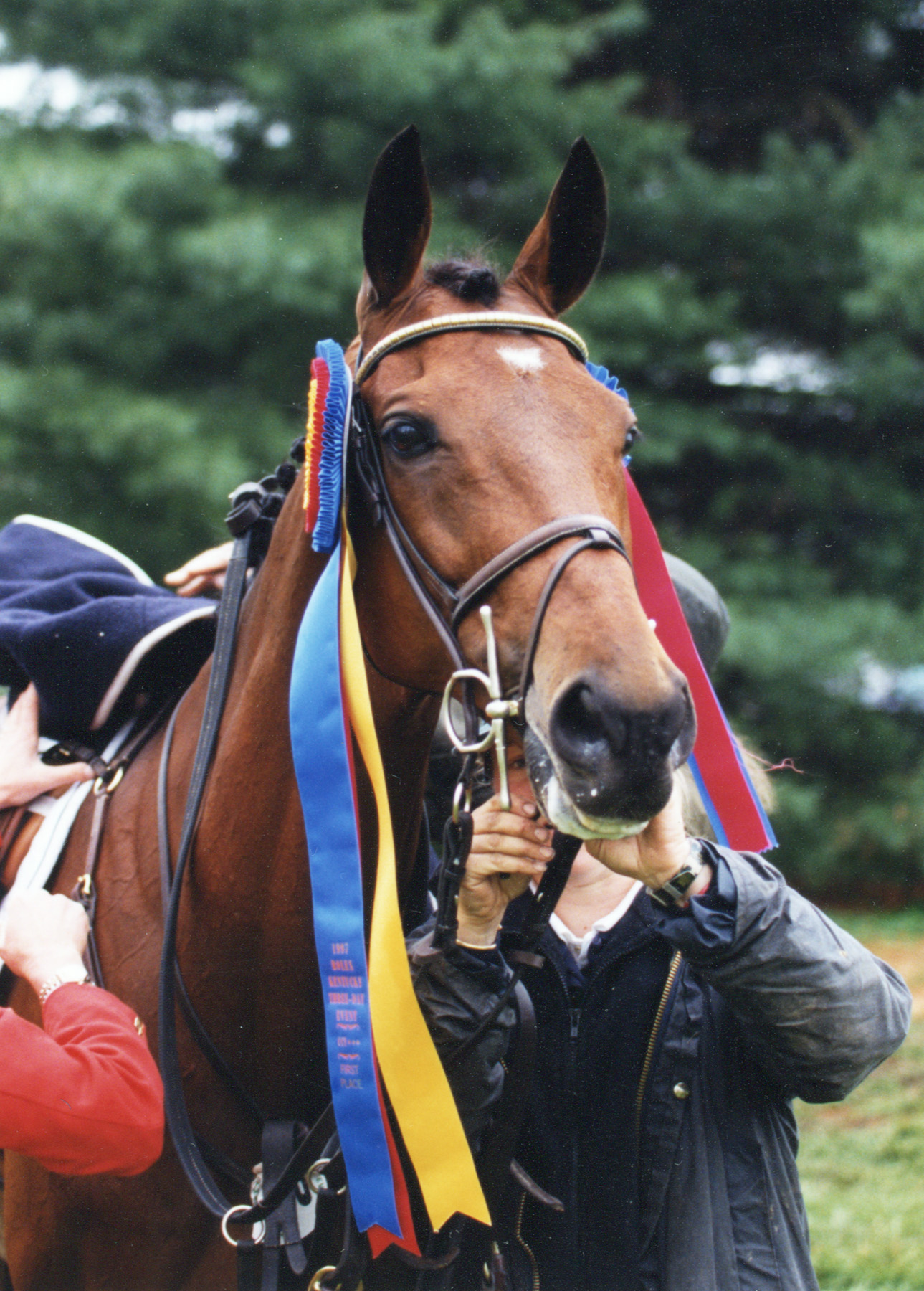 In 1997, Rolex was a CCI***. It was long format, meaning that there were four phases, roads and tracks, steeplechase, roads and tracks again, and cross-country. All horses were required to carry a mandatory 165 pounds. Karen weighed about 119 pounds, so Trusty had to carry lead weights to meet the requirement.
When I arrived at Rolex in April 1997, I was nervous but excited. I had a great rider, Karen O'Connor, and a great groom, Ann Ferrio. I helped out a little with small chores—leading Trusty out to graze, running errands and making sure he got his grapes as treats. He loved grapes!
Whenever Trusty did a dressage test, Karen had to pin up her shadbelly tails because if they flopped onto Trusty's back he would buck! This time was no different. I held my breath while he put in a very nice test that included half-pass, counter-canter and flying changes. His score was 47.8 and he was in fourth place. When he came out of the ring, I started to take him back to stabling when all of a sudden, we were surrounded by a gaggle of Pony Clubbers. They asked Karen for her autograph and then they very politely asked if they could pet Trusty and they did! He loved it!
Later that afternoon, I walked the cross-country course with Karen. It was the biggest, most complicated course I'd ever seen. There was a new complex called "The Sunken Road," where a horse had to make a sharp turn to a vertical, then a bounce down into the "road", one stride and jump up and out, then over the next vertical. The "Lexington Bank" consisted of two huge steps up, then a stride across the top to more rails and down a big drop. The "Head of the Lake" consisted of two huge logs that Trusty had to bounce over into the water. I thought to myself, "Holy geez! This is really hard!"
The next day was endurance day. First was Phase A—a short trot set. Next was Phase B—steeplechase, galloping at racing speed over a series of brush jumps. Then Phase C—a longer trot set and lastly, Phase D—cross-country!
Trusty was the last horse to go. After completing Phases A, B, C, he came into the 10-minute box. I held him while the vets checked him out and Ann cooled him down and made sure that he, his tack and his boots were good condition.
Then he started on cross-country. There was no TV then, so I watched what I could, that being the first few jumps and the Lexington Bank. After that I depended on the announcer to hear how he was going.
Finally, Karen and Trusty came across the finish. She was grinning from ear to ear so I knew he was clear and under the time. WOW! It was incredible! I helped cool him down and then Ann led him back to stabling while I followed, carrying the saddle and all its very heavy lead weights. Trusty was now in second place! I couldn't believe it.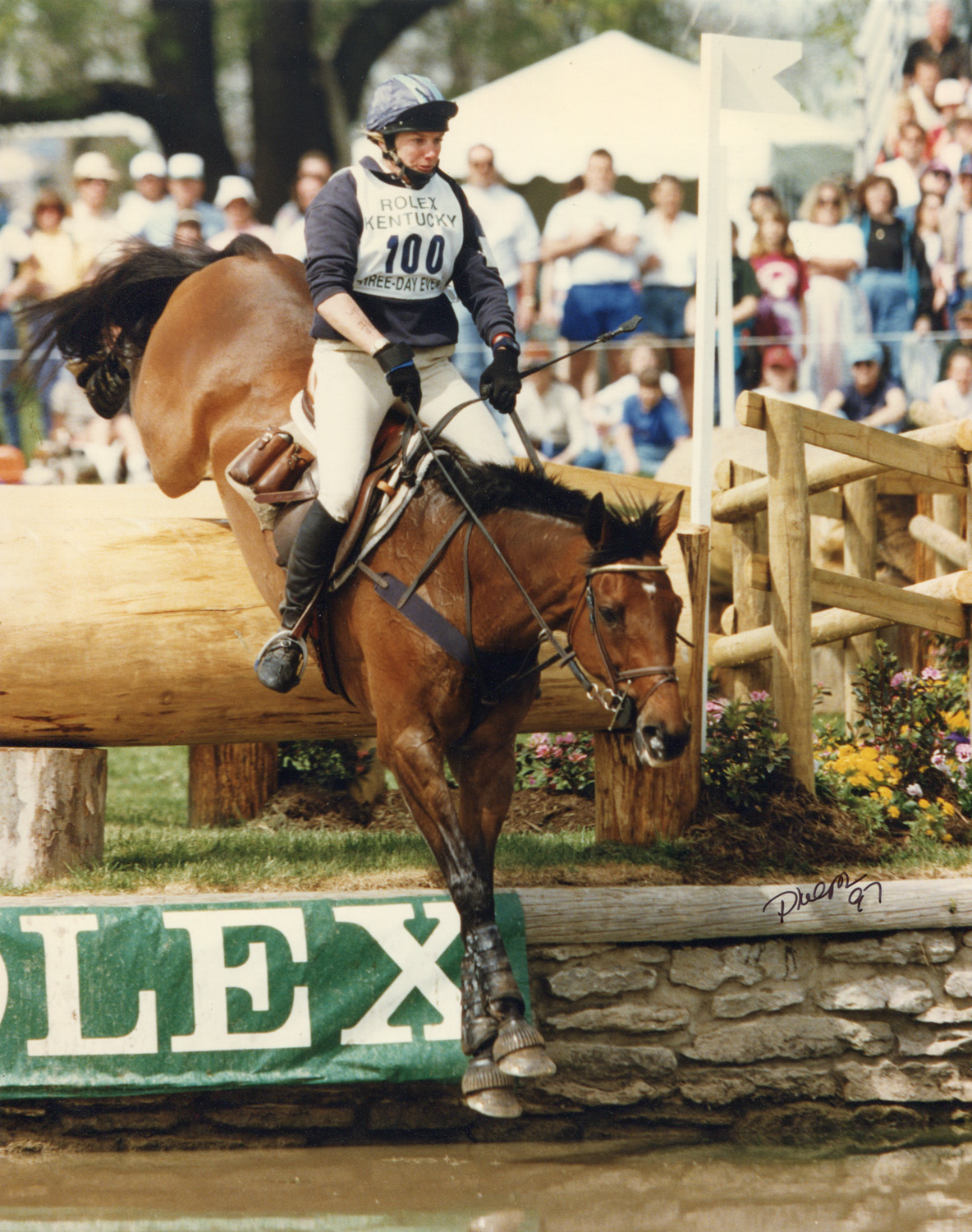 The next day, a heavy rain was falling so the jog was held inside the "Big Barn." The surface there was unforgiving concrete. When Trusty jogged out he was a little off so he was held for re-inspection. I was scared to death. It was the most nerve-wracking moment of my life. I think I grew ulcers in those minutes. Then, Trusty was jogged out again. The Ground Jury deliberated for a long time on whether to pass him or not. I remember Jim Graham being there—he was great support! Then, it was announced, "Worth the Trust, accepted." I saw Karen heave a huge sigh of relief. So did I!
Show jumping was that afternoon and it was still pouring rain. The track was on grass and the jumps were big. Trusty was the second-to-last horse to go so the going had become very deep. I held my breath while Trusty made his way over the course.
He didn't touch one rail! WOW! I thought. The next horse, who was in first place, was David O'Connor's Lightfoot, a big gray Irish horse. He was a mere 3 points ahead. While I was thinking, "Well, second place would be pretty good," Lightfoot brought down a rail, costing him 4 points. While I was thinking to myself, "We might have just won it," he brought down a second rail.
I whispered to myself in disbelief, "We just won the damn thing!" I was stunned. It was unbelievably wonderful!
So, Trusty and Karen were called to the ring to receive their ribbons and trophies. Having never been in that position before, I wasn't sure what to do, so I just stayed by the in-gate. Then, someone came over to me and said: "You're the owner and that's your horse! Go up there and pat him. Get your trophy!" Which I did.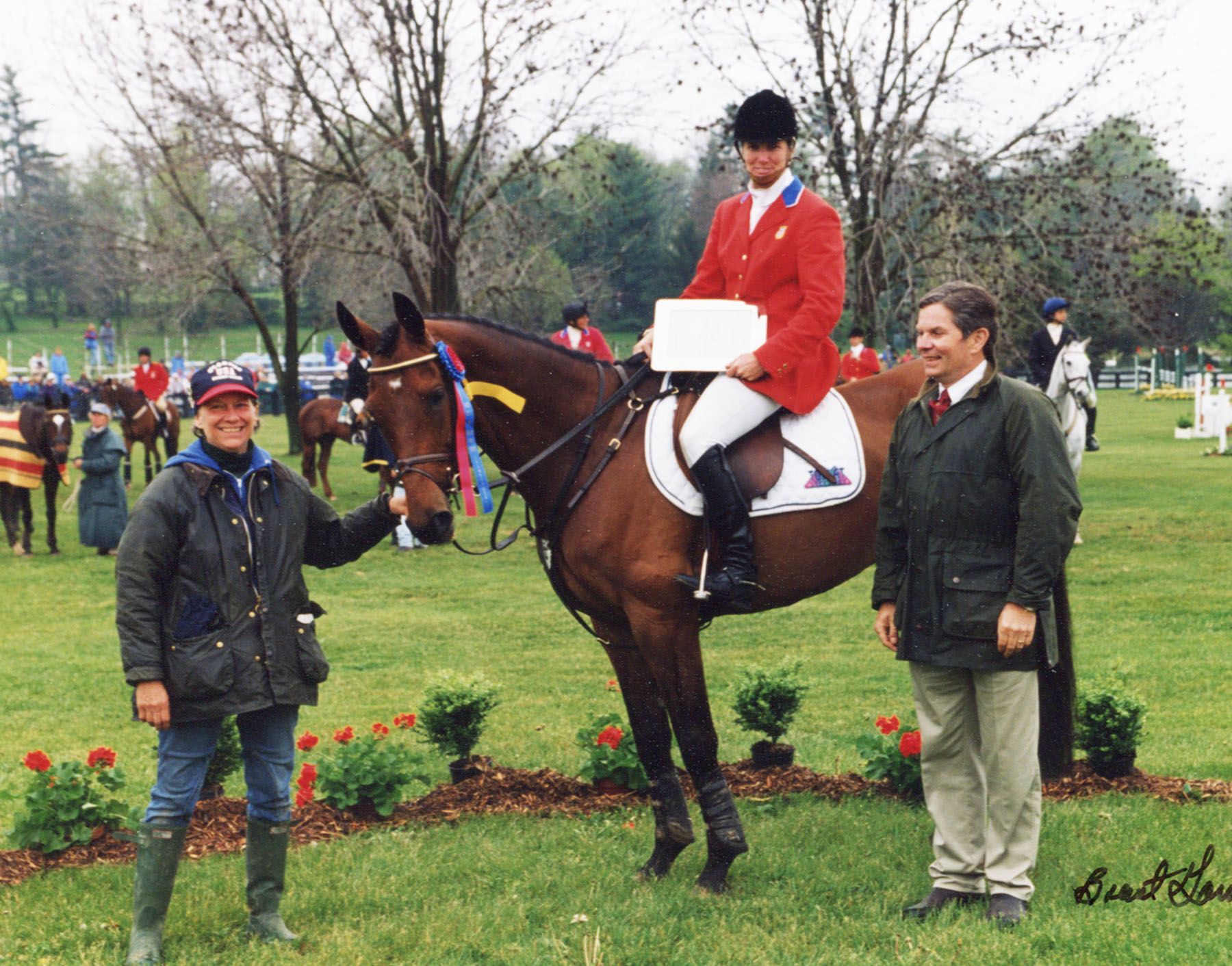 Then, Ann and I were in the awards ceremony with Trusty and Karen, all of us getting our pictures taken. People were congratulating us. Someone interviewed me for a magazine. Then, it really hit me—Trusty had just won Rolex!
Ann and I were laughing and hooting it up. I got my trophy and Ann won a prize for being the winning groom. Then, Trusty and Karen got to have their victory gallop!. WHAT A DAY! It was one of the most wonderful things that ever happened to me.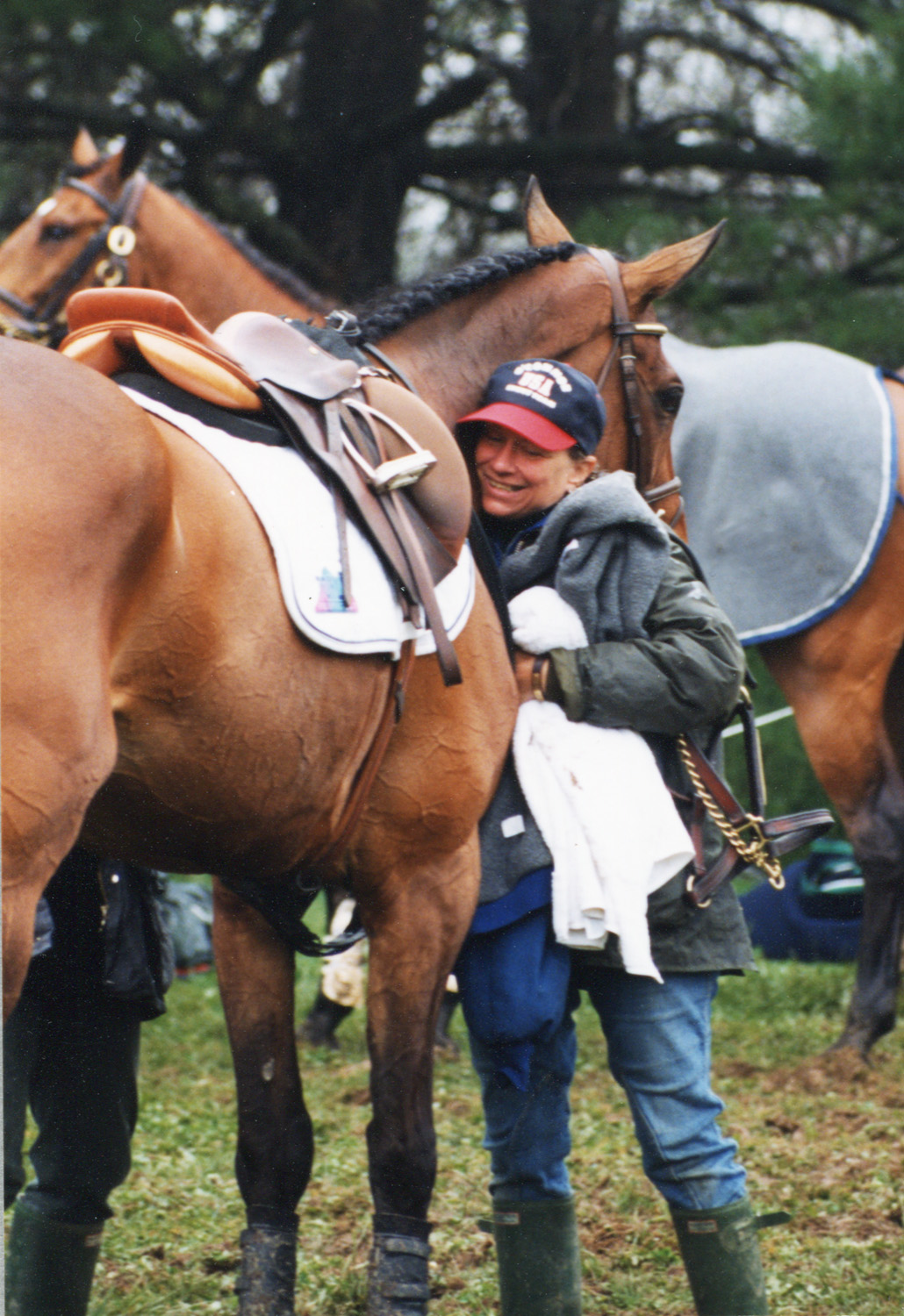 My Trusty, a skinny little horse off a cheap track, just won the Rolex Kentucky CCI***, long format, carrying 165 pounds and, he won it on his dressage score! Later, after we were celebrating in the tent, I was on my way back to stabling when someone ran after me. It was a member of the wait staff who called out, "Wait! You won!" and he gave me a bottle of champagne, which we very much enjoyed.
I still grin today when I think about it. Trusty's winning trophy and ribbons, as well as the official poster with Trusty and Karen's images on it, have a special place in my home! And always will.
I cannot be grateful enough to Karen O'Connor for that moment of joy. I will always love, respect and admire her for what she has given me.
Trusty retired from the upper levels of eventing in the spring of 1999 after he injured his suspensory. He came back home to my farm in Pennsylvania and began his new career teaching eventing to Pony Club kids and dressage to adults. He even whipped-in with me for two years at the Saxonburg Hunt and we spent days hacking out together.
Whatever I asked for, he gave. He has had and always will have a heart of gold. He is now 32 years old and enjoying the good life in my fields.
The Chronicle's coverage of Worth The Trust and Karen O'Connor's win in 1997 gave some more insight:
[At Rolex Kentucky], he stood fourth after dressage for a supple and obedient test. He then cruised confidently around Michael Etherington-Smith's cross-country course and show jumped with his knees by his ears to move steadily up.

Goswell found Worth The Trust at a farm near her home about six years ago. "A woman had been running him at Mountaineer Park [W.Va..] from her backyard, and you could see right through him," she said. "I couldn't really ride him because he was such a big mover. But he had what the old-time horsemen call 'the look of eagles,' so I bought him."

Goswell is an adult amateur rider who competes at novice and training levels. "I've had horses half my life, but I didn't take up eventing until the ripe old age of 50," she said. She described herself as "a book artist," meaning that she produces "one-of-a-kind works of art in book form." She makes the paper, creates the text and art, and even binds the book.

Goswell met Karen in a clinic shortly after she'd bought Worth The Trust. Karen wanted to buy him, but goswell didn't want to sell. So Karen offered to compete him preliminary at the Radnor Hunt Three-Day Event (Pa.) then take him to England with the rest of her horses. Goswell agreed. "She did really well with him and I never saw him again," said Goswell with a laugh.

But he hasn't been an easy project for Karen. "He was always difficult because he's a hot Thoroughbred," she said. "He never had a solid canter because when you sat down on him he couldn't engage. And on cross-country, if you dropped your hands he would just zoom off."

Worth The Trust also had the disadvantage of playing behind Biko and Shannon in Karen's barn, and his horse trials performances have been considerably less impressive than his three-day performances. Some of her peers wondered why Karen kept on with this horse.

"He's really a sweet horse, and I always thought he had the ability and just needed the knowledge," said Karen. "I really feel he has matured a lot since last year. He's stronger behind. He's just realizing now what he can do with his body and has never realized what he can't do."
Editor's Note: Trusty still lives at Goswell's farm in Valencia, Pa. In 2000, Goswell began a scholarship program through the U.S. Eventing Association in his name. Each year, funds are awarded through the Worth The Trust Scholarships to an adult amateur (age 26 and up) and a young adult amateur (aged 16-25) for the purpose of continuing their education.
This year, another Worth The Trust scholarship was announced, the Worth The Trust Sports Psychology Scholarship, which will provide funds to help an adult amateur and a young adult amateur master the mental challenges of the sport.