Whatever event Denise Rath showed up at 25 years ago, she got people talking. If she trotted up centerline on a fancy white horse, you probably didn't stand a chance.
Rath's "horse of a lifetime," Galliard, has more wins to his name than not on his U.S. Eventing Assocation record, including two at the Southern Pines Horse Trials in Raeford, N.C., in the always competitive advanced division in the '90s.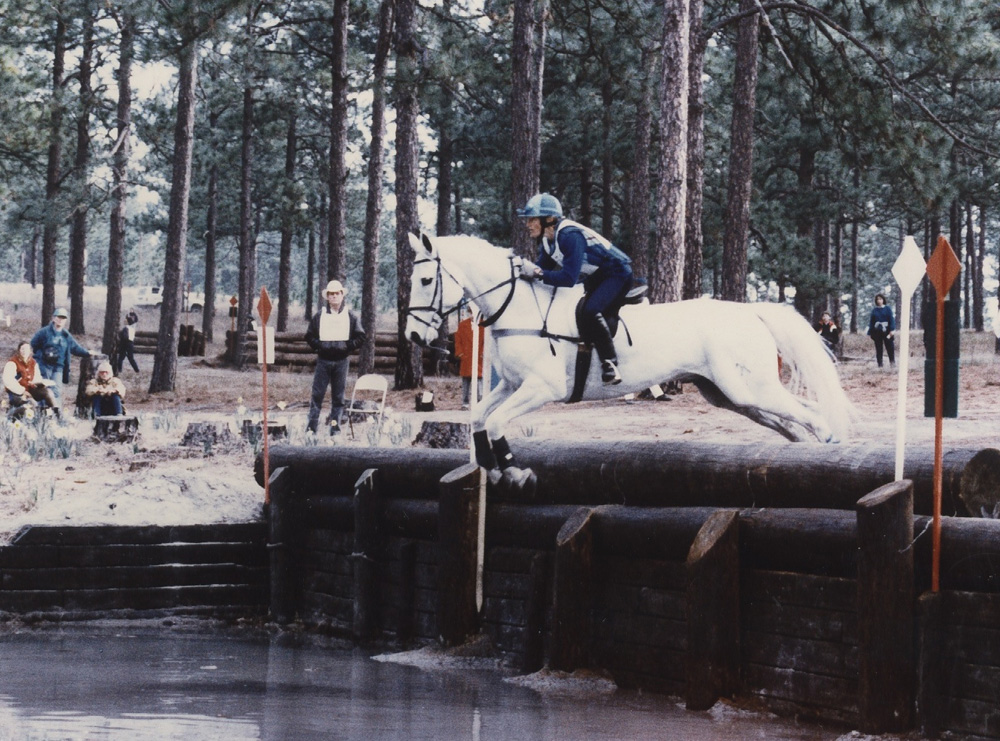 Denise Rath and Galliard on their way to one of their Southern Pines Horse Trials wins, in 1994. Photo by Walter Donaghy
Dubbed the Cloud 11-Gavilan North LLC Carolina International since 2014, the event has grown from a local horse trials to fielding one of the largest CIC*** fields in the United States this weekend. Over the years, it moved sites and added an advanced division, a second weekend and FEI divisions to become one of the key stops for riders heading to the Rolex Kentucky CCI****, including Rath, who contested the event multiple times on Galliard.
Digging through the Chronicle archives back to the mid-'90s, various famous names scatter the pages—Heyday and Bruce Davidson, Molokai and Dorothy Trapp, True Blue Girdwood and Phillip Dutton. Riding as an amateur, Rath was competing, and winning, among the best of them aboard Galliard.
Imported from Germany as a 2-year-old, Galliard (Gletscher—Amazone) was deemed too small to be a stallion prospect. Rath bought the Hanoverian gelding never expecting him to become what he did. She'd started eventing with her ultimate goal being to ride in a preliminary three-day, but after training with Peter Green and buying Galliard, her ambitions rose.
By the time she had the gelding, she'd competed to advanced a handful of times on another horse and was well-prepared to start him.
"I was a pretty amateur rider at the time," said Rath, now 59. "He was very bold with his jumping. If he couldn't figure something out, he just figured he'd jump bigger—that was how he sorted it out. One of the hardest things was to teach him not to overjump. We started out doing training level and spent a year and a half doing that because he was very inexperienced—would put one stride in a two-stride line, stuff like that. He moved up to preliminary and won his first three, then carried on moving up the levels."
The pair won at Southern Pines in 1994 and 1996. Back then the event was held at the Walthour-Moss Foundation nature preserve. In 1994, the advanced course was brand new and designed by Ritch Temple. That same year Rath had prepared for the event at her home base with Green in Virginia, hacking through the ice and snow—not something that happens often with advanced horses these days!
Rath remembered the event, which features sandy soil and a beautiful track through the pines trees, as challenging.
"It was a lovely event. The hardest thing about it was because of the all the pine trees, as you were galloping down the path you thought you were going like lightning," she said. "The trees were whizzing by, then you'd have all these jumps! It was very deceptive and very hard to make time because you thought you were going faster than you were. But it was a well-run event. For the show jumping, they used to pick a theme and then all the local farms would design jumps and decorate all the jumps accordingly. That always brought a bit of a fun atmosphere to it—to see what the theme was going to be and how stuff would be decorated."
Rath described Galliard as a "prolific winner."
"Back in the day when everybody was riding Thoroughbreds, he was one of the few warmblood horses," she said. "His dressage was a strong suit for him, but he was also a very good jumper and rarely had a rail in the show jumping. I know it's been said 5,000 times by everybody, but he was a horse of a lifetime.
"He enjoyed the cross-country," she continued. "When he was very fit he would rear in the start box and say, 'Come on, let's go!' Unfortunately he was around in the day of the long format, which made the three-days tough on him. In today's sport, he would have been one of the top because we don't have all of the roads and tracks and steeplechase to do. But he loved his job."
Together, Rath and Galliard completed Rolex twice, finishing 17th in 1993 and sixth in 1994. They earned a record low dressage score in 1993 of 38.8.
They went on to compete at the Pan American Games in 1995 in Argentina where the U.S. team earned the silver medal.
Starting with such a low score was a regular occurrence for them.
"One of the most interesting events I remember doing was Millbrook [N.Y.] and going into show jumping 27 points in the lead on a very good show jumper!" Rath remembered with a laugh. "As you're riding around, you're thinking, 'Oh I could have all of the fences down and still win this thing!' He was that good of a jumper, and I never really worried."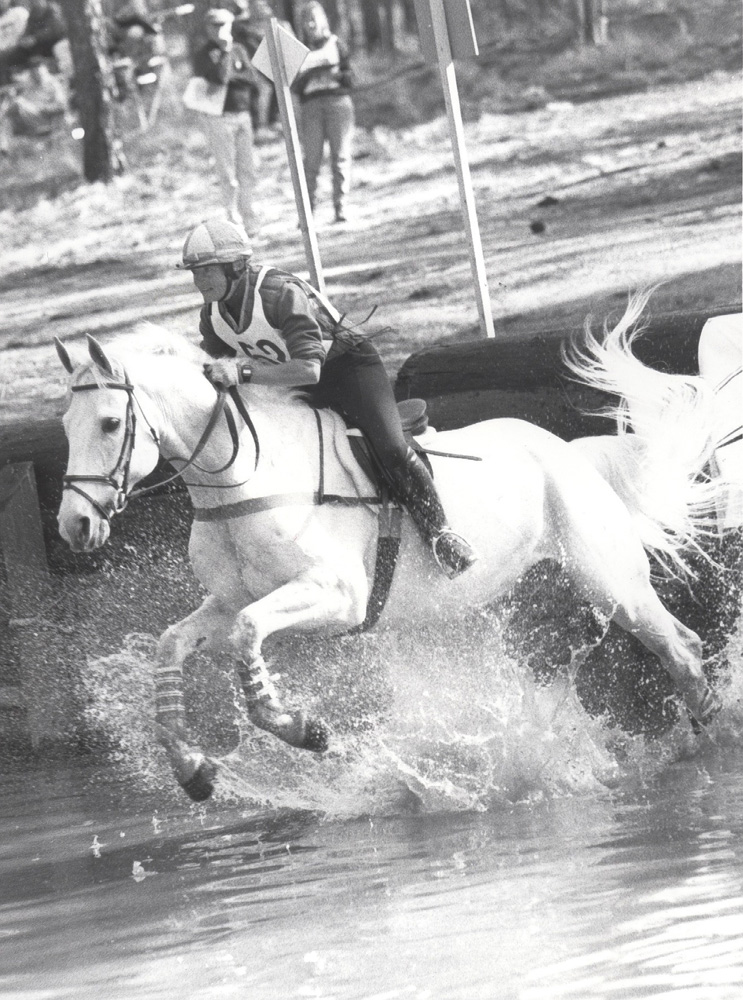 Denise Rath and Galliard at the 1996 Southern Pines Horse Trials. Photo by John Strassburger
Galliard retired at age 16 and went out on top, winning the advanced at Morven Park (Va.) in 1999.
"He retired because he finally felt like he was making an effort at a jump, and he never had before," said Rath. "After that, if I was grazing him near the trailer and the ramp was down, he would load himself on the trailer. He didn't take to retirement very well, but then eventually he figured out that it was easy, and then he almost became feral! You couldn't catch him."
The gelding died at age 23 from colic.
Rath, now based full time in Ocala, Fla., at her Grey Fox Farm, hasn't been to Southern Pines in many years since it's a 10-hour drive, and she's keeping busy with young horses and students.
But she'll always remember her fancy gray gelding. "I had done everything with him, from his first event to his last event. Nobody ever competed him other than myself," she said. "Every time he went, you were an odds-on favorite to win."