The 1968 National Horse Show was in full swing, and spectators filled the stands of Madison Square Garden in New York City, gathered together to watch some of the world's best riders make a run for the wall. The puissance class featured legends like Ben O'Meara and Kathy Kusner. Riding alongside them was 21-year-old Betsy Gerson Densen and her Thoroughbred Gang War.
Densen, now 71, remembered the approach to the towering wall. "Riding down to a fence like that, you sort of zone out," she said. "You're either getting over it or not."
By the end of the class, the wall was 7′, and only three riders remained. Densen and Gang War had the fence down, as did Jared Brinsmade on Sam Lehrman's Triple Crown, while Emanuel Mittman's Toy Soldier rattled the wall but kept it up. Toy Soldier won the day, and Densen and Brinsmade flipped a coin for second. "We laughed a lot deciding that we weren't going to jump anymore," Densen said.
Her father, Sy Gerson, purchased "Blackie" for his daughter in 1966. "I had been making noises about wanting to quit riding and go back to school and all of that stuff, so my dad said, 'Well, how about I buy you something?' " Densen recalled. "He was desperate that I didn't quit riding. So Gang War showed up."
A.C. Randolph bred Gang War in the late 1950s and sent him to Rodney Jenkins for training. The 16.1-hand gelding did well with Jenkins, often winning tricolors in the green jumper division. Gerson made the purchase, and Densen stayed in the game to ride him, "as an 18-year-old would do," she said.
"I had ridden jumpers since I was a junior, but I never had one that jumped like Gang War," Densen added. "He was special."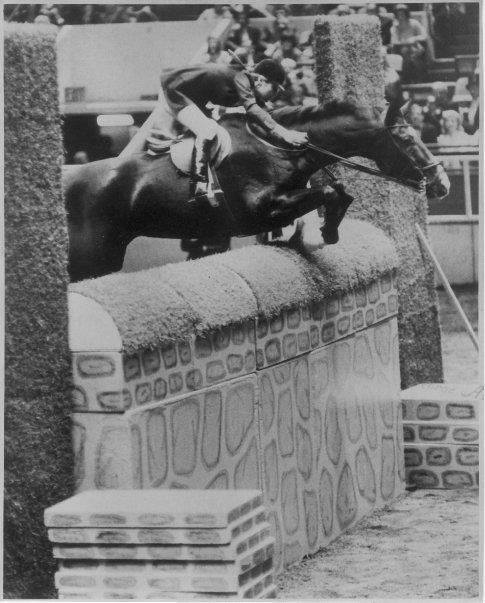 She praised the horse's consistency, which gave her the courage to enter the puissance class in the first place. "[He] never refused. Never," she said.
But there was the one time he broke her arm.
That tale began at 5:30 a.m. when Densen arrived at the 1968 Sussex County Horse Show [New Jersey]. She opened the stall door to find her horse frantic and covered in sweat. "He had a saddle mark on him," she said, "but not from one of my saddles."
Densen never knew exactly what happened, but she had a hunch. "The best story we ever got was [someone] had taken him out of the stall in the middle of the night, galloped him around and jumped some jumps, and pretty much scared the crap out of him," she said. "Then they put him back in the stall all sweaty. That's how we found him.
"[There was] someone in the summertime who had an obsession with this horse," Densen continued. "A few people told me, 'You know, this guy is absolutely fascinated with your horse. He watches him all the time.' "
The man had been a groom for multiple trainers. "He was one of those guys who bounced around," said Densen.
Whatever happened, it was more than Gang War could handle. When Densen rode him later that day, he acted out. "He started running down to a big fence," she said, "and left the ground about nine strides early [resulting in] a bit of a fall."
It took Gang War only a day to recover his mind; the next morning he was fine under tack with Jenkins. As for Densen, she had to wait to return to the show ring until her broken arm healed. But by the fall of that year, they were fit to jump the highest jump of their lives.
The 1968 National was at the tail end of Densen's time on the show circuit. She longed for a normal lifestyle. She had already competed in the Olympic trials, ridden at the U.S. Equestrian Team training center in Gladstone, New Jersey, with Bert de Némethy, and served as an alternate for the Olympic Team. "[Gladstone] was very exciting and nerve-wracking," she said, "I remember many days when we had to eat dinner standing up because we couldn't walk anymore."
The lifestyle was thrilling, but it had run its course. "I suddenly realized that there were other things in life," Densen said. By the early 1970s, she opted out of horse show life entirely. She married Peter Densen, moved to Tenafly, New Jersey, and had two children, Matthew and David Densen. Her sons gave her five grandchildren—Katie, Elizabeth, Olivia, Evelyn and Leo—but none have shown interest in riding.
Though Betsy rarely attends shows, she still finds fulfillment through horses. "Now I keep my hand in [it] by doing therapeutic volunteering," she said, "My own son lost his vision when he was 12 to a brain tumor, and he used to run races. I'd go out and walk races with some of the handicapped people, and I realized that I loved that."
She works for an organization called Full Circle Equine Centered Activities in Pomona, New York. "We work mostly with developmentally disabled people," Densen said. "I get so much out of it. You never know what they're going to come up with next. We've had people who've spoken for the first time while they're sitting up on a horse. We stand there and cry a lot."