Before Pavarotti and Oh Star, before Quality Girl, there was an off-the-track Thoroughbred named Thrilling. With a keen expression and ears always pricked forward, there wasn't much not to like about the gray gelding. As talented as he was pretty, Thrilling was king on the Midwest grand prix circuit, and he was the one who put Todd Minikus on the national stage on the East Coast.
"At the time I was grooming for a living," said Minikus. "He won enough money in grand prixs that I could buy a pickup truck, and then he won enough money I could buy a trailer, and now I had a truck, a trailer and a horse, and that's literally how I got in business. Of course the people I was working for at the time helped out and allowed me to go show and that kind of stuff, but financially he won enough that I could get in the game so to speak."
Before Minikus purchased Thrilling, he had Thriller, who was out of the same mare, Miss Chiclero. When Thriller had to be euthanized following a trailer accident, a friend told Minikus he knew of a half-sibling in Canada. Minikus made the trip north and returned with the 1980 Thoroughbred gelding (Winterwar—Miss Chiclero, Chiclero) for $1,000.
"They both were phenomenal horses," Minikus said. "I also had another horse [Thrills] out of the same mare that I showed when I was on the team at Washington [International (Maryland) in 1995]; he jumped 7'4″ in the puissance there. That was a good horse. I had three grand prix horses out of the same mare, so that was impressive."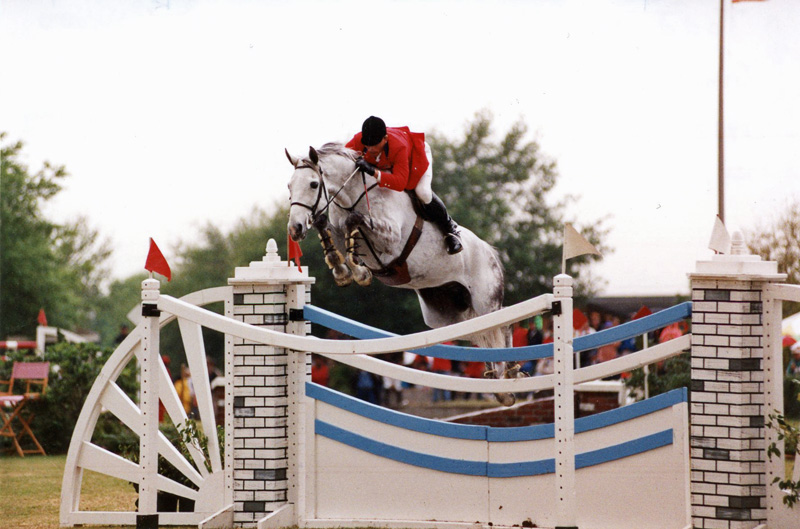 Thrilling first made a name for himself in the Midwest by winning four grand prix classes in 1989. He followed it up with seven grand prix wins in 12 months on the Midwest Grand Prix Association circuit in 1990, earning the MGA Horse of the Year title. That same year, he topped all of the international jumper classes at the Washington International Horse Show with the exception of the Nations Cup, a feat Minikus still counts as a highlight of his career.
"[He was] just a very talented, very, very good jumping Thoroughbred," said Minikus. "It's an 'if I only knew what I knew now' kind of thing. He was the first horse that I really made it to the top level with, and modern medicine now, I'm sure we would have been better off knowing about all of the ulcer issues and the stuff we didn't talk about in the '90s. I wish I had him now."
Minikus showed the gray for six years before melanomas forced his retirement. He lived out his days at William "Dave" Fishback's family farm in Lexington, Kentucky, and after he was euthanized, he was buried at the Kentucky Horse Park.
"He was a very calm, cool customer," said Minikus. "He rode a little inconsistent and whatnot, but that might have been my lack of dressage.
"He was a pure winner," he continued. "Every time you went in the ring, you for sure had the chance to be the winner, and I think he liked the competition."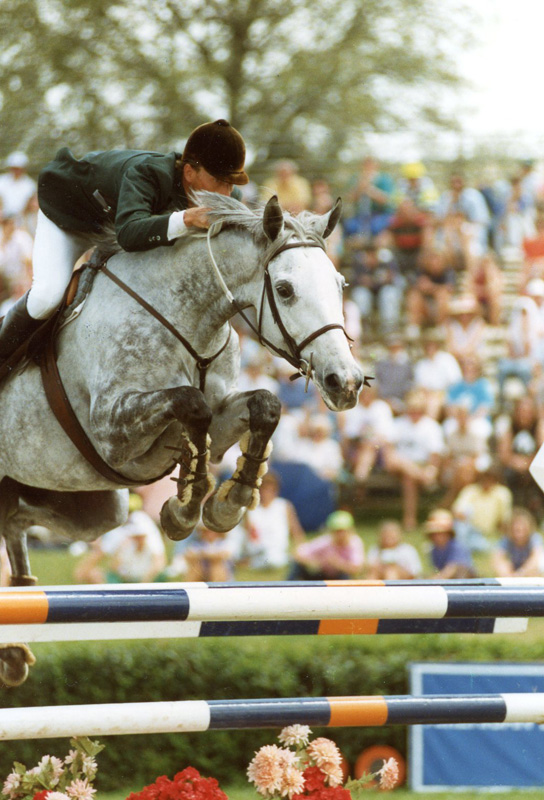 In an era where Thoroughbreds are far less popular than they used to be, Minikus still keeps an eye out for one that could reach the top levels.
As far as what he likes about the breed? "The lightness and the athleticism, it's hard to beat that. And the intelligence," he said.
Last March Minikus adopted two Thoroughbreds, Spirit and Going Home, from Florida TRAC, a Thoroughbred retirement and adoption program.
"We had them for about a month and a half, and we taught them to jump around a course," said Minikus. "Being quick learners like Thoroughbreds they rode around the course, changed their leads, and on and on, and then we were headed on the road for the summer, and they didn't need to travel on the road. So we found some kids that needed some good horses, so we made it so the kids could find good horses.
"It's fun, and I would like to find some nice Thoroughbreds again," he continued. "If I could find another Thrilling, or if we started going through the list, For the Moment, Gem Twist, et cetera, et cetera. If we could find some more of those horses around that would be cool."