As the new kid on the block at the 1998 FEI World Equestrian Games, just being at the venue in Pratoni del Vivaro, Italy, surrounded by riders she'd looked up to her whole life was an experience Abigail Lufkin will never forget.
Lufkin rode Quest as an individual, but the U.S. team, which was made up of Karen and David O'Connor, Bruce Davidson and Kerry Millikin, trained together in England in the lead-up to the WEG, so the camaraderie was strong.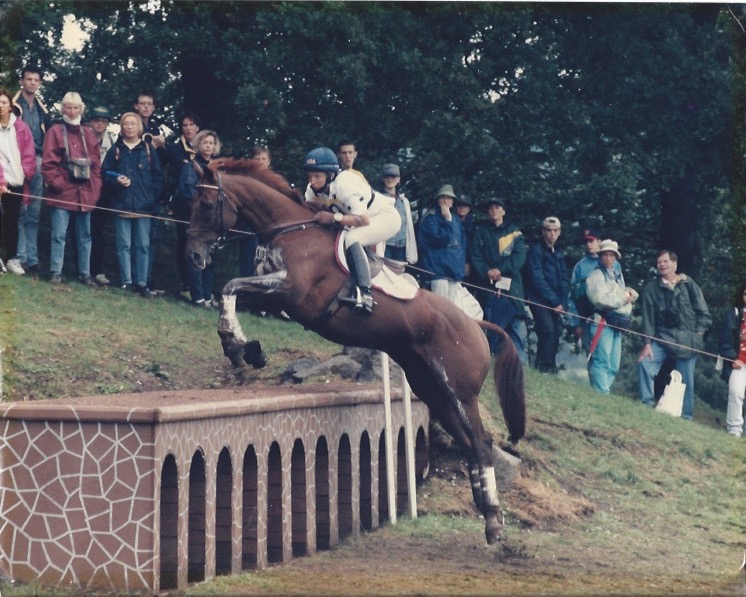 "It was great to be a part of the U.S. team and have the veterans on the team," Lufkin said. "My whole life I had dreamed of that. It's what I wanted to do, and here you are on a team with people you've been coached by and looked up to. That was the entrée of my establishing myself at that level, but it's just so great to be at an international competition with all those teams and all those riders. You're really 'in it,' the way I'd always dreamed of."
Lufkin had done her first CCI**** on Quest, a New Zealand Thoroughbred by Show King, earlier that year at Rolex Kentucky and finished 11th.
She'd bought the gelding from New Zealand amateur rider Dna (pronounced Deena) Wells, who'd taken him to the three-star level. Close friend Blyth Tait had suggested Quest to Lufkin.
"He was just a great horse," she said. "He was a fabulous cross-country horse—just really taught me so much about cross-country riding. He was super confident; he was super quick on his feet. Dna was an amateur. She didn't have a ton of experience, so he'd gotten very good at looking after himself, which is always useful in a cross-country horse. He was a great horse to have to enter that level on. He was difficult on the flat; that was never his strength. He was super careful in the show jumping. He was a real confidence builder."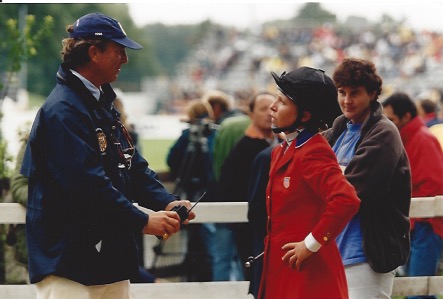 In 1998 Lufkin was only 27. But she'd spent time living in England and had competed at the WEG site in Italy, so she felt a little more comfortable heading out on Albino Garbari's cross-country course, which ran over footing made up of volcanic ash.
She based with Sandy Pflueger, as did the rest of the team when they arrived.
Lufkin brought three horses to England that summer: Quest, Cameo and her future superstar Jacob Two Two, who'd just completed his first CCI*** at Kentucky that spring. She planned to compete "Jake" and Cameo at the Blenheim Palace CCI*** in England.
Lufkin remembered having a poor lead-up to the WEG.
"I wasn't riding that great that summer," she admitted. "It wasn't a position that I felt super confident about. It wasn't like later years where I felt 100 percent like I belonged. I was wondering if I belonged. I think the experience of a team—our sport is so interesting because we do an individual program 99 percent of the time, and then the team thing just sort of happens. At that point there wasn't a lot of discussion of what might be different in a team situation versus an individual situation. That was my first introduction to a big team, and I was lucky to be with David, Karen and Bruce, who all called me the new kid very affectionately. That was a great first experience for me because they took me under their wings and showed me how to integrate into team situations."
Lufkin finished her cross-country ride at the Centro Equestre Federale with one run-out at fence 21, a double bank down to a narrow brush vertical.
"It was not one of my best performances, and it wasn't the worst," said Lufkin. "It poured rain the night before. I remember being in my room and just hearing the rain pour down. Steeplechase was really deep, so I had time penalties already, and he was actually great on the cross-country. It was a pretty tough course."
Lufkin also learned one of her most valuable lessons after walking the course with U.S. Chef d'Equipe Mark Phillips.
"He said to ride a jump a certain way, like you're going to need to really hold here, and when I had looked at it for myself, I thought, 'Oh, on this horse I'm going to need to press,' " she said. "One of the things that's great about an experience like that, if you learn a lesson you really learn it, and what happened at that jump was just right. I held, and it was a bounce, and he went to put in a stride, and there was no room for a stride, and he ran by it. My instinct was right, and although that was a hard lesson to learn, it really taught me that at the end of the day—we have so much great coaching and great help, and that's really important—but no one knows your horse like you do. You have to factor that in when you're making your plan."
Quest kept all the poles up the next day to place 37th.
"The result was not what I would have wanted, but it was a good learning experience, with good, solid pieces to build on," said Lufkin.
Tait won individual gold on the venerable Ready Teddy and team gold for New Zealand.
"I was staying with Blyth a lot at the time, and he'd been a good friend for many years, so that was super exciting, and that was such a great partnership. There was lots of celebrating," Lufkin remembered.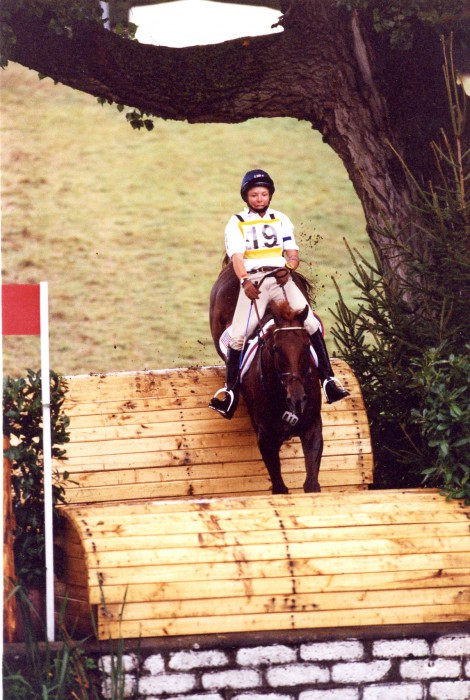 In 1999, Lufkin and Quest won advanced divisions at Morven Park (Virginia) and the Beaulieu North American Classic (Georgia) before heading to the Mitsubishi Motors Badminton Horse Trials CCI**** (England), where they retired on course.
Lufkin then leased Quest to a young rider. Sadly he was killed in a barn fire caused by a water heater in 2001.
Lufkin built on her WEG experience in 1999 with Jacob Two Two, finishing third at the Rolex Kentucky CCI**** and earning team gold and individual bronze at the Pan American Games (Manitoba).
She'd always intended to go back to school and planned to give up eventing after the 2000 Olympics in Sydney, regardless of whether she made the team.
"I'd been competing horses since I was 5 and competing in eventing since I was 10," she said. "I loved it, and I loved the horses, but I always felt like, 'Wow, there are so many things I haven't done. There's just a lot in the world that I haven't seen and done.' I always had a sense that I really wanted to do this, and I really want to get as good as I can and accomplish my goals, and then I want to do something else. I want to have an opportunity for other things too."
Lufkin was selected for the Olympic team, but Jake sustained an injury in his final gallop.
Karen O'Connor and Julie Richards would compete him later in his career—Richards rode him in the 2004 Olympic Games—while Lufkin went on to get her psychology degree. She came out of retirement briefly in 2003 and 2004 on Kildonan Tug and Better I Do It, but she hung up her spurs permanently after that.
Lufkin, 47, now works as a sports psychology consultant and therapist in Santa Monica, California.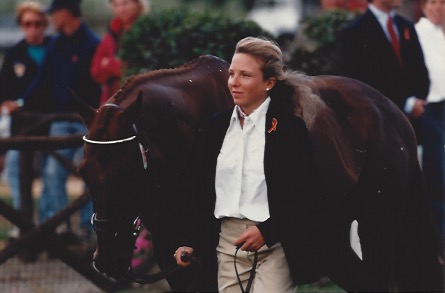 Lufkin was inspired to get into the field in 1996 after working with U.S. Eventing Team sports psychologist Suzie Tuffey.
"I really started to feel like there was this whole piece," she said. "Why are some people consistently really competitive and others that have really good skills aren't? What is that factor?
"I started to work on it myself with books, and I did some training with tennis sports psychologists," Lufkin continued. "One thing I say to my clients now [that I learned from my sports psychology supervisor Mike Gervais] is that there are basically three things you can train: your body, how fit you are, and in a sense the horses and how fit they are; your craft, which is like how well can you see a distance and how well can you do a shoulder-in; and then there's your mind. That's all you've got to improve your performance.
"I saw a real under-utilization of the mind training," she added. "When I retired I was also interested in regular psychotherapy, just psychological health and well-being—people being able to live the kind of lives they want to live and what gets in the way of that. I'd gotten a degree in clinical social work, which is essentially psychology. It was a natural fit for me."
Lufkin has worked with athletes of all kinds, and she's been able to keep a connection to horses by working with equestrians, who make up a large portion of her practice.
"That's such a great fit because I've been lucky enough to have been sitting in the saddle in those situations," she said. "It's super fun for me. It's a way that I get to vicariously keep in touch and be involved and contribute in some way."
Lufkin hasn't felt the urge to ride much while living in California, but she misses the connection with horses.
"In California all you get to do is ride around a ring," she said. "If I could just go out and go foxhunting I would definitely do it! What I miss the most is the horses. It's such a lucky life if you live in Middleburg, Virginia, and you get to go out and ride your horse every day in the fields. I miss that life and that partnership with them.
"It's the kind of thing that when you do something to that extent for your whole life, it's everything you do," she added. "To go sort of do it halfway or partway, it doesn't really hold a lot of allure for me. I like to have a purpose. If I have a purpose to be somewhere then I'm happy to be there, but if I'm just going to be hanging out, it just doesn't feel like a good fit."
Besides learning the huge lesson of paying attention to your own knowledge and instincts at WEG, Lufkin looks back on the experience as a turning point in her career.
"It was sort of the first hurdle stepped over, so from there it kind of paved the way to the next years for me—the Pan Am Games in 1999, having three horses on the short list in 2000, being in Sydney—doing all of that from more of a place of experience and confidence. WEG definitely gave me that," she said.