Liza Towell Boyd can distinctly remember the night of her victory aboard Monday Morning in the $25,000 AHJF Hunter Classic on Feb. 24, 1997.
"It was really loud, with the generators for the lights," she said. "I also remember Monday Morning had some blood, being a Thoroughbred, and the huge atmosphere kind of held him off a bit, which was good. I think he was in a bit of shock over the lights and the fancy jumps and the noise, which maybe slowed him down a bit!"
In 1997, Boyd was just 17 and Monday Morning was a 13-year-old off-the-track Thoroughbred whom the Towell family had patiently developed into one of the top junior hunters of his day.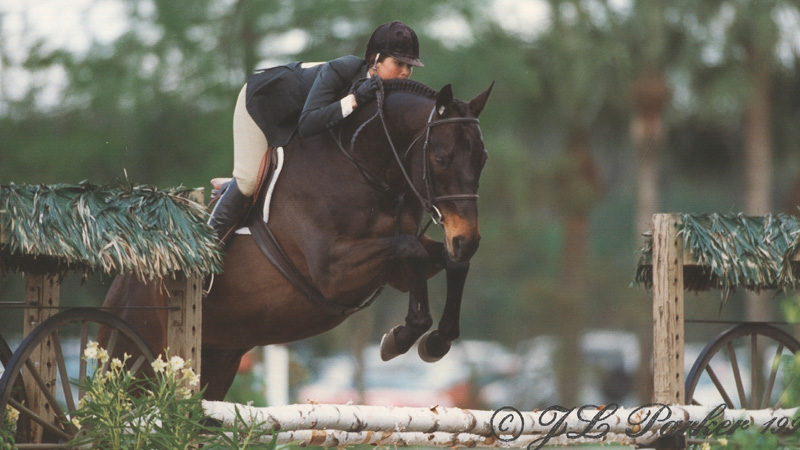 "When you're 17, you're a little naive to what a big deal it is. It's almost easier as a kid than as an adult. What a special class that was," Boyd said. "I have to say, it's probably one of the most memorable nights of my career. Along with my Derby Finals win with Brunello, that night with Monday Morning was one of the biggest highlights of my career. To have won that was a huge boost to my career as I started out as a professional the next year."
Boyd spoke after a long day at the Winter Equestrian Festival (Fla.) during the World Championship Hunter Rider Week, the show that culminates in the 20th edition of the class that started as the AHJF Hunter Classic. Now known as the WCHR Palm Beach Hunter Spectacular, the class has $100,000 in prize money and has become a coveted title to earn for hunter riders. "That class is so special for all of us. You can just feel the energy around the showgrounds all week with everyone trying to qualify for that class. Everyone's pumped up to be part of it," Boyd said.
This year's class will run on Saturday night, Feb. 18, and the Chronicle will cover it on www.coth.com.
But 20 years ago, a big hunter class with all the top names held on the WEF grand prix field, at night, under lights, with five-figure prize money was a remarkable thing. "I think that was a big boost to what eventually developed with the derbies; it was a real first step in highlighting the hunters," Boyd said. "Thank you and hats off to everyone who started that for us. Geoff Teall, Louise Serio, Kavar Kerr and that whole group, I feel like my whole generation really has benefited from that class. So I really appreciate the people who in the beginning paved the way for it, and the people who have kept it going for so many years."
We've become used to eye-popping USHJA International Hunter Derby courses and hunters showing in the spotlight, but Tricia Booker's report of the class for the Chronicle showed just how ground-breaking this class was at the time.
This was the first time hunters were invited to compete on the impressive grand prix field, under the lights.

Ronnie Mutch designed courses that incorporated new challenges for the hunters, including verticals without ground lines, option fences, and an oxer-to-vertical in-and-out in the second round. The fences included a brush jump, birch rails, and natural wood and white-painted gates, all surrounded by lots of brightly colored flowers.
Here's a bit more of Booker's coverage:
When Liza Towell rode Monday Morning onto the Palm Beach Polo Equestrian Club's grand prix field for the second round of the $25,000 American Hunter-Jumper Foundation Hunter Classic, a hushed group of family and friends gathered at the in-gate.

"Good luck, honey," said Liza's father, trainer Jack Towell, as she walked under the bridge to the ring. He then reached over and patted Monday. "Horse, don't let her down," were his last words.

And Monday didn't. He and Liza performed brilliantly before about 1,000 spectators in Wellington, Fla., on Feb. 24 and posted the evening's highest scores of 91, 95, 90, 92 and 92. Despite the intense pressure of being the final rider on course—with the outcome entirely in her hands—the 17-year-old didn't make a mistake.

"That horse and Liza are like Robin Hood," said Jack. "They can make that shot when it counts.

"I was so nervous," he added. "Even though she's my kid, I can say she has ice water in her veins. She wouldn't go in there and do just whatever it takes to win, maybe an 83 or an 84. She wants that 90. She's cool and level-headed, and that's a gift. The more I get into it, the more she wants to do it too."

Liza and Monday's two-round average of 90.60 topped second-placed Jennifer Alfano aboard the first year green horse Kansas (84.85) and Holly Hays with her regular working hunter Overdressed (83.05).

Sponsored by the American Hunter-Jumper Foundation, the class was open to horses who earned a championship or reserve in the 3'6" and higher sections at the Palm Beach Masters Horse Show, Feb. 19-23. Alfano, The Chronicle of the Horse 1996 World Champion Hunter Rider Professional Rider of the Year, also received an invitation and traveled 3 ½ hours from the HITS Ocala (Fla.) Winter Circuit just for the class on Monday night.

Monday Morning's victory wasn't surprising to many who've followed the dark brown gelding's stellar career with Liza over the past three years, but to his family it was a tremendous relief. Monday, a 13-year-old Thoroughbred, was treated for equine protozoal myelitis (EPM) last fall after lackluster performances on the fall indoor circuit.

"I'm mainly glad to have my horse back," said Liza. "After tonight I definitely know he's back. The first week in Jacksonville, Fla., [in January] he felt 100 times better than at the National Horse Show in New York, but he still wasn't himself. Now his coat is so much better and he looks good. He's acting like the old Monday Morning.

"My dad was probably more nervous than I was," Liza said. "We must have walked the course 50 times. We were the first ones in the ring—they hadn't even finished setting the course yet—but we were out there walking the lines. I said, 'Dad, I'm probably not going to count strides anyway. Why are you so freaked?' It was really fun, but I'm just glad it's over."

Winning the richest hunter classic in recent memory didn't affect Liza all that much. Afterward, she asked her parents for permission to go out for ice cream with her friends. They smiled, handed her some money and told her to drive carefully.

"What an amazing night," said her mother, Lisa Towell, after Liza departed. "You know, this is great for the hunters and for the sport. Monday just about paid for himself tonight. He won $7,500 and an Hermes saddle, and we only paid $10,000 for him. That should give everyone hope, right?"
Boyd chuckled when I told her that Jen Alfano was second to her in 1997 on a 6-year-old Thoroughbred. "And now we're great friends!" she said. "And I bet a lot of the horses in that class were Thoroughbreds.
"Monday Morning was so brave," she continued. "He had no spook. He and Brunello are definitely the best horses I've had, and they have very similar personalities, kind of stoic and not too lovey dovey.
"But honestly, I don't know if I could train a horse like that now," she added. "He didn't do one lead change—he only did a left-to-right lead change. He always landed left. I only lost like two classes because he landed right and wouldn't change. I think a couple times I just did a simple change. And I didn't care. I didn't make a big deal about it.
"But I think now, as a professional, I might make a big deal about it and say, 'I'm going to teach you that lead change,' and probably fry his brain. But as a kid, you just learned to meet the horse in the middle and didn't worry about it."
Boyd noted that the money she and Monday Morning won went right into her college savings.
The field for the 1997 class also included big names like Don Stewart on Whataboutme, Rick Fancher on Osczar, Holly Hays [Orlando] on Overdressed, Louise Serio on Smilin Thru, Bunny French on Outlook, Blake Lindner on Straight Man, and Ellen Van Dyke on Sands Of Time.
Booker's commentary that accompanied her coverage of the class was prescient about the effect the class might have on the sport. "Kavar [Kerr], Mason [Phelps] and the other AHJF supporters should congratulate themselves for further igniting the growing embers in the sport of show hunters. It's much easier for equestrian supporters to find satisfaction at the jumper rings—with all the money, sponsors, prestige and objectivity—but perhaps this classic will be the first in a new 'hunter grand prix' circuit that could bring pomp and circumstance back to the hunter rings," Booker wrote.
Save