Traverse City, Mich.—July 31
Three horses in the jump-off. Three weeks. Three wins.
Three was definitely the magic number for Aaron Vale in Traverse City, as he jumped to his third straight grand prix victory in the $50,000 Meijer Grand Prix of Michigan at the Flintfields Horse Park. It was also his second win in as many weeks with the 10-year-old Holsteiner gelding Carlo (Casall—Gipsey, Landlord).
"I've got a really nice group of horses," said Vale, 47, who also won the $50,000 Great Lakes Grand Prix with Carlo on July 24 and the $50,000 Grand Prix of Michigan Presented by the Penninsula Group at Morgan Stanley on July 17 with the 10-year-old Dutch Warmblood gelding Bonzini S. "It's nice to have a group that can jump clear and give you a chance to run around in the jump-off. I like jump-offs. I like going fast. It's nice to have horses that go clean and give you the opportunity to do that. I don't want to lose my sharpness to go fast, so it's good to keep practicing it."
Vale definitely got his fair share of practice Sunday, as he returned to jump off over the Bernardo Cabral-designed course with three mounts—Carlo, Quality On Top and Finou 4. With a sharp inside turn to a liverpool, a quick rollback to a combination and a long gallop to the final oxer, Vale never let off the gas and trail-blazed the track with Carlo, stopping the clock in 37.26 seconds. He couldn't catch himself on either of his other two horses, but Novak and Climbus, winners of Friday's $25,000 Welcome Stake, came close. They crossed the timers in 37.29 seconds—just two-hundredths of a second slower. Vale and Quality On Top finished third (38.00).
"[Carlo] is a super horse; he's pretty handy and quick and all that," Vale said. "[When I first started riding him], when you'd have to gallop, you'd kick, and he was kind of like driving a diesel [truck]—he wouldn't really speed up that much. But he's gotten a hang of picking it up. When you hammer down on the gas pedal, he accelerates now, and he's pretty shifty on the turns.
"I thought Nick had a beautiful round," he added. "I really thought he had me, and then I got my old man eyesight up to the scoreboard, and by hundredths of a second, I just held on. I'll take it!"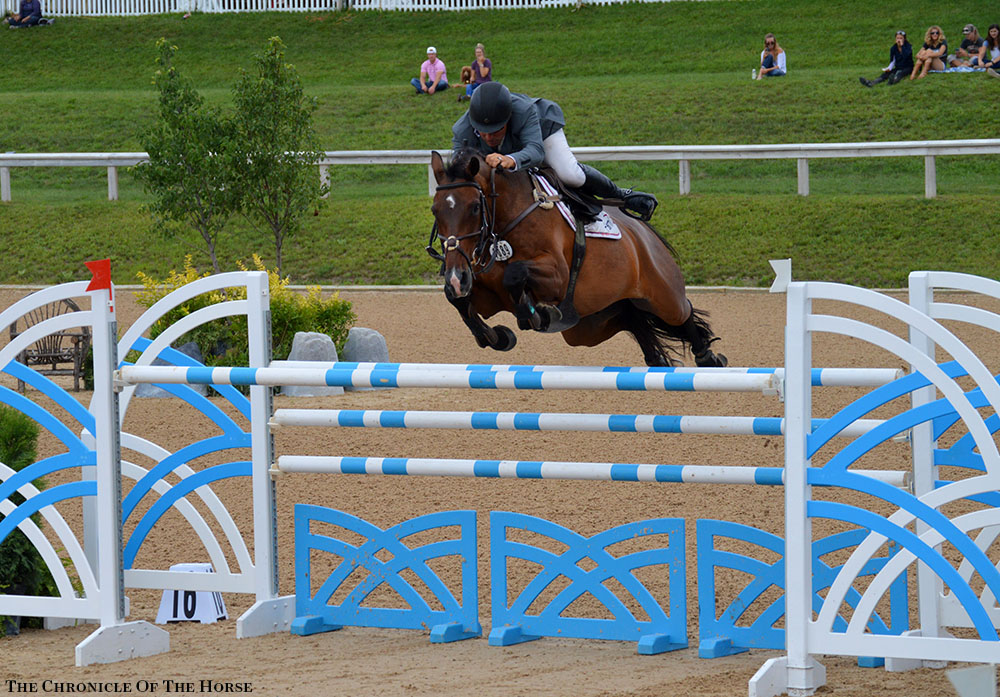 Aaron Vale and Carlo clear the final fence in the jump-off.
"To finish right behind Aaron, that's pretty good," Novak said. "I feel like I was on fire in that round!"
Between them, Vale and Novak took up the top four placings, and Novak's first ride Dirkie Z claimed the fourth position. Both riders jumped off multiple horses in every grand prix they contested in Michigan.
"A lot of hard work has paid off for [trainer Nancy Whitehad] and me," Novak said. "Last year, we were just starting to get to know [these horses], and my goals are just progressing right how we planned everything out.
"For sure, [this circuit] has taught me how to run faster and turn tighter," he continued. "I'm started to get that, and each week I'm trying to push myself a little bit more. Hopefully I can keep pushing that .03 seconds faster."
While Novak will return to Traverse City for three weeks of FEI competition starting Aug. 10, Vale will ship his string to Kentucky before making a stop home to meet a designer for the new house that's being built on his Thinkslikeahorse farm in Williston, Fla. Vale's home burned down in an electrical fire in May, but he's rebounded from the loss to win five grand prixs while on the road this summer in Traverse City and Atlanta (Ga.).
"Luckily, the insurance company treated us well, but at the same time, we're hoping to maybe upgrade the house when we go in with that, so it certainly hasn't hurt picking up some good checks the last couple months as well," Vale said. "We've been able to add a little bit to the house fund so we can get a few bonus things in there."
And in addition to his prize winnings, he'll bring home an extra blue ribbon won by his daughter Kinser and her paint pony Timmy—show name "Timmy Romo," a play on Tony Romo, the quarterback on Vale's favorite football team, the Dallas Cowboys—in the lead line class that immediately preceded the grand prix.
"I think I win every time she does a leadline," he said. "We have to keep her in those classes and keep her interested!"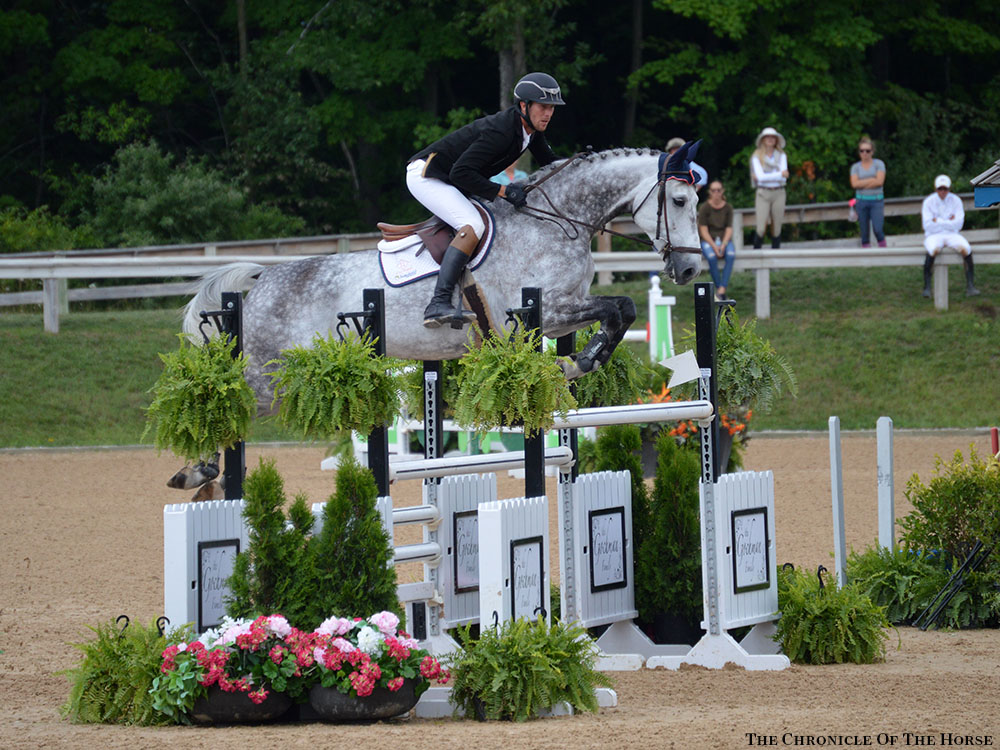 Nick Novak and Climbus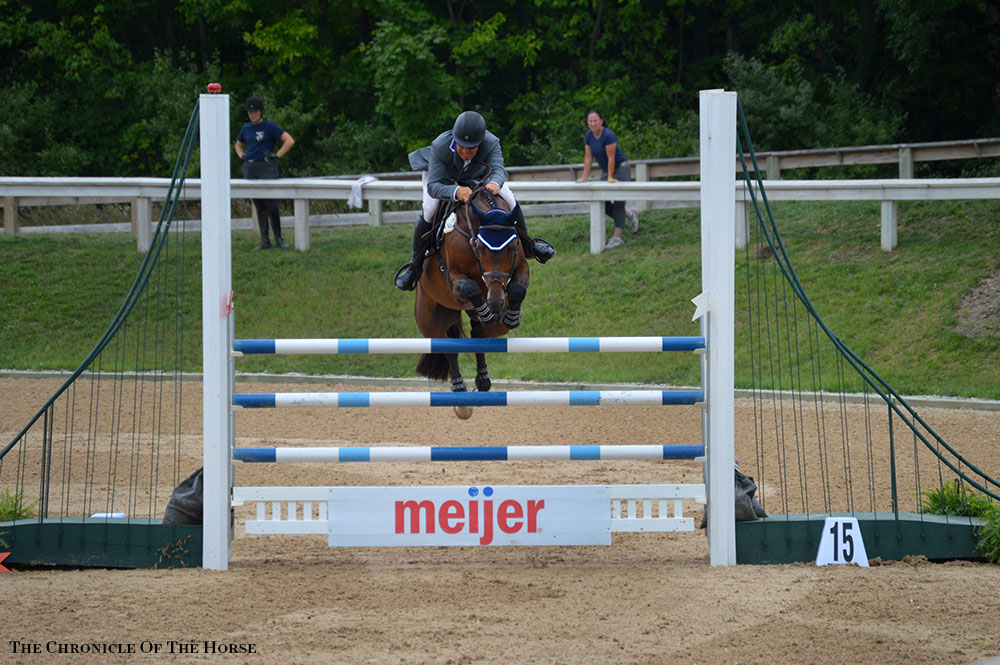 Aaron Vale and Quality On Top
Miss any of the Chronicle's coverage of the Great Lakes Equestrian Festival? Catch up on Friday's $25,000 Welcome Stake and Saturday's $25,000 USHJA International Hunter Derby on www.coth.com. For more on the $50,000 Meijer Grand Prix of Michigan, pick up a copy of the August 15 issue of the magazine.