Three U.S. riders have qualified to compete in the FEI Dressage World Cup Final, coming up April 3-8 in Omaha, Nebraska. The final North American League qualifier was held March 1-5 at the Adequan Global Dressage Festival in Wellington, Florida, with Anna Buffini clinching the third U.S. spot with FRH Davinia La Douce over Sarah Tubman and First Apple. She will join Alice Tarjan and former World Cup winner Steffen Peters, who already earned their spots in earlier qualifiers.
Buffini, 28, San Diego, will be competing in her second World Cup Final with her own "Diva." The pair competed in last year's final in Leipzig, Germany.
"It's surreal. It's unbelievable," she said. "It was a big fight honestly since October. There's a lot of people trying out this year, and there's a lot of good horses trying, and for Diva to make the second one, I'm just so extremely proud of her and my team and all the hard work that we've put in has paid off."
Buffini had ridden the 16-year-old Hanoverian (Don Frederico—Anneliese R, A Jungle Prince) in three qualifiers in California before heading to Wellington for the weekend to earn her spot. She finished the qualifying season tied with Tubman in points, but her higher average qualifying scores (77.5%, 77.46%, 80.18%, combined with a 78.28% last weekend in Wellington) earned her the spot.
Buffini described the final qualifier as stressful, knowing she had to bring her A game.
"I think it should be that way. It should be hard to qualify. There should be a lot of pressure," she said. "It shouldn't be easy. It should be hard, and I think it prepared us very well for World Cup, because having gone, I know how insanely hard it is, how nervous the horses get and how difficult it is. It shouldn't be easy to make it because World Cup is so extremely hard to ride at."
Fellow Californian Peters said Buffini had demonstrated her readiness for the competition throughout the qualification process.
"Anna did a wonderful job at the last qualifier on the West Coast," he said. "She was within just a few points of 'Mopsie' [Suppenkasper], and she can clearly ride over 80%. I'm looking forward to riding with the two younger ladies on the World Cup team."
Peters said he is keen to compete in Omaha, particularly after the 2020 World Cup Final, scheduled to take place in Las Vegas, was canceled due to COVID-19.
"I was not sure if I would get another chance to ride in another World Cup at home, in front of the best dressage fans in the world," he said.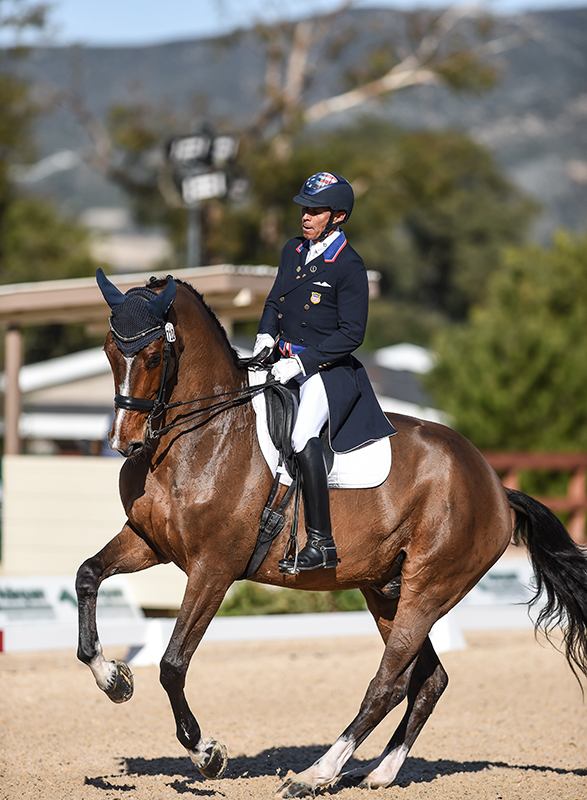 Groom Eddie Garcia, who has worked with Peters for 17 years, will travel with the 15-year-old Dutch Warmblood gelding ​​(Spielberg—Upanoeska, Krack C) to Omaha.
"Eddie and I, we're huge football fans, so we relate everything to football," Peters said. "He watched Mopsie the other day, and he said, 'Steffen, he's ready for the Super Bowl.' "
Tarjan, who Peters called "a hell of a rider," is the only World Cup Finals first-timer competing from the U.S. She predicted she'd be more likely to suffer pre-competition nerves than her 10-year-old Hanoverian mare Serenade MF (Sir Donnerhall—Duet MF, Don Principe).
"As long as I don't get eliminated, I'll call it a good day," she said. "I just want to stay on and stay in the ring. That's really the truth!"
Conversely, she predicted that pressure isn't likely to get to her young mare "Shrimp."
"She's really great in the sense that she's not affected by the environment at all," Tarjan said. "We did the freestyle at Global under the lights, and she couldn't care less. She left the ring on a long rein with her head on the ground, happy as pie. Everyone's clapping—she couldn't care less."
The mare has "done all the tricks since she was 6 years old," Tarjan said. At this stage in her development, the challenge is encouraging her to maintain self-carriage throughout the entire Grand Prix test, Tarjan said.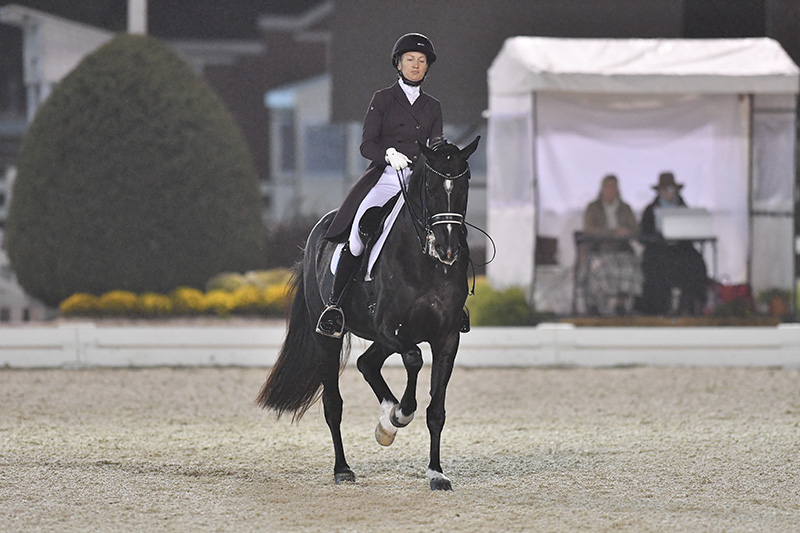 Tarjan bought Shrimp as a foal from breeder Maryanna Haymon. Tarjan said she suspects her horse may be the only American-bred horse in the World Cup competition, as well as one of the youngest.
Making it to the World Cup Finals seemed like an impossibility to Tarjan, even after she won a qualifying freestyle at Dressage at Devon (Pennsylvania) in October 2022. It was only when she came out on top of the same class in Tryon later that month that she realized "the numbers might play in my favor."
"It was all a great joke until it became reality," she said, "and now the joke's on me."
There are two more qualifiers, one in the Netherlands and another in Australia, before the 18 competitors for the World Cup Final will be finalized. The dressage final begins April 5 with the short Grand Prix, which serves as a qualifier for the freestyle.