The U.S. Equestrian Federation Annual Meeting is underway in Naples, Florida, and concluded Friday's breakout meetings with the USEF General Session, a roughly 100-minute presentation reviewing the organization's progress and setting goals for the year ahead.
"There's a lot to celebrate this past year, and we're going to talk a lot about what we've done and what we're looking forward to doing in '22," USEF President Tom O'Mara said. "The past year, though, was really amazing; we do have to focus on that: incredible horses, fantastic results at the Olympic Games, and significant progress on the goals we set out to accomplish. And today we're going to review that progress."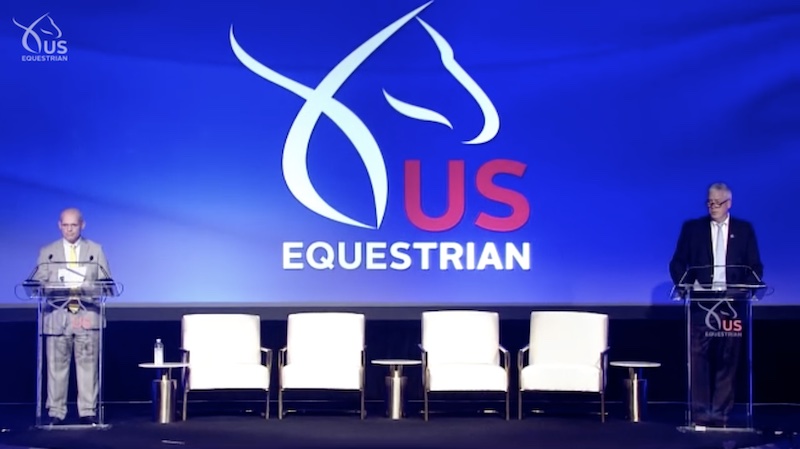 The presentation, led by O'Mara and USEF CEO Bill Moroney, included about half a dozen slickly produced videos highlighting various USEF programs, competitive successes and initiatives. Groups of senior staff members also talked about work their divisions had done in 2021. The presentation was the only annual meeting session to be livestreamed for USEF members not in attendance.
Giving Membership More Of A Voice
The theme of 2021 was "listen, learn and lead together," Moroney said, highlighting several efforts USEF made to solicit and respond to member feedback, including member surveys, focus groups, website feedback and competition evaluations.
A task force was established to "evolve" the amateur rules in 2021, Moroney said, with the goal of increasing accessibility to the sport. Members offered input through more than 9,500 submitted surveys, as well as focus groups and webinars. Their input led to revisions that now allow amateurs to accept renumeration as social media influencers or brand ambassadors.
A competition task force put forward several rule changes to streamline the process for mileage rule exemptions and revamp the hunter/jumper competition structure.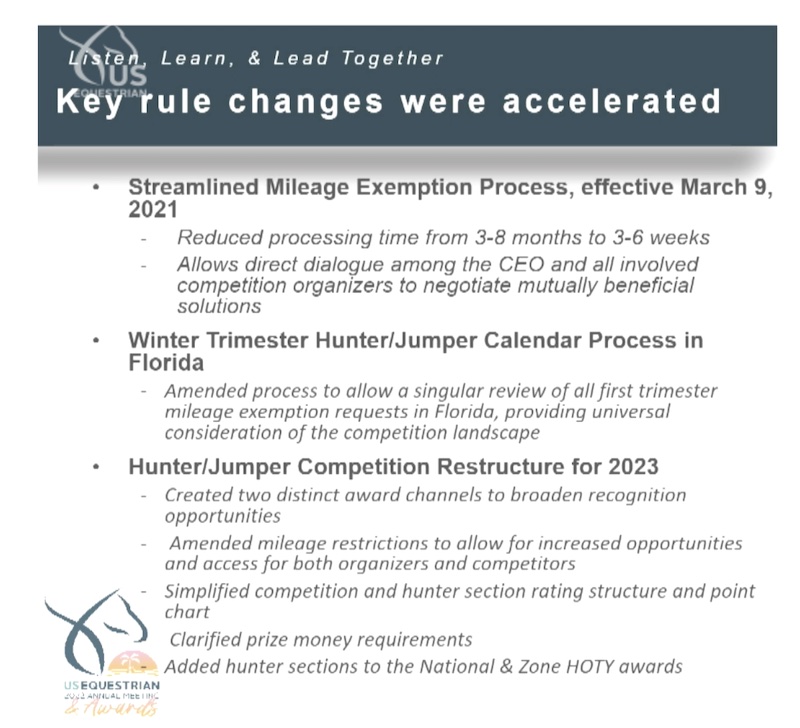 Growing The Membership
Growth remains a primary USEF goal, and membership topped 200,000 for the first time in 2021. O'Mara has set a goal of 1 million members (including both free and paid memberships). Although membership took a dip during 2020, it bounced back in 2021, with about 85,000 competing memberships and 115,000 fan memberships.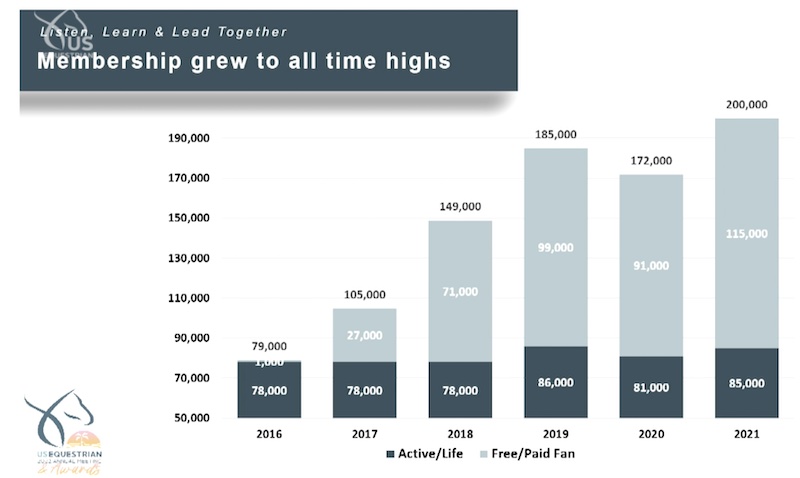 A new membership structure will debut in 2022 to include a subscriber membership, which retains all USEF benefits except the ability to compete.
Broadening membership is a key component to that growth, and is part of USEF's goal with its Community Outreach Program and the USEF Opportunity Fund, which will support organizations that promote interaction with horses outside of USEF's traditional confines, such as programs that work with at-risk youth, veterans and those with physical or developmental challenges. Seventeen organizations have been provisionally approved to receive grants from the Opportunity Fund, which O'Mara encouraged members to support, calling the organizations the fund will support "the thousand points of light in our sport."
"I know the passion you all have for this sport, and these people and their horses have equal if not greater passion than many people I've met in our traditional part of our sport," he said. "The membership asked us to broaden our umbrella to bring these people under it and give them the opportunity to be part of it. They're just as passionate as we are."
Reaching Horse Lovers Everywhere Through Social Media
If USEF had an MVP for 2021, it might have to be "rave horse" Suppenkasper, better known as "Mopsie," who became a viral TikTok sensation for his Tokyo Olympic dressage freestyle with Steffen Peters. The pair undoubtedly played a large role in helping USEF top all other U.S. sport federations for engagement on Instagram during the Games.
"We know we have great horses; we know we have great sport; we know we have great athletes, support staff, trainers, owners," O'Mara said. "Couple that with our ability to market and create some of this really cool content to show that off, not just to people who ride horses, but people who are interested in horses. It validates our belief that we know there are so many people who love the horse, and we are now connecting with them." USEF's efforts in 2021 provided a strong foundation that can be built upon, O'Mara added.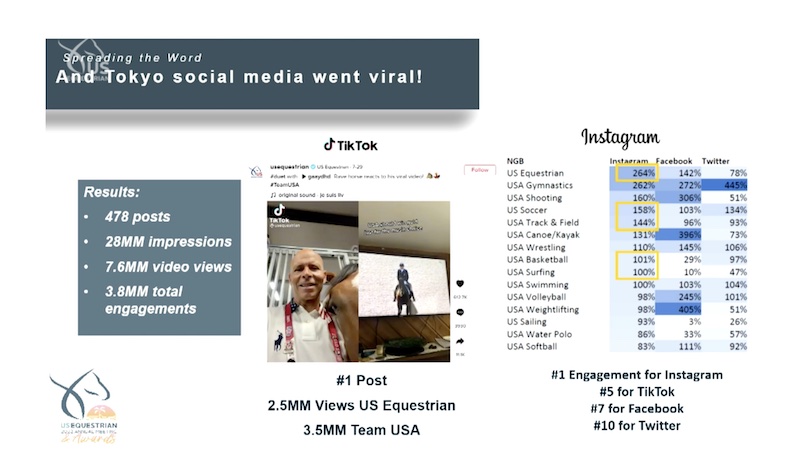 USEF also debuted its theme for 2022, "Ride United, Grow Together," with an accompanying video and section of the USEF website, usef.org/ride-united.
"This theme will set the direction as we move ahead, come together, and continue to grow our sport," O'Mara said.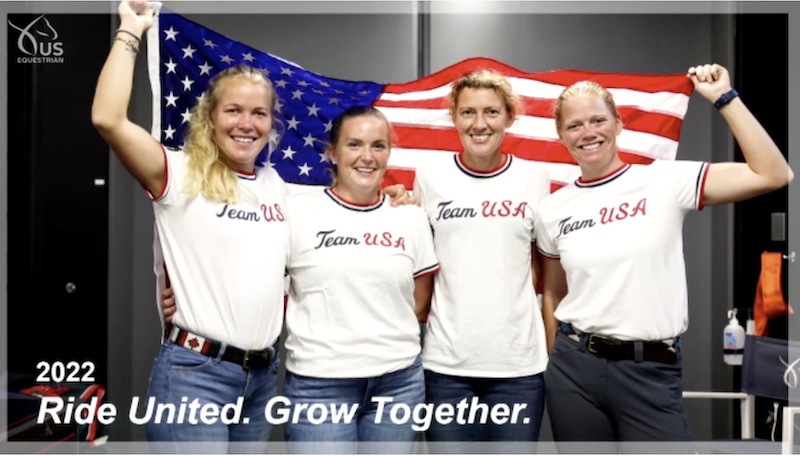 Watch the general session on demand via USEF Network. The meeting continues Saturday with the board of directors meeting and concludes with the 2021 SmartPak/USEF Horse of the Year Celebration, where the horse of the year, as voted on by USEF members, will be announced.