While the international equestrian community celebrated in 2021 the return of many top-level events such as the Longines FEI Nations Cup Final (Spain) and the Tokyo Olympic Games, the sporting year was far from normal. COVID-19 kept some long-standing shows shuttered for another year, and the FEI World Cup Final for dressage and jumping was canceled due to an equine herpesvirus outbreak that brought European competitions to a halt.
Despite those challenges, Fédération Equestre Internationale President Ingmar De Vos kicked off the final day of the Hybrid FEI General Assembly, Nov. 14-17, in Antwerp, Belgium, by celebrating the community spirit that prevailed over the past year.
"This has been draining and overwhelming at times, but as I stand here, I am proud and humbled by the strength of our community and our resilience in the face of adversity," he said. "We showed true resourcefulness, but especially we showed a positive and proactive community that can move forward and embrace change."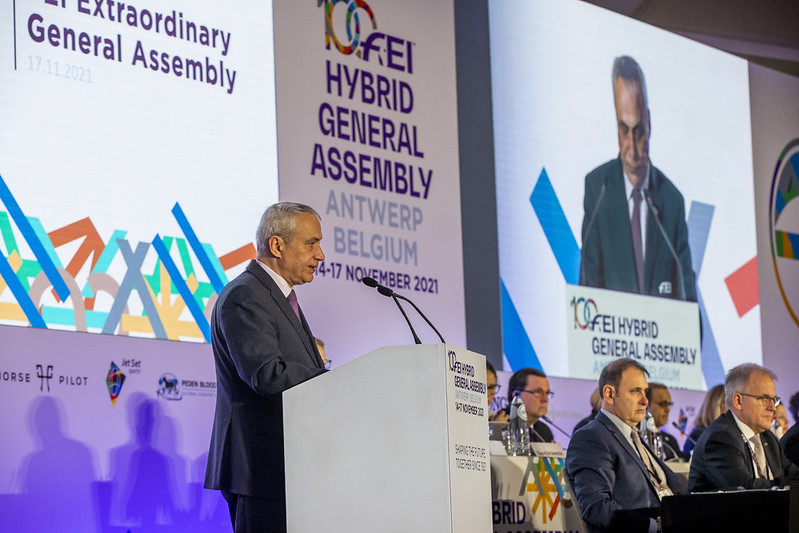 One of those changes is three-person teams in all three Olympic disciplines, which debuted over the summer. The change came in response to the International Olympic Committee's direction to introduce more nations to the competition without increasing the total number of participants. While that goal was achieved—more countries participated in Tokyo equestrian events than ever before—the change was met with strong pushback from some participants.
Despite impassioned arguments from athletes (watch Swiss Olympian Steve Guerdat make his case for the four-man format during the FEI meeting) and national federations from strong equestrian nations who cited horse welfare as a primary reason to revert to four-member teams, the FEI sport committee members made it clear they supported the IOC on this point. During the final session of the General Assembly, there was a separate vote on whether there should be teams of three or four for both the Olympics and Paralympics. Seventy delegates voted in favor of three-person squads, and 30 in favor of four; one abstained. The qualification system for the Games has also been approved.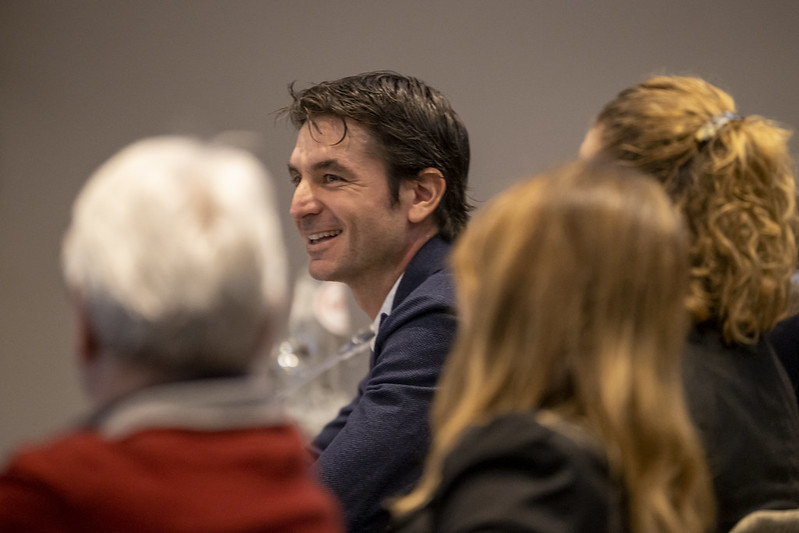 Another major change was the removal of reining as an FEI discipline. In 2018, the FEI ended its cooperation agreements with the American Quarter Horse Association and the National Reining Horse Association. After a solution could not be found, the FEI voted to remove the discipline from its roster, though they agreed to support initiatives from national federations to revive the sport.
On the issue of doping in 2021, FEI Tribunal chairman Jose Rodriguez Alvarez announced that—while the Tokyo Olympic and Paralympic Games had no positive drug test for either human or equine athletes—overall, the FEI Tribunal handled a record high volume of cases. Seventy-nine percent of those cases were related to equine doping, and the average suspension handed out was 13.8 months with fines of nearly 4,000 Swiss francs, both of which are slight above previous years' penalties.
Show Jumping Rules
The show jumping rules underwent a full revision this year. A full report of the rules up for discussion can be reviewed here.
• A proposal from the U.S. Equestrian Federation to increase time penalties from one penalty for every 4 seconds over the time allowed to one penalty for each 1 second over in Table A competitions was voted on separately and passed 63-35. An alternate proposal would've assigned one penalty for every 2 seconds over the time allowed.
• A proposal that would have allowed traveling reserves to compete as individuals at regional championships was withdrawn.
• A change was made to CSI invitation rules for individual medalists at the most recent Olympic Games and world championship. Gold medalists receive an invitation to all CSIs for four years following the championship. Silver and bronze medalists are invited to all CSI for two years and one, respectively.
See all of the rules considered, with comments from the FEI.
Eventing Rules
• The Eventing Committee passed a rule change recommending air vests for cross-country and stating vests that only protect the back are not considered body protectors suitable for cross-country.
• A change to qualifications for a CCI4*-L will give uncategorized, D or C athletes the option of running two CCI3*-L and one CCI4*-S or one CCI3*-L and two CCI4*-S events to be eligible for a long-format four-star. The change was proposed by the New Zealand federation, as in certain parts of the world, long-format three-stars are limited and as a result missing an event could mean delaying a move-up by six to 12 months.
• A change to the Minimum Eligibility Requirements allows a rider to obtain a qualifying result if they miss a maximum of one flag on cross-country.
• A U25 category was added.
• Paperless judging systems are now permitted in eventing dressage.
• A proposal passed that will allow the cross-country course designer and technical delegate to count multiple banks or ditches as one effort in certain circumstances:
First, two steps as part of a combination would only count as one effort; for example, a sunken road with what would traditionally be considered four efforts (a fence before, step down, step up, and a fence after) will count as three efforts.
Second, three steps up or down will count as two efforts.
Third, a ditch as part of a combination, for example the ditch inside a coffin, does not count as an effort.
The steps and ditches affected by this rule would be flagged or lettered as normal and judged as normal. Officials  will need to agree, before the competition begins, how many of such efforts, if any, are appropriate for the particular competition given the nature of the course.
• New graphics have been added to the permitted bits for dressage section to prevent confusion between a French link (legal) and a Dr. Bristol (illegal).
See all of the rules considered, with comments from the FEI.
Dressage Rules
• The short Grand Prix test (which is being used for all World Cup qualifiers) has been added to the rulebook.
• A clarification was made stating that a rider with two horses competing at the same level may only compete one horse in the freestyle (or any test that is considered a final).
There were a series of changes related to tack:
• The upper arm of a curb bit cannot exceed 5 centimeters.
• No items that cover the horse's eyes may be used in training, warm-up or competition.
• No part of the horse's body can be painted.
• The use of any type of white substance around the horse's mouth to imitate foaming is forbidden.
• Ear plugs are permitted during horse inspections.
• Technical faults (for example, entering the arena with boots or whip, entering before the sound of the bell or not entering the arena within 45 seconds after the bell is rung) now will be penalized by a .5 percentage point deduction. Such faults previously were penalized by a standard 2-point deduction, however, because tests have wildly different point values, technical faults were penalized more heavily in children's competition than in a Grand Prix test.
See all of the rules considered, with comments from the FEI.
Also Of Note, Representing The United States
• U.S. Paralympian Beatrice de Lavalette won the FEI Against All Odds Award during the FEI Awards celebration on Nov. 17. De Lavalette, who competed in Tokyo, lost both of her legs in the March 2016 terrorist attack at the Brussels (Belgium) airport.
• U.S. Olympic gold medalist David O'Connor was re-elected as chair of the FEI Eventing Committee.
• Attorney and former international show jumper Armand Leone, Oakland, New Jersey, was elected to the FEI Tribunal.
More information regarding the FEI General Assembly, including documents and the livestream can be found here.