We all have a favorite horse show, the one we prioritize over the other shows, taking a real vacation, or a respectable professional wardrobe. For me that show is the Tucson Fall Show series, which has my two favorite things in life, horse showing and Halloween, in one quirky, welcoming, approachable event held at a show ground with a dive bar cantina and mountain views. The staff remembers your name even when you aren't a somebody and hosts a Halloween costume party that ends with a "pumpkin chunkin," a shotput-style pumpkin toss that solidifies more bragging rights for the winning barn than the grand prix.
This year's show was especially sweet for me, as I brought back my two young jumper mares, who have been off for most of the last 15 months with injuries. Landis is a 7-year old Czech Warmblood with whom I do the meter jumpers or sometimes take a walk around the backyard in a bareback pad drinking iced coffee—depending on our moods. When Bobby and I got engaged he thought he was off the hook because I am not a jewelry person. Boy was he wrong. Cut to me shoving my iPhone in his face one night as he was drifting off to sleep wearing the expression toddlers reserve for Christmas morning and a grainy video of a gray jumper in the Czech Republic set to the theme song from "Game of Thrones." "Babe, LOOOOOOOOK!" He was toast.
Seven is a 6-year old chestnut roan mare with a huge blaze. I bought her at 2 to be my fancy adult amateur hunter. Except Seven wants to go fast and jump the height of the standards to keep herself entertained. She jumps so hard that my helmet slides down my forehead, and I consciously think to sink deeper into my heels so I can stay on, not for equitation points. She is fierce like Beyoncé. Physically and mentally she is a legitimate grand prix prospect, possibly the next Sapphire, and I am trying to pilot her around .85-meters at age 44. McLain, if you are reading this, DM me @ammy_life. Maybe we can work something out.
Pulling my trailer up to Tucson to drop off the girls I had a warm feeling that all is right with my ammy world. I am showing with my best barn family for two weeks; my girls are back in action, and thanks to my attempt to be supportive of my husband's keto diet this summer my show clothes are fitting with a little room to spare.
So why was I on American flight #1556 headed to Washington, D.C., on Wednesday of a show week? Because being an adult amateur requires a mix of adulting and amateuring that is not always perfect. My soft block on my calendar was overridden by a leadership meeting on Thursday of show week on the opposite side of the country. What are the chances this can happen? Pretty good, actually. I am a vice president of sales for a red-hot cloud software company, so I travel every week and binge ride on the weekends.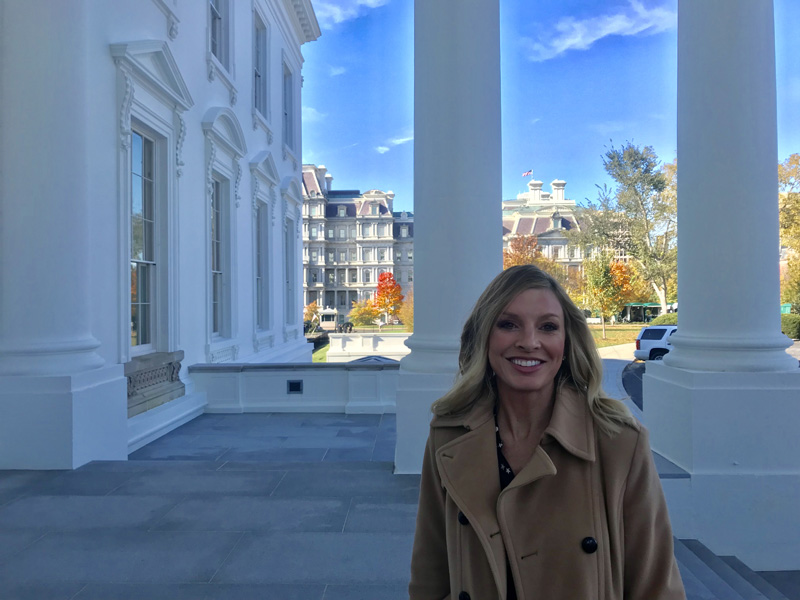 The complete schedule for the two weeks of the horse show was Phoenix-Tucson-Phoenix-Los Angeles-Phoenix-Tucson-Phoenix-Dallas-Washington, D.C.-Phoenix-Tucson-Phoenix. Juggling the love of riding my horses with a means of actually paying for them is a weekly effort of prioritizing, scheduling and shuffling meetings, flights, forecast calls, and vet visits. No two weeks are the same, but in general I am gone Tuesday to Thursday, collapsing in bed after a quick night check anywhere from 8 p.m. to 1 a.m.
I was back in Tucson by about 2 p.m. on Friday thanks to a predawn departure and the miracle of making up time flying west. And I soaked in all the amateuring I could squeeze in. Some things are predictable. I know I will get nine out of 10 distances right on every round. Seven will pull so hard my hands will remind me of the show well into the next week. Landis will look like a super model in all the bonnets I have been waiting to use during her lay-up. Bobby can be found watching college football in the travel trailer with the dads, and this year he sat out the pumpkin chunkin after holding the title for three years. (He wants to retire on top.) I will drink a gallon of Starbucks Americanos during my course walks. I will forget my course at least once over the weekend. I will pick up some Bud Light for my favorite horse show groom, Tio Luis, and maybe a hot chocolate for him if it's chilly. I will cheer for my friends, and they will cheer for me. The show office staff will remember my name and thank me for attending when I close out.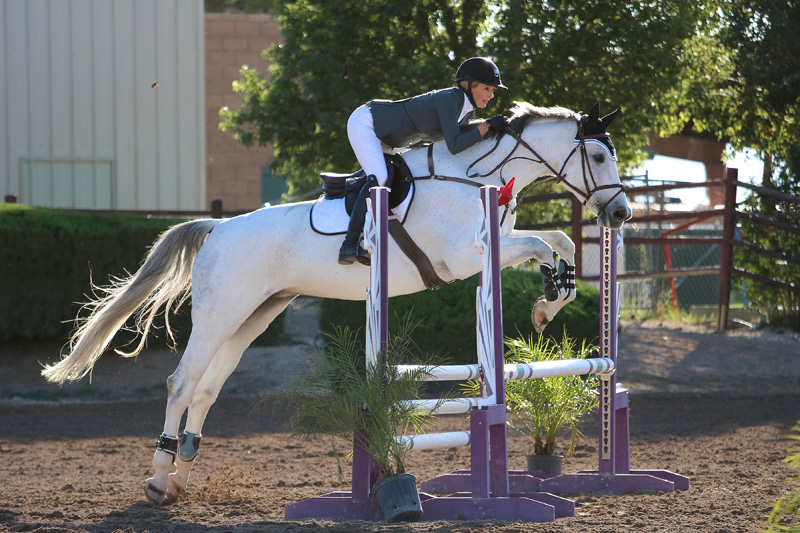 And for three perfect days before the planes leave again and the suitcase has been changed from breeches to "tech casual" jeans, blazers and footwear that says I am bright but approachable, adulting can take a back seat to amateuring at the Tucson Fall Shows.
---
Allison Hughes lives in Scottsdale, Arizona, where she describes herself as a "helicopter mom" to five horses and four dogs. She travels each week as a vice president of sales for a software company and generally blogs from 30,000 feet on Southwest Airlines. Allison has been recognized by Halo Horses Equestrian Boutique as a "Featured Amateur" and by the Street To Stable Equestrian Lifestyle blog in their "The Balancing Act" series. Allison began riding at 6 years old in Rancho Palos Verdes, California, and now competes in hunters, jumpers and equitation in Arizona and Southern California. Allison is often joined in the barn or at the shows by her husband, Bobby Hughes, a former professional baseball player turned home builder.