Caledon, Ontario—July 24
Every rider coming to the Pan American Games comes with a different goal–whether it's to win a medal, achieve a personal best score or just bring attention to horse sport in their country.
While we loved cheering on the U.S. and Canadian teams as they battled it our for the top medals, we equally enjoyed talking with riders from smaller countries who each came to the Pan Ams with an interesting tale to tell. Here are some of their stories!
Emily Kinch (Barbados)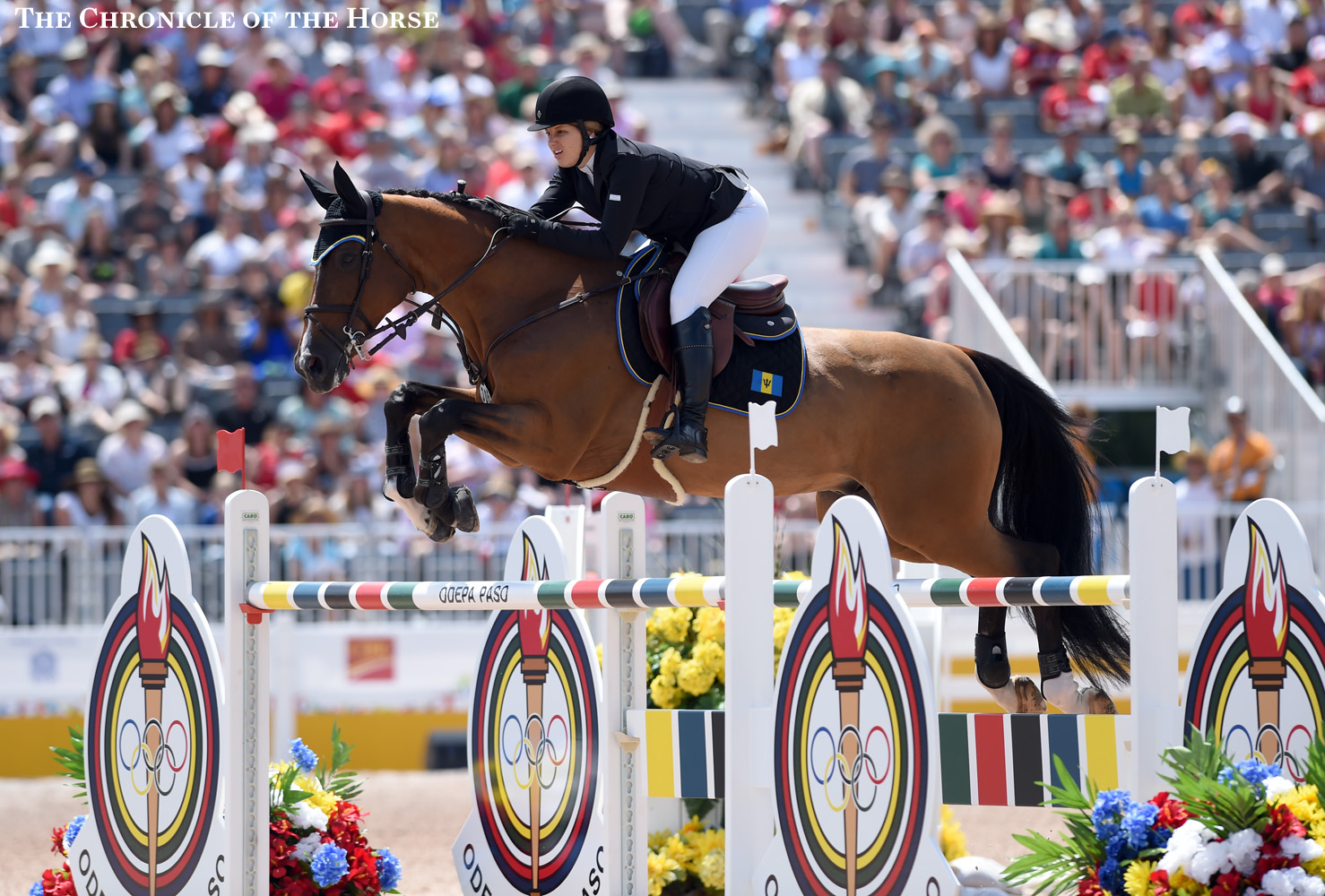 Emily Kinch and Teddy du Bosquetiau. Photo by Lindsay Berreth
There was no one more thrilled coming out of the arena on the first day of jumping than Emily Kinch. Riding as an individual for Barbados, Kinch picked up 12 faults with Teddy du Bosquetiau, but just being at her first Pan Am Games was reward enough.
"I'm totally thrilled that I actually I went out and jumped the course—don't mind the score, it did not reflect how incredibly proud and happy I am of my horse and me. It was so exciting!"
Kinch, 22, made her international championship debut last year at the Central American and Caribbean Games (Mexico) on New Boy De Logerie. The 22-year-old lives in nearby Perth, Ontario, where she trains with Ian, Jonathon and Amy Millar and their Millar Brooke Farm. She got the ride on "Teddy," a 12-year-old Belgian Sport Horse (Ogano Sitte—Jezabelle du Bosquetiau, Albion Du Chen Brule), this March after spending the winter at the Winter Equestrian Festival (Fla.).
The pair got to know each other at Spruce Meadows (Calgary) and during a two-week stint at the Caledon Equestrian Park. "He's very sensitive, but he's brave, he's scopey, he's such a confidence-booster, confidence-building ride. He's a great horse," she said.
Kinch, who comes from a long line of Thoroughbred racing breeders and trainers, was happy to have the president of the Barbados Olympic Association, as well as all of her family, who live in Barbados, on hand to watch her jump.
She noted that while her home country is small, there is still a vibrant horse community. It's tough for horses to travel from island to island because of quarantine, so many riders base in the U.S. or Europe. Traveling back to Barbados requires a 28-day quarantine. "We have polo, Thoroughbred racing and some show jumping and dressage. It's not as popular as polo and racing, but we're building," she said.
Patrick Nisbett (Bermuda)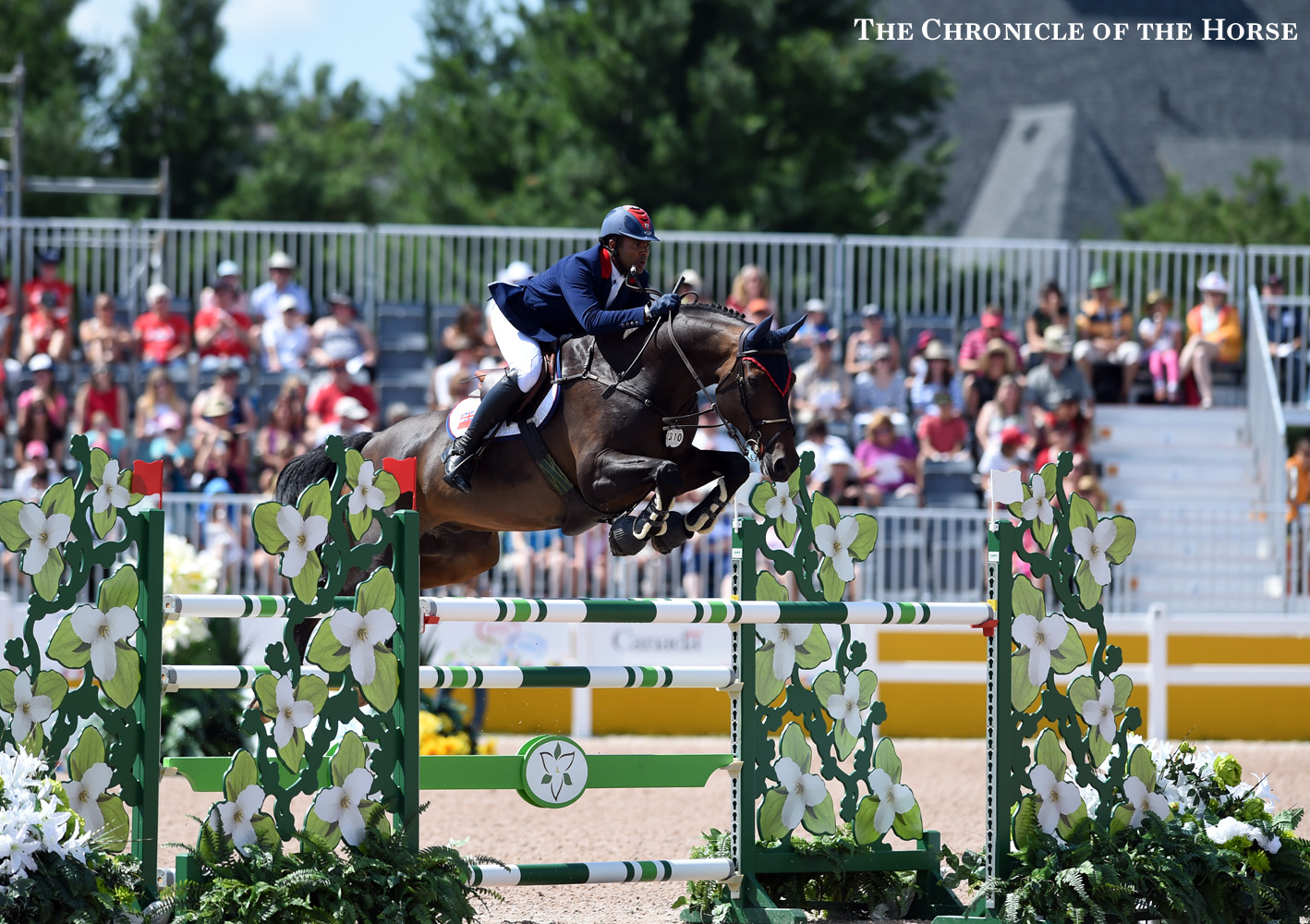 Patrick Nisbett and Quick Z. Photo by Lindsay Berreth
You could be forgiven for giggling as Patrick Nisbett jogged Quick Z down the lane at the first horse inspection wearing Bermuda shorts and tall socks.
But as he sees it, he's proud to wear the uniform for his home country of Bermuda. Along with Jillian Terceira on Tamerino, Nisbett is representing the small island nation, which doesn't have a ton of horse sport.
"It's OK for the size of the island," he said. "It's a small island and not a large population, but we have good sport, relatively speaking. We have mainly hunters, jumpers and dressage and pony racing in the carts."
Nisbett grew up on the island playing soccer very seriously, but he had an interest in riding as well. When it came time to choose, he chose the horses. He evented as a young rider, living in Canada to train with Peter Gray, then made the switch to show jumping. "One way or another I made the switch over time," he said. "I always enjoyed the show jumping. I can't remember when I made the switch, it was a long time ago!"
Nisbett, 44, lived in Canada for a time working near the Caledon Equestrian Park and was happy to return to a much-improved facility.
"It was nicknamed the Sand Pit last time I was here. It's a huge difference," he said. "I used to jump here 10 years ago. I was working and riding in Erin, about a half hour, 45 minutes from here, so it's actually a bit strange for me to come back here! After that I moved to Europe and was in the U.K. for a bit because it's easy for Bermudians to be there, then I went to Germany and now Belgium."
Living near Brussels, Nisbett rents a barn and has eight horses. He bought Quick Z, a 9-year-old Zangershiede gelding (Quasimodo Z—Palalanda, Indoctro) when he was 5 and brought him through the ranks.
"We were looking for a young horse," he said. "I had another really good horse but sold him. With the Pan Ams and Rio in mind, they had to be the right age, right mind and right quality, so you never know, but when we tried him, he had everything that I like in a horse. It was just one of those feelings. Immediately, there was no doubt. I said, 'Let's get this deal closed.' I wouldn't say we knew he would jump 1.60-meter, but he had plenty of jump.
"To be able to go in at the Pan Am Games and jump around clear, it's beyond words for me at the moment," he said after his first round on Tuesday. "He's not so mileaged, so I was a little nervous [going in the ring the first time,] but the nice thing about him is you say, 'OK, come on,' then he answers the question. When you've had him as long as I have, you sort of trust him a bit, you know?"
Nations Cup day didn't go quite as planned, with four rails and 1 time fault in each of the two rounds.
"I'm a bit disappointed with the result, but he's a young horse and a green horse and I did come here thinking, 'Maybe, maybe not. He might be a bit green,'" he said.
Nicolas Imschenetzky (Chile)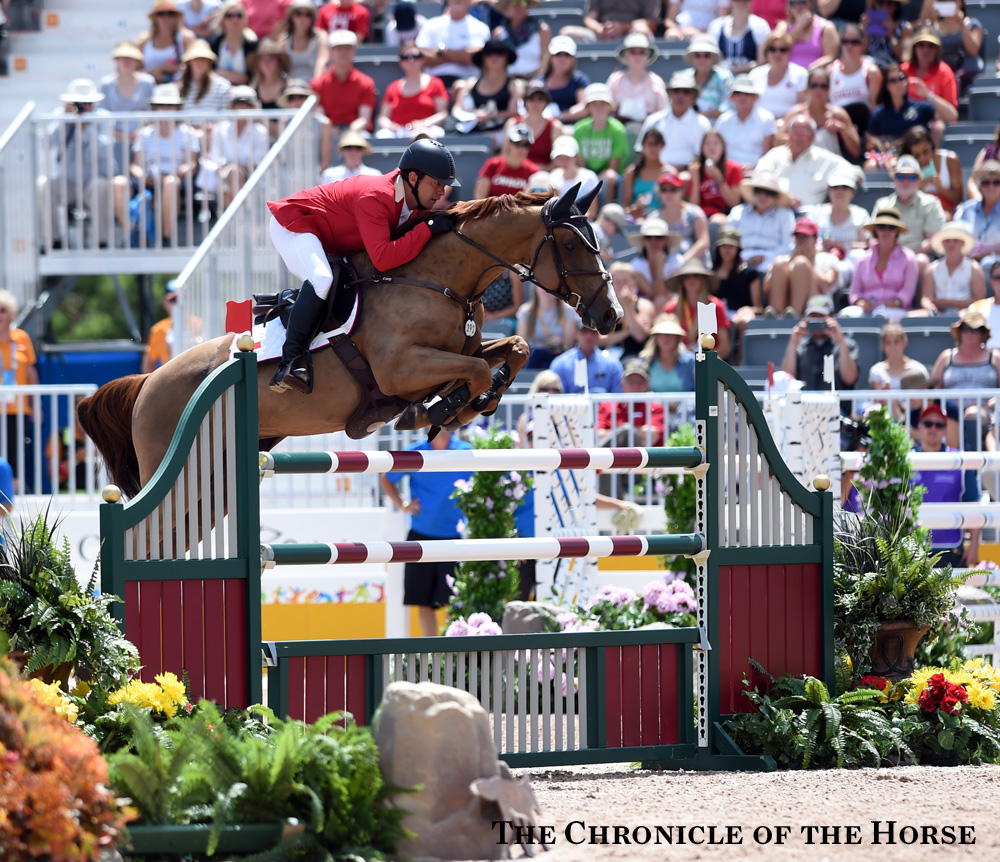 Nicolas Imschenetzky and Pegase De Talma. Photo by Lindsay Berreth.
Riding in his first Pan American Games, Chile's Nicolas Imschenetzky may not have had the finish he wanted, falling off in the second round of the Nations Cup, but just getting to the competition was a big deal.
The 40-year-old rides as an amateur while holding down a busy work schedule. He's the director of Valmar, a real estate company in Chile, which owns a casino and housing developments.
"When I stay in my country, I stay 500 kilometers from my competing horses, so I have a good friend, Rodrigo Carrasco, who works with me and rides my horses for me," he said.
Living in Concepción, commuting to his horses near Santiago and traveling make Imschenetzky's life hectic, but every day he gets to sit on his Pan Am mount, Pegase De Talma, is a good day.
"My horse is a very special horse," he said. "I bought him in late 2013 and then I had an accident, so I started riding in mid-2014. I broke my arm. It's a complicated thing to be an amateur and riding at this level. When [I'm not] traveling, I ride every day. When I'm living in Chile, I ride only on the weekends for the shows.
"I've been riding for 25 years and on a horse since I was 3 months old because my Granddad was crazy about horses, so I think I have a bit of feeling that makes it a little more easy for me, but it's complicated," he added. "When you're three weeks without riding or one month without riding and you get on and your distance is lost, your feeling, your balance, everything is lost, and you confuse your horse, it takes awhile to get everything normal again."
Imschenetzky has only been riding at the FEI level since 2013, but he's already been to the Alltech FEI World Equestrian Games (France) last year with Pegase De Talma, a 12-year-old Selle Français gelding (Dollar Du Murier—Leffe De Talma).
"The biggest class he had jumped when I bought him was 1.50-meter," he said. "We had a short time to get in touch together. My first class was a 1.60-meter class for qualification for the World Equestrian Games. Then we went to Europe and did four grand prixs, then to the World Equestrian Games. I was the only Chilean who ended that Games, so that gave me a little bit of confidence. Then we went back to Chile and I won the National Championship.
"I love this horse. Somebody was asking if I would sell this horse or not and I said it was impossible because the hole in my backyard is already done, so when he dies, he stays with me his whole life," he added.
Imschenetzky said that in Chile, there are only about five or six horses who can jump 1.60-meter classes competitively, so Pegase De Talma was a natural choice for the Pan Am team.
"He's a special horse," he said. "Outside of the ring he's very relaxed. When he hears noise, he goes crazy and when he goes in, it's like a storm. Then you need to relax a little bit and he'll go. When he starts jumping, it's amazing. He has so much power—he's a small horse. He has so much power that you have confidence enough that he can jump everything."