The other day I overheard a very smart person (my mother), having a conversation with someone on the three things that she believes are vital in teaching your child to help them to become successful.
These three things are: how to think, how to love, and how to work.
Listening to this, it really resonated with me that I believe these are three things that I make an effort to teach my young horses when I am developing them. Now, some people may say how can you teach a horse to love or to think, but I think it is possible.
Furthermore, I think that when you have a horse that loves or has a big heart they will go that extra mile and put in that extra effort when you need it.
Part 1: Teaching Them To Think
Funnily enough, I was having a conversation with someone yesterday and I said my No. 1 required trait in a horse is self-preservation.
I want a horse that is going to protect themselves and myself before just reacting. I want a horse that is not going to rear up and flip over on me, or a horse that isn't going to slip on footing and then slip again because they did not think.
I want a horse that learns lessons and does not make the same dangerous mistakes again and again. As I have gotten older and had a few bad accidents that have left me scarred physically, and mentally have been a challenge to overcome, I want a horse that is smart or knows how to think to keep themselves safe.
Then comes the question: how do you teach a horse to think?
Well, I think they have to be born with some of this, but then it must be cultivated and you must teach a horse to give in to pressure of soften away from it for the pressure to go away.
When I work with my young horses, I let them make mistakes, but then I teach them how to get out of them. I teach them resistance training and that they cannot just run when scared, that they have to think.
I really think this is a problem for many horses that when they feel pressure physically or mentally, they just want to shut down, or overpower the pressure to try to get away, but that is not the correct solution for them.
I know that some people will disagree with me, but I let all of my young horses step on leadropes in a controlled manner. I want them to learn that when they step on the leadrope they have to move their feet off of it before they can move their heads or the rest of their body.
To do this go in a ring where it is a closed environment with soft footing in case something were to happen. Attach a lead rope or even a lunge line and drop it on the floor, but then attach a second rope to the halter that you keep a hold of.
Start out with your horse walking very slowly and encourage them to step on the lead rope, but when they go to jerk their head away, ask them to stay still and just stand there for a minute. Then back them off the lead rope or move their feet to the side.
The goal is to teach the horse to think about how they have to move their feet in order to release the rope. It teaches them that they have to give in to pressure in order to get away from the pressure or for the pressure to lessen.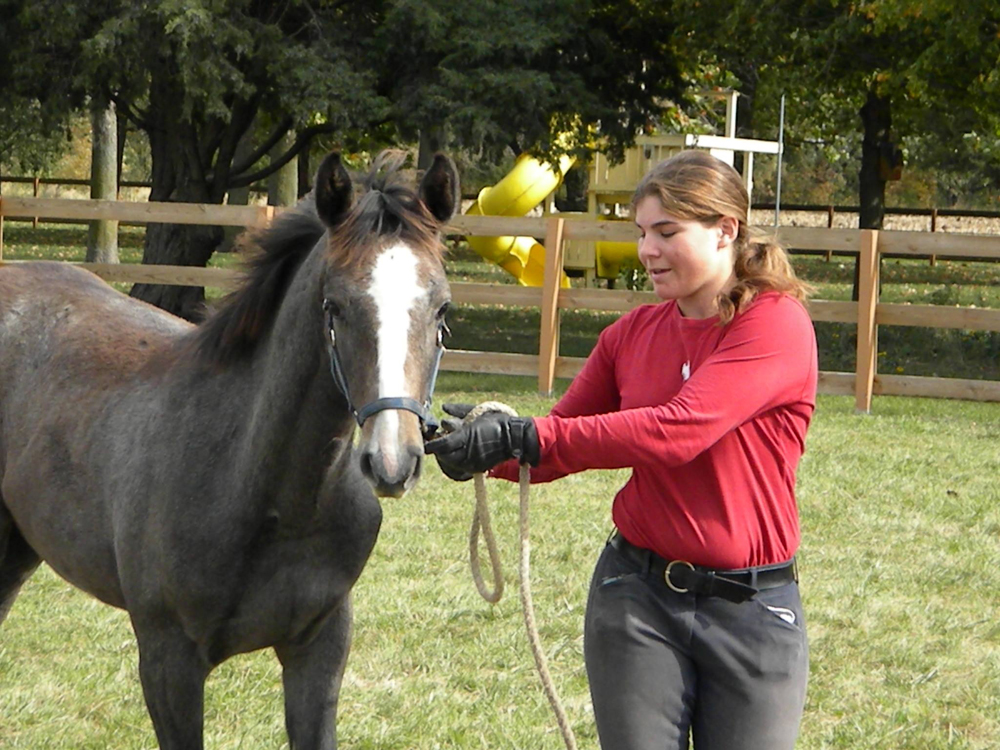 I think that teaching young horses to respond to pressure calmly begins with in-hand work and carries over to under-saddle training.
This seems like such a simple, useless exercise, but it has a bigger meaning and could help you when you go to teach them about bridle pressure to create a steady connection. When you start them under saddle and ask them to soften to the pressure or connection in the bridle they will more willingly soften (hopefully) instead of fighting against you.
We had a horse get loose here last summer and they got their foot caught in the reins; as soon as they felt the pressure they stopped and put their head down waiting for me to help them. It can be dangerous when a horse reacts to pressure without thinking, so if we can teach them in controlled environments it can make it much safer in the long run. In my opinion this translates to the riding.
I think this also applies mentally, especially when training young horses that can feel overwhelmed or too pressured when being asked something. I think in this case teaching them to think means building a solid foundation of the basics and teaching them how to move off the leg, how to react to pressure on the bridle, etc.
When I jump my horses I want to find a variety of distances and from a variety of speeds, because I want them to think how to get out of different situations. They have to learn how to jump from a deep distance or a bit longer distance because when this type of situation happens in the ring you do not want them to shut down or panic.
There is not one person in this world who will not miss occasionally and if the horse knows how to react there might be a much better outcome.
In this same vein is teaching the horse to think about the jump and study it to jump it correctly, while staying relaxed. This can be done through different gymnastics or cavaletti exercises—teaching them to shorten and lengthen their strides when necessary.
I think teaching a horse to think goes hand in hand with their rideability and can help them to be more confident because it better prepares them to handle a situation.
Tomorrow I'll talk about Part 2: Teaching Them How To Love and then Part 3: Teaching Them How To Work.
Chronicle blogger Taylor Flury rides out of her family's AliBoo Farm in Minooka, Ill., and competes primarily in the jumpers, specializing in bringing along young horses. She also runs AliBoo's breeding program. Flury's former top mount is the U.S.-bred Role Model (Roc USA—Darling Devil), who claimed U.S. Equestrian Federation Horse of the Year titles in 2011 and 2012 in the 5- and 6-Year-Old Jumper divisions and won at grand prix.
Read all of Taylor's blogs here.