Lexington, Ky.—April 24
Forty-one horses from an original start list of 42 will head down centerline for the first phase of the Land Rover Kentucky Three-Day event after Wednesday's initial horse inspection.
Tactical Maneuver with U.S. rider Ashley Johnson was held, re-presented and not accepted by the ground jury for the start of competition. Erin Sylvester's Paddy The Caddy and Hallie Coon's Celien were also both held for reinspection but passed their second time down the strip. Canada's Jessica Phoenix was asked to jog Bogue Sound twice without a trip to the hold box and was also accepted.
Fashion is always on full display for jog day at Land Rover Kentucky, so we asked some riders who were looking particularly sharp to tell us about their outfits, and the stories don't disappoint!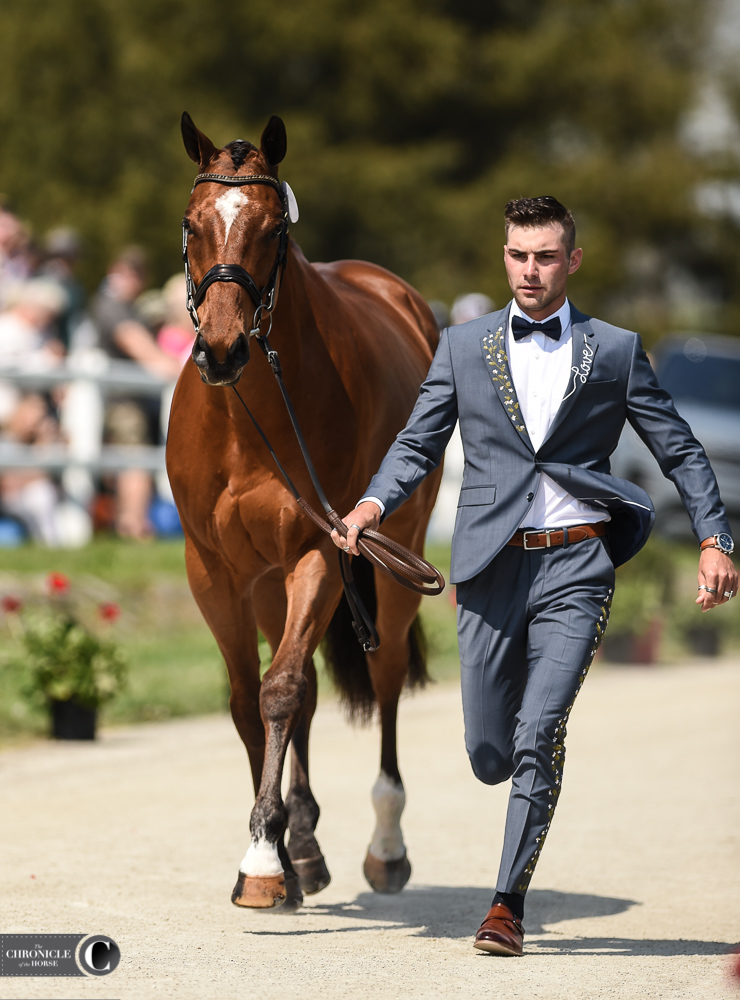 Land Rover Kentucky rookie Chris Talley presented his horse Unmarked Bills in a custom embroidered suit that was very near and dear to his heart.
"It's all kind of designed around my grandmother who passed away just over three years ago," Talley explained. "We were super close, and so it's her signature from one of her letters to me on the lapel, and then her favorite flowers were daisies."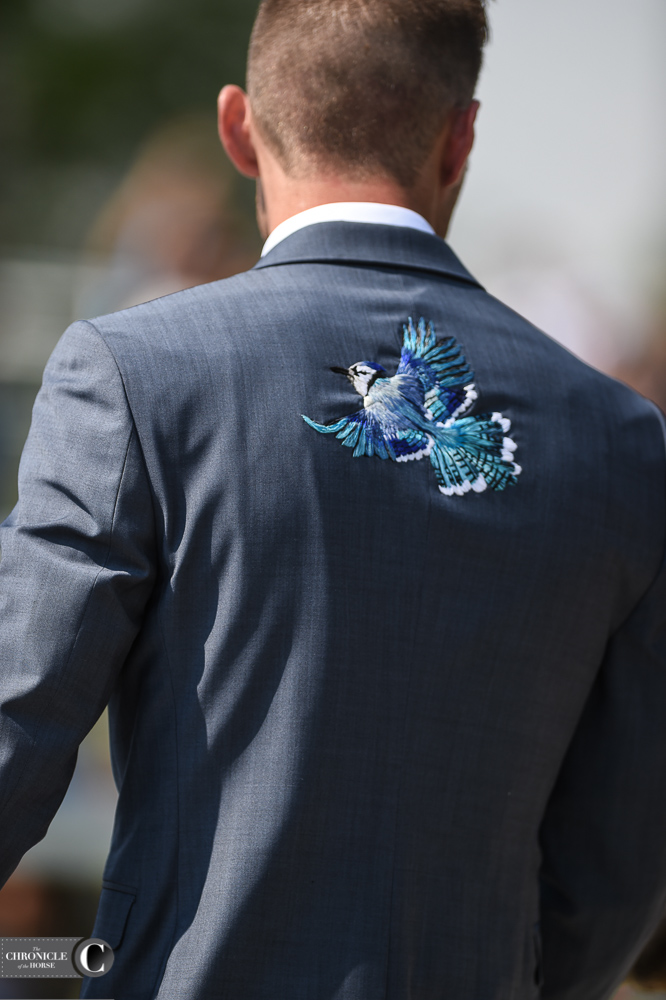 Talley's grandmother, Peggy Sarento, and the whole family look to the blue jay as a family crest of sorts, hence the beautiful embroidery on the back of the suit, and Talley also carries blue jay feathers in his medical arm band.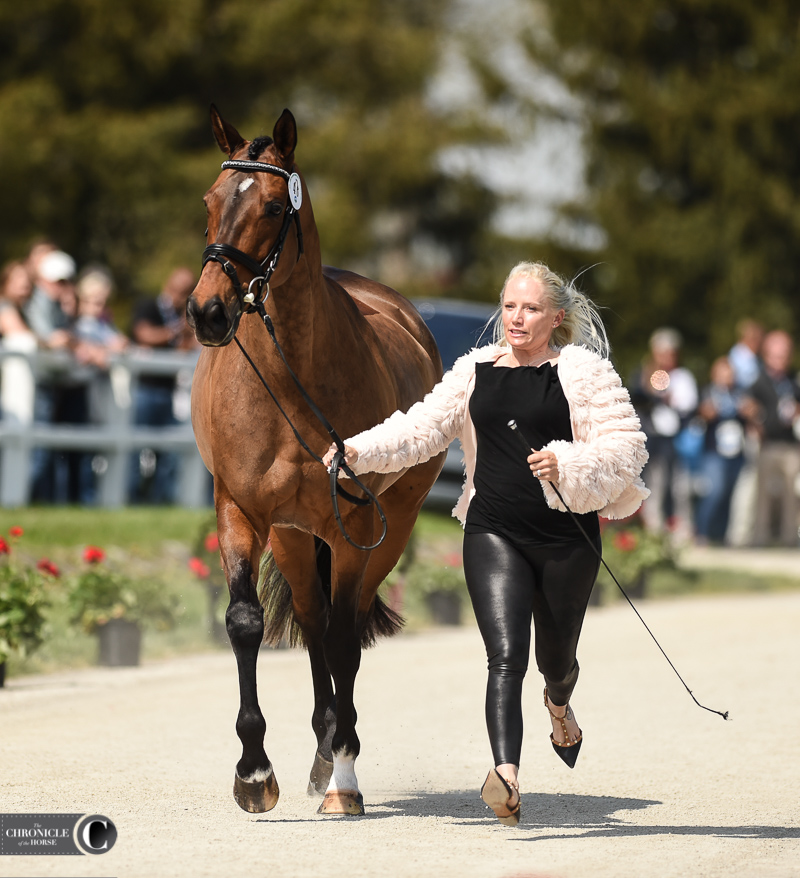 Canada's Hawley Bennett-Awad had the distinction of presenting her horse Jollybo in an equally fantastic outfit and hairstyle.
"Hawley likes finding really complicated looking pictures on the internet and then seeing if I can do it," said Alex Perkiel, Bennett-Awad's friend and Land Rover hair stylist.
Bennett-Awad's outfit was the result of some rainy day shopping.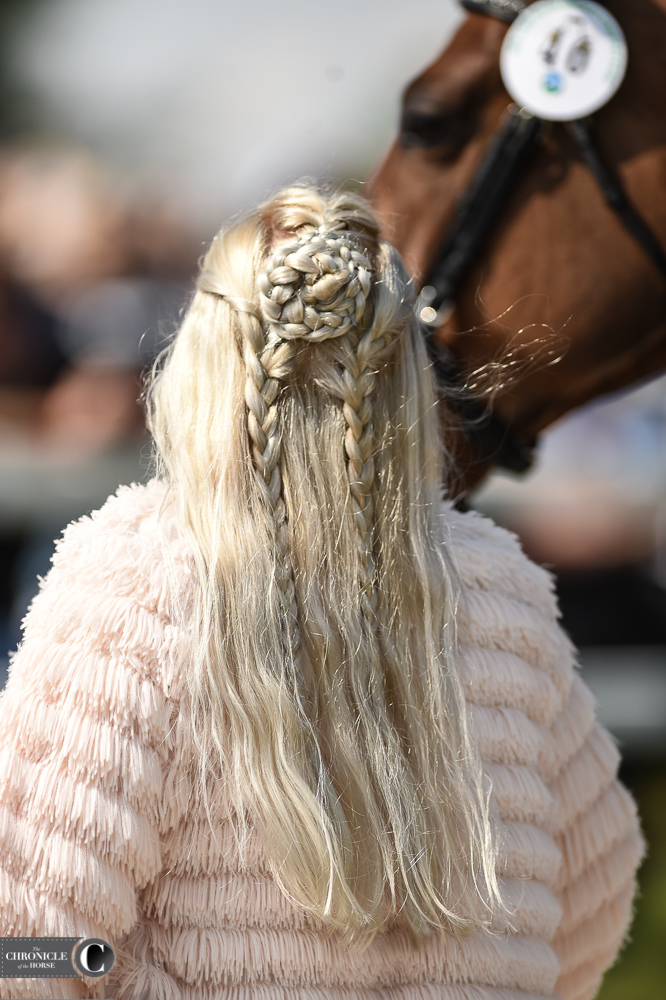 "We were competing at Fresno in California, and it was pouring, so we went to Marshall's, and I picked this up as a joke, and here we are," Bennett-Awad said with a laugh. "But it's different; it stands out, and I think Jolly and I pull it off."
Allie Sacksen presented Sparrow's Nio sporting a matching look to her adorable daughter, Annie.
"I had found my dress and then found this in her closet and thought let's match!" Sacksen said. "This is sort of like our Easter Sunday; we didn't really get to do anything."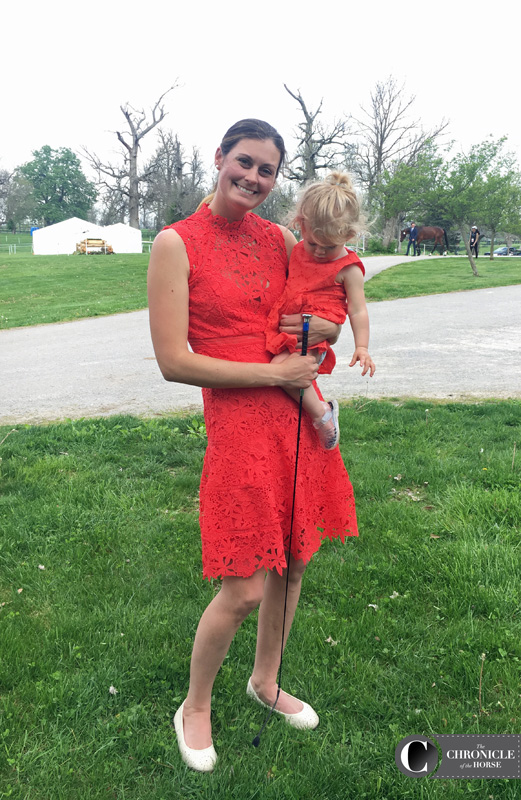 Australian Land Rover Kentucky rookie Dom Schramm was looking sharp in a Ralph Lauren suit that he was quick to take absolutely no credit for.
"To be perfectly honest with you I didn't do a single thing; it's my wife [Jimmie] that's the fashionista," Schramm said with a laugh. "We made a deal early on that I didn't get to argue, say anything or have any input, so here we are. I think she did all right!"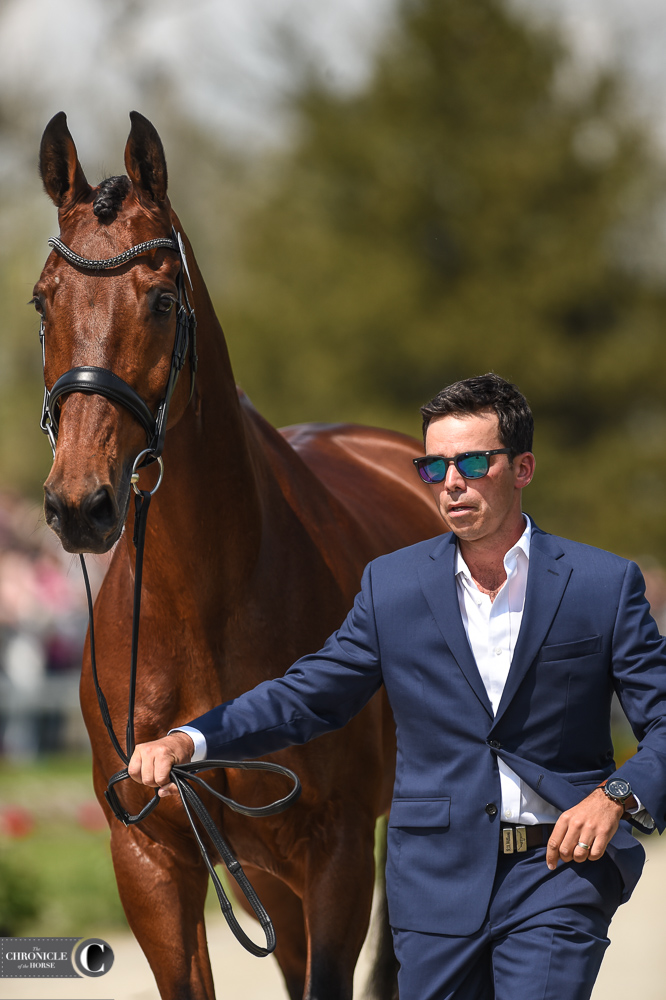 There are always a few riders who wait until the absolute last minute to find a trot up outfit—representing the procrastinators this year are Lillian Heard and Ellen Doughty-Hume.
"I didn't have a good jog outfit prepared, and my friend Lauren Kieffer was like, 'Oh I have a really great company that's dressing me; just come to their booth with me,' and I did, and I said, 'Can you dress me for today?' " Heard said with a laugh. Shout out to the Hound And Hare for getting Heard turned out in record time!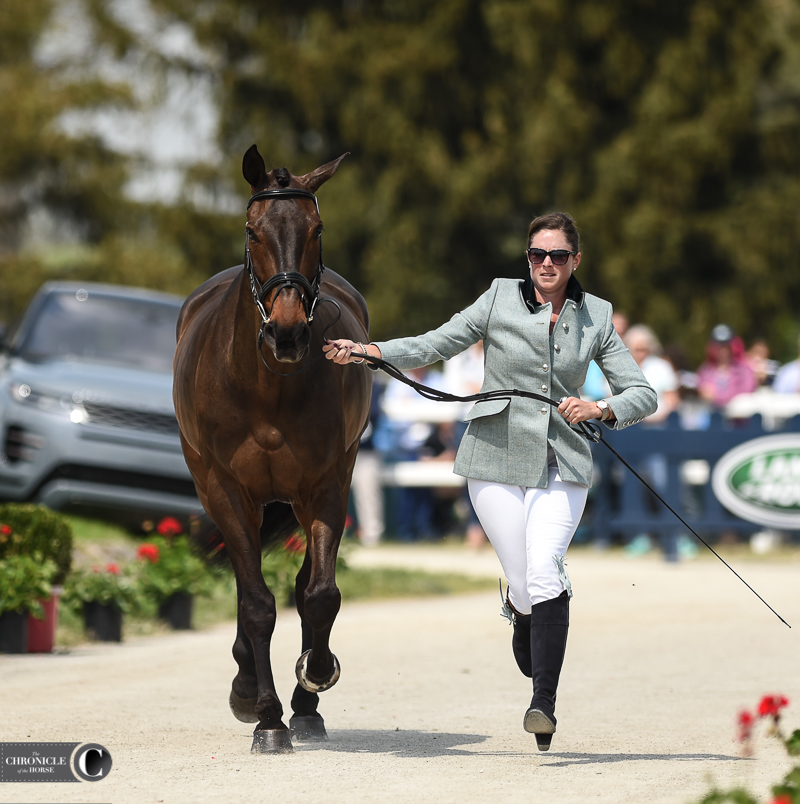 In the race to be the last one ready Doughty-Hume narrowly won. Doughty-Hume said it's practically tradition at this point to wait until the last minute to pick an outfit, but this year was close even for her.
"My poor groom was like, 'Where is Ellen?' We had to run to Georgetown and get the white pants," Doughty-Hume said. "I was in my trailer pulling stuff around, and nothing was working, and my good friend Sara Manore said, 'No no, you need something new for Kentucky,' so we went out and found this."
Doughty-Hume accessorized with her trusty Pony Club pin on her pants pocket.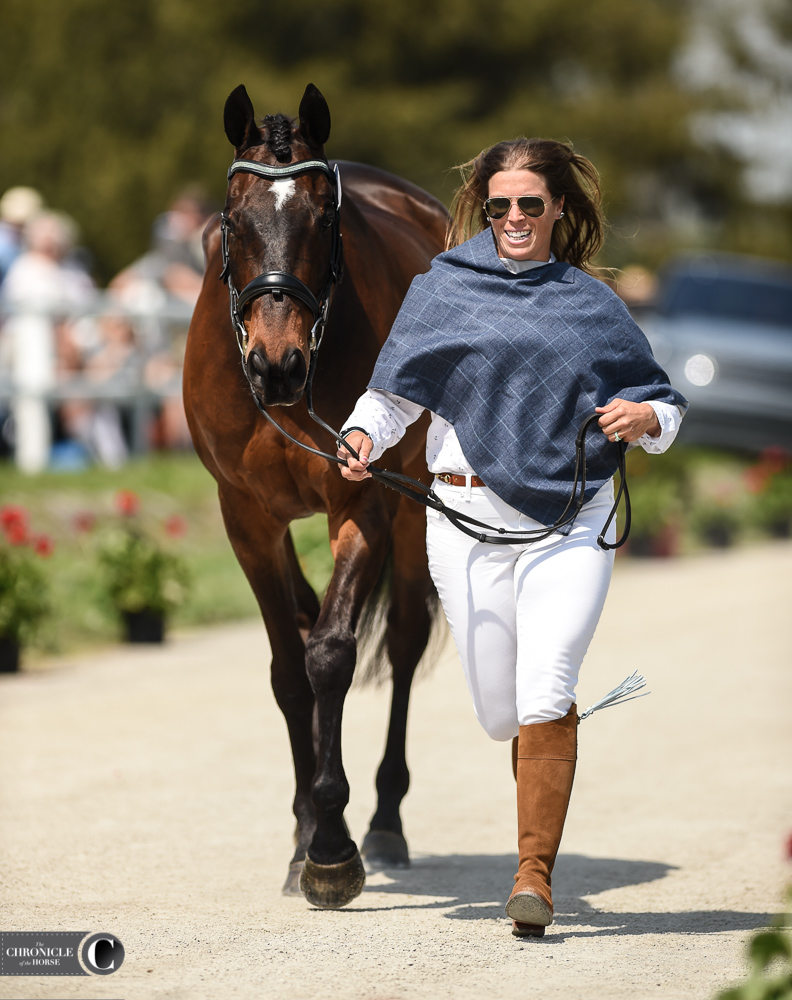 Five-star first timer Ariel Grald presented Leamore Master Plan in a fun printed jump suit. It was both a fashion and strategic decision as "Simon" was kicking up his heels quite a bit on his way to the jog strip.
"I have a big horse, and he's a little spirited, so I have to be ready to run fast beside him," Grald said. "A big flowy dress wasn't going to work."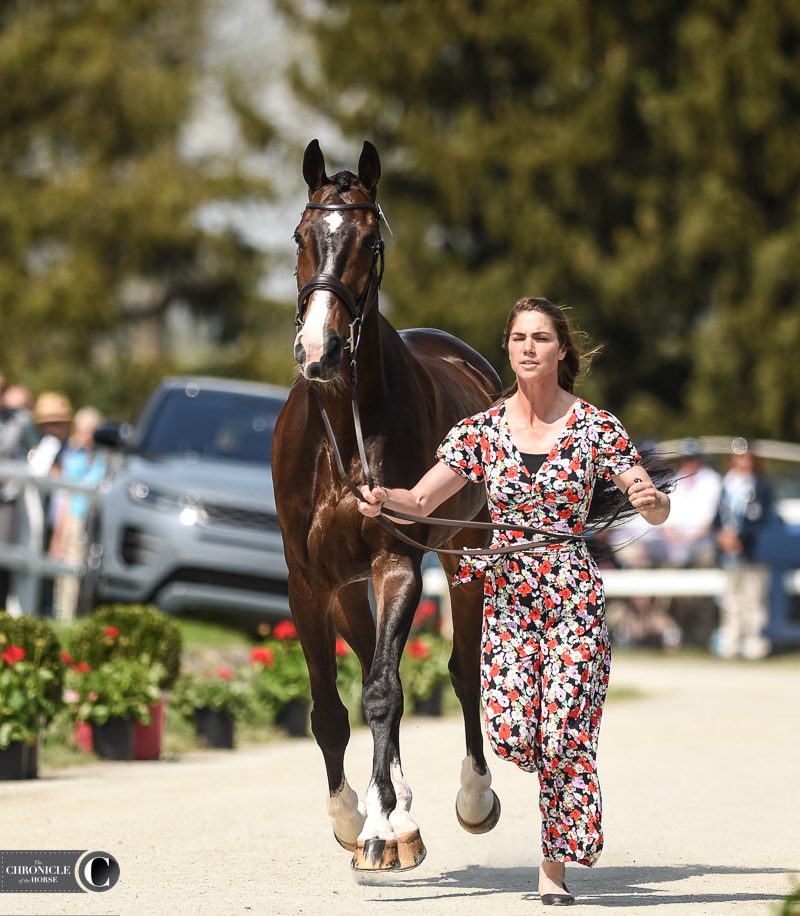 And last but not least we have Liz Halliday-Sharp presenting Deniro Z in some very smart boots, required footwear when you're dealing with "Niro." Halliday-Sharp was flying one heck of a horse kite both to and back from the jog strip—USEF's director of high performance for eventing Erik Duvander even jumped in to help lead the leaping steed home.
"Thank God Erik knows him now and knows he does this," Halliday-Sharp said with a laugh. "This is probably the worst it's ever been; he's always been like this."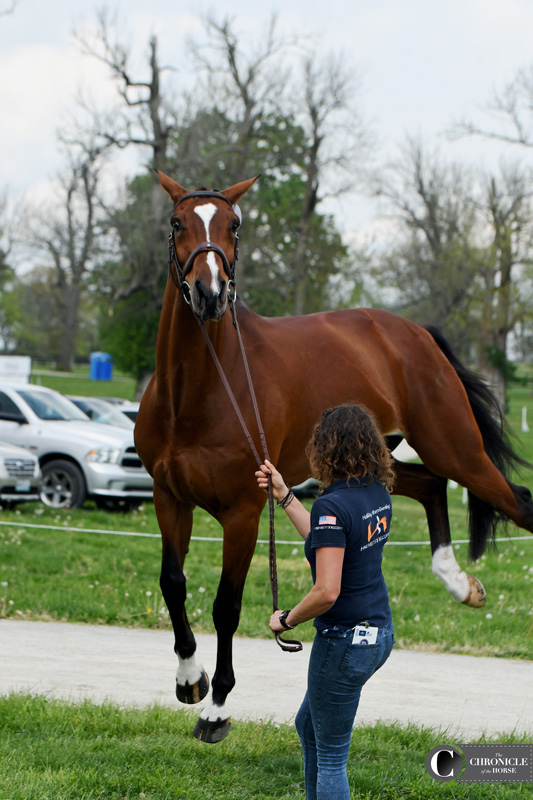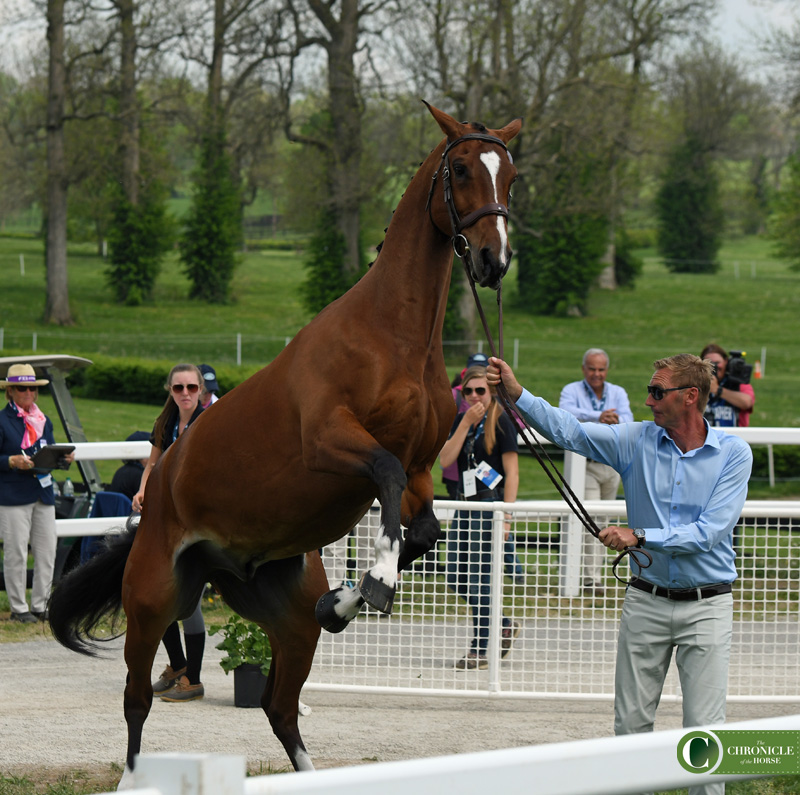 Deniro was sporting a very fun quarter mark courtesy of Halliday-Sharp's groom Debbie Carpenter.
"Isn't that cool? It's my logo; my groom made them," Halliday-Sharp said. "Hopefully he wins best turned out; I mean, he looks great, and he gave quite the show!"
Horse-and-rider pairs will compete in dressage Thursday and Friday before heading out on Derek di Grazia's cross-country course Saturday, a particularly twisting track across the Kentucky Horse Park.
"I walked the course, and it looks doable, and that's the first thing right?" Bennett-Awad said. "But the waters are no joke; the last water the drop in is massive. If you can't turn you might as well go home, because everything is on a turn."
Ride Times I Live Scores I COTH Coverage I Website I Schedule I What You Need To Know
We're on site at the Kentucky Horse Park to bring you all the info and photos you need to know from the biggest event of the year. Check back all weekend at coth.com and be sure to pick up the May 20 print edition of the Chronicle for much more.