March 27 – April 17, 2023
(Subscribers can read the full magazine online.)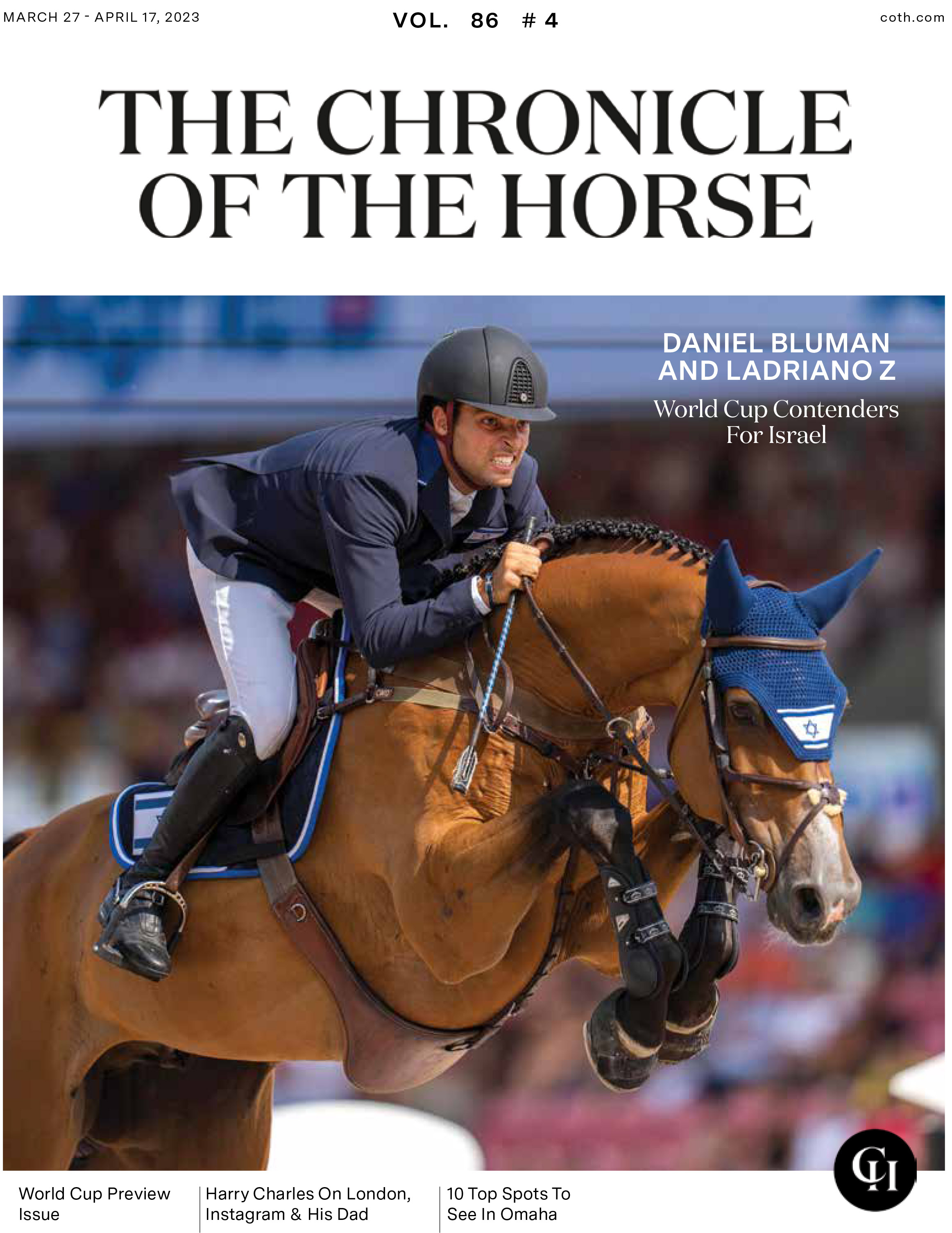 WORLD CUP PREVIEW ISSUE
Daniel Bluman Believes In His Dream
As one of the top show jumpers in the world, headed to his first FEI World Cup Final, he's never lost sight of his roots.
Free Rein With: Harry Charles
Harry Charles may only be 23 years old, but he's already amassed an impressive resume for any show jumper. He'll be attending the Longines FEI Jumping World Cup Final in Omaha with two horses: Balou Du Reventon and Casquo Blue.
Horse Of A Lifetime: I Love You
Norman Dello Joio gave the stallion space to learn when no one else did, and in return he won it all.
5 Questions With: Anna Buffini
Armed with inspiration from the movie "Top Gun: Maverick" and the knowledge that the World Cup Final would take place on U.S. soil, Buffini thought it was the perfect time to design a new freestyle.
Between Rounds With Anne Gribbons: Previewing The World Cup Final Field
The stage is set for an exciting show in Omaha.
Get Ready For Omaha
Check out some of the gems in Nebraska's biggest city, which will host its second FEI World Cup Finals this April.
A Conversation With Course Designer Bernardo Costa Cabral
Course designing wasn't on Bernardo Costa Cabral's radar, but a chance encounter when he was a teenager forever altered his trajectory. We talked to him about designing courses for the World Cup Final.
HORSE SHOWS
Ward Keeps His Rolex Grand Slam Hopes Alive In The Netherlands
In addition to winning 330,000 euros in prize money from the class, Ward also received a 250,000 euros bonus for winning two Rolex Grand Slam events in a row. The next leg of the Rolex Grand Slam, the CHIO Aachen (Germany), is at the end of June.
DRESSAGE
Between Rounds With Jeremy Steinberg: Stick With A System
Believe in a method of training that's produced the results you want to see time and time again, says our columnist.
HORSE CARE
EPM Explained
This often-debilitating disease remains mysterious in many ways, but researchers have hope for the future.
Spring 2023 Untacked
(Subscribers can read the full magazine online.)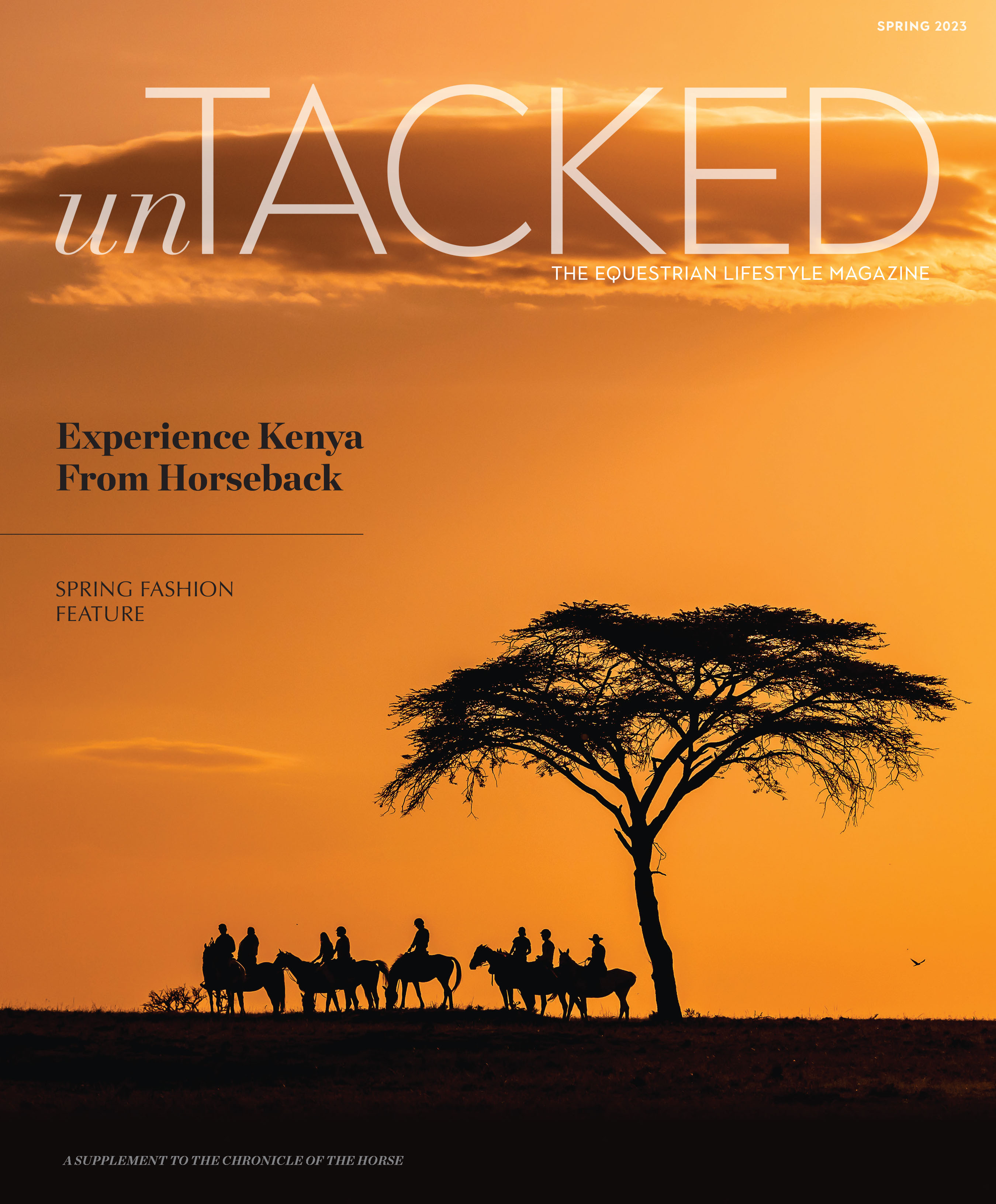 INSIDE:
On The Cover: On Horseback In Kenya
The writer enjoys two once-in-a-lifetime experiences in Africa over the course of one trip.
The Story Of A Colt Named Kurt
The 3-year-old Przewalski's horse is a clone carrying precious genetic material from the past, helping preserve an entire species' future.
On Equal Footing?
In honor of Women's History Month, we look back at the legacy of women in equestrian sports—and in the pages of The Chronicle of the Horse—from racetracks to Olympic stadiums.
The Clothes Horse: Spring Fashion Feature
This season, comfortable and weather-beating options are in; stiff fabrics and stuffy silhouettes are out.
At Home With: Tiffany Foster
While most of her time is devoted to show jumping, Foster's design skills have helped her create a facility that looks good and functions even better.
5 Questions With: Conor Swail
This winter season Swail has been going back and forth between the Winter Equestrian Festival (Florida) and Desert International Horse Park (California), seemingly immune to jetlag as he racks up victories on both coasts.
Plus: Editor's Letter, Around The Arena, Book Reviews and Parting Ways! There's even more inside the Spring Issue of Untacked, at the intersection of equestrian life and style.