August 19 & 26
(Subscribers can read the full magazine online.)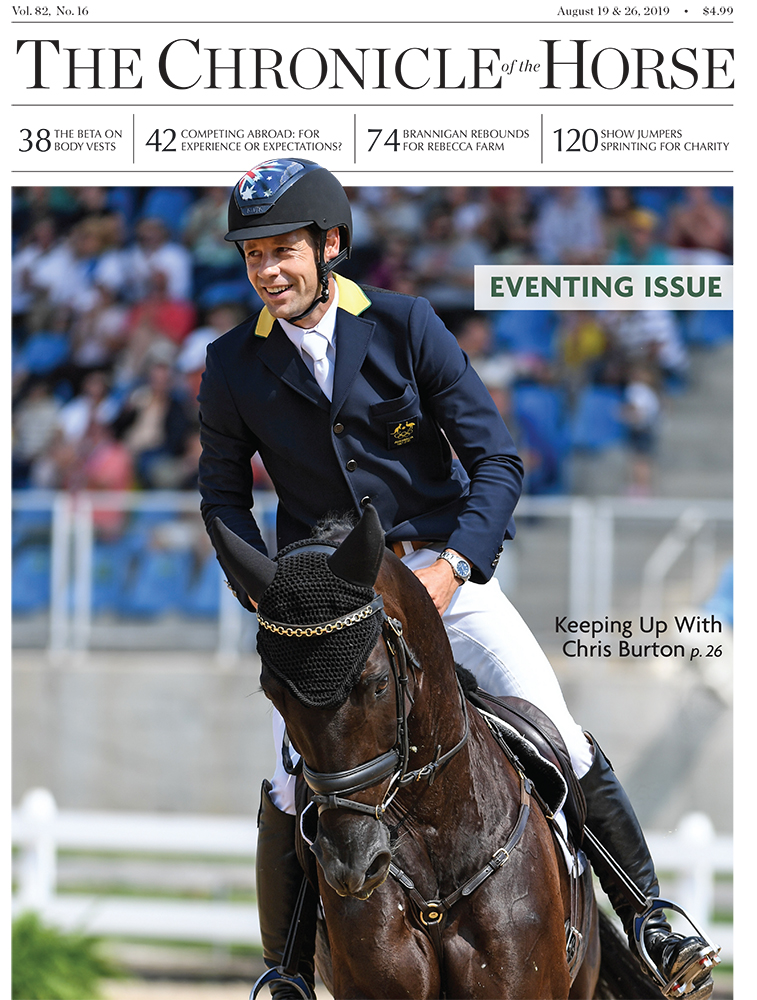 EVENTING ISSUE
 * Chris Burton: Fast, Focused And Fully Committed To Eventing
The Australian team stalwart and five-star winner is quietly taking his place among the best on the world stage.
* Vested Interest
Equestrian safety vests have been around for 35 years, but according to Robert Leeder, president of Phoenix Performance Products, who owns safety vest pioneering company Tipperary, there's still plenty of room for improvement.
* Junior Year Abroad
Whether a rider relies on a grant or fundraises, competing and training abroad is an amazing opportunity to test yourself against the best in the world and gain more knowledge. But what are the downsides? How do you know if you should wait until you're competitive at home first or dive in the deep end, knowing you might not stack up competitively but hoping to learn?
* Kim Liddell Is Charging Full Speed Into Her Golden Years
This 65-year-old amateur event rider believes you're never too old to shoot for the moon (or Kentucky).
* Divine Design
From ground lines to gimmicks, a look at how, why and what cross-country course designers can – or should – accomplish.
EVENTING
* Brannigan Shows Her Resilience In Rebecca Farm CCI4*-L
After a forced year on the sidelines, she returned with a more relaxed attitude for a big win.
YOUNG ENTRY
* Babbitt Finally Gets Her Shot At NAYC
Charlotte Babbitt has been waiting most of her junior career for the right horse to take to the Adequan North American Youth Championships, and this year she finally had one in 2 A.M.
* Thiher Pushes Through Every Obstacle To Help Region 4 Take NAYC Gold
In May of 2017, Hannah Thiher was in a hospital bed in the emergency room. She had a severe concussion and couldn't remember anything about the horse accident that put her there. But she knew she still wanted to ride.
* A Great Week For The Gochman Family At NAYC
In a sea of well-wishers standing on the perimeter of the Old Salem Farm derby field to congratulate Sophie Gochman on her young rider individual gold medal at the Adequan FEI North American Youth Championships, there was one person in particular whose celebratory roar was heard loudest.
* Allen Makes The USEF Junior Hunter National Championships – West Coast An Occasion To Remember
Thanks to some close friends, Jordan Allen's last junior hunter championships were her best.
HORSE SHOWS
* Jones Finds Her Footing Again At HITS-On-The-Hudson
At the end of 2018, Jennifer Jones swapped her status with the U.S. Equestrian Federation from amateur to professional. It wasn't a change made due to some burning desire to make it big; it was borne out of necessity.
July/August 2019 Untacked
(Subscribers can read the full magazine online.)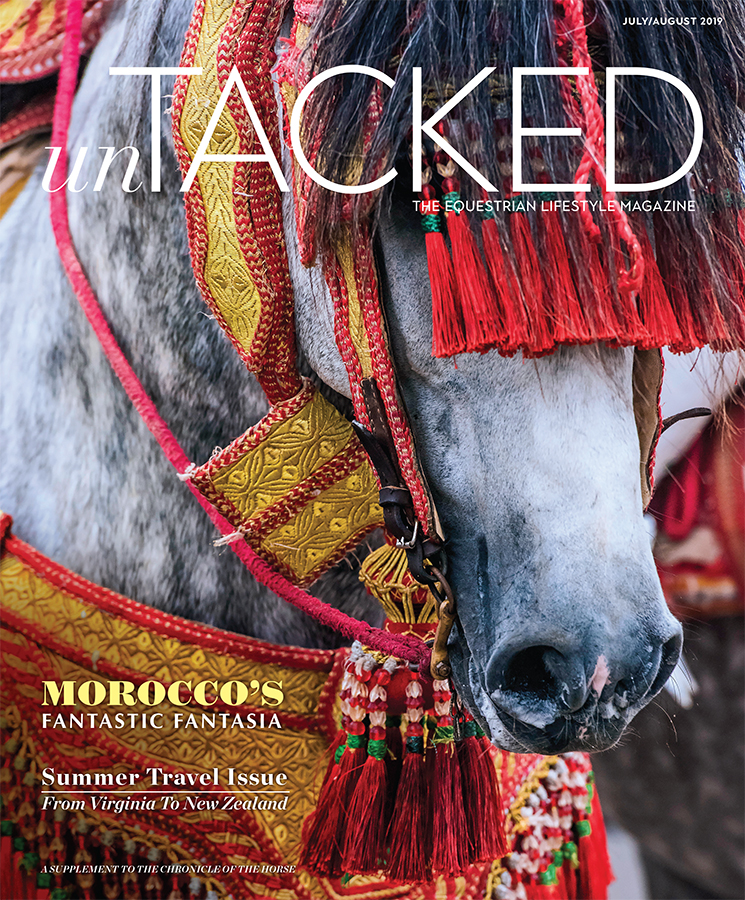 INSIDE:
Tbourida Today
The battle performance, also known as the Fantasia, preserves a national tradition and celebrates the horse while delighting spectators in Morocco.
Rough Magic
In this excerpt from her new memoir, Lara Prior-Palmer recounts part of the seven-day Mongol Derby journey that transformed her from rookie to champion at age 19.
The Marsh Tacky: South Carolina's State Horse Stages A Comeback
Centuries after helping the Continental Army win the American Revolution and decades after facing extinction, the breed's numbers are on the upswing on Daufuskie Island.
This Summer's Must-Haves For Horse-Crazy Children
From toddlers to tweens, we've got something to outfit, entertain or inspire the young equestrians in your life.
The Best Of Northern Virginia 
The Hunt Country Stable Tour showcases some of the area's must-see farms.
City Guide: Santa Fe
This New Mexico city is a perfect playground for foodies, equestrians and outdoor enthusiasts.
Plus: Editor's Letter, Around The Arena, Editor's Picks, Life Between The Ears, The Warm-Up, Charity Spotlight, Five Questions With, Feed Room and Parting Ways! There's even more inside the July/August issue of Untacked, at the intersection of equestrian life and style.