February 10 & 17
(Subscribers can read the full magazine online.)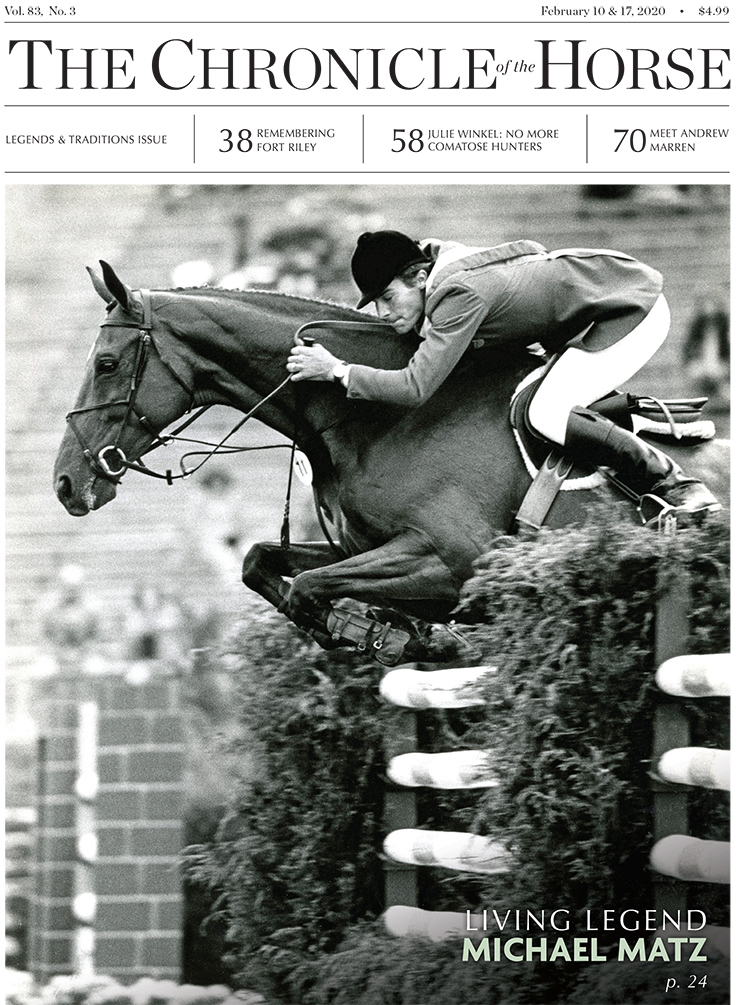 LEGENDS & TRADITIONS ISSUE
* Where Do Equestrian Traditions Belong In The 21st Century?
From the puissance, gambler's choice, multibreed/discipline shows, family classes and point-to-points, today's horse sport reflects many elements of its military and agricultural origins, but as it continues to evolve, will these time-honored events survive?
* Living Legend: Michael Matz
Whether winning an Olympic medal or the Kentucky Derby, this famed horseman has always prioritized integrity.
* The Foundation Of American Horsemanship Lies In Fort Riley
This Kansas Army base produced a school of thought that reformed the relationship between horse and rider for the next hundred years.
HORSE SHOWS
* Campbell Scores A Big Payday In Thermal
When Kaitlin Campbell first threw a leg over Palina De L'Escaut last August, things didn't exactly go as planned. The fiery mare had her own ideas about how she should be ridden, and they didn't quite mesh with Campbell's.
* Free Rein With: Hunter Holloway
She just won the HITS Ocala $100,000 Grand Prix with equitation mount turned show jumper Lucky Strike.
* Between Rounds With Julie Winkel: Hunters: Past, Present And Future
Our columnist condemns the quest for comatose hunters, for the sake of safety, education and performance.
DRESSAGE
* Lonoir Makes A Winning Return In AGDF Week 3 CDI-W
Olivia LaGoy-Weltz didn't intend on taking an 18-month hiatus, especially during the buildup to the 2020 Olympic Games in Tokyo. But when a farrier mishap left Lonoir's hooves too short, she had no option but to sit on the sidelines with her sole Fédération Equestre Internationale-level horse.
* Horseman's Forum With Erik Herbermann: Get Ahead By Stretching Forward And Downward
It will likely surprise some riders to know just what a treasure can be found in a basic dressage exercise: the forward and downward stretching of the horse. Like a magic pill, it can revitalize dull, listless gaits and bring new freedom and joy to your horse's mental outlook.
HUNTING
* Have Hounds, Will Travel
Can the same huntsman guide foxhounds from both the northernmost kennels in North America and the southernmost – in the same season? The Montreal Hunt Club's Andrew Marren is giving it a try.
January/February 2020 Untacked
(Subscribers can read the full magazine online.)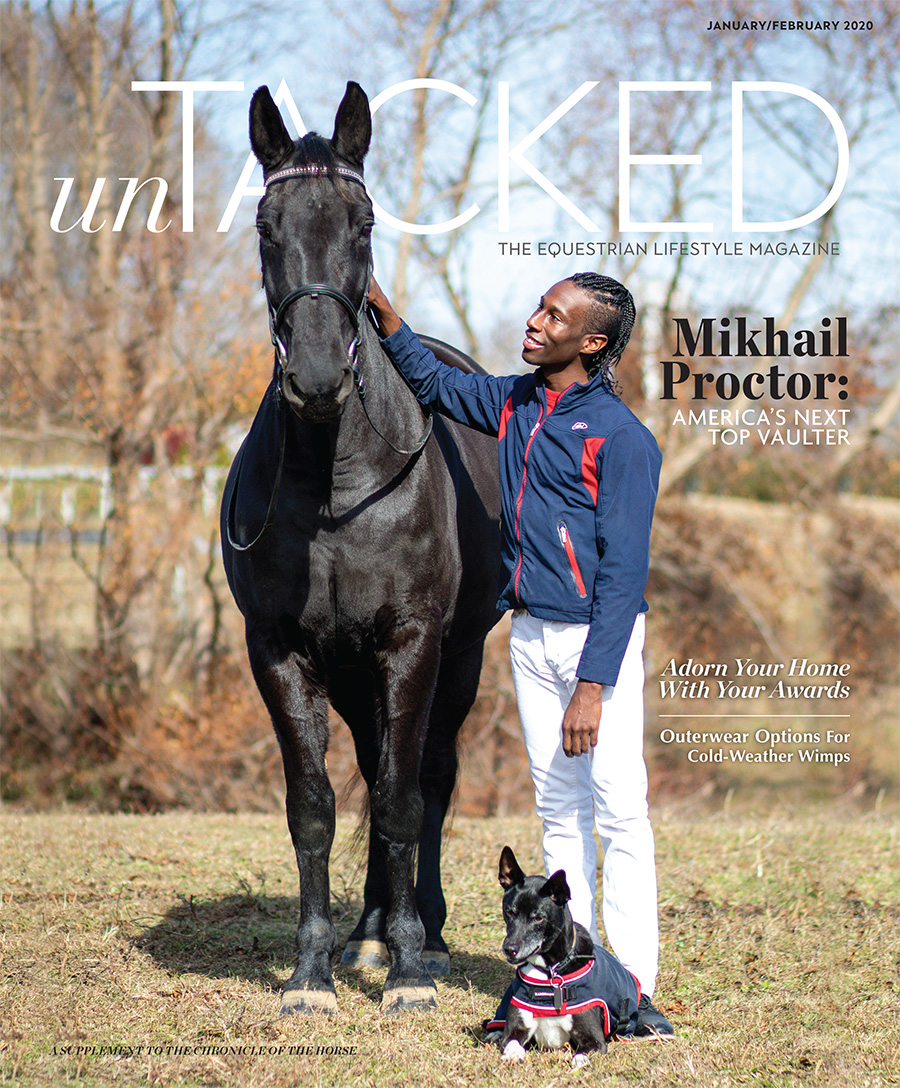 INSIDE:
Mikhail Proctor Makes A Place For All In The U.S. Vaulting Community
The 2019 AVA Male Gold Champion uses his self-trained rescue horse to give young riders opportunities he lacked.
The Clothes Horse: The Cure For Cabin Fever
Life's too short to spend an entire season inside. Layer up in the right outerwear, and let winter do its worst.
Jessica Mendoza: Finding Balance And A Business In The Arts
The professional show jumper is turning her passion for painting into a successful side hustle.
The Trials And Triumphs Of Piggy French
After living the ups and downs of the sport throughout the last decade, she delivered the most successful season in eventing history. But regardless of how many wins she earns, her family, horses and home remain her priorities.
DIY: Turn Your Whole Home Into A Trophy Room
Try these easy, clever solutions to organize, preserve and display the most memorable ribbons of your riding career.
Plus: Editor's Letter, Around The Arena, Book Reviews, Feed Room, City Guide: Rancho Murieta, Editor's Pick, Charity Spotlight, Life Between The Ears, 5 Questions With: Alex Granato, The Warm-Up and Parting Ways! There's even more inside the January/February issue of Untacked, at the intersection of equestrian life and style.