September 21 & 28 Issue
(Subscribers can read the full magazine online.)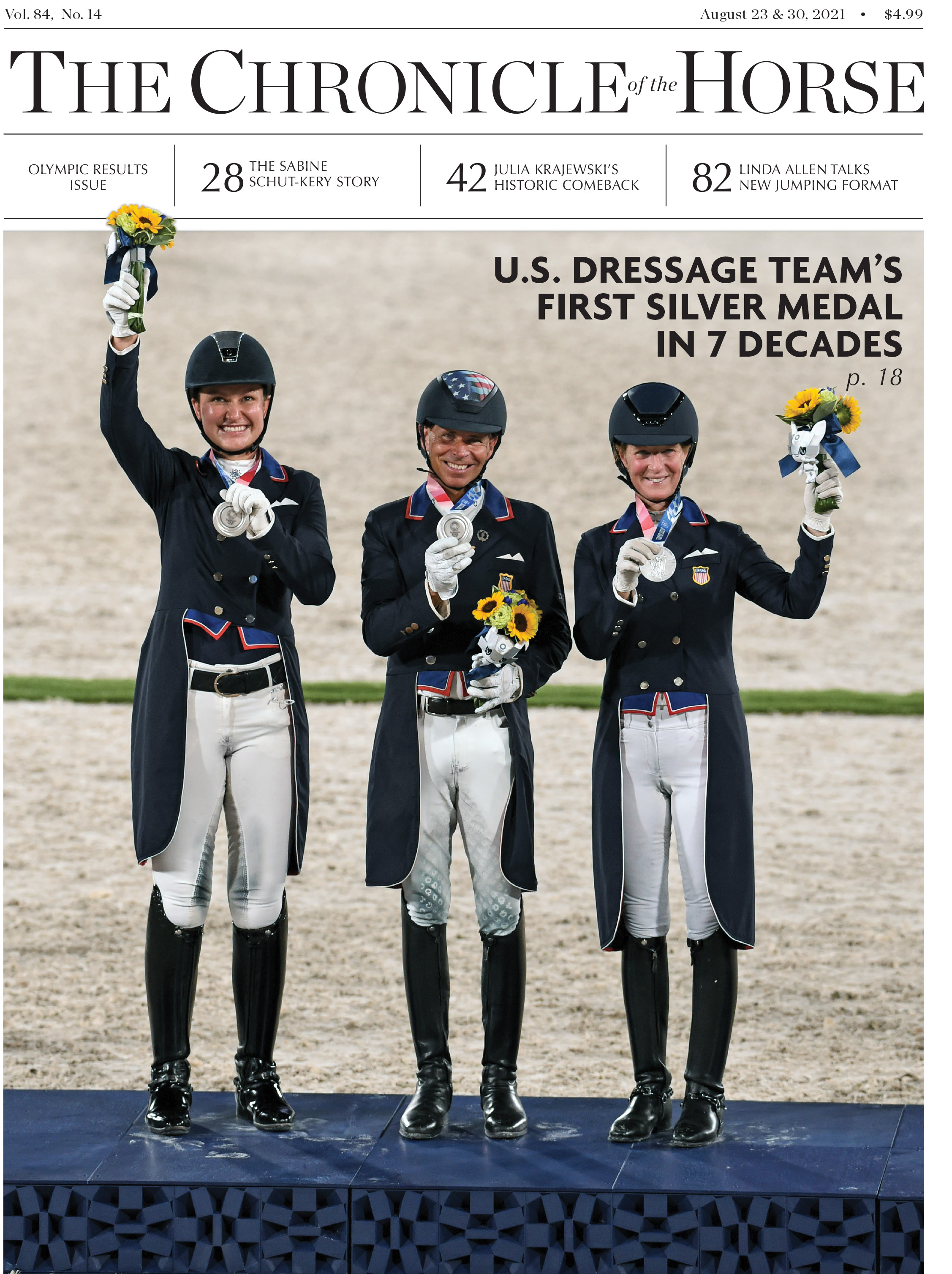 THOROUGHBRED ISSUE
* Free Rein With: Jonathan Horowitz
Get to know the president of CANTER USA and the announcer for the Retired Racehorse Project.
* Horse Of A Lifetime: War Dress
This petite chestnut mare dominated the junior hunter scenes in the 1970s.
* Aisling Carroll Lives And Breathes Thoroughbreds
After growing up in the racing world, this young professional is finding her home in eventing on the backs of retired race horses.
* Living Legend: Christilot Hanson Boylen
Thanks to a career that included six Olympic appearances – her first on a Thoroughbred – the dressage rider brought awareness of the sport to Canada, and now she's helping the next generation of riders succeed.
HORSE SHOWS
* Maher Doesn't Miss A Beat At HITS Saugerties
The British rider benefits from a little extra downtime to recover from back surgery.
YOUNG ENTRY
* Hogan's Big Dreams Lead To Adequan/USEF Junior Hunter National Championships-East Coast
In her first appearance at the finals, this working student reaps the benefits of perseverance and hard work.
DRESSAGE
* Davenport Believes If You Organize It, They Will Come
For this Mississippi amateur and technical delegate, growing local, rated competitions is the culmination of a lifelong vision.
CHASING
* Silent Saratoga
A renowned racing photographer shares the odd experience of a summer meet without crowds.
September/October 2020 Untacked
(Subscribers can read the full magazine online.)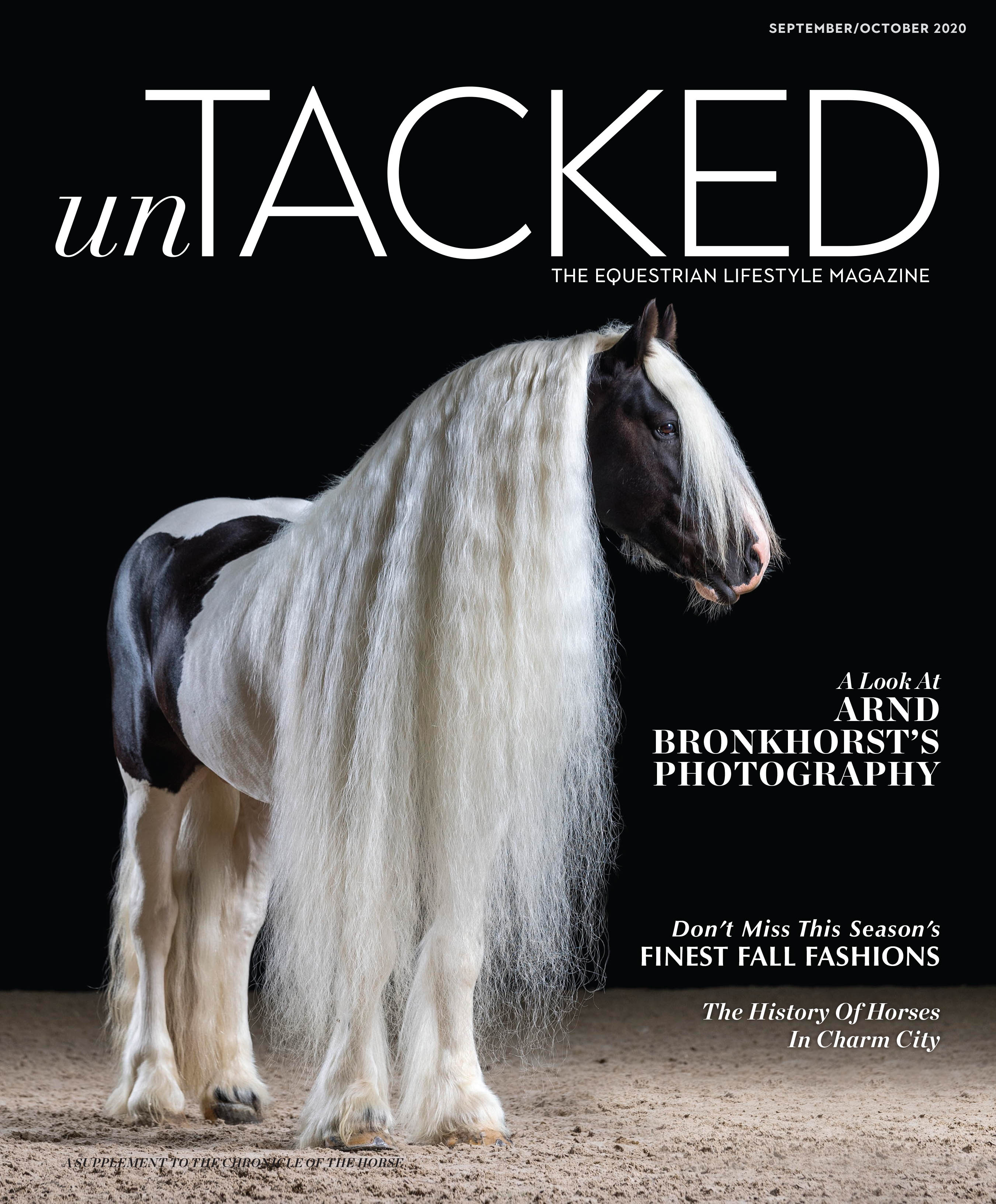 INSIDE:
Bearing Fruit
As a 150-year-old equestrian tradition struggles to hang on in Baltimore, the confluence of the racial justice and police reform movements, plus a pandemic, may help it survive.
Arnd Bronkhorst Seeks The Small Moments
This world-famous equine photographer captures some of his best moments outside of the spotlight.
Freibergers: From The Mountains To The Valleys
This versatile Swiss breed with a centuries-long history will take you far beyond the Alps
The Clothes Horse: The Finest Fall Fashions
Colder weather is coming, but your closet can stay as hot as ever with these additions from your favorite brands that'll keep you comfortable from the saddle to the street.
A Closer Look At: The Caribbean Thoroughbred Aftercare Program
This group goes above and beyond to rehabilitate and rehome off-the-track race horses in Puerto Rico.
Plus: Editor's Letter, Around The Arena, Tech Spotlight, Editor's Picks, 5 Questions With: Geoffrey Hesslink, Life Between The Ears, In The Frame and Parting Ways! There's even more inside the September/October issue of Untacked, at the intersection of equestrian life and style.