November 18 & 25
(Subscribers can read the full magazine online.)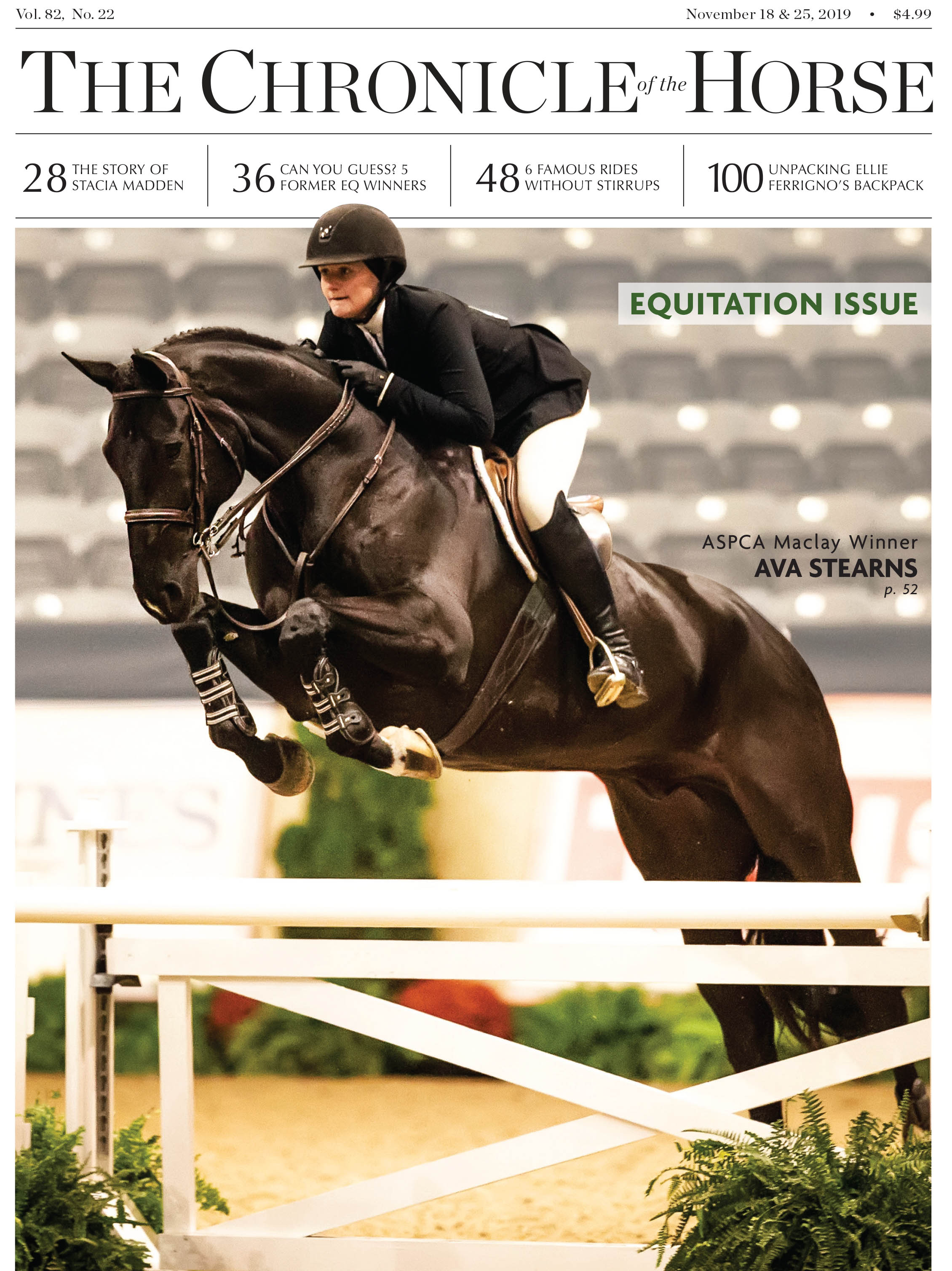 EQUITATION ISSUE
* Stacia Madden Never Planned To Be In The Spotlight
While Madden has winners in all three rings, she's best known as a producer of champions in the equitation divisions. She's coached students to win major equitation finals and titles in all the major U.S. championship shows, but that's not what gives her the most pride.
* Guess Who
These accomplished professionals all got their starts in the equitation ring, winning major finals during their junior careers. How many can you identify?
* We Who Are About To Die Salute You
Jody Lynne Werner gives us a humorous look at why, when and how No Stirrup November became a phenomenon.
* Meet Your #COTHLoseTheLeathers Challenge Riders
Learn the stories of a few of the people who've answered the Chronicle's call to ride at least 12 times without stirrups during this "No Stirrup November."
* This Is Why We Practice Riding Without Stirrups
Looking for some inspiration as you hang on through endless 20-meter circles in the cold darkness without your leathers this November? Here are a few top riders who found themselves unexpectedly missing an iron – or two – and still completed their rounds.
YOUNG ENTRY
* Stearns Earns The Spotlight At ASPCA Maclay
After a slew of second-placed finishes, she claimed her title at the National Horse Show with the support of her barn family.
* Walker Keeps Working For The Washington Win
Sam Walker got his start in the jumper ring when he was 8, learning to be bold and ride forward aboard steadfast ponies. The thrill of the jumper ring never left him, but as he got older and began talking about a future in the horse industry, his parents, Dee and Scott Walker, made a suggestion.
HORSE SHOWS
* Moggre Shows He Belongs In The Big Leagues At The National
In his first year of eligibility, he bested some of show jumping's top talent in the $225,000 Longines FEI Lexington World Cup qualifier with MTM Vivre Le Reve.
* Kraut Finally Takes The Crown At Washington
Laura Kraut has been competing at the top level of the sport for three decades, with three FEI World Equestrian Games appearances, two Olympic Games and multiple FEI World Cup Final entries on her record. She's been competing at the Washington International Horse Show for just as long, from ponies to juniors and all the way up through the international jumper division, but a win in the feature Saturday night grand prix has always eluded her.
* Washington International Horse Show Photo Gallery
* Lessons Learned Help Jayne Win Big At National Sunshine Series I
The grand prix rider enjoys all aspects of show jumping, from producing horses to competing on the sport's biggest stages.
EVENTING
* Mittleider Is Back On Top At Galway Downs
Almost 10 years after her last CCI4*-L competition, Sara Mittleider secured her first international win with La Paz.
November/December 2019 Untacked
(Subscribers can read the full magazine online.)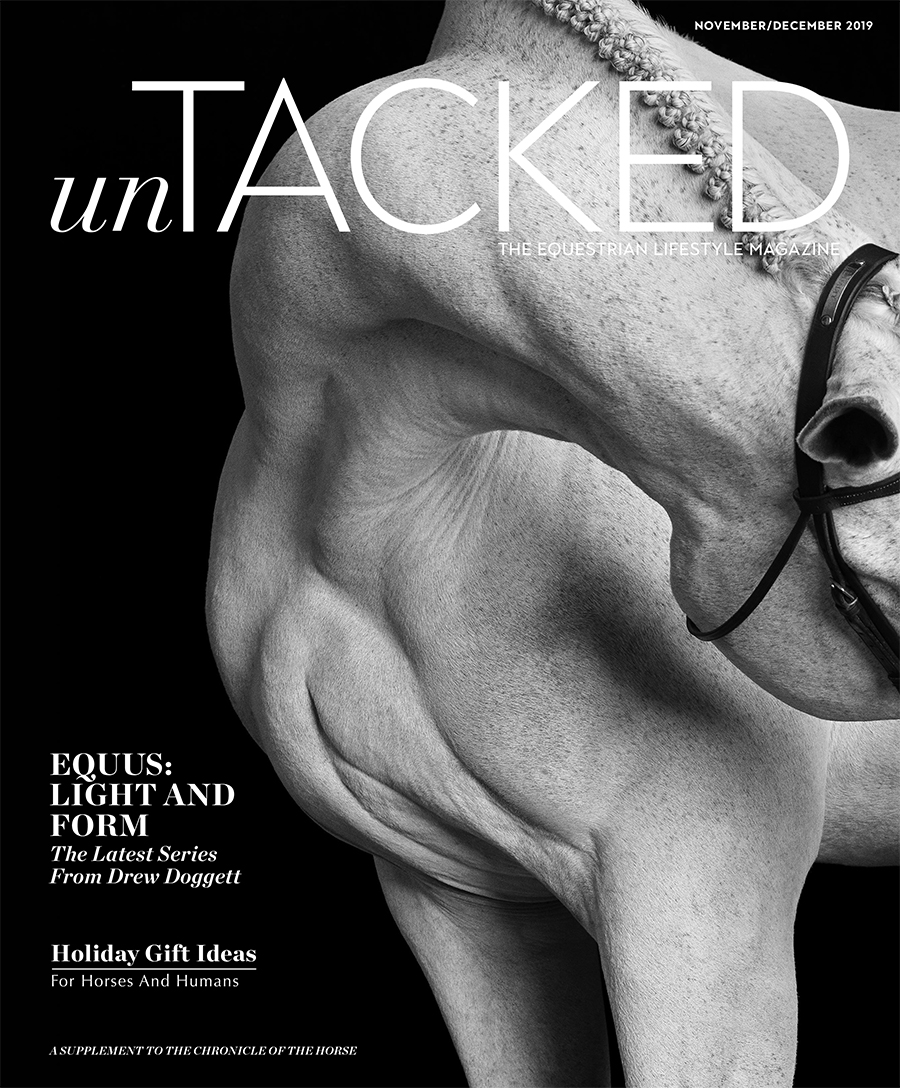 INSIDE:
Equus: Light & Form
Photographer Drew Doggett's latest fine art print series features elite horses seen through a fashion-inspired lens.
Robert Long's Wild Ride
After a year of intense preparation, the 70-year-old lifelong horseman makes history as the oldest finisher, and winner, of the grueling Mongol Derby.
The Clothes Horse: A Happy, Horsey Holiday
Got your gift list ready? Whether you're shopping for a horse or a human, these nifty presents are sure to please.
Banff: Mountain-Riding Bliss
Eleven friends battle rain and sleet to find sunshine, some of the most beautiful scenery Alberta can offer, and a 'no worries' mindset.
Middleburg: Splendid In Every Season
Situated just 40 miles west of the nation's capital, Middleburg, Virginia, is an equestrian's paradise.
Plus: Editor's Letter, Around The Arena, Editor's Pick, Life Between The Ears, Five Questions With: Nick Haness, The Warm-Up, Charity Spotlight and Parting Ways! There's even more inside the November/December issue of Untacked, at the intersection of equestrian life and style.