November 22 & 29
(Subscribers can read the full magazine online.)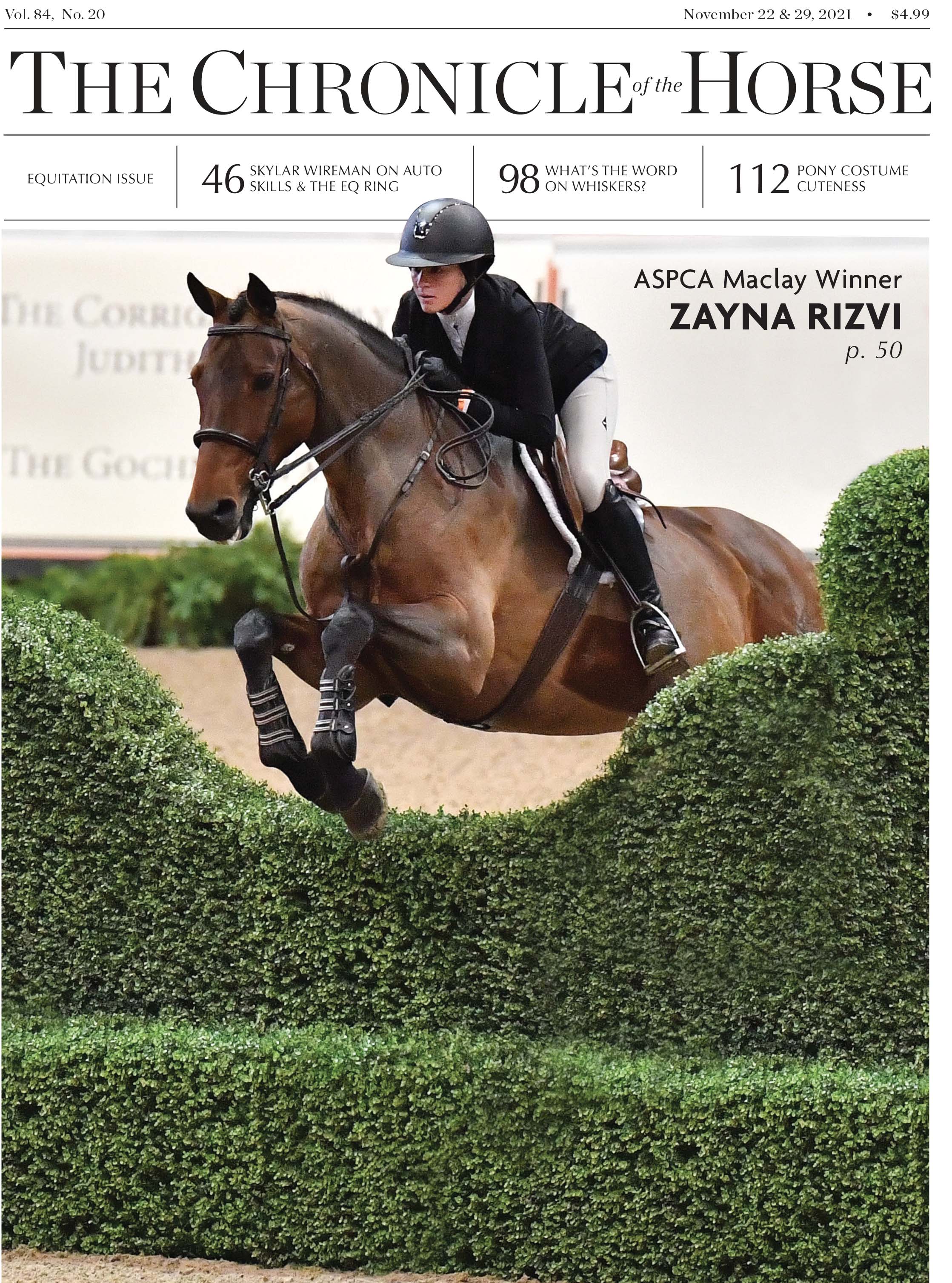 In this issue:
EQUITATION ISSUE
Kyla Makhloghi Makes Her Own Path
Can a trainer who's not with one of the big-name barns bring a student to a big eq win? This professional proves it's possible.
Ask 3: How Has Equitation Changed?
We asked several top horsemen who excelled at the discipline in their younger years and are still involved today to weigh in on its evolution over the last few decades.
Patrick Made Riders Believe In Themselves
Though equitation horses aren't the stars of the division, a good one is often the key to success, and Patrick was one of the best.
Free Rein With: Skylar Wireman
At any given show you'll find Skylar Wireman in an international hunter derby one day, then giving a young pony its first spin around the show ring the next, before tacking up a junior jumper, and then finishing her weekend in the ASPCA Maclay.
HORSE SHOWS
Forward Riding Earns Rizvi The Win In ASPCA Maclay Finals
A strong partnership with Finnick helps her earn her first major equitation title.
Gazelle Springs To The Top At The National
She and Kent Farrington scored a big win at the National Horse Show.
National Horse Show Photo Gallery
Putting The Horse First Pays Off For Foster At The Washington International
Though he was out most of the year with an injury, Figor returnes in winning form at the $215,000 Longines FEI Washington World Cup CSI4*-W.
Gibbs Completes His Equitation Career On A High Note
The 18-year-old reflects on the horse that brought him to the national stage.
Washington International Horse Show Photo Gallery
EVENTING
MacLeod Earns A Surprise Win At Galway Downs CCI4*-L
Despite a demanding career and recent cross-country move, she's still making her eventing goals happen.
Free Rein With: Ariel Grald
Ariel Grald's been having a year to remember. In June she rode Annie Eldridge's Leamore Master Plan to third at the Luhmühlen CCI5*-L (Germany), and then she helped the U.S. team earn a second-placed finish at the Aachen CCIO4*-S (Germany) Nations Cup in September. She brought four horses to the Virginia International and Horse Trials, held Oct. 28-31 in Lexington, and came home with three wins.
DRESSAGE
Adequan/USEF Para-Dressage National Championships Photo Gallery
HORSE CARE
Getting A Feel For Equine Sensory Hairs
A new Fédération Equestre Internationale rule bans the trimming of whiskers on horses. Here's a look at how those hairs function and why they're important.
HUNTING
Mary Reed Loves To Share The Ashland Bassets
A spirit of inclusion and education typifies Reed's approach to her role as joint-master and huntsman of the Ashland Bassets in Warrenton, Virginia. She's constantly sharing her knowledge and enthusiasm for foot hunting with others, especially the younger generations.
Winter 2021 Untacked
(Subscribers can read the full magazine online.)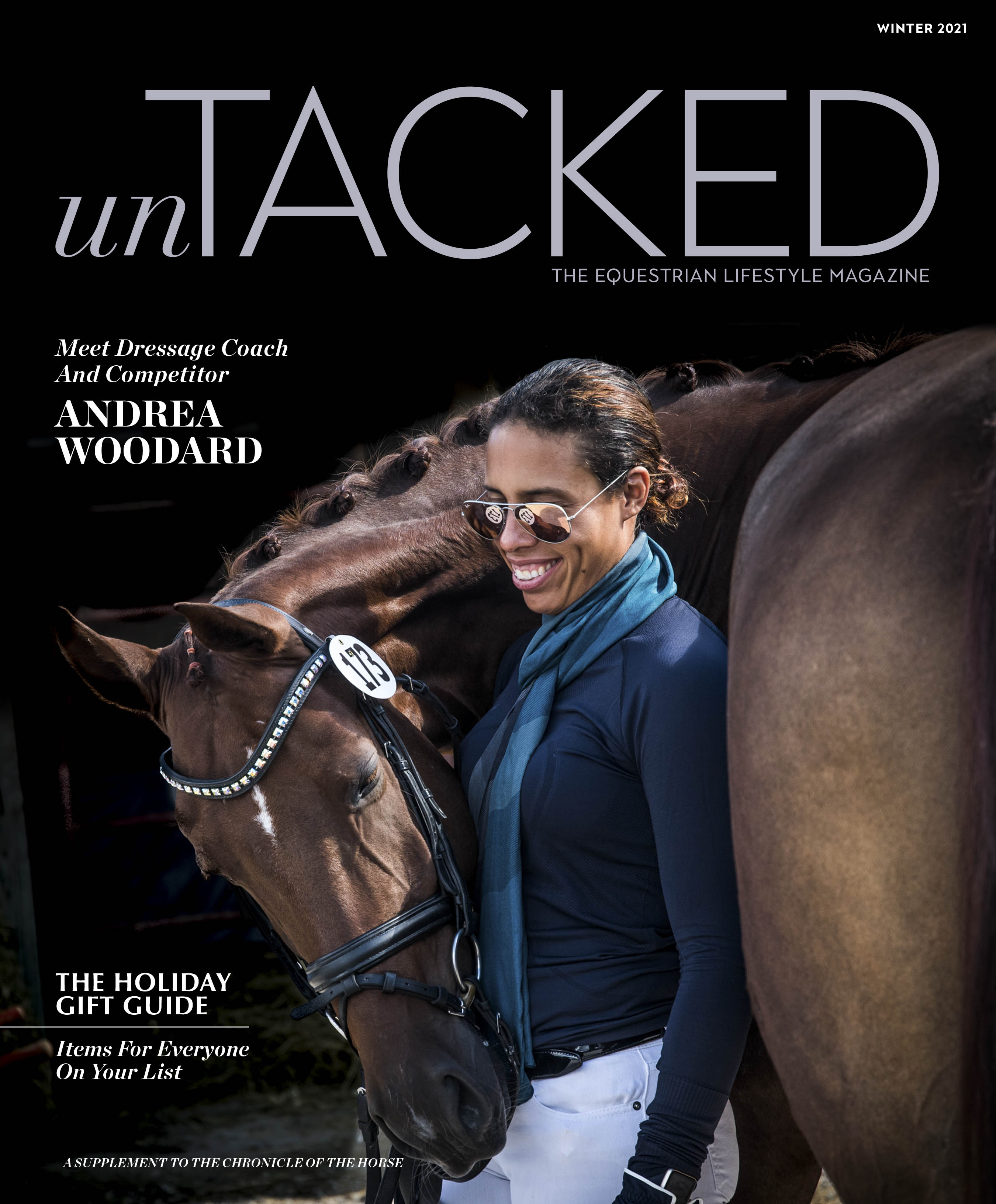 INSIDE:
Andrea Woodard Goes For Every Point And Possibility
She brings her extensive Danish dressage education and backpack of tools to her own riding and para-equestrian coaching.
The Clothes Horse: Something For Everyone On Your List
Whether your gift recipients have been naughty or nice, make sure their holiday season is bright by picking a few items they're sure to love.
Hoodoos And Foxhounds
A trip to Bryce Canyon, Utah, becomes a kind of re-affirmation for the author.
A Rose By Any Other Name
Is it time for the Gypsy Vanner horse to find a new moniker?
City Guide: Chester County, Pennsylvania
The county, which contains the small towns of West Chester, Unionville, Coatesville, Malvern, Kennett Square and Downingtown, among others, maintains its rural feel despite being a short drive from Philadelphia.
Plus: Editor's Letter, Around The Arena, In The Frame, History, Charity Spotlight and Parting Ways! There's even more inside the Winter Issue of Untacked, at the intersection of equestrian life and style.