April 19 & 26
(Subscribers can read the full magazine online.)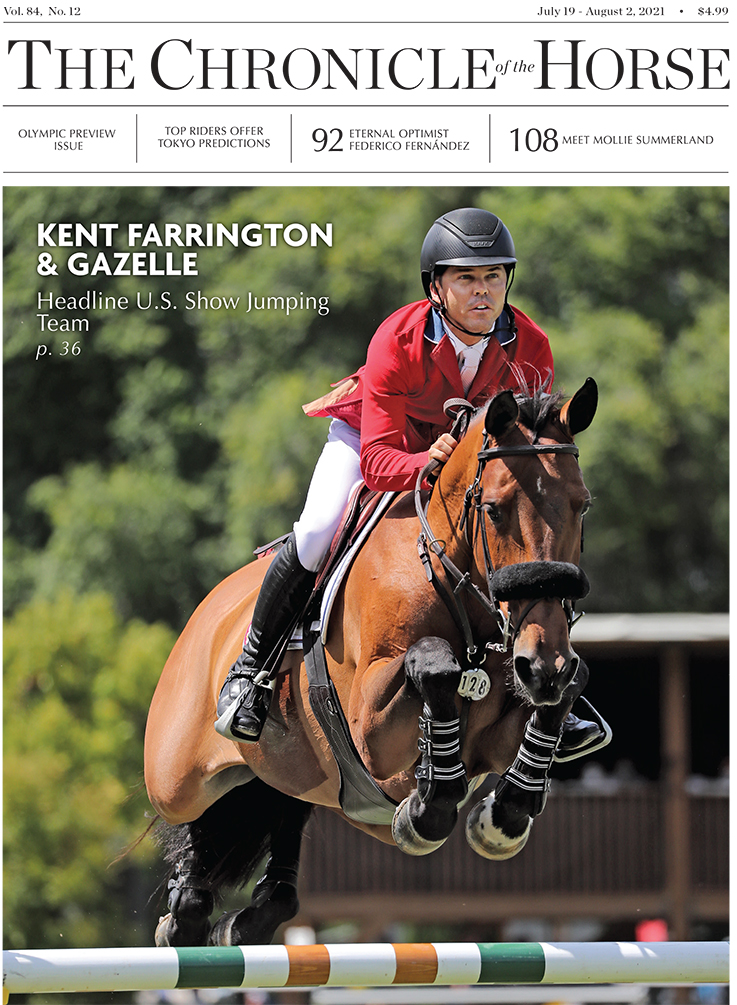 KENTUCKY PREVIEW ISSUE
Inspiration Comes In Many Forms At Kentucky
Our new handicapper Kyle Carter discusses the field and makes his top-12 picks.
It's Going To Be A Kentucky Year Unlike Any Other
James C. Wofford has evaluated the field for the Land Rover Kentucky Three-Day Event every year since it first became a CCI5*-L in 1998.
Five-Star First-Timers: Ema Klugman And Her Unlikely Partner Will Be Looking For The Finish In Kentucky
"Bendigo is a bit of a strange story. I bought the horse when I was 14 years old and he was 10. He was kind of an older horse to buy to be an eventing prospect; he hadn't done an event before that."
Five-Star First-Timers: Valerie Vizcarrondo Pride Feels Ready And Realistic
"I was originally thinking that, being a Maryland girl, I was going to do the five-star at Fair Hill, but there's something very special about Kentucky. You've been dreaming since you're a little girl that you're going to run around Kentucky."
Five-Star First-Timers: Zoe Crawford And K.E.C. Zara Take Each Step Together
"I purchased Zara when she was a coming 6-year-old, and she only had 60 days under saddle. I was 17 at the time, and we began eventing together; my first event was her first event, and we came up the levels together."
Free Rein With: Chris Talley
As a Land Rover Kentucky rookie in 2019, Chris Talley completed his first five-star with off-track Thoroughbred Unmarked Bills, a horse he's brought along from the start of his eventing career.
Between Rounds with Dorothy Crowell: Coming Full Circle For 'The People's Kentucky'
Our columnist has played almost every possible role in the nation's biggest event: fan, volunteer, rider, champion, commentator, spectator and savior.
Horse Of A Lifetime: Northern Spy
Heidi White's first advanced horse carried her over some of the biggest tracks in the world.
EVENTING
Elms Braves Broken Bones For Win At The Fork
After multiple serious injuries, this entrepreneur and eventer is finding success in business and in the saddle.
A Fresh Start Helps Little Find Her Rhythm At Stable View
She's endured a personal tragedy and a difficult year to make it back to the top with RF Scandalous.
HORSE SHOWS
Humility Helps Crolick Win $50,000 USHJA International Hunter Derby In Wellington
Rising star Chappy helps Greg Crolick celebrate the journey.
Thieme's Gamble Pays Off In The Great American $1 Million Grand Prix
As the months of 2020 rolled by, a new reality set in for André Thieme. COVID-19 had canceled European horse shows one after another, and without shows, horse sales stalled and prize money disappeared.
Brennan Goes From Trauma To Gulf Coast Triumph
After fighting to recover from two accidents she's back to win the final grand prix of the Gulf Coast Winter Circuit.
DRESSAGE
Lyle Puts Rumors To Rest With Wins At AGDF 12
After a year out of the show ring, Salvino proves he's a strong Olympic contender.
Birchall Is Playing His Own Tune On His Way To The Top
In another life, Stephen Birchall may have made his name in concert halls rather than dressage arenas.
Spring 2021 Untacked
(Subscribers can read the full magazine online.)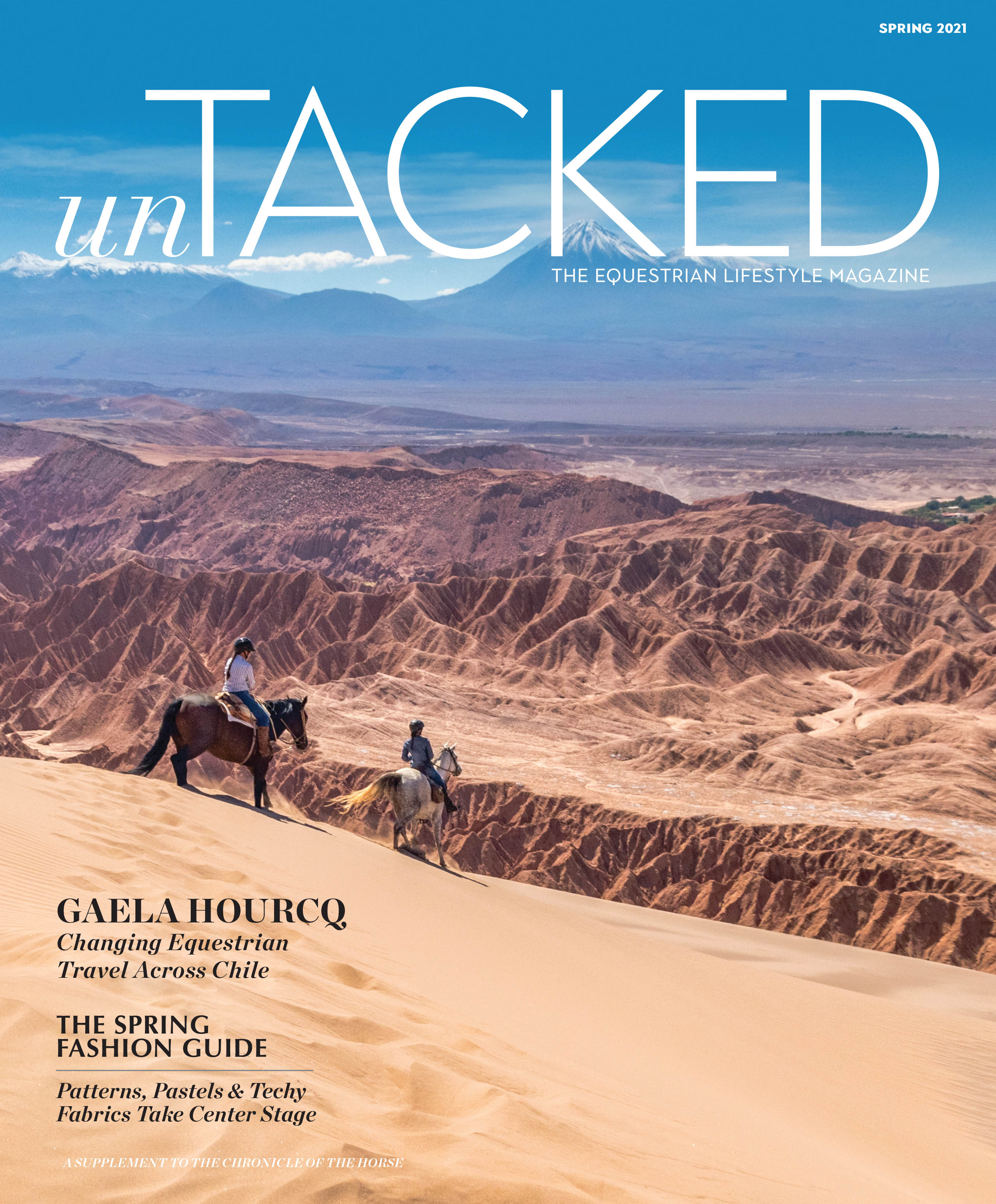 INSIDE:
The French Trainer Revolutionizing Equestrian Travel In Chile
Serious riders with a taste for luxury travel can craft the perfect equestrian vacation in two of Chile's most dramatic landscapes, and you can thank Gaela Hourcq for that.
The Clothes Horse: Spring Fashions For Rain Or Shine
Fun patterns, new hues and techy fabrics take center stage this season.
Behind 'Crossing The Line' With Kareem Rosser
Born and raised in West Philadelphia, Rosser began his polo career at Lezlie Hiner's Work to Ride stables, and he followed the sport all the way to Colorado State University. Now 28, Rosser works as a financial analyst in Philadelphia, and he serves as executive director of Work to Ride. His memoir debuted on Feb. 9.
Excerpt: 'Crossing The Line'
In this excerpt from his new memoir, Kareem Rosser describes his introduction to polo at Philadelphia's Work to Ride program under the tutelage of Lezlie Hiner.
The Promising Possibilities Of Brain Training
After proven results with mainstream professional athletes, Neuropeak, which promises to train your body physiologically and mentally, is being marketed to equestrians. Can it help riders in need of a performance boost?
A Closer Look At: Saddle Up And Read
This nonprofit organization is leading kids toward literacy.
Plus: Editor's Letter, Around The Arena, Book Reviews, City Guide: Tucson, Editors' Picks, Charity Spotlight, 5 Questions With: Samantha Schaefer and Parting Ways! There's even more inside the Spring issue of Untacked, at the intersection of equestrian life and style.