August 2022
(Subscribers can read the full magazine online.)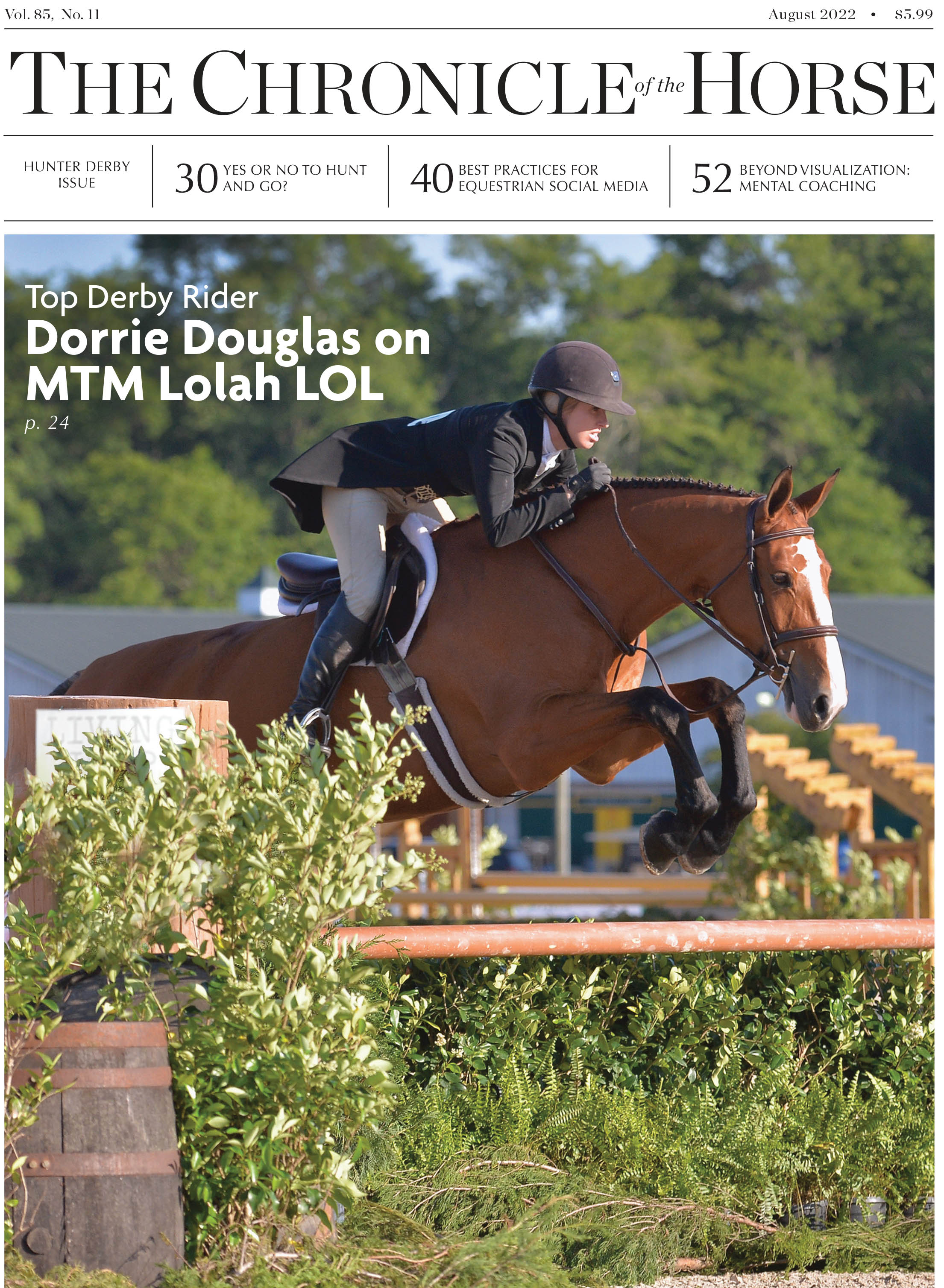 HUNTER DERBY ISSUE
Dorrie Douglas Brings A Broad Perspective
She's looking to impress in her fourth trip to the Platinum Performance USHJA International Hunter Derby Championship.
Hunting For The Perfect Derby Format
The hunt-and-go derby was introduced in 2018 as an alternative to the traditional two rounds, but opinions are split on whether it's good for the sport.
Free Rein With: Alan Lohman
You'd be hard-pressed to find a role in the hunter industry that Alan Lohman hasn't held.
HORSE SHOWS
The Equestrian's Guide To Social Media
Experts share tips on how to determine what you want to project in a way that's on-brand for you.
When Affirmations Aren't Enough
A psychologist looks at the limits and growing pains of the equestrian mental coaching industry.
Barkema Turns A Temporary Job Into A Permanent Position And A Derby Win
The October Hill Farm assistant trainer guides Vex Freedom to the top of $25,000 USHJA International Hunter Derby at Lamplight Summertime III.
YOUNG ENTRY
Adequan/USEF Junior Hunter National Championships—West Photo Gallery
EVENTING
Nemesis Exceeds Expectations At Rebecca Farm
The horse James Alliston picked out as a yearling ticks all the boxes for his biggest win yet.
DRESSAGE
Jessica Idol Doesn't Believe In Luck
She tackles challenges, survives tragedy, and embraces opportunities to triumph with her "golden boy," Fantom.
Summer 2022 Untacked
(Subscribers can read the full magazine online.)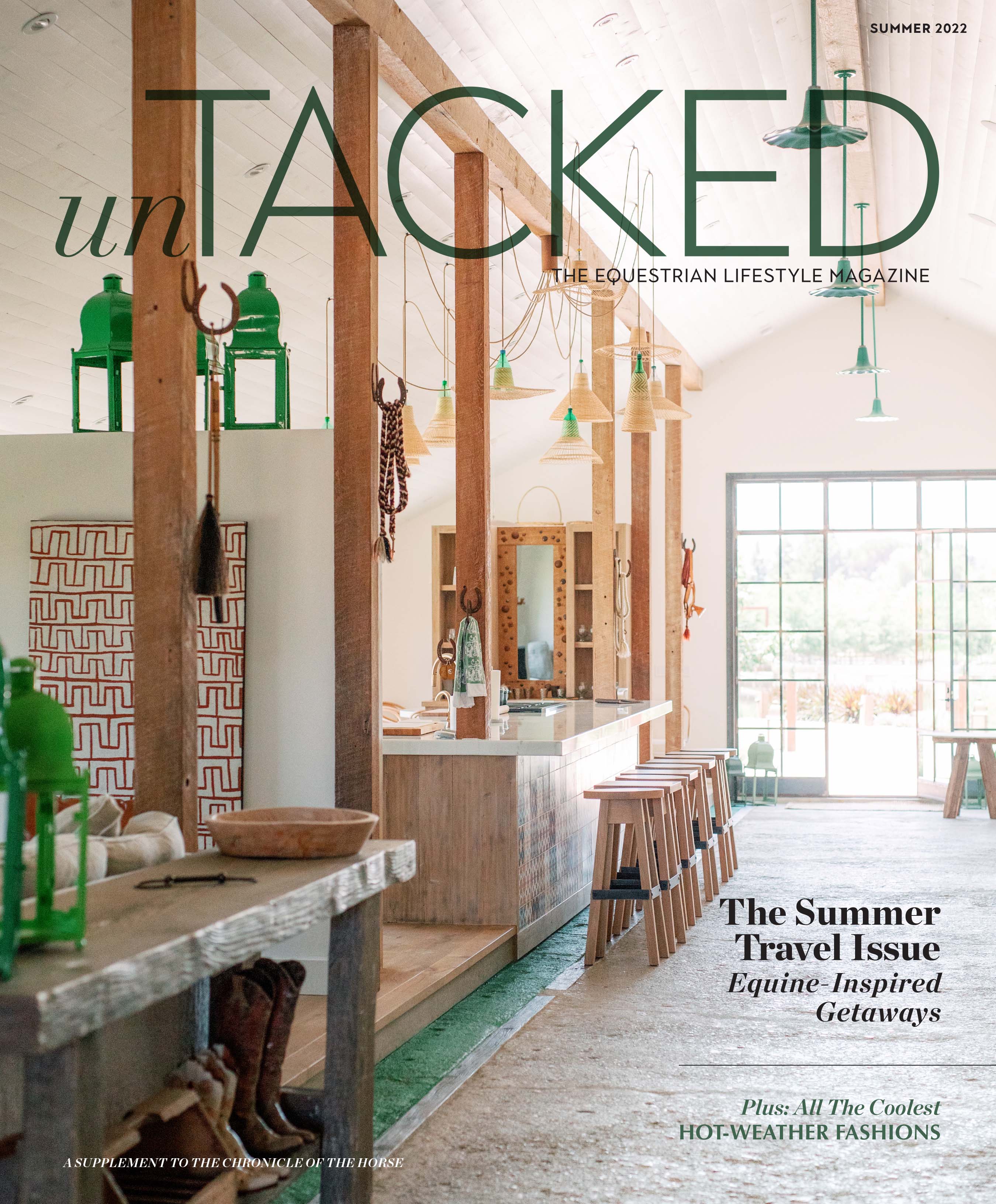 INSIDE:
7 Stylish Stays For Your Next Getaway
From historic farm cottages to luxury stable rehabs, these Airbnb accommodations across the United States are worth planning your next competition or vacation around.
Julie Byerly: Ranger On Horseback
As part of the National Parks Service, she spends her days overseeing Point Reyes National Seashore in California.
Behind "Horse" With Geraldine Brooks
The Pulitzer Prize-winning writer discusses why she turned her focus to equines—including one in particular—for her latest novel, which debuts June 14.
Rihards Snikus Stays Smiling
The 2021 Tokyo Paralympic Games two-time silver medalist for Latvia—and part-time DJ—is looking toward a golden future.
The Clothes Horse: Stay Cool When Temperatures Rise
Whether your destination is the barn down the street or a holiday halfway across the world, it's all about ventilation, breathability and sun protection when riding in the summer.
Plus: Editor's Letter, 5 Questions With, Around The Arena, In The Frame, Charity Spotlight, Book Reviews and Parting Ways! There's even more inside the Summer Issue of Untacked, at the intersection of equestrian life and style.