February 22 & March 1
(Subscribers can read the full magazine online.)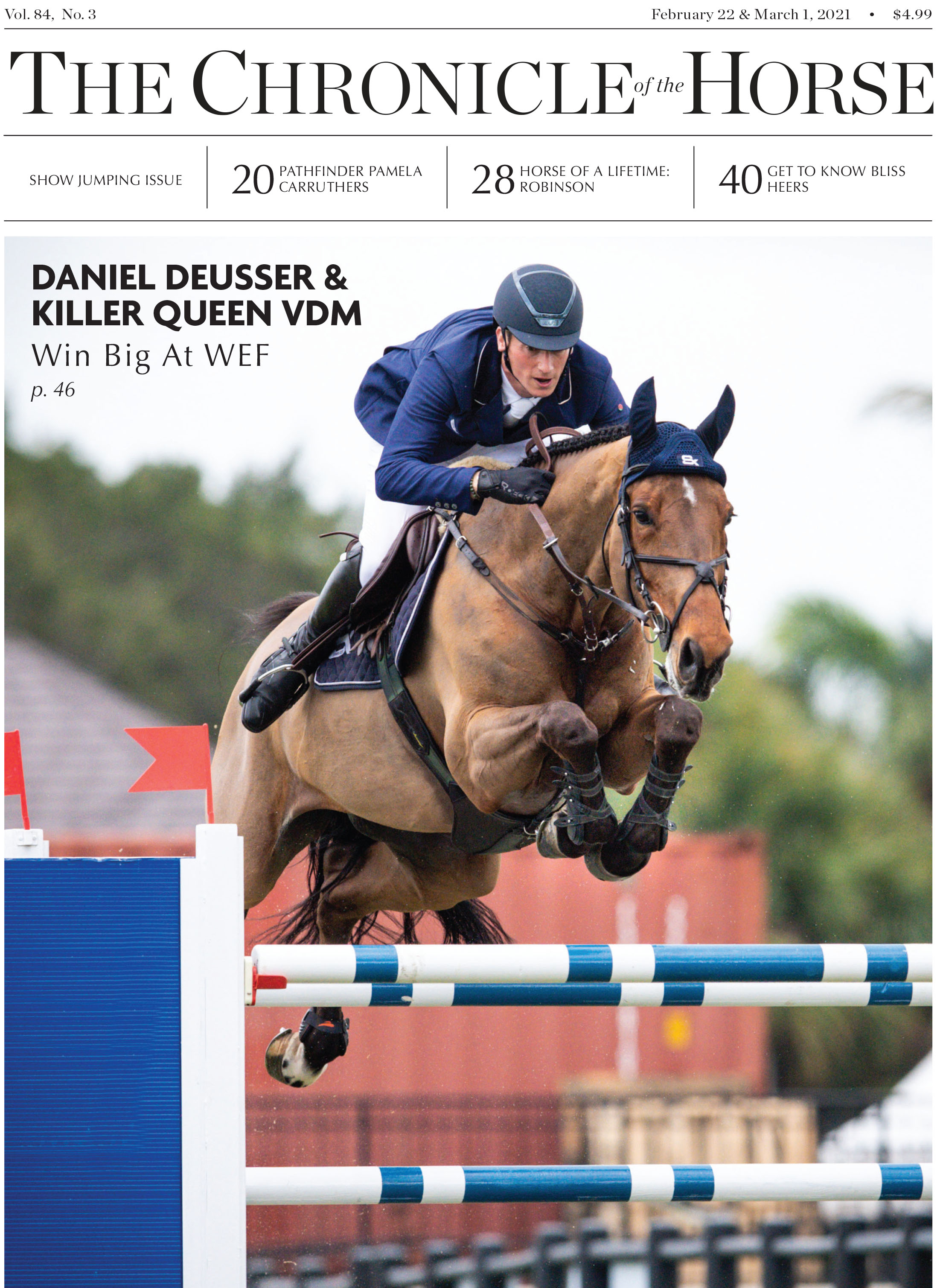 SHOW JUMPING ISSUE
The Force That Altered North American Show Jumping
As one of the world's first female course designers to rise to international acclaim, Pamela Carruthers elevated the sport with her artistry and devotion to horsemanship.
Horse Of A Lifetime: Robinson
The loveable gray who took Richard Spooner from obscurity to team contender was the best part of his day for more than 20 years.
Free Rein With: Uma O'Neill
We talk to her about her mount Clockwise Of Greenhill Z, what books she's reading, which horse she'd most like to ride, and what's on her bucket list.
Bliss Heers Is Riding Her Rising Star To The Top
After a strong 2020 season that saw Heers picking up checks across the East Coast, she started 2021 sitting fourth on the Rolex/USEF rankings list as of press time, with her top horse, Antidote De Mars, peaking at No. 1 on the horse list. That's given Heers the confidence to set her sights on her next goal: a pinque coat.
HORSE SHOWS
Wellington Grand Prix Win Brings Deusser A Sigh Of Relief
The World No. 3 answers questions about his top mounts, the likelihood of the Olympics happening and life after the coronavirus.
Great Charity Challenge Photo Gallery
Galligan's Dream Takes Him From Coast To Coast For A Desert Circuit Grand Prix Win
Irishman Nicky Galligan has been chasing his dreams since he arrived in the United States six years ago. He's made his way up and down the East Coast and across the country, working for various people, with the goal of campaigning a special mare, Java's Miss Jordan.
Between Rounds With Judy H. Richter: Reflections On Judging Horse Shows
Our columnist considers the importance of a good judge and recalls some of the escapades that happen along the way.
Zoie Brogdon: From Compton Jr. Posse To Endless Possibilities
The 16-year-old takes every opportunity to excel and inspire.
DRESSAGE
Seidel Enjoys The Moment At AGDF 3
Guenter Seidel's newest Grand Prix horse Equirelle is starting 2021 more mature and dependable.
HUNTING
Ryan Beer Represents The Next Generation Of Hunt Staff In The Heartland
When the masters of Mission Valley Hunt Club needed a new kennelman to bring up through the professional staff ranks, they found this diesel mechanic right in their own backyard.
November/December 2020 Untacked
(Subscribers can read the full magazine online.)
INSIDE:
Mountains And Unknown Territory
The inaugural running of the Gaucho Derby doesn't go the way anyone planned but still offers plenty of adventure
Beck Ratte Isn't Deterred
From trick riding in Cavalia to shoeing upper-level sport horses, Ratte is always looking for her next adventure and a chance to prove she can do anything she wants.
The Clothes Horse: Your One-Stop Shop For Horsey Holiday Gift Ideas
With suggestions for everyone on your list—from children to dogs to horses—you're sure to find something that'll fit under the tree.
Lost And Found In The Highlands
An "Outlander"-themed ride through Scotland's wild, romantic north shows off the country's past.
A Closer Look At: A Leg Up For Cleveland's Kids
LUCK creates an environment where children can connect with horses and learn to give back.
Plus: Editor's Letter, Around The Arena, Editor's Picks, 5 Questions With: Mavis Spencer, Book Reviews and Parting Ways! There's even more inside the November/December issue of Untacked, at the intersection of equestrian life and style.