July 1 – 15
(Subscribers can read the full magazine online.)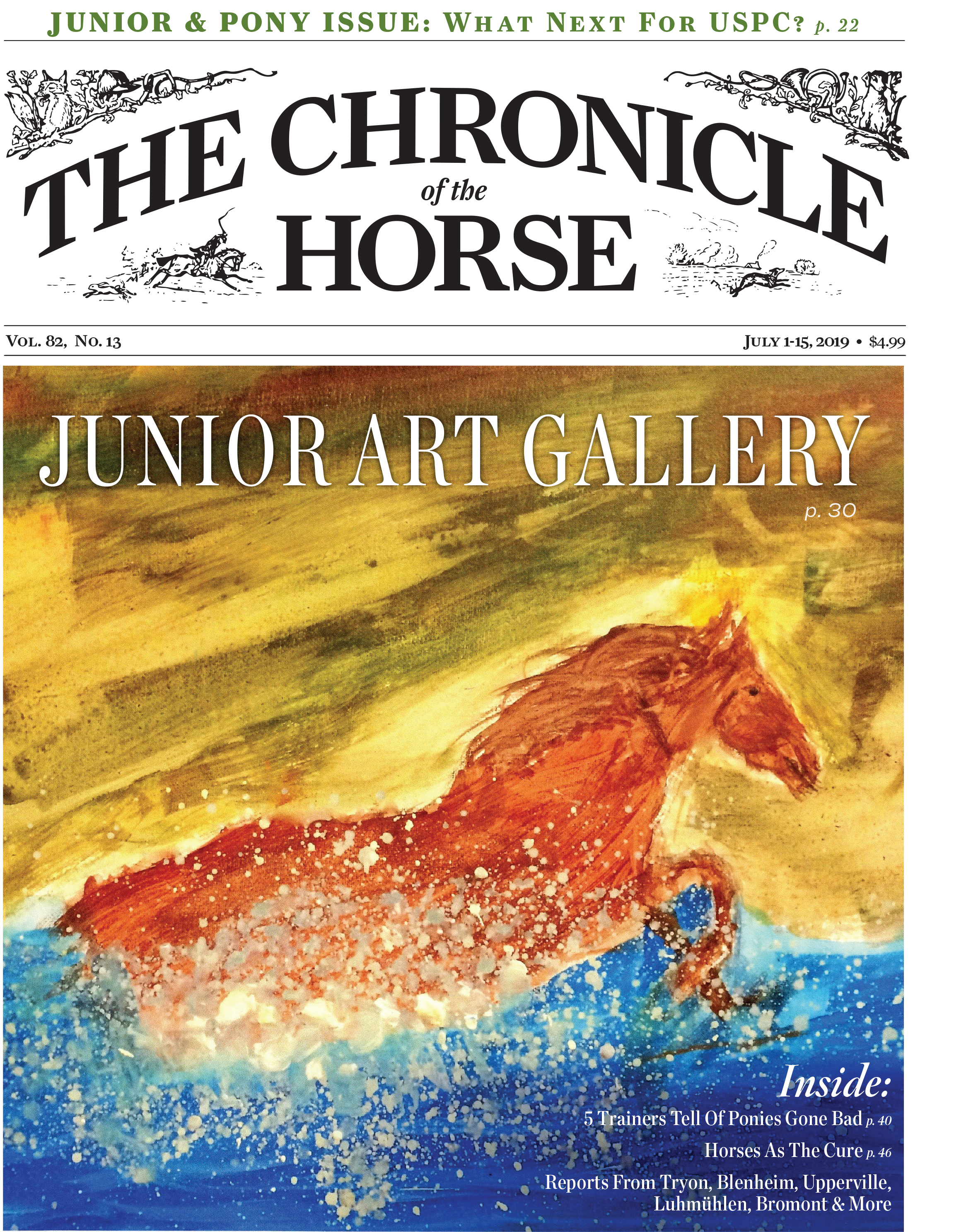 JUNIOR & PONY ISSUE
* What's Old Is New In Pony Club
The world in 2019 is a very different place than it was when the U.S. Pony Clubs launched in 1954.
* 2019 Junior Gallery
* Ask 5: What's Your Most Embarrassing Pony Story?
We all know that ponies wrote the book on trickery. We caught up with five professionals to talk about model classes turned rodeos and over-fences classes turned over-the-ears classes.
* An Outlet In Horses
Preston Marbain doesn't let her chronic illness define her.
* Sandra Ruiz Always Sees The Potential
Whether taking her own career to the next level or helping a horse or rider reach their goals, her childhood training in Puerto Rico gave her the belief – and basics – to get there.
HORSE SHOWS
* A Glimpse Inside The Mental Game Of McLain Ward
Following his win at the Devon Horse Show, he topped the $208,200 Upperville Jumper Classic aboard Contagious.
* One Request Takes Charge At Tryon
Elizabeth Tarumianz wasn't actively looking for a horse when One Request crossed her radar two years ago.
* Taylor Battles Back From Breast Cancer For A Blenheim Derby Win
Two years after her diagnosis, Katie Taylor feels stronger than ever aboard L'Con Reyes.
* Free Rein With: Jenny Karazissis
Karazissis has made a name for herself as one of the hunter world's top riders, and her latest accomplishments came aboard Really in the $25,000 USHJA World Championship Hunter Rider West Coast Hunter Spectacular.
SPORT HORSE BREEDING
* Mystical Attire Blossoms From Bottle Baby To Upperville Champion
Breeder and owner Barbara Chappell stepped into the mother role to save her yearling.
EVENTING
* Martin's Bromont Win Links His Past And Present
In 2007 Boyd Martin uprooted his life in Australia and moved to the United States with his wife, Silva Martin. Now, 12 years later, Boyd competes for the United States and his connections to Australia are starting to dwindle. One of those last connections is Ray Price W, a plain bay gelding Boyd bred before he left for America.
* Stutes' Star Continues To Rise At Luhmühlen
After winning the Dutta Corp. Fair Hill International CCI4*-L last fall, Frankie Thieriot Stutes set her sights on her five-star debut with Chatwin. But, as is all too common with horses, things just didn't go to plan this spring.
July/August 2019 Untacked
(Subscribers can read the full magazine online.)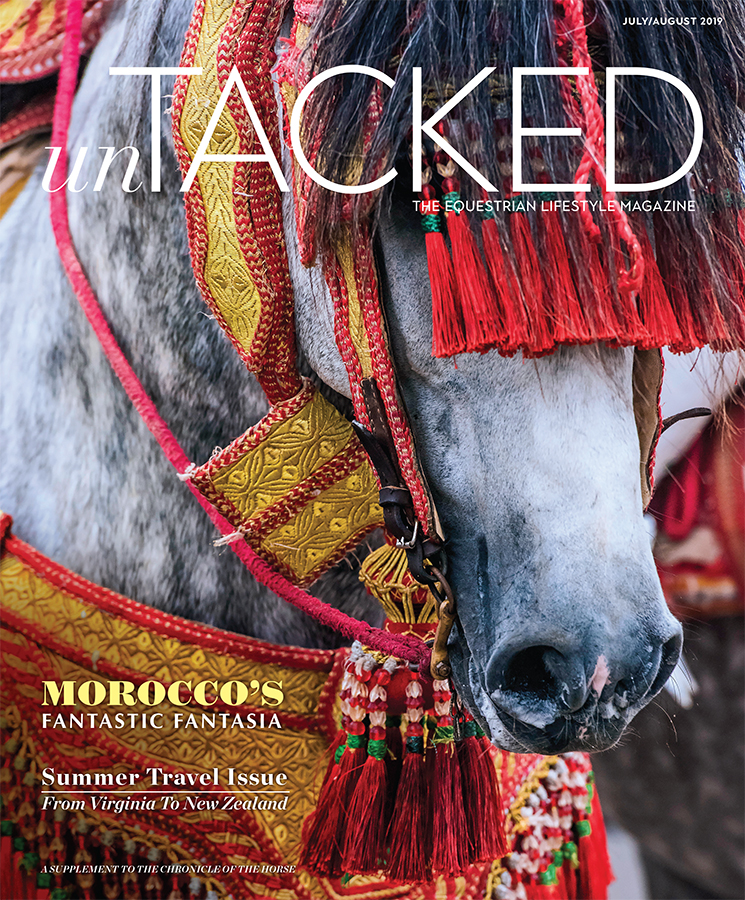 INSIDE:
Tbourida Today
The battle performance, also known as the Fantasia, preserves a national tradition and celebrates the horse while delighting spectators in Morocco.
Rough Magic
In this excerpt from her new memoir, Lara Prior-Palmer recounts part of the seven-day Mongol Derby journey that transformed her from rookie to champion at age 19.
The Marsh Tacky: South Carolina's State Horse Stages A Comeback
Centuries after helping the Continental Army win the American Revolution and decades after facing extinction, the breed's numbers are on the upswing on Daufuskie Island.
This Summer's Must-Haves For Horse-Crazy Children
From toddlers to tweens, we've got something to outfit, entertain or inspire the young equestrians in your life.
The Best Of Northern Virginia 
The Hunt Country Stable Tour showcases some of the area's must-see farms.
City Guide: Santa Fe
This New Mexico city is a perfect playground for foodies, equestrians and outdoor enthusiasts.
Plus: Editor's Letter, Around The Arena, Editor's Picks, Life Between The Ears, The Warm-Up, Charity Spotlight, Five Questions With, Feed Room and Parting Ways! There's even more inside the July/August issue of Untacked, at the intersection of equestrian life and style.