March 11 & 18
(Subscribers can read the full magazine online.)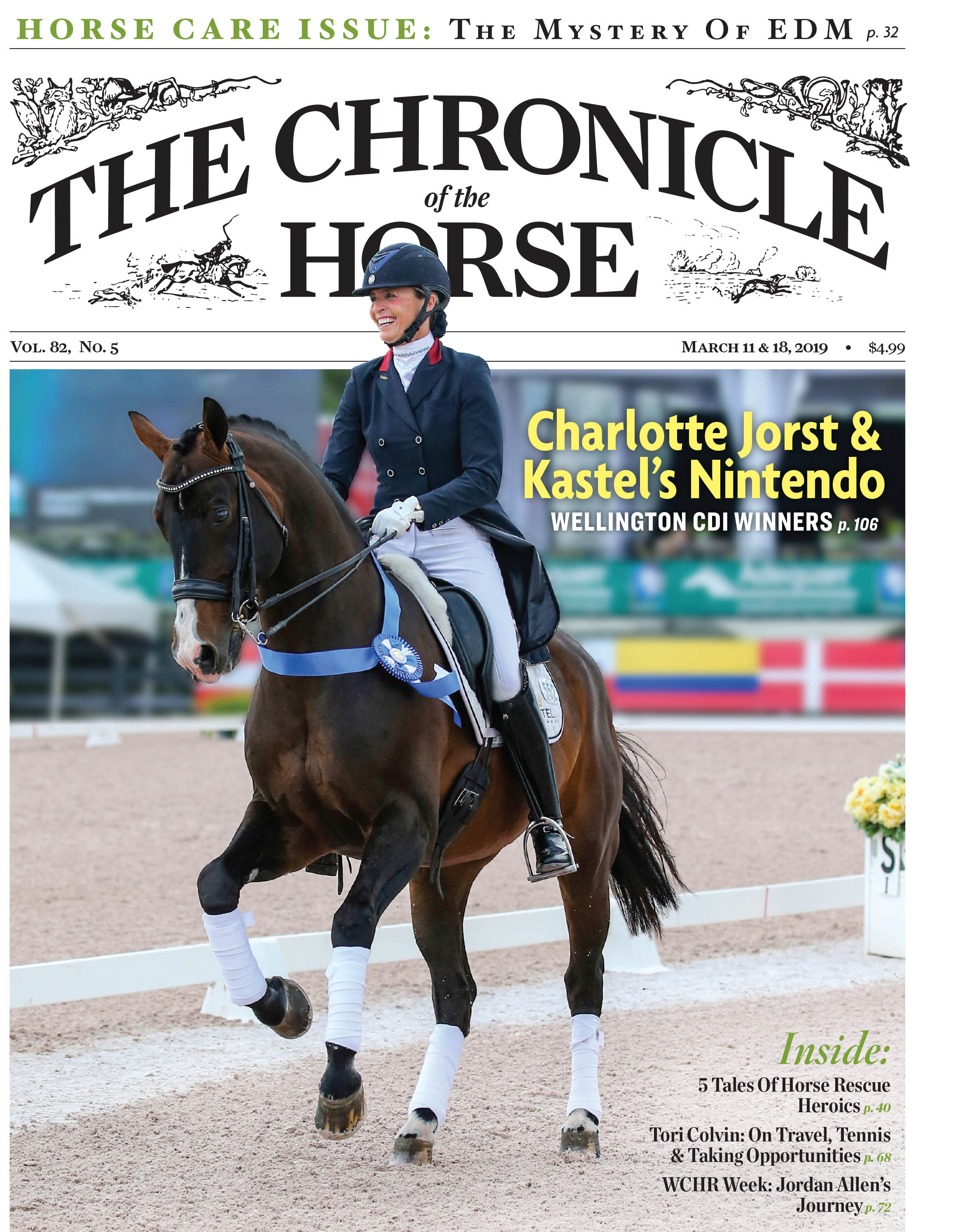 HORSE CARE ISSUE
* An Undergrad Course In EDM
"Something is really wrong." This thought kept returning to Aly Beaumont as she underwent a years-long rollercoaster of unsolved medical mysteries involving her show hunter, Undergrad.
* Harrowing Horse Rescues
Technical large animal rescue teams have techniques for saving horses from every entrapment imaginable.
* Free Rein With: Dr. Susan Johns
Hang around any horse inspection at a major three-day event, and you'll spot Susan Johns, DVM. The Land Rover U.S. Eventing Team associate veterinarian will be intently watching top event horses jog up and treating them back at the barns when she's not working at Virginia Equine Imaging in The Plains, Virginia.
* The Study Shows: There IS A Fungus Among Us
Respiratory disorders are the No. 2 health issue for sport horses behind lameness, and sometimes the symptoms are so subtle that owners and managers can miss them.
* The Stories Being Told In The Podological Museum
Penn Vet's New Bolton Center offers a rich, and surprising, history of the hoof.
HORSE SHOWS
WCHR Week At WEF:
* Free Rein With: Tori Colvin
Tori Colvin showed how she so famously handles pressure on Feb. 16, when she earned an unprecedented fifth win in the $100,000 WCHR Peter Wetherill Palm Beach Hunter Spectacular aboard Private Practice.
* Jordan Allen Focuses On The Journey
In the hunter division, you never quite know how the judges might see a ride, but an overwhelming reception like the crowd gave Jordan Allen in the $100,000 WCHR Peter Wetherill Palm Beach Hunter Spectacular is always a good sign.
* Nicole Shahinian-Simpson: Letting Go To Go Higher
Nicole Shahinian-Simpson is a protector by nature. When you factor that into her partnership with Akuna Mattata, the 11-year-old Holsteiner she's had since the mare's birth, learning to let go isn't always easy.
* World Championship Hunter Rider Week At The Winter Equestrian Festival Photo Gallery
* Team Mexico Defies Expectations At Palm Beach Longines FEI Jumping Nations Cup
Coming into the $290,000 Longines FEI Jumping Nations Cup at the Palm Beach Masters, the Mexican team looked like a long shot. With four riders under 30 going up against a U.S. team that included the last two FEI World Cup winning pairs, and the Irish and Canadian teams fielding powerhouse combinations as well, it was always going to be a hard-fought competition.
* The Road Less Traveled Returns Lubow To Center Ring At Gulf Coast Magnolia Classic
After a decade away from the industry, Jordan Lubow is winning with her young Anthemis Z.
EVENTING
* Kanyon Walker Is A Competitor
Whether tackling an offensive lineman or a preliminary cross-country course, he brings an unusual focus and determination.
* Felix Vogg Has Immersed Himself In Eventing
The Swiss Olympian is making the most of a new horse and an extra year Stateside.
DRESSAGE
* Jorst Heads East With A New Attitude At AGDF 7
Heading into the show season this year, Charlotte Jorst has recommitted to her passion, but with a refreshed and relaxed attitude, and an exciting new string of horses.
March/April 2019 Untacked
(Subscribers can read the full magazine online.)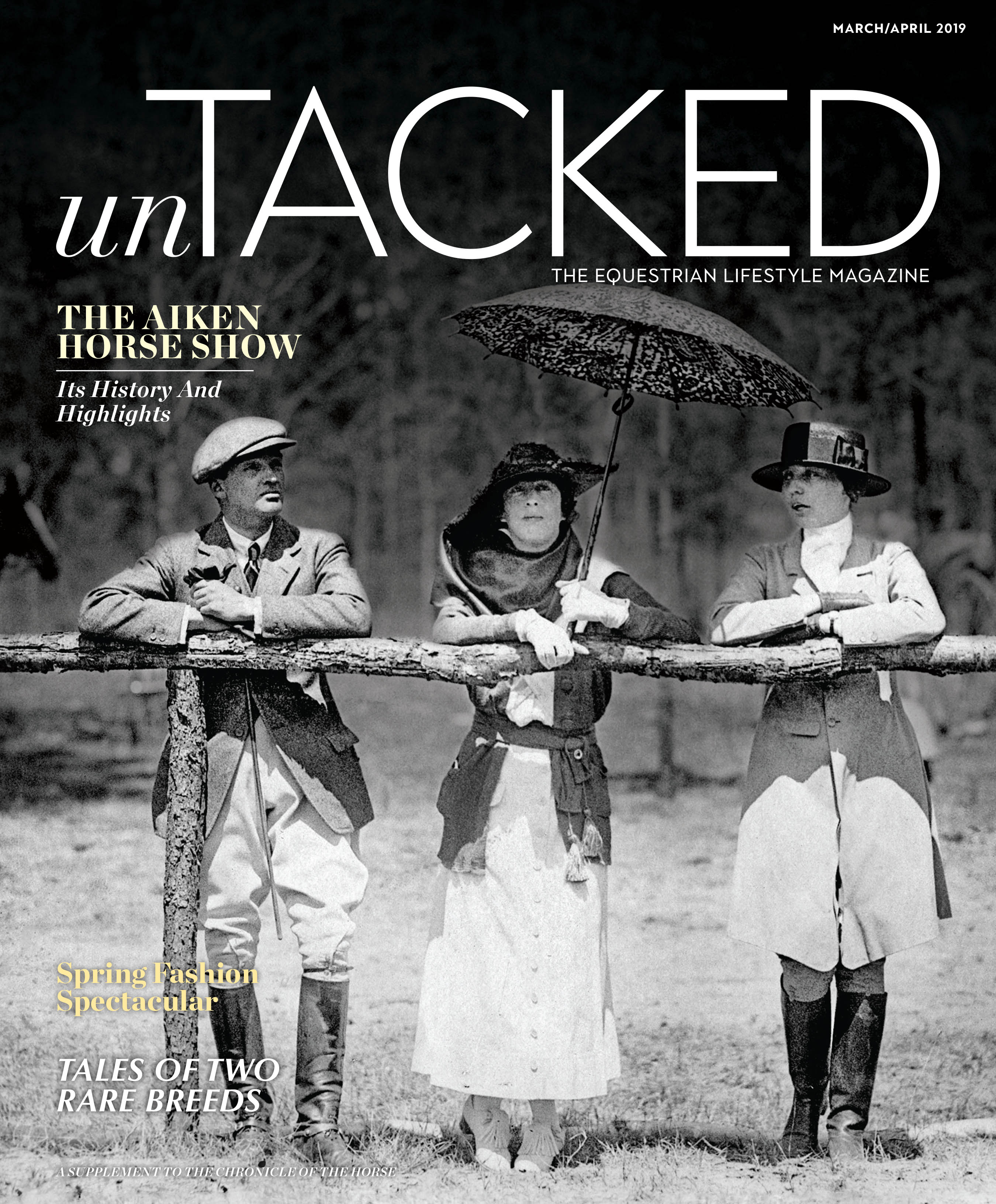 INSIDE:
The Meeting Under The Pines
The Aiken Horse Show remains rooted in the foxhunting and family traditions that brought it to life in South Carolina's Hitchcock Woods in the early 20th century.
Breathe In The Spring Styles
Equestrian sports are hot, sweaty and not always environmentally friendly pursuits, but many of your favorite brands are mitigating those effects this season with mesh panels galore and more sustainable fabrics.
The Persistence Of The Pantaneiro Horse
A tough Brazilian breed finds its footing in the world's largest freshwater wetland – thanks in part to ecotourism.
Crockett Dumas: The Last American Outlaw
The endurance riding champion, Egyptian Arabian breeder and "Butch Cassidy mentee" is nothing you'd imagine.
Necessities For Foodie Foxhunters
Virginia McNeil shares recipes from the Radnor Hunt-inspired cookbook, "The Fox's Kitchen."
Saving The Skyrian Horse
For Sylvia Dimitriades Steen, helping the breed thrive on the Greek island of Corfu and beyond is a story of patronage and persistence.
Plus: Editor's Letter, Around The Arena, City Guide: Southern Pines, Editor's Picks, Charity Spotlight, Book Reviews and Parting Ways! There's even more inside the March/April issue of Untacked, at the intersection of equestrian life and style.