December Issue
(Subscribers can read the full magazine online.)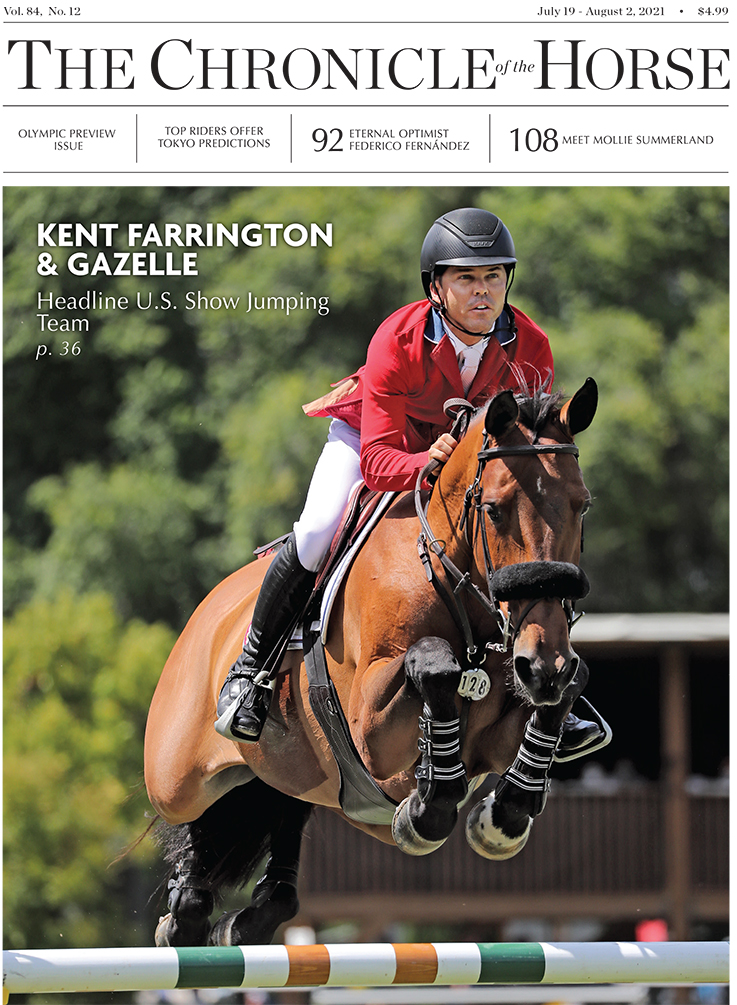 In this issue:
SPORT HORSE BREEDING ISSUE
Laurie Cameron Has Made Her Own Four-Legged Opportunities
After three decades of dedication, she's currently the leading U.S. breeder of event horses and still working to improve the industry.
Ask 4: How Does Course Design Impact Sport Horse Breeding?
Elite show jumping courses and horses look dramatically different than they did a few decades ago. We asked some of the world's most respected professionals about the correlation.
A Legacy Lives On At High Point Hanoverians
Larissa Barilar carries on her mother's vision of excellence in sport horse breeding.
HORSE SHOWS
5 Questions With: Karl Cook
Karl Cook has been riding a hot streak this fall, picking up top-10 finishes and wins across the country from Tryon, North Carolina, and Lexington, Kentucky, to Del Mar, California, where he capped off his season with a win in the inaugural $100,000 Riders Cup Grand Prix.
EVENTING
5 Questions With: Boyd Martin
Boyd Martin possesses a knack for finding the positives or learning lessons from crummy situations, but even 2020 got the best of him. He underwent double hip surgery only to tear his groin muscle again when scar tissue calcified. But he turned those lemons into lemonade in the latter half of the year—topping the MARS Equestrian Tryon International CCI4*-L.
LandSafe Has Become A Lifestyle For Danny And Keli Warrington
The husband-and-wife creators of the fall-safety training program LandSafe Equestrian aren't living the lives they originally envisioned, but they're enjoying the detour.
DRESSAGE
Between Rounds With Anne Gribbons: Teaching From Afar
Our columnist considers some of the new challenges presented by 2020.
HUNTING
A College, A Hunt And A Collaboration In Conservation
Thanks to the generosity and vision of a large landowner and a partnership with Washington College, Wicomico Hunt earned MFHA Hunting Habitat Award.
HOLIDAY PETS GALLERY
The Chronicle's 2020 Holiday Pets Gallery
November/December 2020 Untacked
(Subscribers can read the full magazine online.)
INSIDE:
Mountains And Unknown Territory
The inaugural running of the Gaucho Derby doesn't go the way anyone planned but still offers plenty of adventure
Beck Ratte Isn't Deterred
From trick riding in Cavalia to shoeing upper-level sport horses, Ratte is always looking for her next adventure and a chance to prove she can do anything she wants.
The Clothes Horse: Your One-Stop Shop For Horsey Holiday Gift Ideas
With suggestions for everyone on your list—from children to dogs to horses—you're sure to find something that'll fit under the tree.
Lost And Found In The Highlands
An "Outlander"-themed ride through Scotland's wild, romantic north shows off the country's past.
A Closer Look At: A Leg Up For Cleveland's Kids
LUCK creates an environment where children can connect with horses and learn to give back.
Plus: Editor's Letter, Around The Arena, Editor's Picks, 5 Questions With: Mavis Spencer, Book Reviews and Parting Ways! There's even more inside the November/December issue of Untacked, at the intersection of equestrian life and style.