October 21 & 28
(Subscribers can read the full magazine online.)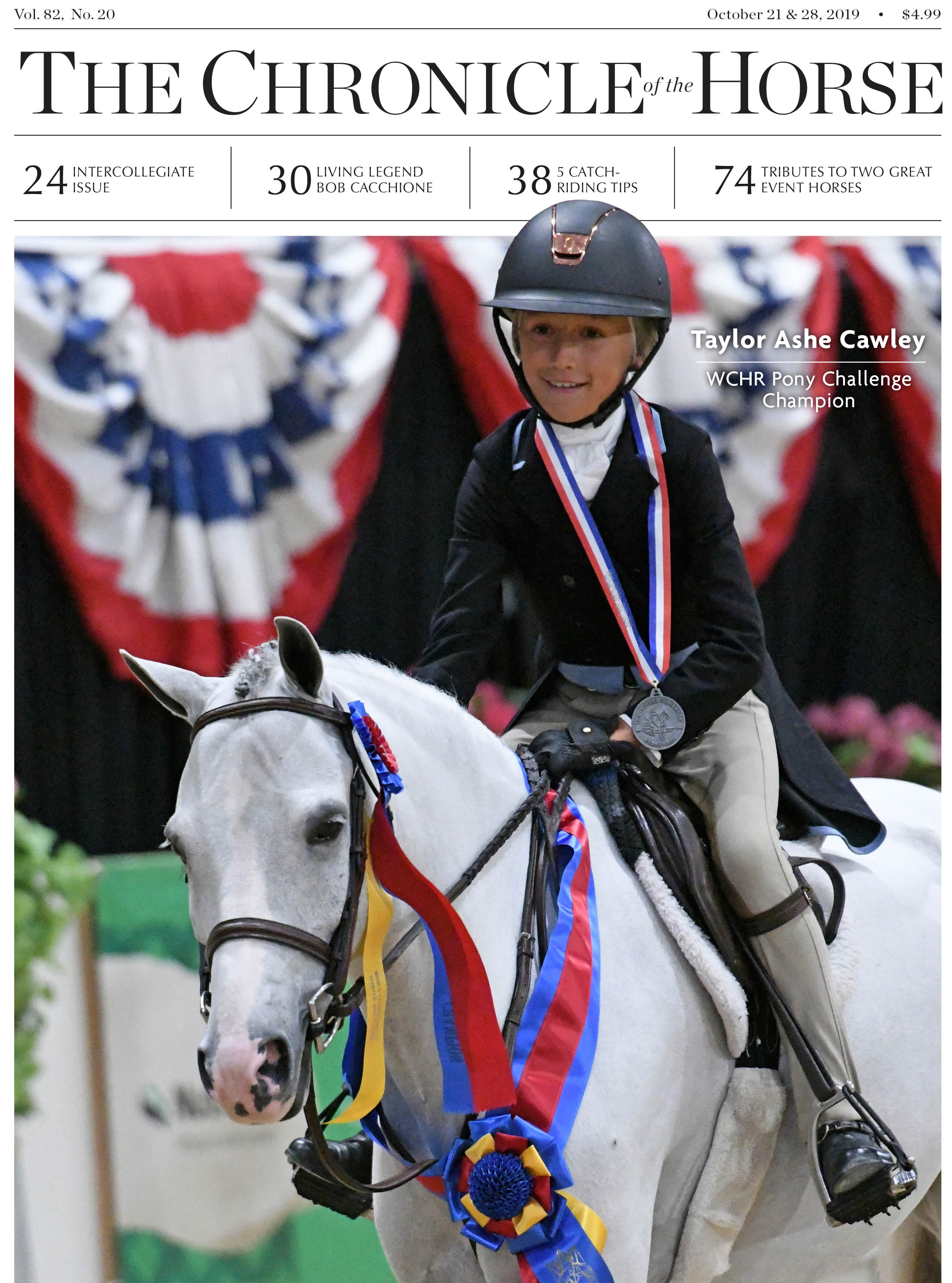 INTERCOLLEGIATE ISSUE
* Free Rein With: Adam Edgar
Landing off the final jump during the work-off for the USEF/Cacchione Cup, Adam Edgar exhaled. For months, he'd been aiming for this moment. As he exited the arena to join his teammates from the Savannah College of Art and Design and coach Ashley Henry, the emotions flooded in. He'd won.
* Living Legend: Bob Cacchione
An entire segment of the horse industry has sprung from his brainchild, the IHSA.
* Keep Calm And Canter On! Five Tips For Nailing Your Next Catch-Ride
Jay Duke offers his advice for intercollegiate riders.
* For Sally Batton, Horses Are A Lifelong Education
After a 35-year collegiate coaching career, she's sharing her knowledge with a new audience.
YOUNG ENTRY
* Get To Know Ellie Ferrigno
The Platinum Performance USEF Show Jumping Talent Search Finals – East champion shared her preparation for her big win and what life is like as a high school eq star.
* From Coyote Hunting To Rescue Ponies, Gibbs Finds His Way To Capital Challenge Victory
The 16-year-old took an unusual path to win over 116 competitors in the Palm Beach International Academy North American Junior Equitation Championship.
HORSE SHOWS
* Monday Balous Represents The Stars And Stripes At Capital Challenge
Cassandra Kahle piloted the Dutch Warmblood to a big win and major recognition for his American breeders.
* Explosion W Rockets To The Top In Longines Global Champions Tour Of New York
Ben Maher and Explosion W picked the right weekend to shine. The debut edition of the Longines Global Champions Tour of New York served as not only a five-star show, but also as the series finale for the Global Champions Tour.
EVENTING
* Thank You, Custom Made
David O'Connor's partner for individual gold at the 2000 Sydney Olympic Games died on Oct. 2 after a bout of colic. He was 34.
* Farewell, Winsome Adante
Kim Severson's three-time Rolex Kentucky Three-Day Event winner Winsome Adante died on Sept. 25. He was 26.
* An Untimely Injury Doesn't Deter Dutton At Stable View CCI4*-S
Galloping toward the goal posts at the Brandywine Polo Club's Chukker For Charity match, Phillip Dutton saw his chance for glory and went for it – and instantly knew it was the wrong decision.
DRESSAGE
* The Long Road Brings Hassler Dressage At Devon Blues
By cultivating a relationships with Harmony's Boitano, this young professional made her Devon debut a winning one.
* McCrady Makes Winning A Habit In Region 4 With Her Homebred Hanoverian
The former jockey overcame a severe head injury to ride at the upper levels.
September/October 2019 Untacked
(Subscribers can read the full magazine online.)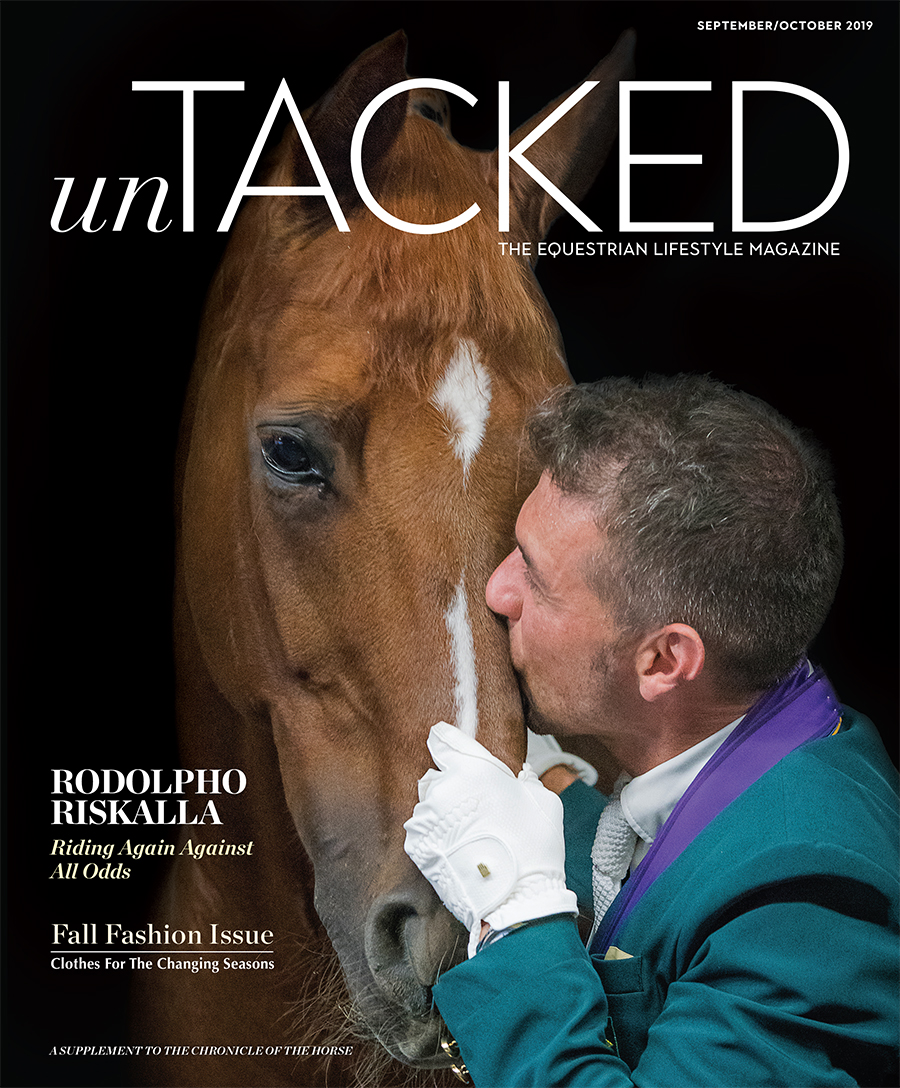 INSIDE:
The Unstoppable Rodolpho Riskalla
After facing a deadly illness and lengthy hospitalization, the fashion professional beat long odds to get to the Rio Paralympic Games, and he earned silver at the 2018 WEG before setting even bigger goals for next year's games in Tokyo.
Autumn Apparel For Farm, Street Or Show
Whether the season means a slower pace or the culmination of your competition year, we have fall fashions to suit from your favorite brands.
An Incomplete History Of Bits
We tracked the evolution of this revolutionary piece of riding equipment.
In The Business Of Bucking
Once a year, Miles City, Montana, transforms from sleepy city into the place to be for buying, selling or just watching broncs.
Cuba's Unexpected Export
The country's annual sport horse auction provides mounts for some Latin American riders, jobs for equestrians, and a boost to the isolated country's economy.
Plus: Editor's Letter, Around The Arena, Editor's Picks, Life Between The Ears, The Warm-Up, Charity Spotlight, Five Questions With, Tech Spotlight and Parting Ways! There's even more inside the September/October issue of Untacked, at the intersection of equestrian life and style.