June 15 – 29
(Subscribers can read the full magazine online.)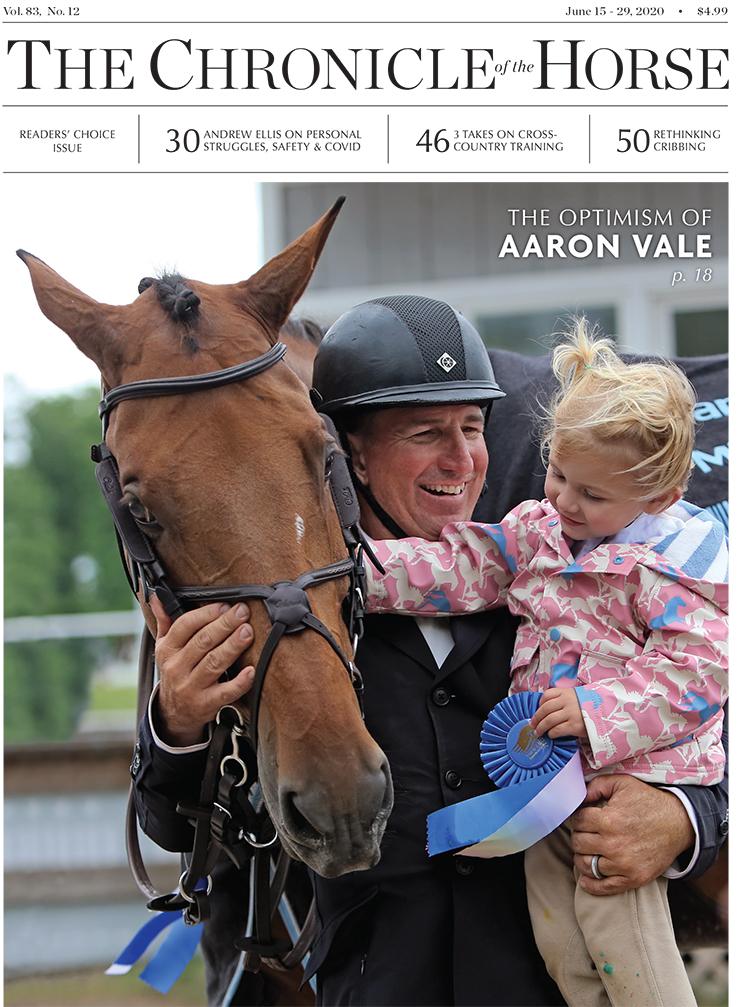 READER'S CHOICE ISSUE
HORSE SHOWS
* Aaron Vale Always Looks Forward
He never loses sight of his passions as a family man and an advocate for the horse, whether it be a homebred, a stopper or a grand prix superstar.
* Free Rein With: Andrew Ellis
Since 1990, Andrew Ellis has worked his way up the horse show ladder, from jump crew to in-gate to announcer and now show manager, but his climb hasn't been easy. Find out more about him.
READERS' CHOICE
* Readers' Choice Survey
We asked our readers and fans to share their horse world favorites, from favorite horses and riders to best tack, equipment, supplies, venues and more.
EVENTING
* Ask 3: How Do You Introduce Banks, Ditches And Water?
Horses eventing at any level will have to master these cross-country elements, so it's crucial to introduce them in a thoughtful and patient way. We asked three top professionals their methods.
HORSE CARE
* The Many Mysteries Of Cribbing
The habit is a nuisance and may have some detrimental health effects, but does it also serve a purpose?
DRESSAGE
* Emily Sorensen Meets Challenges Head On
This dressage professional hasn't let a cancer diagnosis dampen her outlook on life.
July/August 2020 Untacked
(Subscribers can read the full magazine online.)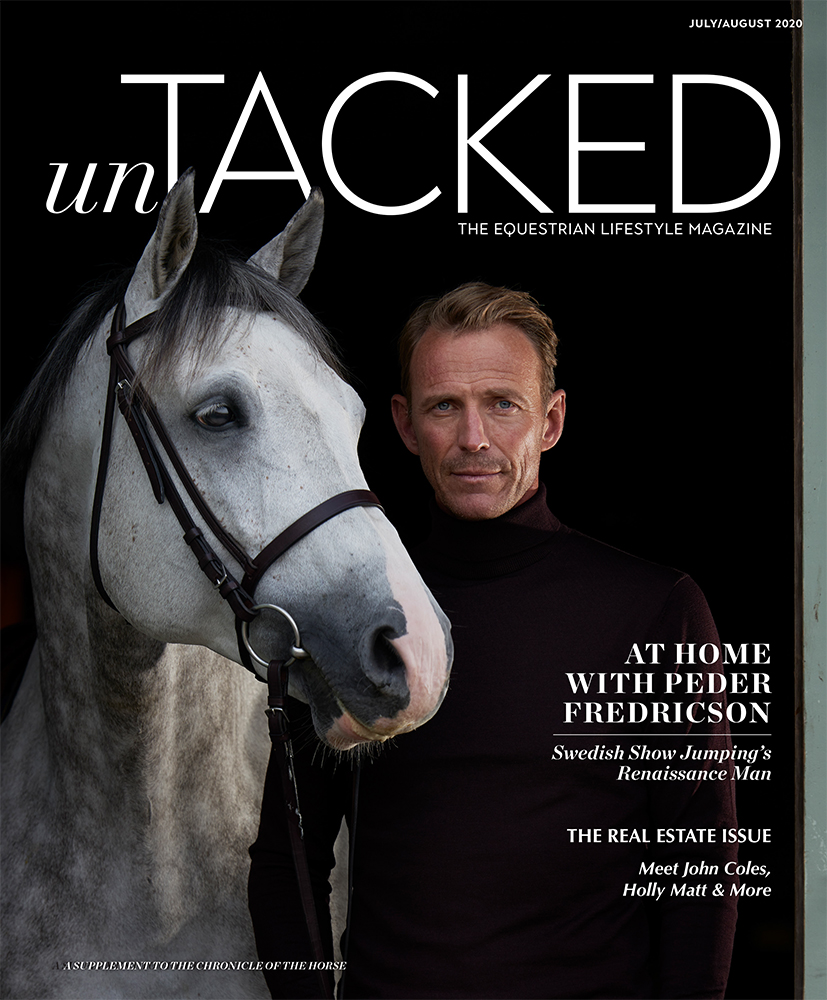 INSIDE:
At Home With: Peder Fredricson
The Swedish show jumping team stalwart—with past lives as an Olympic eventer, graphic designer and artist—is known all over the world thanks to All In, H&M and a collection of medals. But at his home base in small Vitaby, Sweden, the perpetual student of the sport enjoys a slower-paced life with plenty of time for family.
John Coles Is Quietly Completing His To-Do List
The master of foxhounds, father, farm owner, near-winner of the Maryland Hunt Cup and highly successful Northern Virginia real estate agent is both the most ambitious and the nicest guy you'll ever meet.
Facing Extinction—And Finding Salvation—On The Faroe Islands
Just 60 years ago, the number of native horses on this remote archipelago had fallen to five. Thanks to the efforts of a few devoted breeders and enthusiasts, they're returning to safe numbers, but they still face myriad challenges.
Rivalry, Revelry And Golden Horses In Northern Italy
In South Tyrol, Haflingers reign— and they're the stars of the Cavalcata Di Oswald Von Wolkenstein, a yearly medieval festival and tournament.
The Clothes Horse: Enjoy A Horse-Adorned Home
Spending more time in your house now than ever before? That's the perfect excuse to make sure you're making it the best place possible—stocked with plenty of equestrian accents.
 Plus: Editor's Letter, Around The Arena, Book Reviews, Tech Spotlight, Editor's Picks, Charity Spotlight, 5 Questions With: Holly Matt, In The Frame and Parting Ways! There's even more inside the July/August issue of Untacked, at the intersection of equestrian life and style.