July Issue
(Subscribers can read the full magazine online.)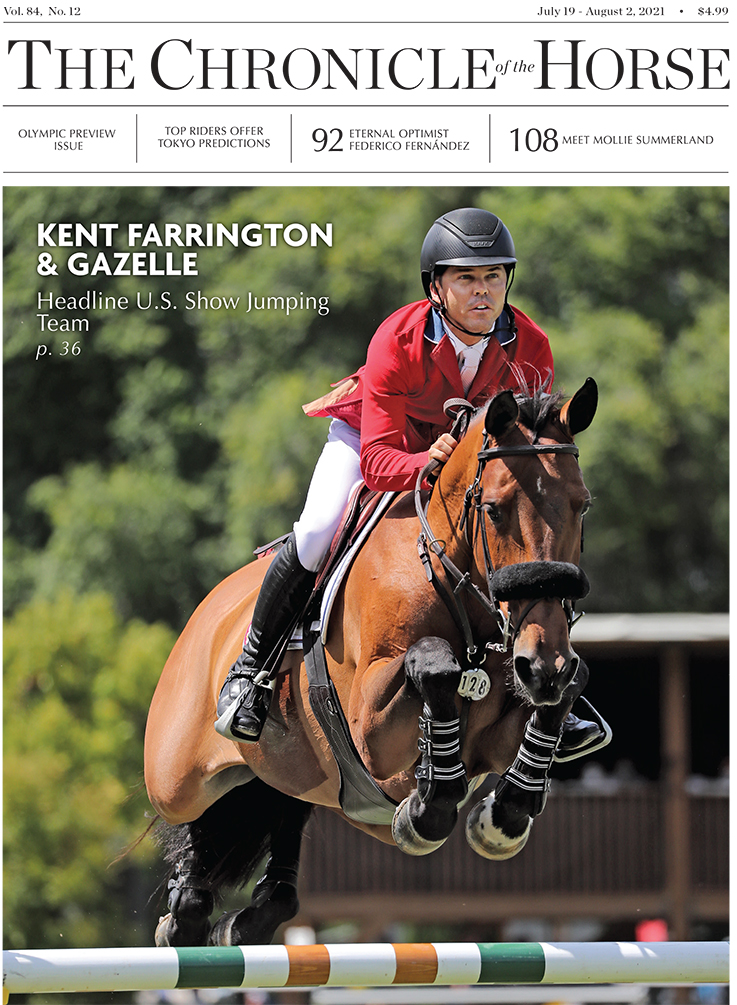 OLYMPIC OVERVIEW ISSUE
* A Necessary Delay
On March 24 the International Olympic Committee and the organizers of the Tokyo 2020 Olympic Games announced the postponement of the Games for a year due to the COVID-19 pandemic. The Olympics will now take place almost exactly 12 months later than originally scheduled. So what does this mean for competitors and stakeholders?
* Living Legend: Norman Dello Joio
Expected to continue his family's musical legacy, he instead took the teachings of hard work and integrity and found his own artistic expression in horses.
* A Lifetime Of Olympics
Michael Plumb has attended a record eight Olympic Games – including the 1980 Alternate Olympics – more than any other U.S. athlete. Here's a look back at each of them.
* The Early Olympic Games: Hunters, Polo And An Equine Long Jump
Imagine a horse cantering down centerline at the Olympic Games and halting at C. But the next thing it does isn't half-pass, extended trot, piaffe or passage. Instead, the horse must stand perfectly still as a barrel, painted with stripes in three colors, rolls towards it. Then the horse might even have to jump the colorful cylinder.
HORSE CARE
* Coming Together In The Time Of COVID-19
Here's how camps, riding centers and nonprofits are surviving the pandemic – for now.
HORSE SHOWS
* Divine Timing Sees Spencer Take Temecula Grand Prix Win
After breaking her back and taking a two-year hiatus from competition, Mavis Spencer returned to top form with the help of a once-in-a-lifetime opportunity.
* Between Rounds With Sissy Wickes: Admitting, Understanding And Acting Against Racism
Our columnist asks what awareness becoming action looks like in the equestrian community.
EVENTING
* Free Rein With: Max Corcoran
You may know her from the O'Connor Event Team, as stable manager for the Venezuelan and Canadian equestrian teams, or her current role as president of the U.S Eventing Association, now learn more about Max Corcoran the chef and mountain biker who used to work in finance. She talks about her favorite things to cook, her bucket list vacation, and what she hopes to accomplish as the new USEA president.
DRESSAGE
* Fern Feldman Is Making Up For Lost Time
Whether volunteering, riding or simply learning more about the sport, she doesn't take a single moment for granted.
JUNIOR & PONY
* 2020 Junior Gallery
* Horses Prove The Best Therapy For Ginger Flock
This 14-year-old manages a lower extremity muscular disorder with tenacity.
* The Other Left
Did you know that two out of five kids are dyslexic? Dyslexics are hard workers, but many will tell you that tests and school were tough for them. They also tend to be empathetic and driven, and despite performance struggles in school are quite successful as adults. Try these tips to help them in riding lessons.
July/August 2020 Untacked
(Subscribers can read the full magazine online.)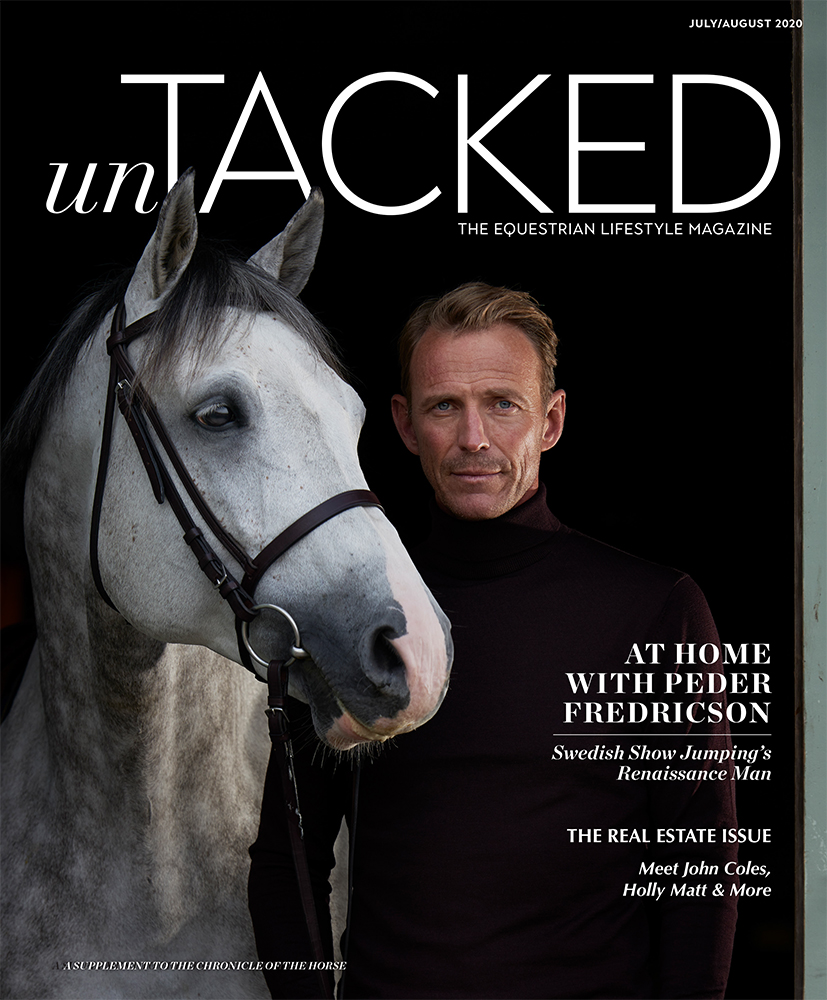 INSIDE:
At Home With: Peder Fredricson
The Swedish show jumping team stalwart—with past lives as an Olympic eventer, graphic designer and artist—is known all over the world thanks to All In, H&M and a collection of medals. But at his home base in small Vitaby, Sweden, the perpetual student of the sport enjoys a slower-paced life with plenty of time for family.
John Coles Is Quietly Completing His To-Do List
The master of foxhounds, father, farm owner, near-winner of the Maryland Hunt Cup and highly successful Northern Virginia real estate agent is both the most ambitious and the nicest guy you'll ever meet.
Facing Extinction—And Finding Salvation—On The Faroe Islands
Just 60 years ago, the number of native horses on this remote archipelago had fallen to five. Thanks to the efforts of a few devoted breeders and enthusiasts, they're returning to safe numbers, but they still face myriad challenges.
Rivalry, Revelry And Golden Horses In Northern Italy
In South Tyrol, Haflingers reign— and they're the stars of the Cavalcata Di Oswald Von Wolkenstein, a yearly medieval festival and tournament.
The Clothes Horse: Enjoy A Horse-Adorned Home
Spending more time in your house now than ever before? That's the perfect excuse to make sure you're making it the best place possible—stocked with plenty of equestrian accents.
 Plus: Editor's Letter, Around The Arena, Book Reviews, Tech Spotlight, Editor's Picks, Charity Spotlight, 5 Questions With: Holly Matt, In The Frame and Parting Ways! There's even more inside the July/August issue of Untacked, at the intersection of equestrian life and style.