June 1 & 8
(Subscribers can read the full magazine online.)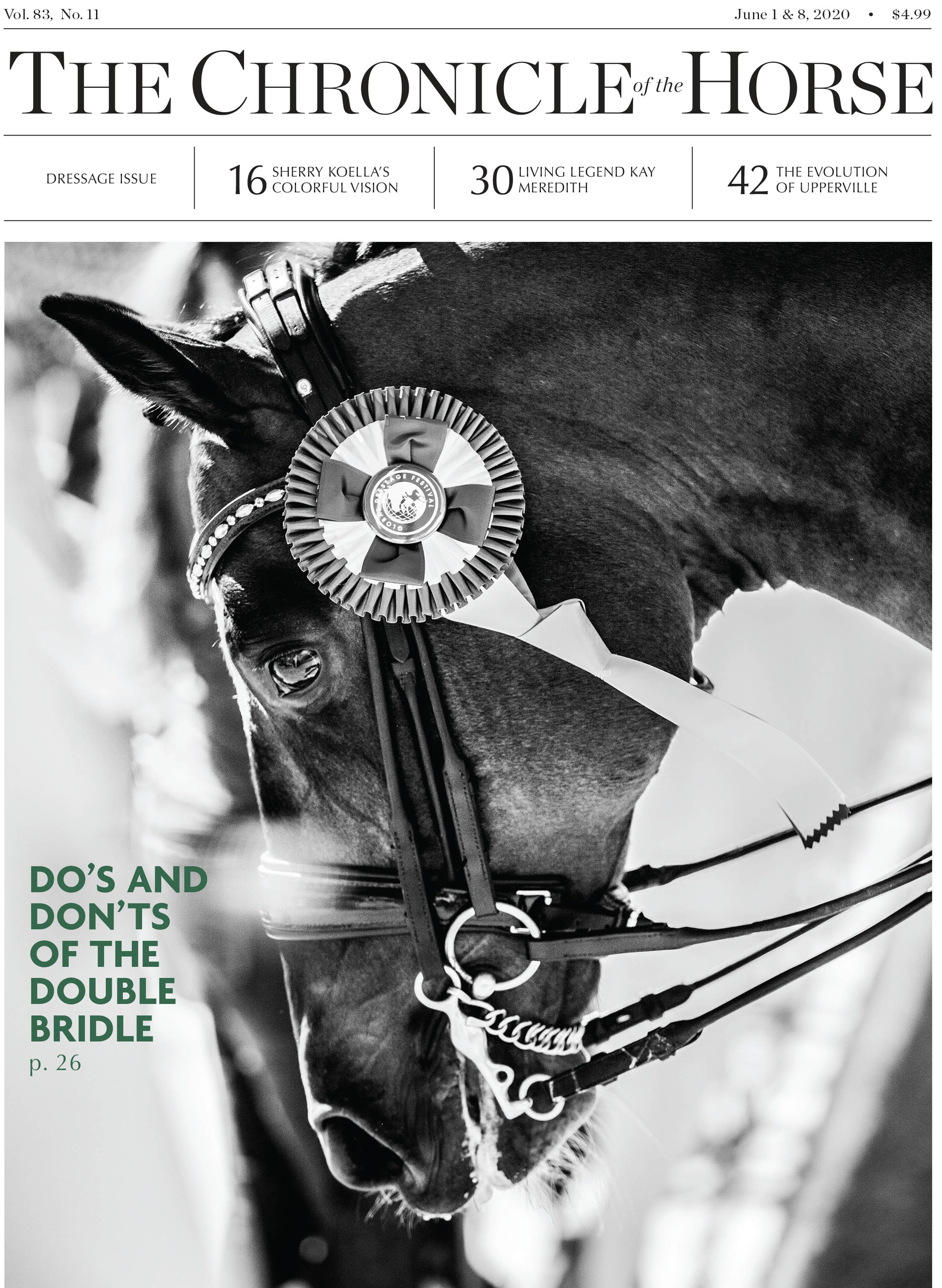 DRESSAGE ISSUE
* Sherry Koella's Colorful Path To The Breeding Business
More than two decades in show business, performing from Canada to Las Vegas, Thailand to Malaysia. A brief career flipping houses in Las Vegas. Some dabbling in endurance riding and cattle herding. It's not the standard résumé for a breeder of dressage horses, but Sherry Koella defies most expectations.
* Ask 3: Why Do You Compete Your Grand Prix Horse In A Snaffle?
The double bridle is required equipment if you're showing three-star or above in Fédération Equestre Internationale competition. But is it right for every horse? We discussed the topic with three riders who competed their Grand Prix horse in a snaffle at U.S. Dressage Finals.
* Living Legend: Kay Meredith
From the Appalachian Mountains to the Spanish Riding School to the gold medal podium at the 1983 Pan American Games in Venezuela, this competitor, trainer, judge and author inspired her teammates and strengthened the sport in its early years.
* Free Rein With: Katherine Bateson Chandler
Find out more about the top dressage rider, including what she and her horses are doing during the show hiatus, which other Grand Prix dressage horse she'd ride if she could, and what other riding discipline and non-riding sports she'd like to try.
HORSE SHOWS
* Showing Beneath The Oaks Since 1853
The Upperville Colt & Horse Show is America's oldest hunter/jumper competition, and it's evolved to stay relevant while holding onto its traditions.
* Leo Rauscher Speaks Horse
Rauscher's patient way of working with unbroken or problem horses has made him the go-to trainer for several top riders.
* Between Rounds With Sissy Wickes: Good Governance In A Bad Time
Now about governance in the time of a pandemic. How do we as horsemen, athletes and businesspeople govern ourselves to endure the best outcome to the global pandemic and subsequent shutdown of so many facets of our industry? How do we work together as a community in order to move forward safely and responsibly?
HORSE CARE
* Rodeo VDL's Remarkable Recovery
When he was diagnosed with lymphosarcoma, his vet and owner chose a treatment that was aggressive and experimental – and also expensive – but it seemed like it was Rodeo's only hope.
YOUNG ENTRY
* Between Rounds With Pam Baker: Start At The Beginning And Find Joy In Molding Horsemen
The biggest thing I see lacking today is that people do not teach basics. They don't start from the beginning; they start somewhere in the middle. People want instant gratification and skip the steps.
March/April 2020 Untacked
(Subscribers can read the full magazine online.)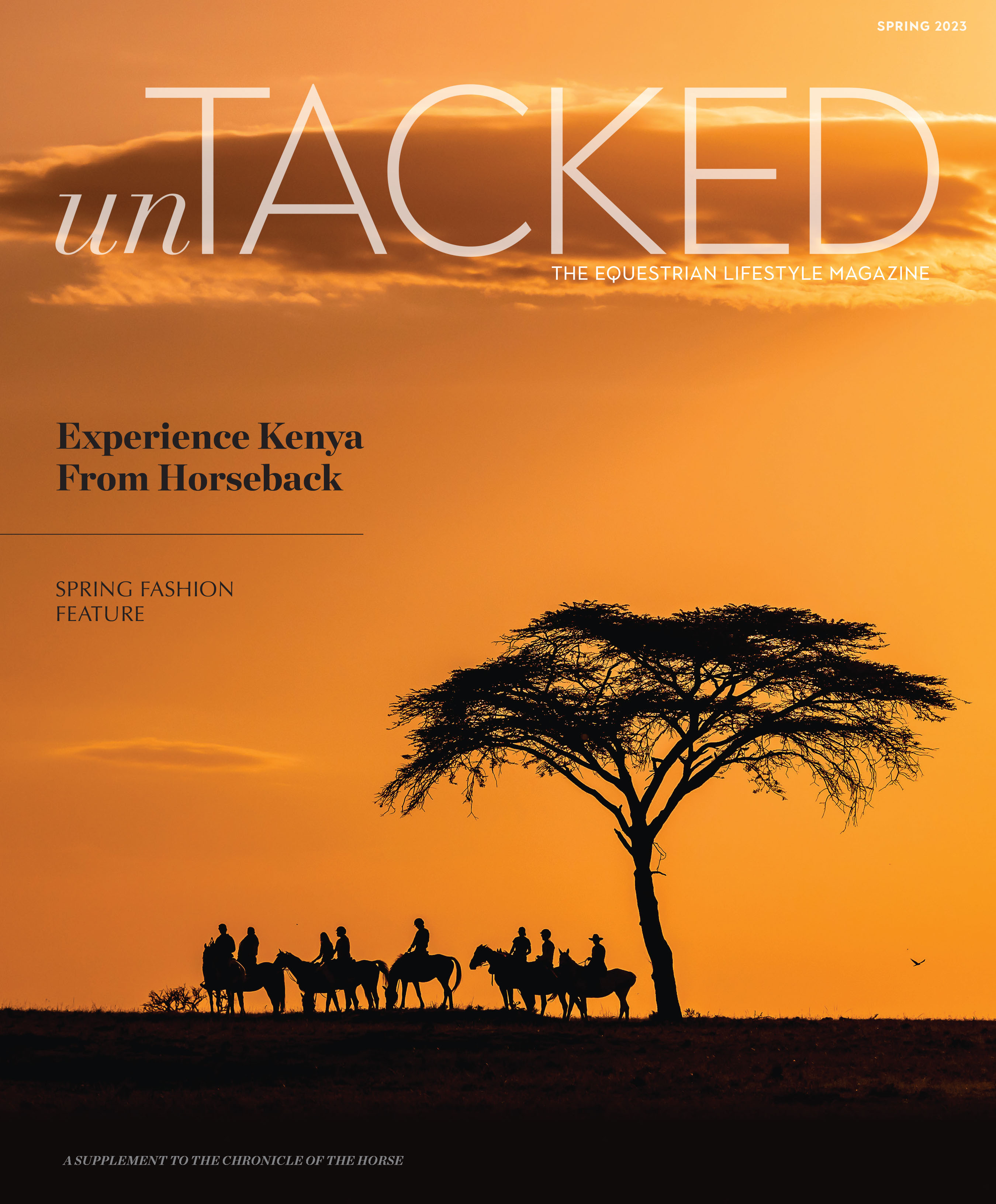 INSIDE:
The Grand National: A History Of Prestige And Unpredictability
After surviving two turns of the century and two World Wars, the feature race at Aintree still unites and excites the general public each year.
Karl Leck: From Seoul To Sydney In Search Of A Different Perspective
The self-taught photographer captured the world's best horses and riders for nearly 30 years.
Inside The Mind Of Jean-François Pignon
The French liberty trainer wows crowds at major international competitions, but it all started with his love for communicating with animals.
The Clothes Horse: Step Into Spring In Style
Transitioning from winter to summer can be tough thanks to unpredictable weather and varying temperatures, but our favorite brands are making the season swap a cinch with pieces that work no matter which climate Mother Nature chooses.
From Stable To Shelf
Go behind the scenes to learn how your favorite equine superstars become beloved Breyer models.
Plus: Editor's Letter, Around The Arena, Life Between The Ears, Book Reviews, Tech Spotlight, Editor's Pick, Charity Spotlight, 5 Questions With: Natalie Pai, The Warm-Up, In The Frame and Parting Ways! There's even more inside the March/April issue of Untacked, at the intersection of equestrian life and style.