May 20 & 27
(Subscribers can read the full magazine online.)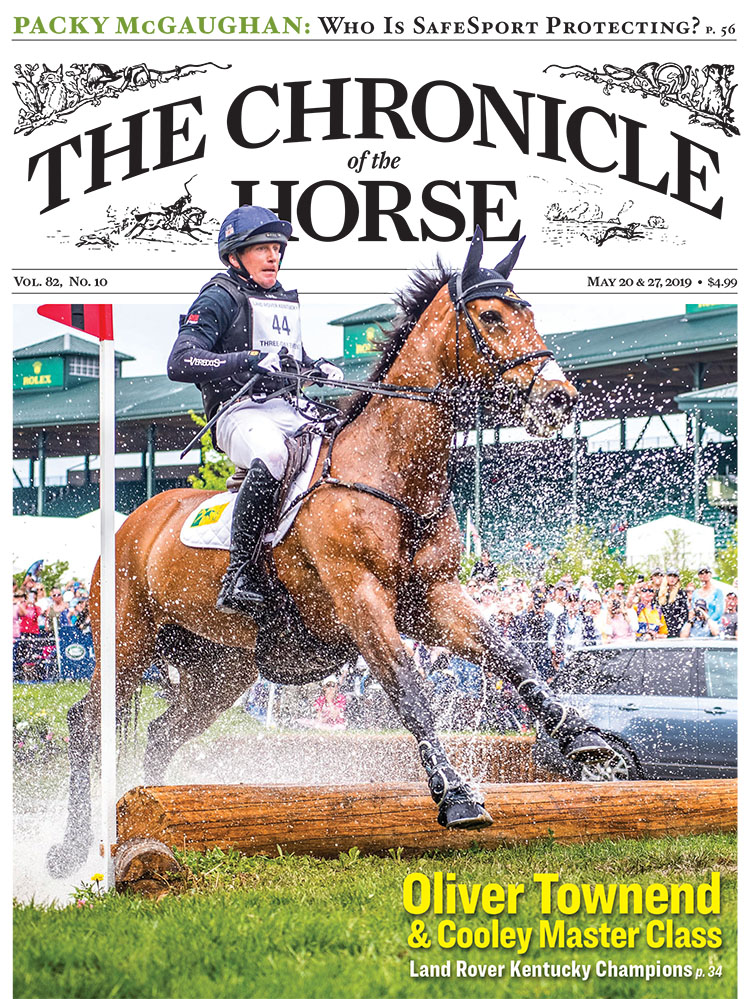 EVENTING
* Townend Makes A Statement At Land Rover Kentucky
This time last year, Oliver Townend had just turned Cooley Master Class into his latest five-star winner at the Land Rover Kentucky Three-Day Event, and he was leading the Féderation Equestre Internationale world rankings, a feat he'd been hoping to achieve since briefly holding the position in 2009. But only a week later, things took a turn.
* Land Rover Kentucky Three-Day Event Photo Gallery
* French Fights Her Way To Badminton Upset
Just a few years ago her career was unravelling. Here's how she rebuilt it better than ever for her first – and most unexpected – five-star victory.
* Between Rounds With Packy McGaughan: Who Is SafeSport Protecting?
Our columnist says the public can't judge whether SafeSport accusations are credible or whether penalties match the crime, and the lack of due process puts the whole system at risk.
INTERCOLLEGIATE
* Emory & Henry's Legacy Evolves At IHSA Nationals
Intermont Equestrian at Emory & Henry College's first Intercollegiate Horse Shows Association national championship was a bittersweet win for head coach Heather Richardson. The victory is a milestone that validates all the hard work she and her colleagues put into transitioning their program to Emory & Henry's campus after Virginia Intermont College closed in 2014, but it also feels like saying goodbye to an important chapter of their history.
* Auburn Buys In To Win NCEA Finals
The back-to-back champions relied on their support network and team chemistry to pull off a record-breaking season.
HORSE SHOWS
* Goetzmann Gains A New Perspective
A gap year is allowing her to go behind the scenes of top sport and win at the Longines Masters of New York
* Longines Masters Of New York Photo Gallery
DRESSAGE
* Focus On The Long Game Leads Schut-Kery To Del Mar Victory
After having to withdraw from consideration for the FEI World Equestrian Games, Sanceo returns right where he left off.
CHASING
* Senior Senator Secures His Spot In Chasing History
Only Senior Senator's front legs stayed upright as the rest of his bay body lowered into a cloud of dirt. He'd fallen to his stomach on the final crossing of Tufton Avenue for the 123rd running of the Maryland Hunt Cup, and any lesser horse would have been done for.
May/June 2019 Untacked
(Subscribers can read the full magazine online.)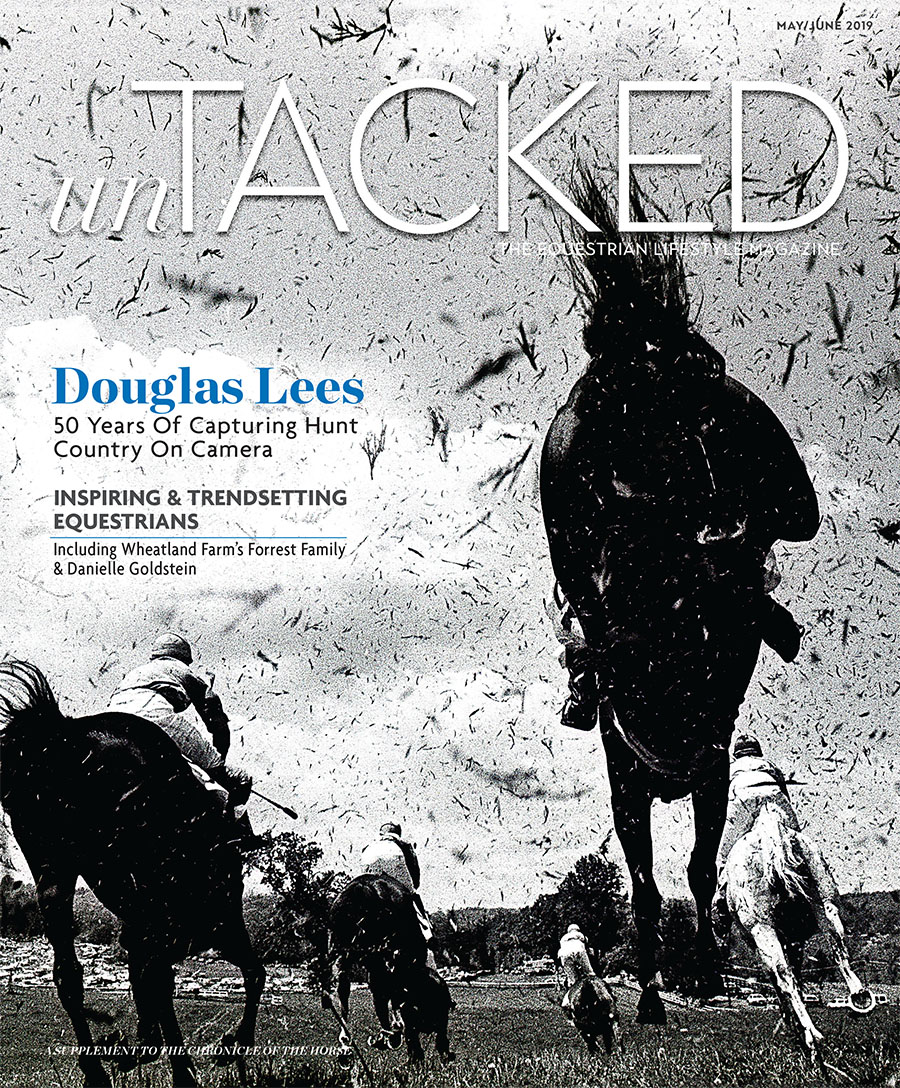 INSIDE:
Douglas Lees: Hunt Country's Unofficial Historian
He's been shooting for perfection for half a century.
Wheatland Farm: A Leap Of Faith For The Forrest Family
Their own struggles inspired Muriel and Mark Forrest to use the power of horses to help children with special needs and advance aspiring para-dressage riders.
Garden-Variety Equestrian
Horsey décor isn't just for indoors. Spruce up your yard and garden with these equestrian touches.
The New Safari
Rides through Kenya show off impressively diverse wildlife in addition to the conservation efforts protecting it.
Anything But Ordinary
Nifty Hamilton has taken a winding journey to the top of combined driving, including plenty of time at sea.
Danielle Goldstein Deconstructs Her Style
Thanks to her fashion philosophy, this show jumper stands apart – inside and outside the ring.
Plus: Editor's Letter, Around The Arena, Editor's Picks, Charity Spotlight, Tech Spotlight, Feed Room, Book Reviews and Parting Ways! There's even more inside the May/June issue of Untacked, at the intersection of equestrian life and style.