July 19 – August 2
(Subscribers can read the full magazine online.)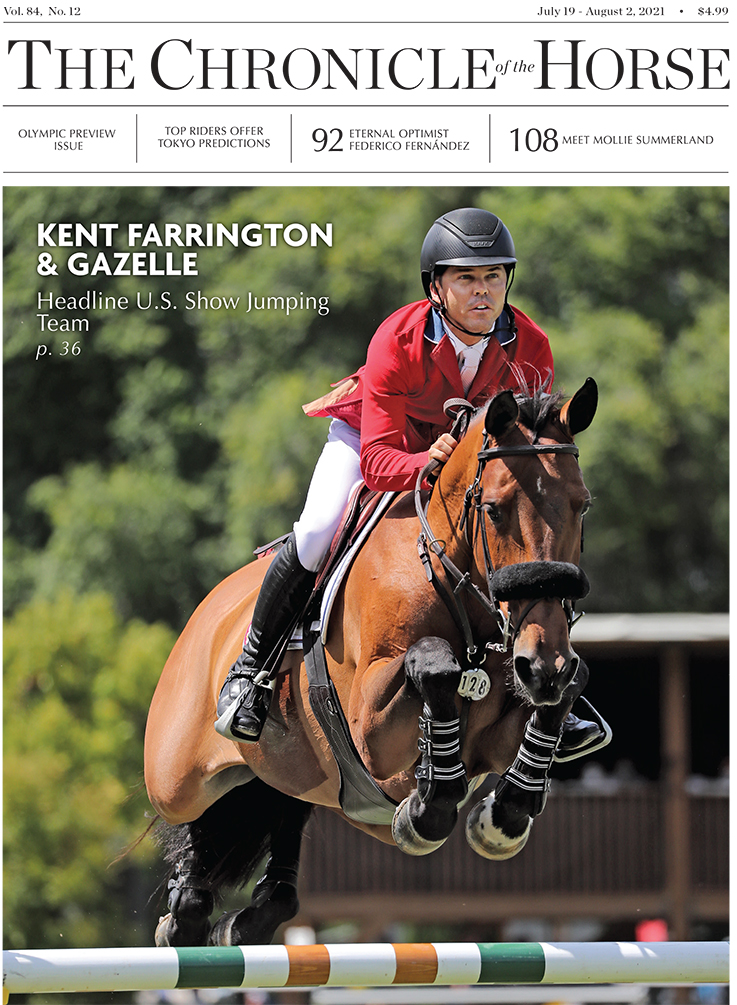 OLYMPIC PREVIEW ISSUE
The United States Could Reclaim Its Olympic Gold Position
Meredith Michaels-Beerbaum makes her predictions and discusses how new format changes for team and individual medals will alter the game.
United States Show Jumping Team
(read roster)
New Or Notable Individuals: Show Jumping
What You Need To Know About Olympic Games Show Jumping
The Brits Will Be Hard To Beat In An Olympics Like No Other
Clayton Fredericks debates the most likely medalists in the new three-rider team competition over an influential cross-country track.
United States Eventing Team
(read roster)
New Or Notable Individuals: Eventing
Thomas Heffernan Ho Will Make History For Hong Kong In Tokyo
After changing the course of his life in 2014, he'll be riding 20-year-old Tayberry for his home country.
What You Need To Know About Olympic Games Eventing
Germany Is The Team To Beat, But It'll Be A Battle For Silver
Carl Hester says that because we've seen few pairs compete head-to-head in the last 1½ years, there could be some surprises.
United States Dressage Team
(read roster)
New Or Notable Individuals: Dressage
What You Need To Know About Olympic Games Dressage
Olympic Emotion
When we asked top international photographers to select their favorite Olympic moments—whether they involved guts, grins or gold medals—they almost all told a story of unforgettable passion.
Triumphs, Turbulence And Trailblazers: Tokyo 1964
While the games in Japan nearly six decades ago didn't have a global pandemic to contend with, they had plenty of challenges—and milestones—of their own.
En Garde And On Point
Equestrian, breeder and top para-fencer Ellen Geddes has a ticket to compete in the Tokyo Paralympics.
HORSE SHOWS
The Eternal Optimism Of Federico Fernández
Though the Mexican Olympian has survived tragedies, he maintains a positive outlook that he tries to spread to everyone he encounters.
5 Questions With: Kent Farrington
When renowned French speedster Julien Epaillard is leading in a jump-off, most riders who come after him would know they're riding for second. But Kent Farrington isn't most riders.
Free Rein With: Maggie Jayne
We talked to her following her win in the $25,000 USHJA International Hunter Derby at the Showplace Spring Spectacular II with Santiago.
EVENTING
The Making Of Mollie Summerland
Luhmühlen's youngest winner gets real about mental health, movie magic and making it happen on a shoestring.
DRESSAGE
Trunnell's Winning Streak Continues In Tryon
She smashes more world records in the final observation event ahead of the Tokyo Paralympics.
Summer 2021 Untacked
(Subscribers can read the full magazine online.)
INSIDE:
Encountering The Horses Of Rapa Nui
Despite its remote location, this small South Pacific island—also known as Easter Island—is home to thousands of equines.
Kit Houghton Always Finds The Right Place At The Right Time
The renowned British photographer covered eight Olympic Games and shot millions of images, building an online database that provides a visual history of the last half-century of elite horse sports.
The Clothes Horse: Keep Your Cool
Long gone are the days of heavy wool coats and stiff, stifling breeches. Check out this season's hottest collection of items designed for maximum warm-weather comfort.
Warrior Training With Celebrity Guru Ruben Mahboobi
This polymath grounds his spiritualism in the ancient art of horsemanship.
Stepping Back In Time On Mackinac Island
In the absence of cars, horses set the destination's leisurely pace.
A Closer Look At Heart Of Phoenix
This rescue is bringing help and hope to neglected and abandoned horses in Appalachia.
Plus: Editor's Letter, Around The Arena, Book Reviews, Movie Review, City Guide: Traverse City, Editors' Picks and Parting Ways! There's even more inside the Spring issue of Untacked, at the intersection of equestrian life and style.