Harrisburg, Pa.—Oct. 13   
Six junior hunter divisions wrapped up at the Pennsylvania National—get to know the champions crowned!
Large Junior Hunter, 15 And Under – Small Affair and Augusta Iwasaki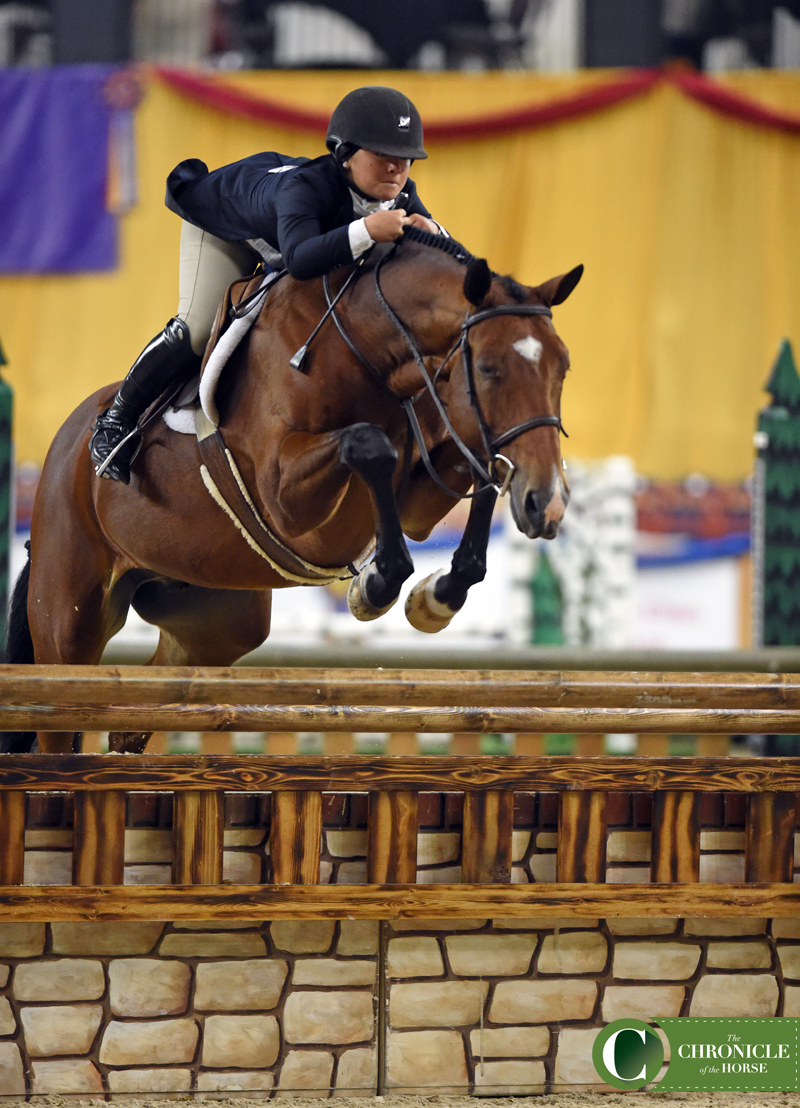 When Augusta Iwasaki and Small Affair go on course, they carry a little bit of extra luck with them—a charm sewn into one of Small Affair's braids.
At the Pennsylvania National, the charm braider Nadine Wasnik chose to use was a hand of cards, commemorating the horse's nickname of "Poker."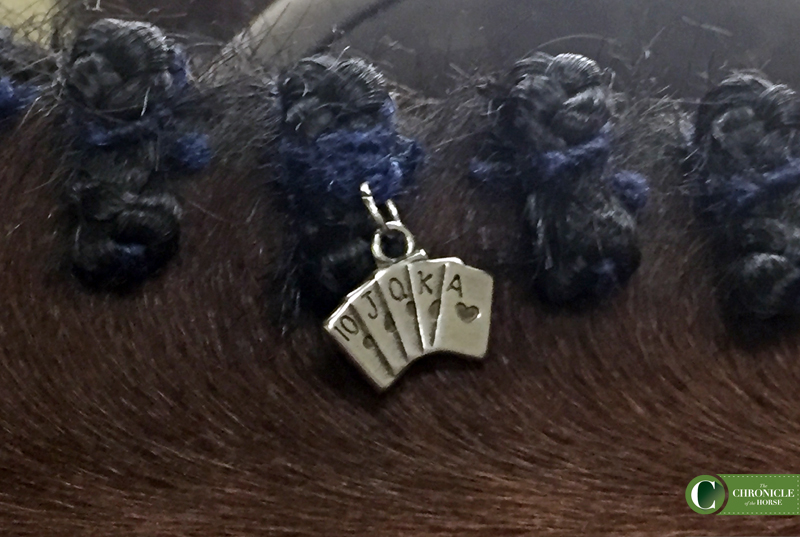 The charm definitely brought good luck as Iwasaki and the veteran hunter took home three blue ribbons on Day of the division and a red on Day 2 to claim not only the large junior, 15 and under, title but also the grand junior championship.
"He's just so much fun. I'm so blessed to be able to ride him," Iwasaki said.
Even though Small Affair, 14, got his start in the barn of her parents, Liz Reilly and Chris Iwasaki, Augusta never rode the bay gelding before taking over the reins last year. Small Affair, who has been showing consistently since 2008, has been ridden to many tricolors and blue by the likes of John French, Tori Colvin, Samantha Sommers, Hannah Heidegger, Olivia Esse and owner Lyn Pedersen.
"I never really though he was going to be mine, so I'd watch him and just think he was amazing. But I never thought, 'Oh that could be me someday,'" Augusta said.
This was Augusta's first championship title at the Pennsylvania National. "I was reserve in the small ponies a few years ago, but I've always wanted to be champion at an indoor show, so this is really exciting," she said.
---
Large Junior Hunter, 16-17 – Raleigh Hiler on Chapman ET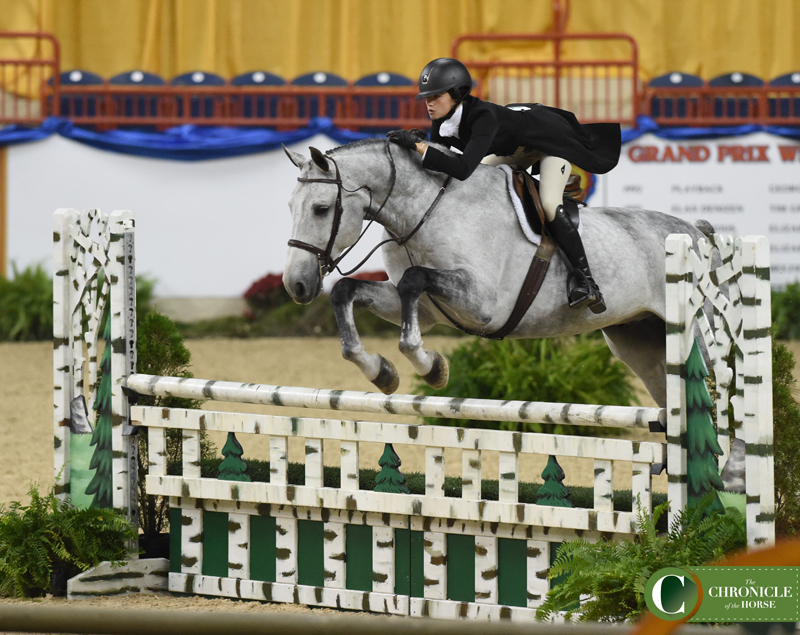 Raleigh Hiler doesn't look any different that any other rider in the ring, so you'd never know she deals with an unusual challenge—she's deaf and rides with a headset through which trainer Caitlin Venezia gives her instructions in the warm-up ring.
Hiler had meningitis when she was 8 months old, which caused her hearing loss. When she was 1, she had surgery to put in a cochlear implant on her right side. A second implant on her left side was inserted when she was 3, but isn't as effective because she was older.
Intensive speech therapy and the implants have enabled Hiler to live life much like any typical teenager, but she does have to compensate and her disability does make her feel insecure at times.
"I think riding has definitely given me more confidence. I'm not as insecure about my disability when I'm riding. I feel comfortable in the sport. And I've learned a lot from my disability, just going through struggles in life and advocating for yourself. If I can't hear someone, I've had to learn to tell them and make it work," Hiler said in a 2015 Chronicle article.
But Hiler's smile spoke volumes as she rode Chapman ET to the top of the large junior, 16-17, division. "It's unbelievable. I don't really show my horse that often, so it's so cool to have gotten champion at such a big show as this. They make such a big deal out of it that it made me feel really special," Hiler said.
She's been riding Chapman ET for two years. "He'd been doing the adult hunters, so he was a little bit been-there, done-that, but he was still pretty young," she said of the now-9-year-old. "He's so fun. His jump is unbelievable. He's so comfortable to ride to the jumps and then he jumps so high. It's so easy for him and he's so smooth, but it's like he explodes at the jump."
---
Low Small Junior Hunter – Inquisitive and Hallie Grimes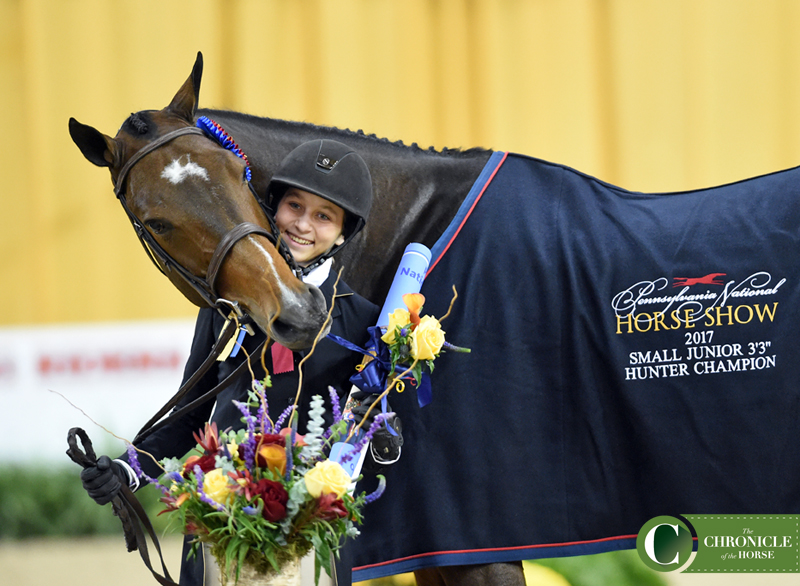 If there was one horse that lived up to his name, it was definitely Inquisitive. During the awards ceremony for the low small junior division, "Inky" was constantly on the move, grabbing for the flowers, checking out the trophy, and nuzzling rider Hallie Grimes.
"This is actually his first time at a big indoor championship, so I think him being a little bit inquisitive helped his overall vibe!" said Grimes. "He's very in your face, so he's a fun horse to have around. He's always very busy. He's a very lazy horse, but he puts a lot of effort in over the jumps. You can tell he's really trying for you."
Grimes, who lives in Houston, Texas, was also reserve champion aboard her Custom Made. "He usually doesn't beat his brother, so I think he was proud of himself," she said.
Grimes bought Inky in March from Mike McCormick. In Texas, she rides with Barry Porter, but she also commutes to ride with Andre Dignelli on the East Coast.
---
Low Large Junior Hunter – Levenworth and Olivia Yukon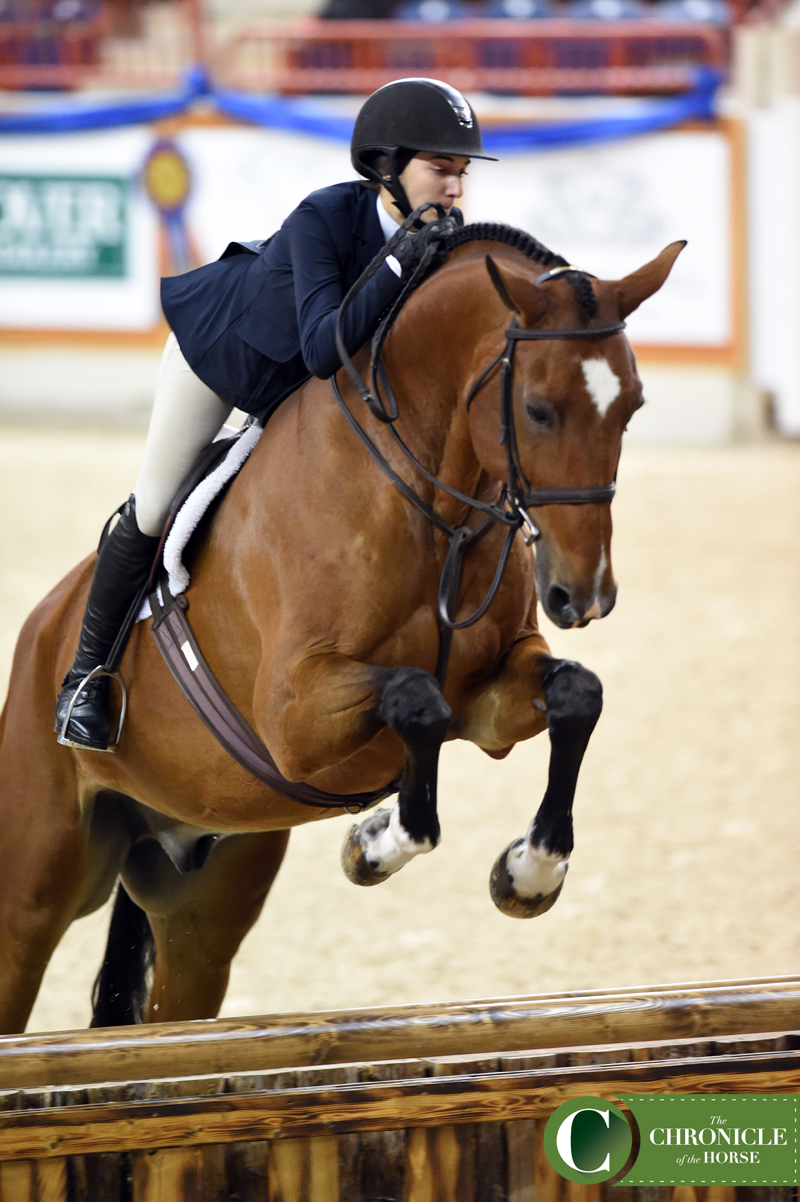 It was hard to miss Olivia Yukon's genuine excitement at claiming the low large junior hunter championship. "This is the best day ever!" she exclaimed. "This is huge. I'm sort of a small-town girl and I've never been in the big business. This is my first time here—my parents told me, 'You have one shot, one year, to try and go to indoors.' He's the best horse I could ever ask for. He's amazing."
Yukon, from Memphis, Tenn., has been riding "Worthy" for three years, progressing from the children's hunters up to the low juniors. "I leased him for a year, then he turned out to be my forever horse. We bought him and ever since then we kept going," she said. "He knows me. Whenever I pull up the barn he knows my car and whinnies. He knows where my pockets are. He's so spoiled. He knows me so well and I know him."
Yukon, 15, rides with David Pelligrini and this trip east to the indoor circuit is a treat from her parents. "I didn't even think it was a possibility I'd be champion. I just showed up hoping to get a ribbon in every class and we were top ribbons, so I couldn't have asked for anything more," she said.
---
Small Junior Hunter, 16-17 – Enticement and Emma Kurtz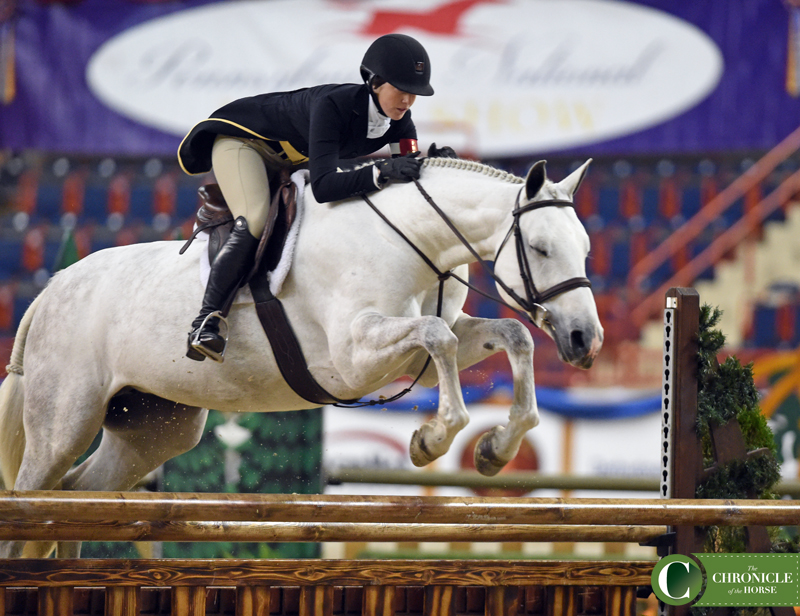 It was just Wednesday morning, the day before the first day of the Pennsylvania National, that Emma Kurtz and trainer Amanda Lyerly found out that Enticement had gotten in off the waitlist to show. So they were thrilled the gray mare finished the week as the large junior, 16-17, champion.
"I started riding her in June. We've been working with her all summer," Kurtz said. "It's really awesome to just get in and go right in the ring and do so well. She was really good."
Enticement has mileage in the amateur ring with owner Rebekah Warren, but it took Kurtz a bit to adjust to her ride. "She's a freaky jumper. She gives you the best feeling in the air," she said. "She curls around the jump and jumps in great form every time. You just get on and gallop and go to the jump and she jumps in great form. My favorite part is—and I don't do this on any other horse I ride—but I get to the jump and put my hands down on her neck and she jumps way up over the jump. It's an amazing feeling."
---
Small Junior Hunter, 15 and Under – Evermore and Mimi Gochman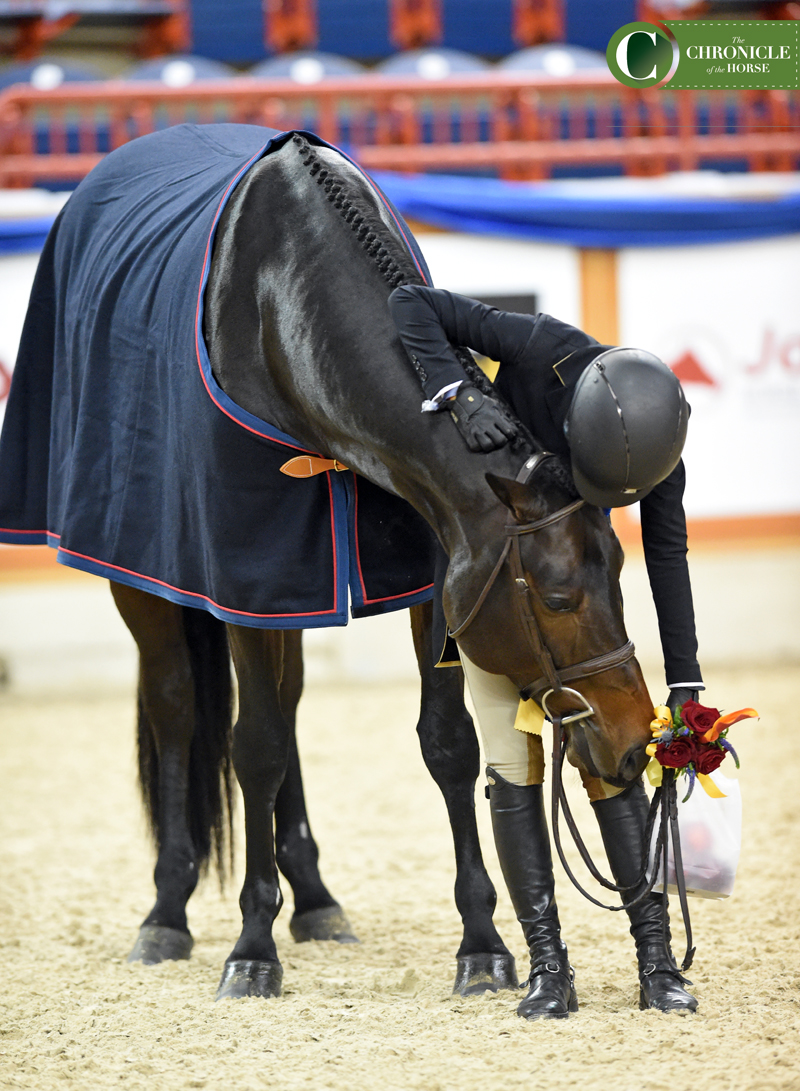 Evermore is part of the Gochman family—he's an offspring of Becky Gochman's very successful amateur-owner hunter stallion Empire.
"It's very exciting. His father had been in the family for a long time. We've known him since he was a baby, which is really cool," said Mimi.
"He's really sweet. He's got a soft mouth and a nice canter. He always tries his best."
Mimi said that she has ridden Empire a few times and the sire and son have some things in common. "They're pretty similar. In some photos they look very similar, in their jumping style. Their faces are very similar, too," she said.
Mimi clinched her tricolor with a winning stake round, earning a score of 90 to take the blue in the class and the tricolor in the division. "I was just working on giving him enough space to jump well; I was wanting a solid round but a 90 score was amazing," she said.
IMPORTANT LINKS:  All the COTH Pennsylvania National coverage  |  What You Need To Know  |  live results/order of go  |  live streaming  |  show website
2017 Pennsylvania National - Friday
Molly Sorge / Oct 13, 2017 4:43 pm