Lexington, Ky.—April 27
Michael Jung's dressage lead with fischerRocana FST was looking insurmountable as the final day of dressage began to wind down at the Land Rover Kentucky CCI****. But then Marilyn Little took to the ring with RF Scandalous, blinged out braids sparkling in the sun, and the judges suddenly only had eyes for the flashy pair. Little and "Kitty" danced to the top of the leaderboard on 24.8, more than 2 points ahead of Jung.
But Little had to laugh when asked what it felt like to be sitting ahead of the three-time Kentucky four-star winner.
"Those feelings will come and go I'm sure," Little said. "I'm going to enjoy this very moment, and then I'm going to go out there and walk the course and move on to what's probably going to be the next feeling!"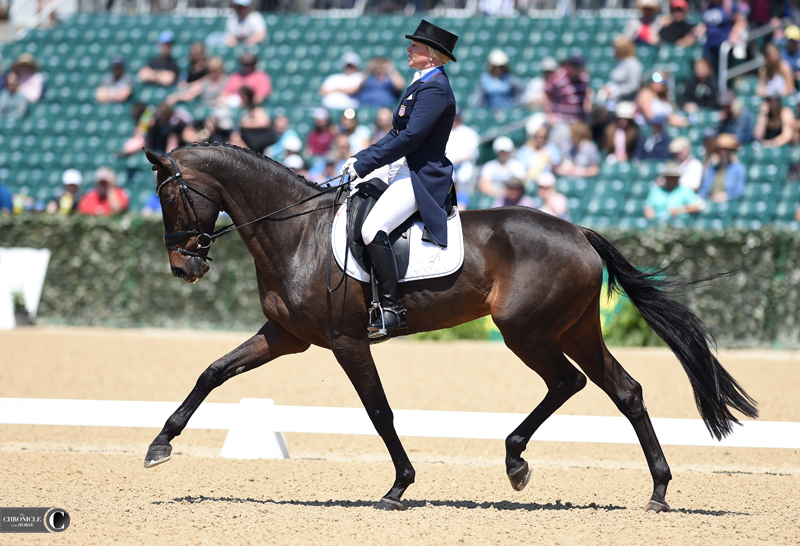 Little has been working with Sweden's  Bo Jena for more than a year to improve Kitty's dressage scores.
"He's been an incredible part of the program and incredibly generous with his time," Little said. "He flew here. Kitty had a bit of an atypical prep for Kentucky. We got her fit a bit early then we shipped here early, and she's been training in dressage with Bo all week. I think it paid off. I'm thrilled."
Little didn't know she was about to have such a great test as she was stretching Kitty's legs.
"She had me a little bit nervous here in the warm-up area; she really felt the atmosphere Friday afternoon," Little said. "Which we know is a part of it, and I hoped she wouldn't notice, but she did as she was walking up here.
"She settled right before she went in and gave me about a minute of being able to breathe before I went in," Little continued. "And she went around the ring and said she was ready to go. She was wonderful."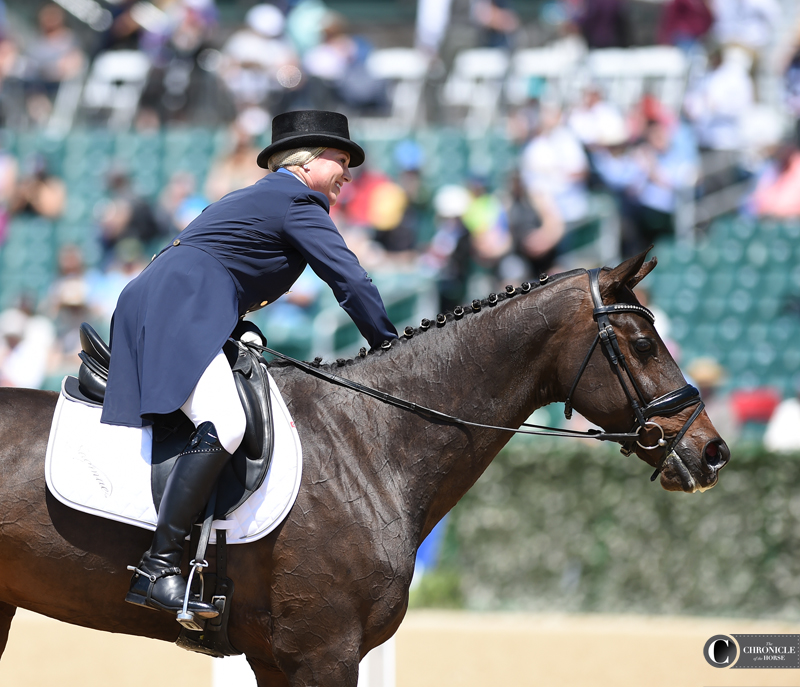 Little is still recovering from an injury to her foot at the end of last year—she has been walking around Kentucky in a boot and had coach Karen O'Connor jog Kitty for her.
"Right now I don't feel it at all; it's been doing great," Little said. "I feel very strong. I've been doing a lot from a fitness standpoint to be the strongest that I can.
"Not being able to run, I miss the aerobic side of it," Little continued. "But I've got a great team that are preparing me for this weekend. This has been the focus for a very long time."
O'Connor was one of the first to congratulate Little after her test—between her advice on cross-country and Jena's, who is the chef d'equipe for the Swedish dressage team, Little has quite the support team behind her.
"If I can remember about 60 percent of what she's told me I'll be doing great!" Little said with a laugh of O'Connor's help. "Of course she's got so much experience out there; it's hallowed ground for her. If I can have one of the runs like she's had out there I'll be in good shape."
Watch Little's test, courtesy of USEF Network:
Riders have been joking that every year they think Derek di Grazia's course at Kentucky is the hardest it's ever been, and this one is no exception.
"It looks well-presented of course," said Little. "Derek does an incredible job, and I'm really excited to get out there and jump it with her. She's a wonderful cross-country horse. We've been building up to this moment, so I hope it goes as well as it can. I know she can do it. I think I'm going to have a blast out there."
Little is in the unique position to be competing in both the three-day event and the inaugural CSI*** show jumping competition at the Kentucky Horse Park this weekend. Little will ride Clear Water, who happens to be owned by O'Connor, in the show jumping , which kicks off with a welcome class Friday, and the main grand prix event takes place Saturday afternoon following cross-country.
"It's very special to have him being owned by Karen and being here with the eventers this week," Little said. "It all comes together, and it's a lot of fun."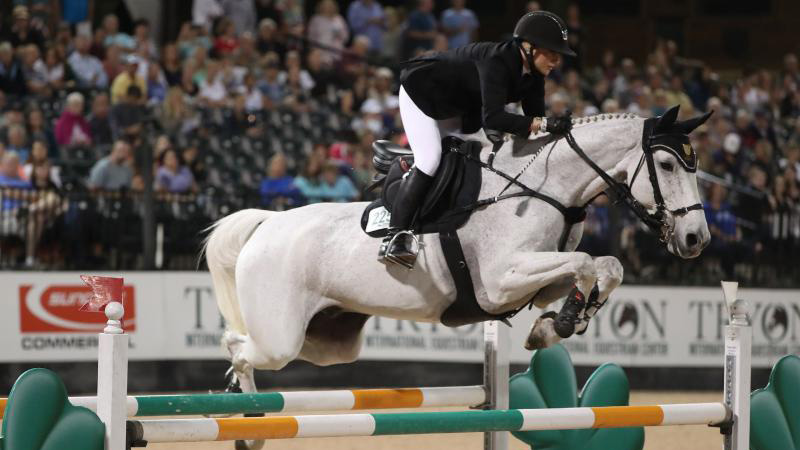 Jung is still well positioned in second to pull off a record fourth win should he post solid cross-country and show jumping rounds.
"I hope we can enjoy it because everything is perfectly prepared. We have super ground and super weather for tomorrow. I think also I have a really, really good horse," Jung said. "This is a tough course, but a really nice build, and we have plenty of options.
"I will try to go fast and clear, but in the end we get the information from the horse and from the warm-up," Jung continued. "As we go through the course we have to be open in our mind with which plan we go with. There are a lot of combinations, so we need a lot of power in the horse at the end, so we have to take care to not start too fast."
Australia's Chris Burton sits third going into Saturday's cross-country on a 27.9. You can read about his test with Nobilis 18 here.
U.S. team veteran Kim Severson and Cooley Cross Border are sitting fourth on 28.3.
 See more photos from today's competition.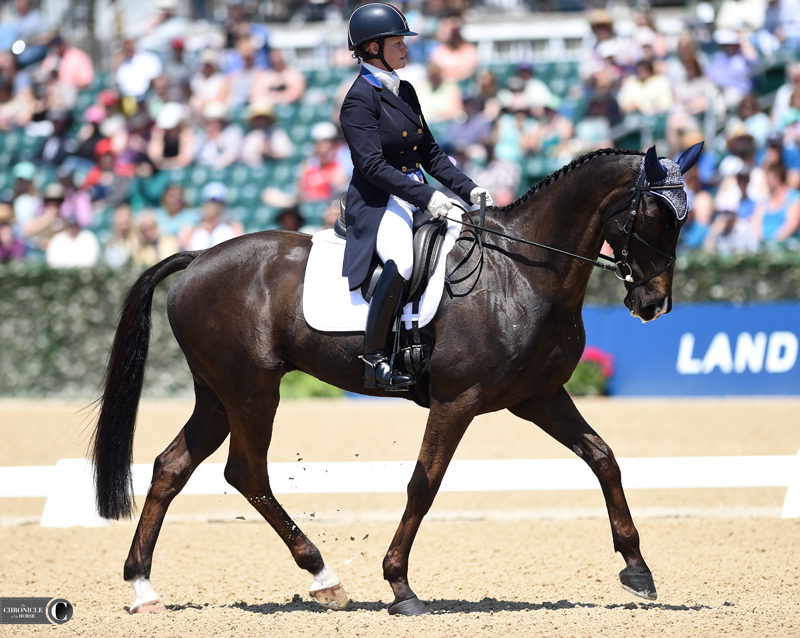 "He was pretty nervous when he went in there, which is not like him, but he came back to me quite well," Severson said. "He kept it together. He got a little more nervous as we went into the canter work, and the flying changes are a struggle, but the rest of his work was good."
Great Britain's Oliver Townend and Cooley Master Class are fifth on a 28.7.
"I'm very happy with him," Townend said. "It's his first chance at this level, and we've had him since word go, so we'd be very happy with that."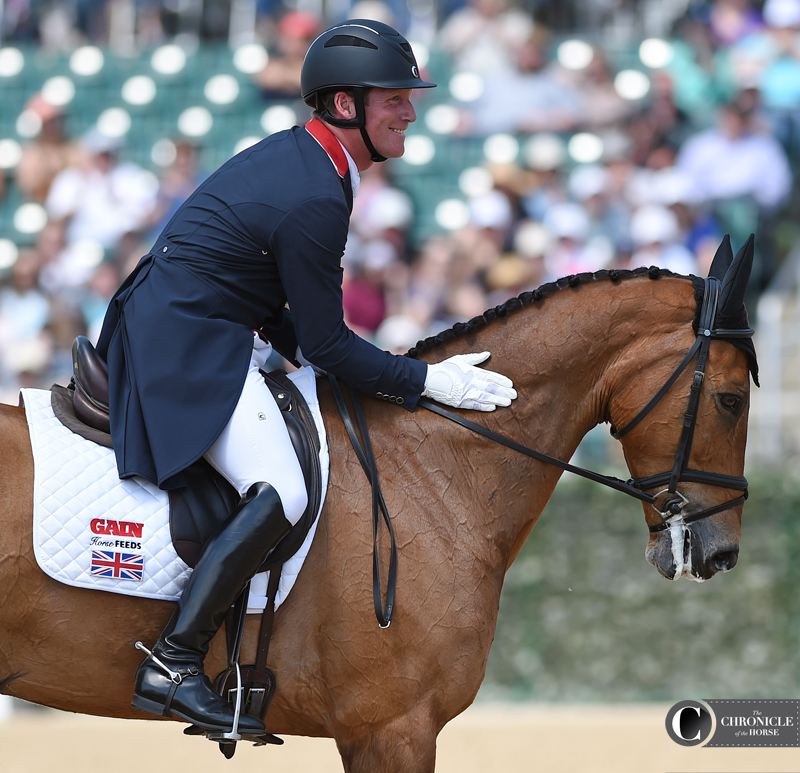 Townend competed his other horse, MHS King Joules, earlier in the day and sits tied for eighth on a 31.3 with Lynn Symansky and Donner.
"They're completely different rides," Townend said. "King Joules is a bit of a runaway to say the least, and Cooley Master Class has never gone the distance before, so we'll just be trying to be as close as we can and see how we go [on cross-country]."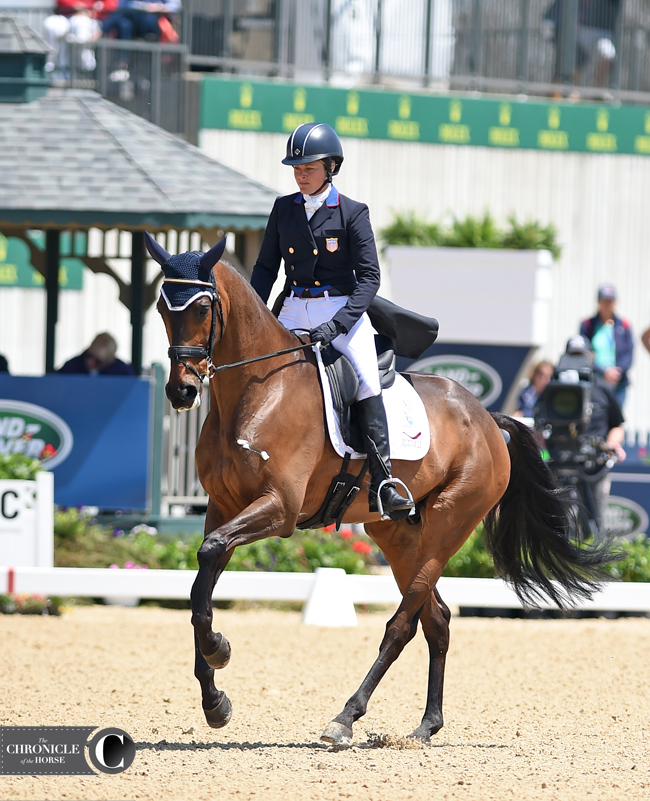 Symnasky has been paired with her off-track Thoroughbred gelding since novice level, so she was pleased with her results.
"You work their whole life to get them trained, and then they get to this age, and you get a good two years out of them, and then they retire!" Symansky joked after her test. "I was joking with Will Coleman at the barns just yesterday, this is what you've been working for the last five to 10 years, and it all comes together.
"It's a really rewarding feeling to know that with all those pieces, you can finally rely on  all the training and hard work and years you've put into it," Symansky continued. "So even on a horse that does get a bit hot and a little more fragile mentally, I was really proud of the test he gave me in there."
The Chronicle is on site at the Land Rover Kentucky CCI****. Keep an eye out at coth.com for all our coverage of the event.
Important Links: Land Rover Kentucky website  ⁄  Ride Times / Results /  Live streaming / All of the Chronicle's coverage
Make sure to follow along on the Chronicle's social media outlets: Facebook, Twitter and Instagram.