Desert International Horse Park (California) and Wellington International (Florida)—homes of the country's two largest winter hunter/jumper show circuits—will offer on-site PCR testing for EHV-1 this winter season with hopes of avoiding a repeat of last year's outbreak that sickened 30 horses at the California show park, led to dozens more cases statewide, and temporarily shut down horse shows.
"Testing has been a problem in the past. Mostly these things [horses getting sick and requiring testing] seem to occur on Thursday nights or Fridays, making it very difficult to get the results back until the following Monday," said Duncan Peters, DVM, DACVSMR, founder of East-West Equine Sports Medicine, which is the official veterinary practice for Desert International Horse Park. Instituting on-site rapid PCR testing "gives us some direction as well as some peace of mind as to what we're dealing with and how we need to proceed forward."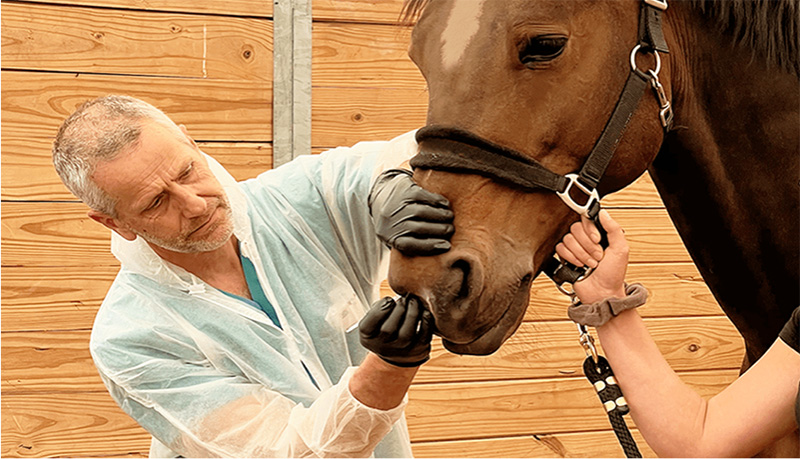 Peters' remarks came during a Nov. 15 webinar hosted by the U.S. Equestrian Federation to discuss new protocols being established for the 2023 season in the wake of a nearly six-week EHV-1 outbreak at the Thermal, California, showgrounds that began the Friday of Week 4 of the show series in 2022. The first positive test came during a time when there were 1,800 horses onsite. In total 29 horses tested positive, three of which were equine herpesvirus myeloencephalopathy (EHM), the neurological version of EHV-1, and 26 were positive for fever-only EHV-1. One horse, Peters said, was fine at 4:30 p.m. but four hours later had developed such severe neurological symptoms that it had to be euthanized.
"The bottom line is EHV is here to stay, and we have to continually be vigilant in our identification of it," said Stephen Schumacher, DVM, chief administrator of the USEF Equine Drugs and Medication Program.
Early detection of the virus is key, and officials hope that the addition of onsite rapid PCR testing kits, which has been developed by medical equipment manufacturer Fluxergy, will be an effective tool to isolate positive cases early on to prevent spread.
"The test won't replace state regulatory test but can provide information much quicker on what to do," Schumacher said. "It's not intended to substitute or eliminate that state testing, which is a requirement."
There was discussion about the scope of PCR testing, but for now, it will only be for horses that appear sick, not done universally to every horse entering the grounds.
"It is quite intense in terms of holding people up and slowing things down and having a facility where people could keep their horses for a holding facility while tests come back. We decided against it," Peters said. "I think more importantly is not putting a sick horse on the trailer. Occasionally horses will come off the trailer sick, we know that."
Both Thermal and Wellington will have a dedicated biosecurity officer moving forward.
"Biosecurity is real—it has to be real—and everyone has to buy into it in order to protect these horses," Peters said. "They come from so many different areas to these events. They also travel long distances and are highly stressed, and that unfortunately opens the door to incidents like this. This is sort of the new world in terms of trying to protect our horses and all of us have a big investment in it."
Officials touted the role of early detection and the importance of those who are around the horses most, like trainers and grooms, recognizing abnormalities. Steve Hankin, president and CEO of DIHP, said the park is partnering with the University of California-Davis on research that began during this year's outbreak and is committed to learning more about prevention of EHV-1. The park has also updated its protocols.
"We are following a simple philosophy: If your horses is sick, don't bring it," Hankin said.
Horses arriving at the park now must travel with a declaration of health, veterinary certificate and vaccine confirmation.
Once you have a positive case, it's already too late to avoid spreading it, Hankin said, adding that "many of the protocols written by the state are either outdated, nuanced or don't apply.
"I'm far from an expert. I never dreamed of this when we made the decision to buy the horse park," he said. "It's easy to argue whether we were prepared or not prepared."
The goal going forward is to educate, communicate and isolate any positive cases immediately.
Soon after the first positive cases were reported at Thermal, USEF began panel discussions with industry experts, veterinarians and competition organizers to discuss what happened and what they could do better, Schumacher said. Although Wellington International did not report any positive cases last winter, it did institute strict biosecurity measures to ensure horses coming in from California, where the winter circuit was shut down, did not bring EHV-1 onto the Florida showgrounds.
"Many of the policies that are coming out for the main two venues, those are a result of many of these panel discussions," he said. "They've both been through the fire. Once you've experienced that, you become very sensitive to it, and I think a lot of great discussion came from individuals who had to deal with this on a firsthand basis."
Schumacher said USEF will play a role in helping venues. "The federation recognizes that we need to assist and support competitions managing the enforcement of the biosecurity measures," he said. "The message has been we're all in this together."
Peters said there were some major compliance problems with isolation and biosecurity. "There were times when people would walk in there and not gown up and not use the foot baths and so on," he said. "Compliance can make a big difference."
By contrast, he said, some of the attending veterinarians changed their clothes 15 times a day while treating affected horses.
Fluxergy representative Eric Mendonsa said the company has been working with UC-Davis for five years. "We can quickly detect what's going on and take action, rather than limiting competition" with the rapid test kits, he said.
Nicola Pusterla, DVM, DACVIM, a professor of medicine and epidemiology at the UC-Davis College of Veterinary Medicine, provided an overview of how the virus begins and spreads, saying that in 99.9%, it appears as a self-limiting upper airway infection.
"Unfortunately, in certain instances, we see complications," he said. Mares losing a foal in uterus or neurological problems can arise. The "curse" of EHM tends to happen 10 to 14 days after the horse had a fever when they have a sudden onset of weakness and go down. More than half of horses who develop neurological symptoms need to be euthanized.
"The issue is by the time you see a horse with neurological disease, there are many more horses that have been affected," Pusterla said.
Another challenge with containing the spread of EHV-1 is that not all clinically infected animals show signs of illness. Pusterla compared this to people with COVID-19 who test positive but are asymptomatic.
Treatment of the virus focuses on controlling the fever and administering IV fluids as well as using antiviral medication. During the outbreak, there were shortages of heparin as well as valaciclovir (brand name Valtrex), the antiviral of choice.
"I think all of Riverside County [California] was out of Valtrex because of the situation at the horse park," Pusterla said.
Moving forward, the California horse show park  will focus on providing education on-site as well as monitoring compliance with the new regulations.
"I think that's an ongoing process," Peters said. "It's interesting because you don't think it's going to happen to you, but if it does then you're really interested in it. Unfortunately, a lot of us just aren't up to speed on just what we need to do if an outbreak occurs."