Back in the fall of 2019, Irish equestrians celebrated after their country secured its first-ever invitation to send a dressage team to the Olympic Games. They earned that berth at the Longines European Championships (the Netherlands), where Judy Reynolds and Vancouver K anchored the team to a seventh-placed finish.
But there will be no Irish team in Tokyo this year; it was one of several complications of the yearlong delay in the start of the Olympic Games thanks to COVID-19. A combination of changing circumstance over the intervening year and difficulties athletes had in achieving a mandatory "confirmation result" since January 2020 amid COVID-19-related travel restrictions and a European EHV-1 outbreak have forced once-qualified contenders to withdraw.
Perhaps the highest-profile withdrawal has been that of the Irish dressage team. Horse Sport Ireland announced June 21 that Dressage High Performance Director Johann Hinnemann had decided not to send a team to Tokyo after the three top Irish combinations dropped out in recent months.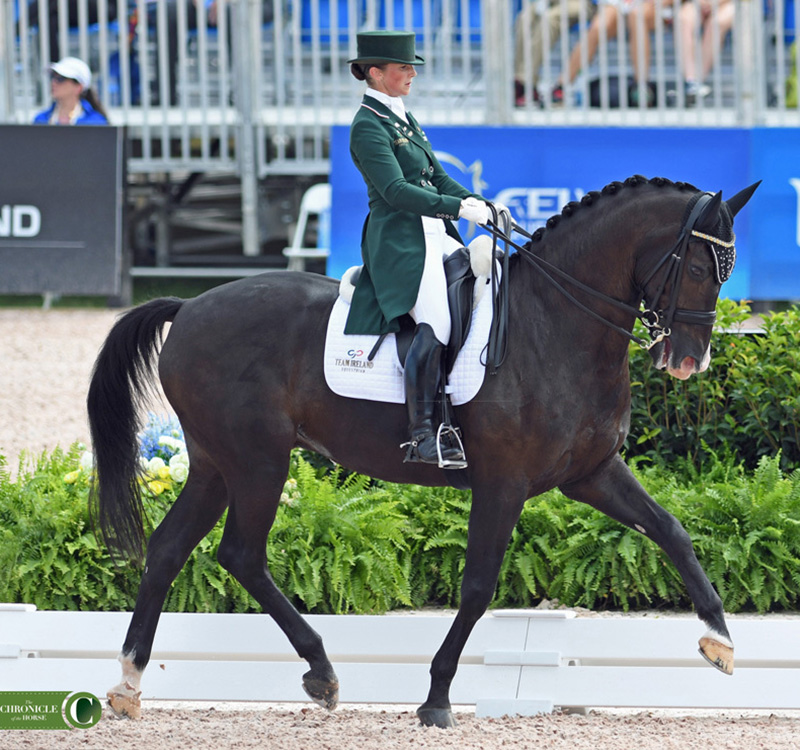 Reynolds, who attended the 2016 Rio Olympic Games as an individual, retired her top horse, Vancouver K, in early June, ending their bid for Tokyo. Kate Dwyer, her teammate from the 2019 Europeans, is pregnant and has withdrawn from selection. Olympic veteran Anna Merveldt also withdrew from contention because her horse Esporim has not competed since January due to an injury.
Though three remaining Irish riders have achieved the minimum scores required by the Fédération Equestre Internationale, Hinnemann informed the Horse Sport Ireland's board that the remaining combinations had not met more rigorous criteria he had set forth.
"The Board of Horse Sport Ireland has decided, following careful deliberation, to accept the technical guidance of the [high performance director] and formally withdraw the [Ireland] Dressage Team quota allocation with the National Olympic Federation, and our international federation, the FEI. This difficult decision was founded on rational performance considerations and an informed technical position of our retained dressage expert Johann Hinnemann," according to a June 21 press release from Horse Sport Ireland.
The release also indicated that Ireland may be offered an individual spot as individual quota places are reshuffled.
"Horse Sport Ireland understands that a final decision on the reallocation of individual places will be known later this week. If this is the case, Horse Sport Ireland intends to avail of this position," the release concluded.
One of the qualified riders, Dane Rawlins, has lodged an appeal to the decision, Horse & Hound reported June 22. It's not clear what this will accomplish as Ireland has has already relinquished its team slot.
That slot went to Luxembourg, but the country is unable to field a team of three. Belgium is next in line, and it now will be sending its first dressage team to an Olympic Games since 1928.
Equestrian Sport New Zealand announced in early June that it would not be sending anyone for the country's individual slot in dressage or for its two para-dressage slots as no combinations had been able to achieve the ESNZ Olympic nominating criteria: "capable of achieving a top-16 placing at the Games in a dressage event with the potential to win an Olympic Diploma (top-8 placing)."
Meanwhile, thanks to the COVID-19 outbreak, there were no CDIs held in Australia, New Zealand or elsewhere in Oceania between mid-March 2020 and mid-September 2021, eliminating nearby opportunities to earn qualifying scores. Some athletes planned to go to Europe to compete, but the worldwide pandemic and European EVH-1 outbreak prevented that.
While New Zealand and Ireland opted to give up the Olympic slots they earned because they lack riders currently meeting their national selection criteria, the FEI also has specific criteria combinations must meet, and that has caused problems for hopefuls elsewhere.
Even if a country is allocated an individual or team slot, each athlete-horse combination must meet the FEI's Minimum Eligibility Requirements to compete at the games.
In dressage, this means two scores off 66% or better, both from a five-star judge and as an average of all the judges at two different events at the three-star level or higher. Crucially, combinations who achieved their MER in 2019, before the COVID-19 pandemic, must also have earned an additional "confirmation result" between Jan. 1, 2020, and June 21, 2021.
That final requirement, for a confirmation result within the past 18 months, has scuttled Olympic dreams for a number of riders. Differing COVID protocols around the world, as well as the EHV-1 outbreak in mainland Europe this spring, which prompted the FEI to cancel competitions from March 1 to April 11, meant many competitors weren't showing or able to travel to major competitions to achieve their confirmation result.
For example, when New Zealand gave up its slot, Malaysia stood next in line. Top contender Qabil Ambak had hoped to be the first Malaysian to represent his country in dressage at an Olympic Games. He earned his MER in 2019, then left his mount Delatio in training with Dennis Fisker in Denmark while he returned to Kuala Lumpur. In early June, he received word that he had a ticket to Tokyo—if he could achieve a confirmation result by June 21. So, after a year-and-a-half hiatus from riding Delatio, Ambak flew to France to compete the stallion at the Le Mans CDI on June 18—three days before the deadline. He did not achieve the necessary 66% score.
The slot went instead to another rider who attended the Le Mans CDI to squeak in a confirmation result: Britain-based Caroline Chew, representing Singapore, also hadn't competed in over a year before the French competition. Aboard Tribiani, she scored a 69.67% to earn the necessary confirmation result and punch her ticket to Tokyo.
Bermuda will not send a rider, despite earning a slot, because Annabelle Collins missed out on achieving her second MER at La Mans by a mere 0.4% on Chuppy Checker CL. While she had also achieved qualifying scores in 2019 on Joyero VG, that horse is recuperating from an injury.
"We tried our very best, but unfortunately, for this year, we will not represent Bermuda at the Tokyo Olympic Games," said Collins in a Bermuda Equestrian Federation press release. "Chuppy will have a short break prior to returning to competition in late summer and autumn. I remain positive and we will continue on our road to represent Bermuda in the very best way possible."
With Bermuda out, Venezuela next had the option to send a rider, but their top contender Patricia Ferrando failed to earn qualifying scores on Elvis. Next in line was Chile, who will be sending Virginia Yarur and Ronaldo.
Norway's top combination, Ellen Birgitte Farbrot on Tailormade Red Rebel, withdrew from contention as the horse is new to the Grand Prix level. Farbrot had earned Norway its individual dressage slot for the 2020 Games based on her 2019 results with another horse, Tailormade Tahennya. This year, she qualified Red Rebel but ultimately decided against attending the Olympics.
"Both COVID and EHV made it close to impossible to give him the show and travel experience needed," she wrote on her Facebook page. "With that said, my 'athlete heart' wants us to go, also knowing it might never happen again. If the travel was not that far—it would have been a different story."
Norway's slot will go to Italy, though it's not clear which rider will go.
July 5 is the deadline for Olympic entries. For the most up-to-date news on which equestrian athletes are headed to the Tokyo Games, click here.