Our columnist addresses the pros and cons of percentages, qualifying rides and scores, judges' standards and more.
Fédération Equestre Internationale five-star judge Gary Rockwell and prominent freestyle designer Terri Gallo presented a judges' seminar during the U.S. Dressage Finals in Kentucky last fall.
Gary treated us to an educational workshop on the technical aspects of judging. At the beginning of his presentation, he brought up some sore subjects, including complaints about the differences in the quality of performances at championships, since percentages are used to qualify horses. Some combinations, which qualified with scores in the high 60s or the low to mid-70s, received shocking scores of 10 or more percent lower at the finals.
A related problem is that a number of competitors include in their championship freestyle rides movements that are disallowed for the level or mistakes that have not been caught by the judges in the qualifying process but will penalize them in their championship class.
Additionally, you can qualify and ride in a low-level freestyle championship without riding in the regular championship at that level. I judged several first level classes in one championship, and a number of horses competed in the freestyle but were not seen in the regular first level division. Not surprisingly, there was a great difference in competence. Freestyles should not be allowed to become an escape from the regular test but should be a complement to it.
All this makes some riders feel they were somehow misled or lied to during the qualifying process, and they regret spending time and money traveling to championships that end up an embarrassment. A lively discussion ensued, and the various reasons for the problems were examined.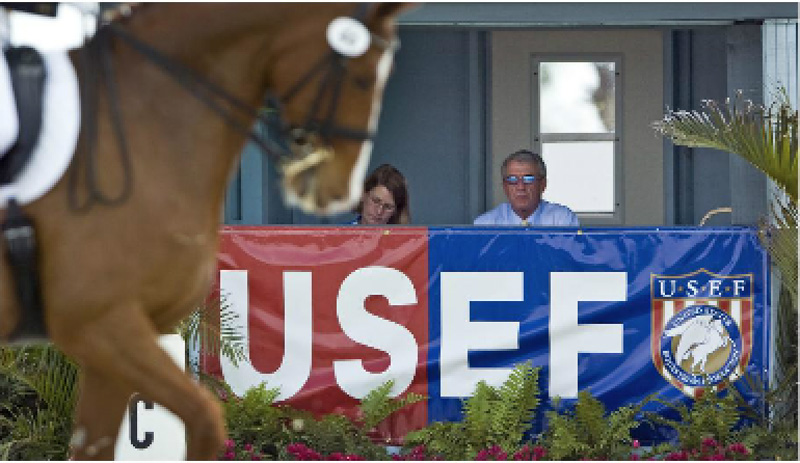 Although inexperience of local judges and a wish to give "happy" scores to the home crowd were mentioned, I think we went beyond those obvious and worn excuses to hit on two major points: Most qualifying scores are earned in front of a single judge, and at championships the rider goes in front of a panel of judges. This makes a huge difference in checks and balances and is, of course, a much more fair system. So, why can't we require panel judging for all qualifying rides nationwide? Too expensive for the shows!
The idea of allowing judges to panel judge for a lesser fee to gain experience was considered, but of course that raised the issue of how proficient the volunteer judge really is. There is the Catch-22.
Gary reminded us of the "good old days" in the '70s when we had just introduced percentages into the system to compare scores and measure success. Those were the days when achieving a 60 percent at Grand Prix was a cause for celebration. Today, if you don't get a 60 percent you had better go home and practice some more. (And yet, that is still the percentage for awarding a USDF gold rider medal, but that is a whole other topic for discussion.)
Percentage Problems
Then Gary touched on another issue that I've thought about many times: What if the system of using percentages is becoming the culprit? When your score is considered more important than how you placed, I see a problem.
I'm not entirely sure the idea of measuring everything in percentages has helped the sport. It gives riders a "personal best" score by which to measure their progress, but at the same time it disguises the truth if they didn't do well by comparison to the actual class. Percentages also give statisticians a perfect tool to arm all critics of the judges with a never-ending stream of numbers to prove differences in scoring that could be absolutely correct and warranted, depending on the situation. Statistics are not infallible, and they can be slanted.
With or without percentages, what we score each horse/rider is important, especially in qualifiers. Gary emphasized that judges have a certain scale set-up in our mind, and it is imperative that we travel with this scale. This means that wherever you judge, in whatever company, your score will be exactly the same for that movement, performed that way, in a little local show or in a championship. As was pointed out: None of us are smart enough to have two standards!
Christine Traurig talked to us on that same subject in regards to the Young Horse Championships, with which she's involved as the U.S. Equestrian Federation Young Horse Coach. In a most diplomatic way Christine made it clear that she expected a more uniform quality of horses to show up at her training sessions when the invitations are based on scores earned in competition. There is, apparently, a wide variety of talent presented to her, and sometimes the participants seem misled about the true ability of their youngsters, which causes complaints and disappointment with later results.
Christine spoke on the definition of relaxation, which means a horse should be alert, attentive and energetic, displaying an interest in his work while free of fear or physical resistance.
She also believes riders should be made more accountable for the results of the performance than they presently are. We were encouraged to see that the very best of our young horses come to the championships.
Continuing Judges' Education
Suggestions to improve these issues included requiring every judge to do some panel judging, having mentor judges available for regionals, and holding forums more frequently than every three years.
Online education always comes up, but neither the FEI, nor the USEF seem to have an organized program available, although we do have the USDF "L" program website. There was talk about limiting the time allowed to remain a small "r" judge and some mention of how riders no longer seem to value the opinion of the judges.
There were awkward questions and some much-needed honest discussion and self-criticism. Gary should be commended for having the honesty and courage to initiate and moderate the sometimes-heated discussions. In the middle of it all, I thought of how passionate all those judges were, showing honest effort to improve themselves as well as the sport. I salute them all for spending so much of their lives on the road in the heat, the cold, the wet and the winds of controversy, because they believe they can contribute to a sport they love.
Mastering The Music
And then we moved to the freestyle. Terry, who has created numerous winning freestyles for most of our successful competitors, walked us through the artistic scores including harmony, choreography, difficulty, music and interpretation with perfect precision, offering handouts and videos on each subject.
She pointed out the importance of the music's suitability to the horse by playing different music to a video of the same horse and showing how the music can either support the horse's personality and gaits or make him look ordinary and less athletic.
The cohesiveness of the music is also of great value, since nothing should disrupt the flow of the sound or disturb the ear. This means the editing has to be flawless and the volume appropriate to complement the performance. Interpretation defines the relationship between the music and the movement performed and, contrary to creating the freestyle, this is what happens during the performance.
Music expresses the gaits of the horse in relation to its beat, rhythm and tempo. Although the music can be made to match the footfalls, this is not required, but music does have to underline and express the gait of the horse. Judges usually reward it when the footfalls match perfectly in each gait, which is harder to accomplish.
Terry provided detailed notes on the subject of music choice, dynamics, and the assessment of interpretation, which I believe opened the eyes of some judges who have not been involved in creating or riding freestyles to any great degree. A lot more goes into freestyle creation than meets the eye, and in spite of that fact, I believe the music sometimes gets a back seat of attention in comparison to the difficulty and choreography. This is especially true in FEI shows where, particularly in World Cup, difficulty now has its own computerized compartment due to a new evaluation system that works in combination with the compulsory floor plan.
I find this system takes too much attention away from the appreciation and interpretation of the music and removes the "free" from the freestyle, which could now be more appropriately named a "program ride to music."
To date, this system has not been required nationally, and although we tend to genuflect every time the FEI blinks, it may be too technically complicated and expensive to enter our rules for at least a while. Good for the music which, after all, is what makes all the difference between a freestyle and a regular test!
---
Anne Gribbons was the U.S Equestrian Federation technical advisor for dressage from 2010-2012. She has trained and shown 15 horses of her own to Grand Prix and competed in 10 national championships, as well as in Europe, including the Aachen CHIO (Germany). Seven of her horses have been named U.S. Dressage Federation Horse of the Year, and she was a member of the 1995 Pan American Games silver medal-winning team for the United States. Anne is a Fédération Equestre Internationale five-star judge, and she was a member of the FEI Dressage Committee from 2010-2013. She was inducted into the Roemer Foundation/USDF Hall of Fame in 2013. Anne started contributing to Between Rounds in 1995, and a collection of those columns is now available in the book "Collective Remarks."