Herning, Denmark—Aug. 6
The Netherlands has taken the lead after the first day of team competition at the Blue Hors FEI Dressage World Championship. Germany sits second, the home country of Denmark sits third, and the United States is lying eighth after half the championship riders have taken a turn around the arena.
Dutch rider Dinja van Liere tacked up Hermes to take the lead in the competition, scoring a 78.83 percent in a test highlighted by their piaffe and passage tour.
"I'm very pleased with the test," said van Liere. "There were also some things that could go better—I wanted to do even better. But I'm very happy, really. It's not really a difficult arena, but it's really big, and with the wind and stuff today I was very happy that he stayed focused and did a good test."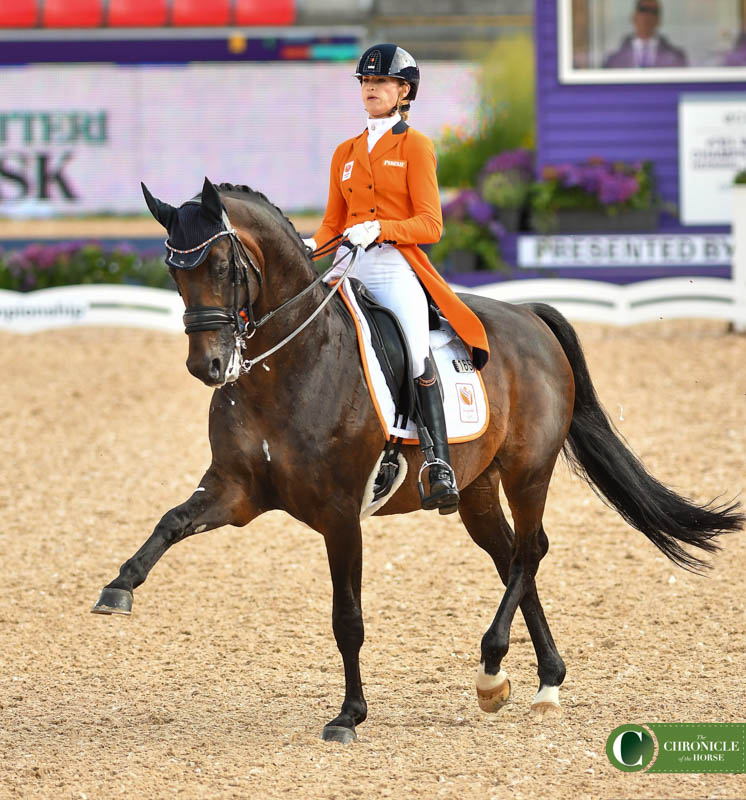 She described her partner as a clown and "a little bit crazy" but he stayed with her throughout the test, despite an enthusiastic crowd clapping as she came down her final centerline.
"At the end and he's like, 'OK, this is all for me?' Then when I come in and the audience starts to clap, he's a little bit scared of it," she said. "And actually, in the end he knows that it's really for him and then he likes it a lot."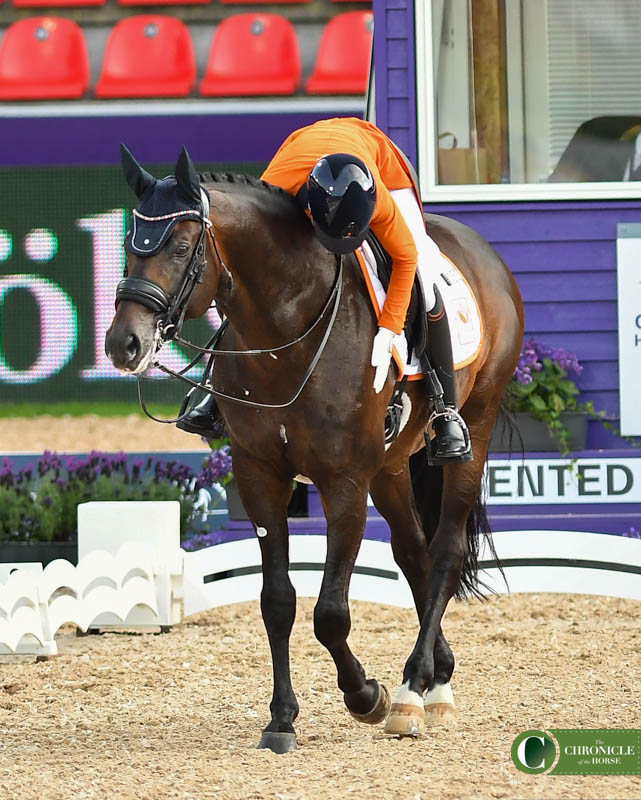 Germany's Benjamin Werndl sits second after a lovely test on Famoso OLD.
"The piaffe passage [tour was a highlight] and I improved, especially the first one," he said. "Compared to [CHIO Aachen (Germany)] it was much better."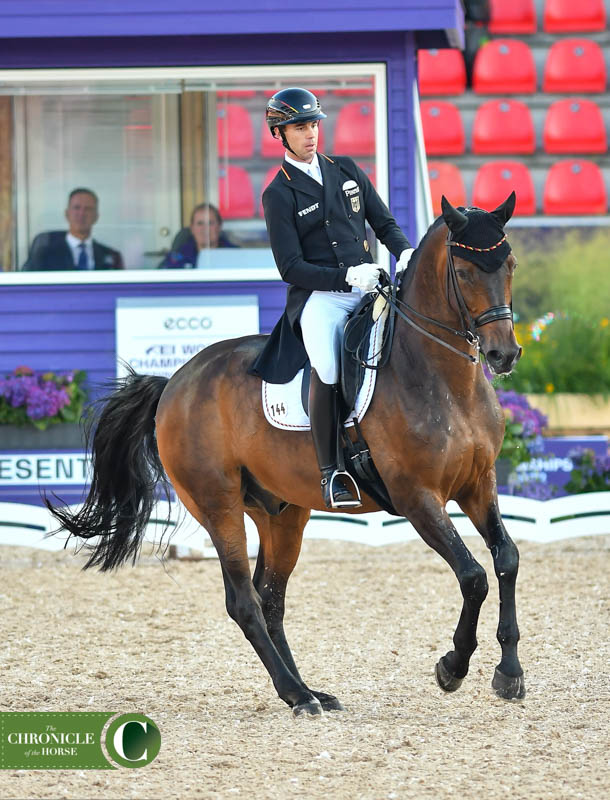 Werndl said that he improved upon the connection since Aachen (Germany) and that made a big difference in his test, which scored a 77.00 percent. He said he frequently works with his sister Jessica von Bredow-Werndl, double gold medalist from the Tokyo Olympic Games, and she gave him important advice before Herning.
"[There's] two main things," he said. "The first one, it doesn't need to be perfect. That is the thing she always told me. The second is there are so many riders in the world and in Germany who want to enter this arena so be thankful and enjoy it.
"I was sitting with her [at the 2018 Tryon World Equestrian Games]—that was her first World Championship—and I was sitting next to her and we were watching the first rider in the test, and then she said to me, 'Just imagine how many people want to go in there now and I am allowed [to ride for Germany.]' That was me; I also wanted to go in there," he added.
Carina Cassøe Krüth slotted into third for Denmark after a lovely ride on Heiline's Danciera that earned a 76.86 percent.
"[Today] is a combination of several years of training and building up expectations to this event," she said. "I feel that a lot of things have come together in the last months. I made a small mistake, my mistake, but I cannot be anything but really happy for our ride. It felt that it barely could have been much better."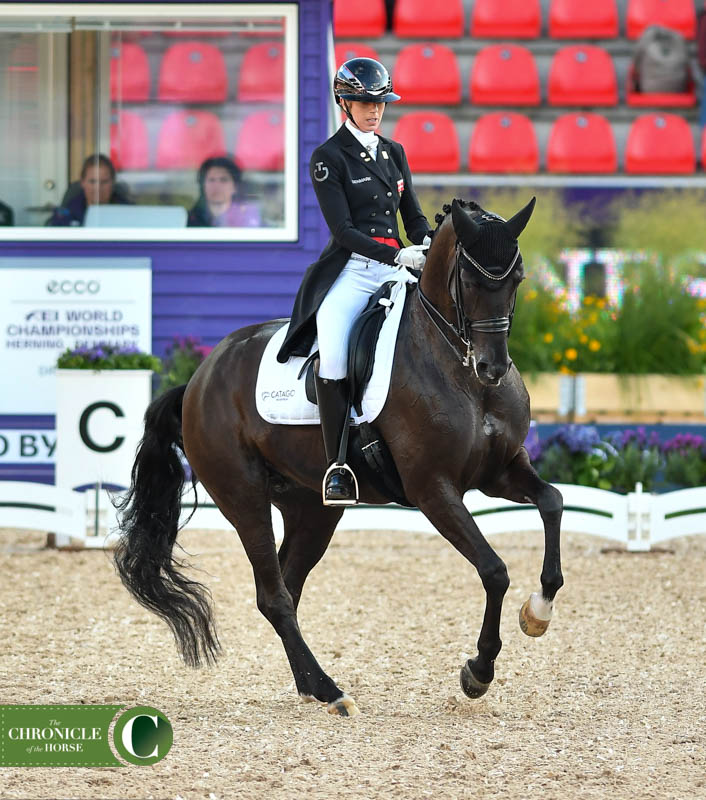 Danish lead-off rider Nanna Merrald Rasmussen sits fourth after tacking up her longtime partner Blue Hors Zack to score a personal best of 76.72 percent in front of the hometown crowd, which started clapping as she progressed down her final centerline.
"I'm super proud and [it was] just a really super atmosphere in there, [with the crowd] supporting me like crazy in the end," said Rasmussen. "My tears were almost coming up, but it was really, really nice.
"I think my favorite part was the overall impression," she added. "[There were] no big mistakes. It's so expensive to make mistakes. He was fresh and I was a little bit careful in the beginning. The extended [trot] I was not going for a 9. But slowly building it up and I'm so proud of him and myself that he could do that."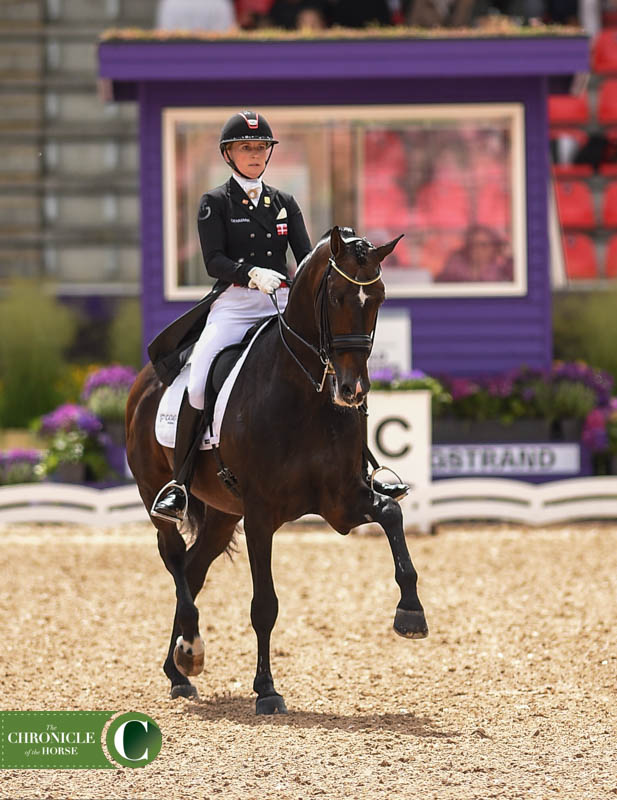 Mixed Day For Team USA
Katie Duerrhammer kicked off the competition for Team USA with Quartett, scoring a 70.83 percent, meeting her goal of breaking 70 percent. She sits 11th.
"Last year I broke a 70 once and then we stayed at 69," said Duerrhammer, Greenwood Village, Colorado. "This year we've broken a 70 more and more and I feel like we had a personal best score at Aachen in the Grand Prix. I knew I probably wouldn't be on my game as much as at Aachen because it's a whole lot of pressure. So I said if we go in there and put in the ride that I feel like represents the U.S. well and shows that we're a confident team and a harmonious team and can break a 70, that would be success to me."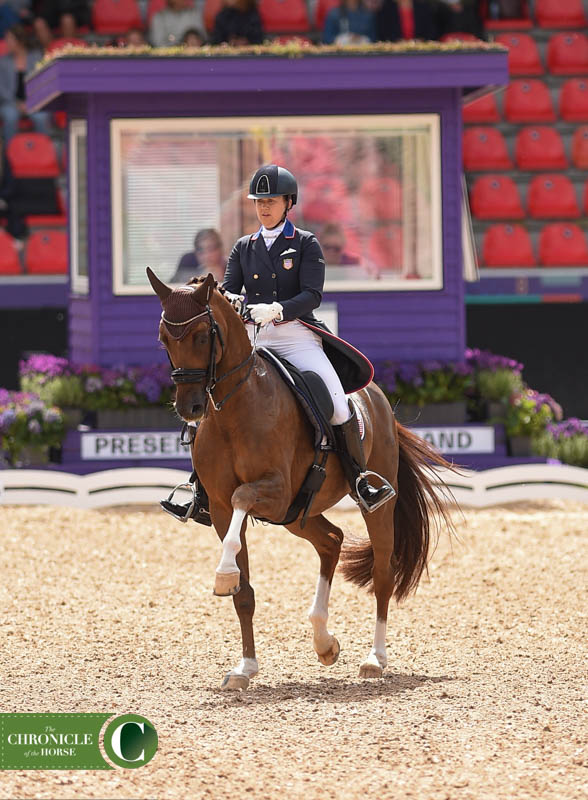 Quartett was originally purchased to be an amateur horse for owner Kylee Laurie, and Laurie still rides him at home. Laurie asked Duerrhammer to see what she could accomplish with the Brandenburg gelding and they debuted at Grand Prix in December of 2020.
"It was kind of a dream of ours to have a team rider and a team horse and an owner and build them all together," said Duerrhammer. "So this is the [culmination] of a really exciting very up, very down journey we've been on. And it's really not what he was bought to do. He just tries so hard and the things that aren't easy for him he still will do them to the best of his ability and I think what sells him is really the harmony.
"I'm super happy with him," she continued. "This is his first time being on a championship team, my first time being on a championship team, so to go in there and feel like we put in a really solid ride [was great]. It wasn't mistake-free but that's OK. I feel like he tried really, really hard. It's a big ring with a lot of atmosphere so I'm really happy with it."
The second rider for the United States, Ashley Holzer, didn't have the day she was hoping for with Valentine when the mare resisted every time she asked her to piaffe. The second time she reared and spun, and during the final centerline the enthusiastic Danish crowd began clapping as she approached C, and Valentine shied during the piaffe again.
"She's never seen a venue like this so of course she was nervous, especially with Benny Wendl getting all that applause, but then she sort of settled into it," said Holzer, Wellington, Florida. "I've got to tell you [the resistance in the first piaffe] totally caught me off guard. I have never really had her ever do such crazy antics and I guess she was just tight and wasn't communicating with me properly. I thought the beginning of the test felt super, really flowing. It just sort of caught me completely off guard I have to be honest with you. But they're horses, and as much as I'm so disappointed I have to realize that they're not machines and they just get confused and I think there was just something where she was tight and when I brought her back she didn't understand."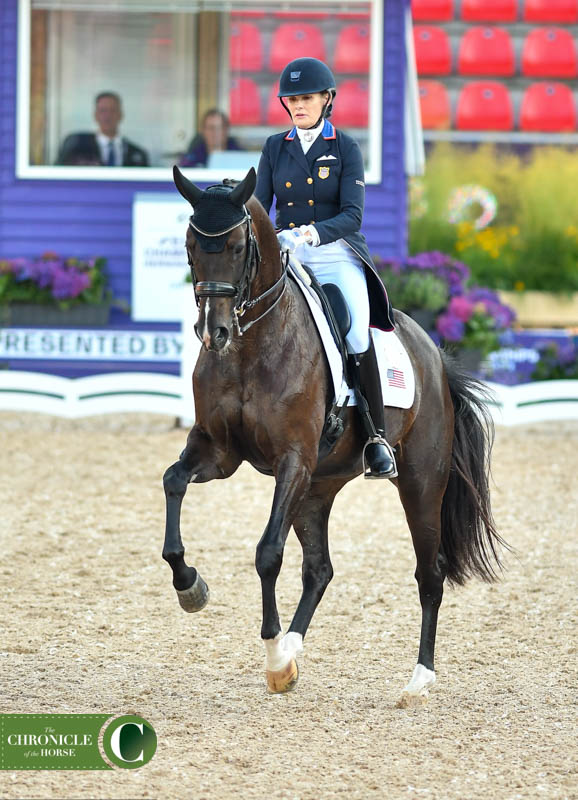 Holzer said she was pleased that Valentine showed off lovely canter work after her first two episodes.
"I know that Team USA sort of took a chance on me putting me in because she is a green Grand Prix horse and she has not seen much, but as you can see, when she's brilliant she is absolutely brilliant," she said.
In the end Holzer scored a 61.25 percent and finished 43rd in the day's standings. She said she was disappointed but was consoled by her supportive teammates.
"The best was that George [Williams], our amazing chef d'equipe, came and apologized that it was water he was handing me and not vodka," she quipped.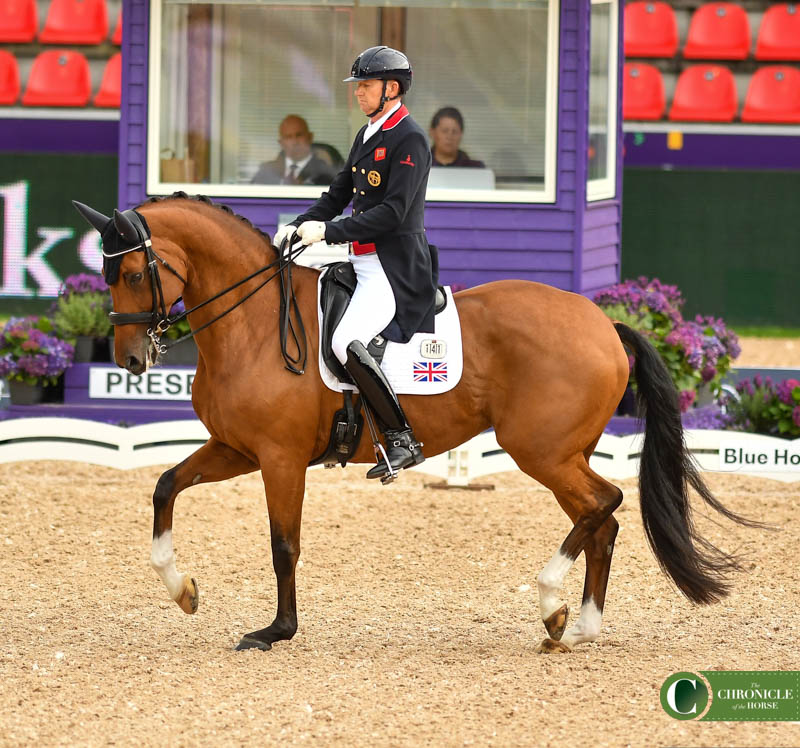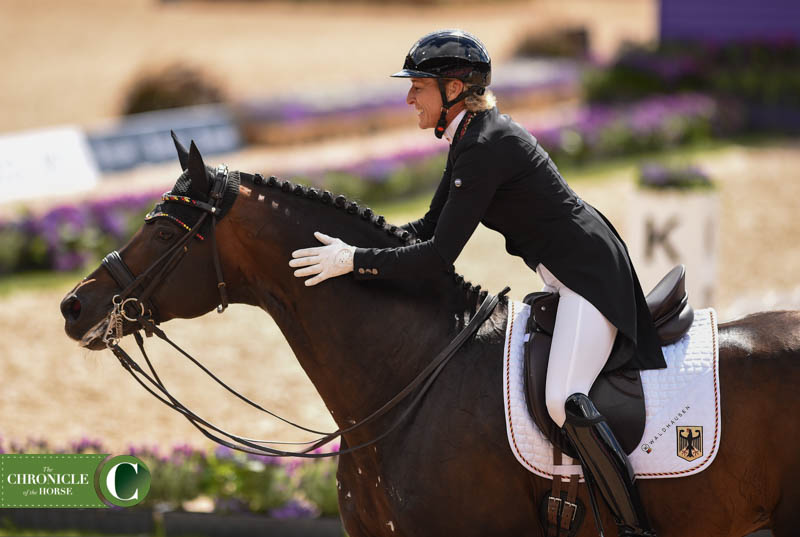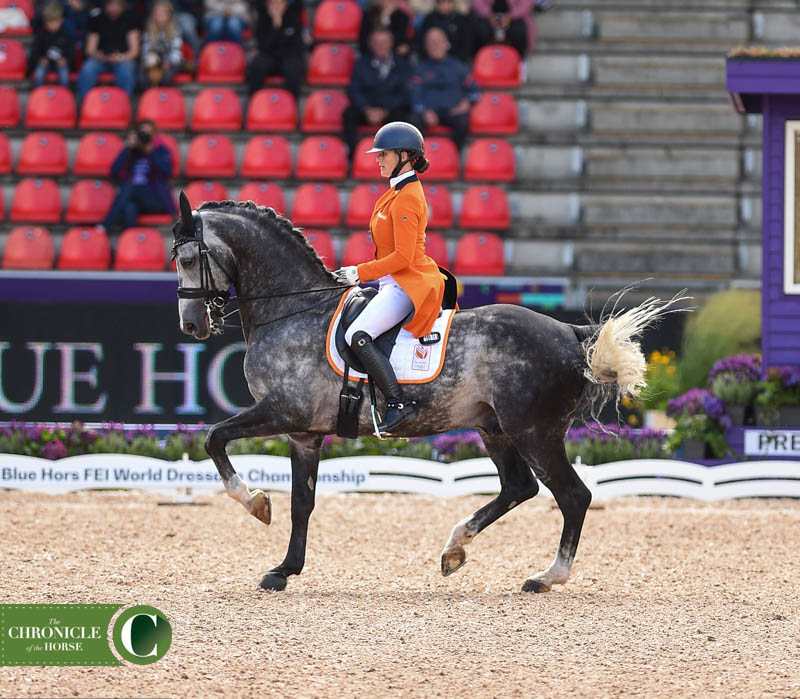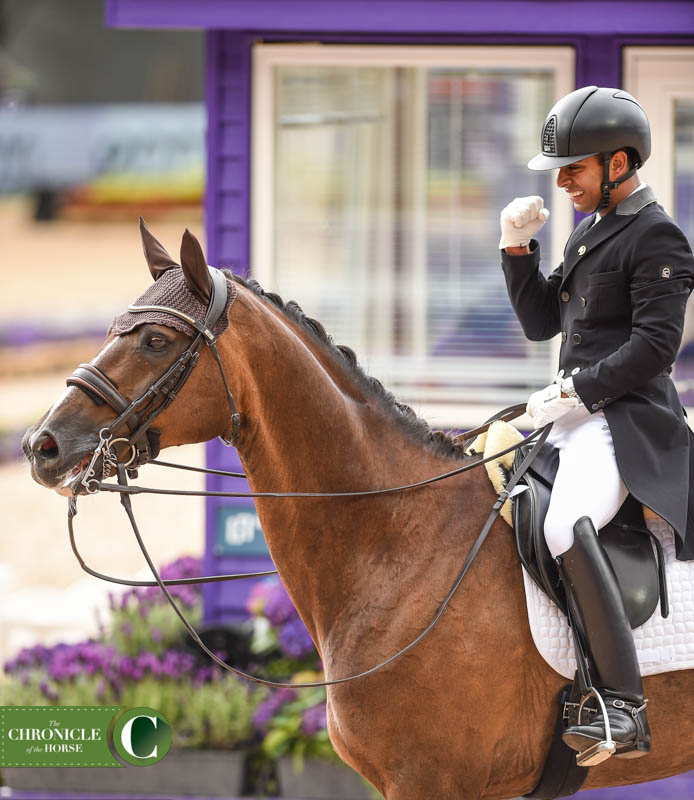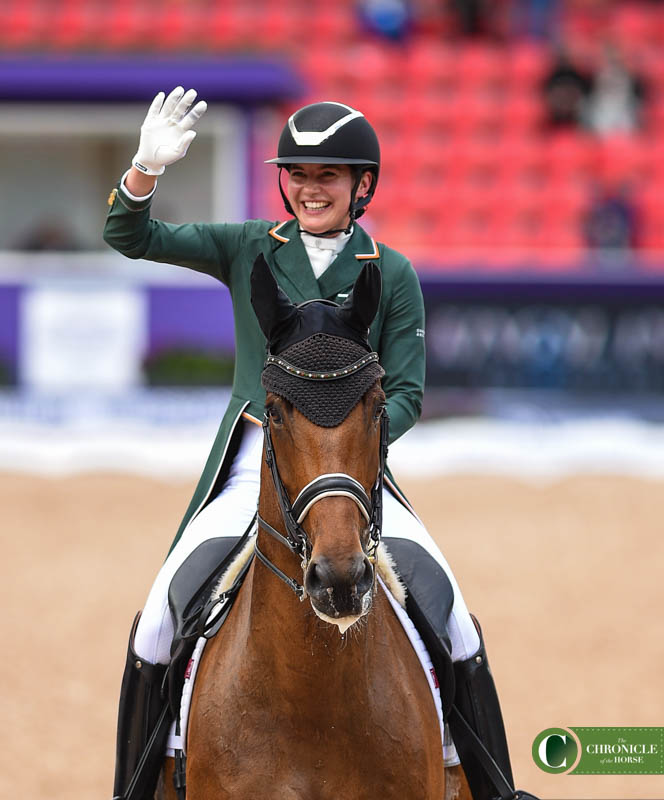 Find full individual results here and team standings here. Want more from the ECCO FEI World Championships? Click here. Check out the September 5 issue of The Chronicle of the Horse magazine for analysis from the competition.