I have had my dressage horse Dixie for almost three years. In our first year together, we competed at first level. In our second year together, we competed at second level, and this past year, in our third year together, we competed at third level. At this beginning of this year, I set the goal of dabbling at fourth level and trying fourth level, test one, by the end of the year. I thought I would then train hard through the winter, and we'd spend our fourth year together competing at fourth level. One level per year—makes sense, right?
Funnily enough, that's not how horses work.
During this past year, Dixie and I have become really quite competent at all the third level work—with the notable exception of the flying lead changes. Without being too hyperbolic, they are our nemesis. Typically in our attempts at a change, we get to choose two qualities from the following list: clean, quiet, not leaping, straight, or on the aid. Occasionally, we can accomplish three of those—and rarely even four—but the combination of all five really has not been in the cards this year. We have made a lot of progress, but not enough that I would consider the changes totally confirmed.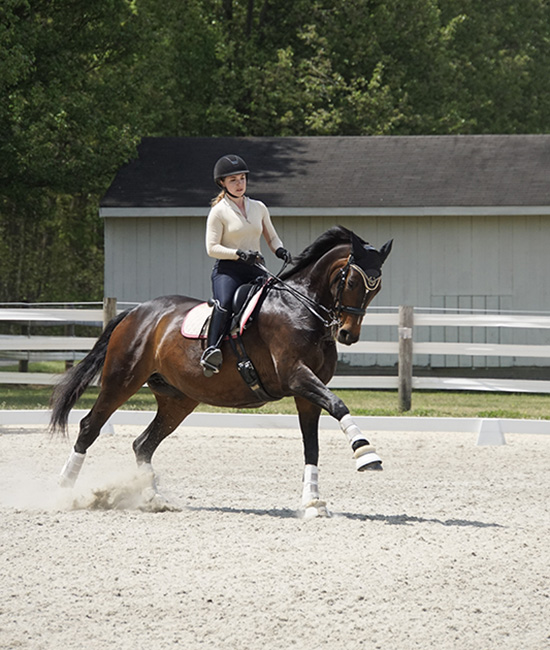 And, as it turns out, the flying changes don't go away as you move up the levels. In fact, after third level, they really multiply in both frequency and importance. It is just not feasible to move up to fourth level without a confirmed change.
Our 2022 show season is freshly in the rearview after we wrapped up at the GAIG/USDF Region 8 Championships (New York), but I already have my sights set on 2023. The past two years at this time, I would put the last level we competed to proverbial bed. But this year, I am planning to spend at least another half a show season, if not the full year, at third level. Sure, we are schooling a lot of the fourth level work, and sure, we are regularly scoring well on most of the third level movements, but we are not 100 percent confident and confirmed at all the work at our current level.
I would be lying if I said there wasn't a part of me that wants to push on and move up to fourth level in the spring, right off the bat. I have big goals of achieving my USDF silver medal, and Dixie is 18 this year, so I feel a certain amount of pressure to get things accomplished as quickly as possible. But when I take a step back and think about it logically, why would I move up and leave a hole in the foundation of our training? Like I said, dressage compounds upon itself, and movements don't simply go away. Less-than-perfect single flying changes will turn into disastrous attempts at lines of tempi changes. Is it worth it to move up and be mediocre, just to say you moved up?
I have concluded that, no, it really isn't worth it.
Just because I completed one full show season at a given level does not mean I can close that chapter and put it behind me. Part of the equation for perceived success, of course, is the desire to perform competently at each level and receive respectable scores. But even more importantly, I need to instill the confidence in my horse and myself in every movement of every level before moving up. If Dixie is still confused or insecure about single changes, it would be unfair of me to start asking her to string together tempi changes. If you were learning Spanish, for example, and you weren't confident in your ability to compose a sentence, how would you feel if your teacher then asked you to converse with a native Spanish speaker? It's setting yourself up for failure.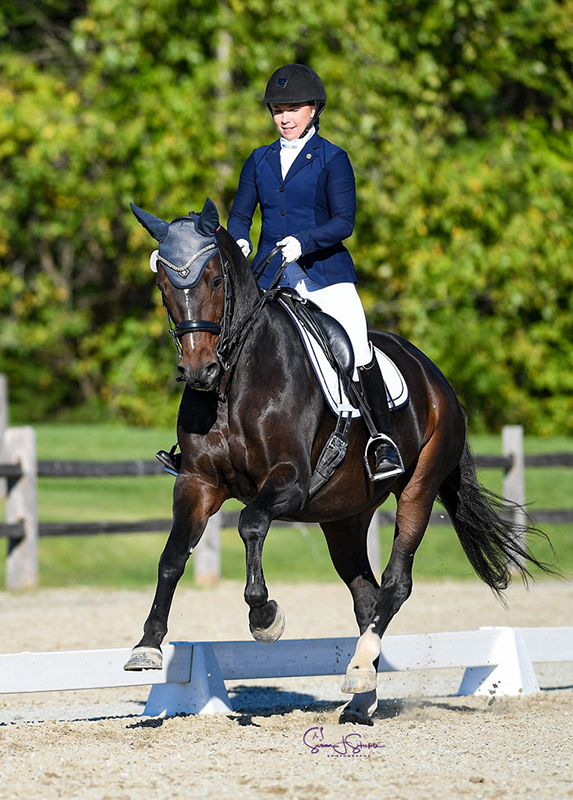 And so I've thrown away my preconceived timelines about moving up the levels. I have come to realize that moving up should be considered on a horse-to-horse basis (as is true with nearly everything in horseback riding). Some horses can move up a level in a few months, while others need a few years to fully master the level at hand.
I really think we owe it to our horses to instill confidence in the subject matter of a level before compounding upon it and piling on more. I know Dixie and I will make it to fourth level eventually. We'll keep chipping away at the flying changes, and once we're both confident in them, we'll start to work on the move up, whether that's next week, next month, next year, or beyond.